A fruit salad recipe needn't be boring especially this time of year when fruit is at it's finest. Sweet, incredibly juicy and deeply flavorful. No, for fruit this good it deserves a bit of creativity.
I'm here to help you whip up a fresh take on fresh fruit salad. Use these ideas as is or apply them as inspiration to kick start your own creativity. I'd love to hear what you come up with!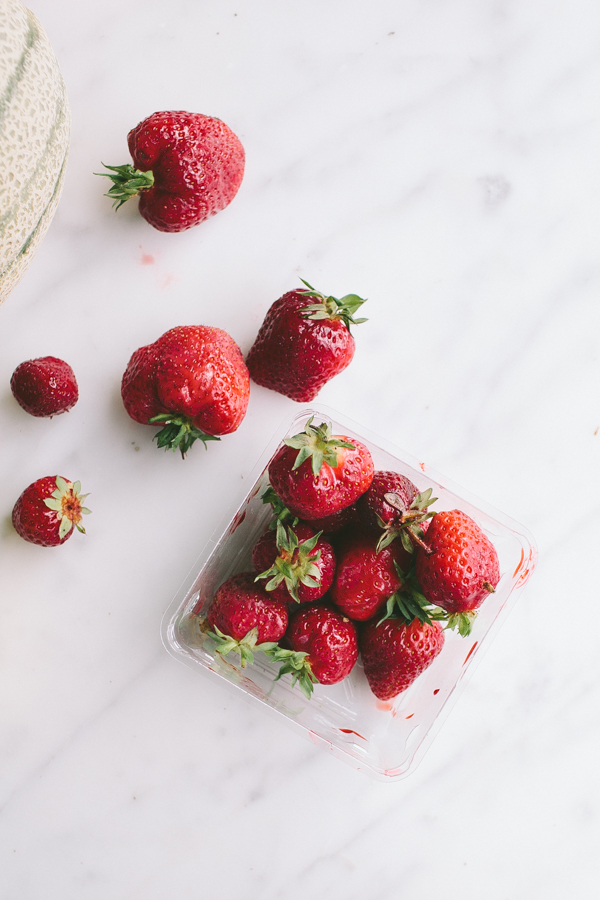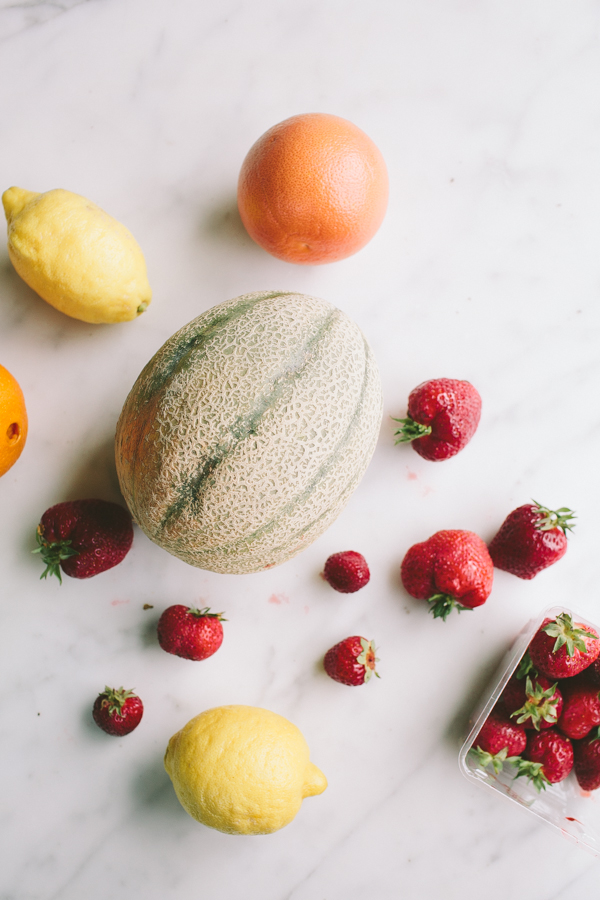 Photos via Not Without Salt
Here are some ideas for reinventing the basic fruit salad into something your guests will remember.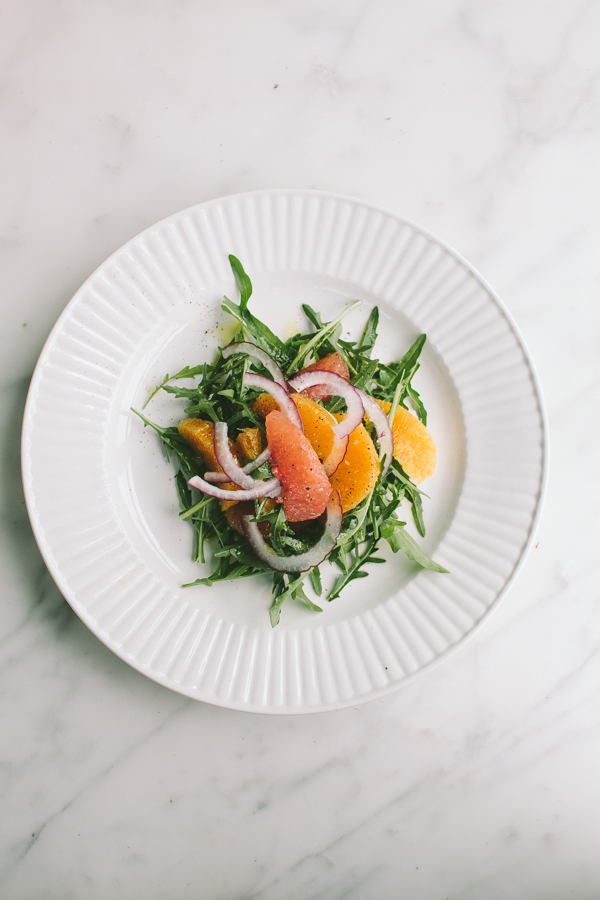 Recipe idea #1: Sweet meet savory
Who says fruit need only be sweet? No one? Okay, good. The simplicity of a stunning salad of watermelon, thinly sliced red onion, feta and mint is something to behold. Trust me on this. Watermelon and feta are dear friends and make quite the combo.
Or what about citrus and greens? Perfectly segmented oranges and grapefruit along with peppery arugula, a bit more red onion because I can't get enough and just a pinch of salt, pepper and grassy olive oil to give it all a shine. A clean way to end a rich meal.
Liking the savory fruit salad idea? Try adding in a bit of cucumber, avocado, jicama or tomatoes along with your strawberries, melon or stone fruits.
Recipe idea #2: Sweet meet heat
Fruits like watermelon, stone fruit, pineapple and mango really benefit and change drastically after a quick sear on the grill. Cut the fruit into large pieces, quickly sear on a very hot grill until char marks appear, let cool then chop and combine for a lightly smoky and deeply flavored salad.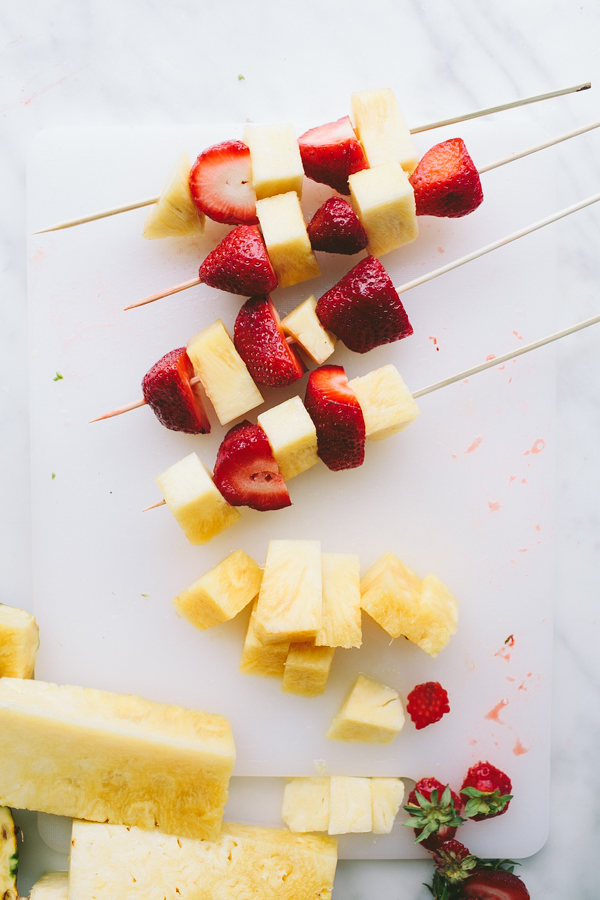 Recipe #3: On a stick
I'm not sure of the science behind it, but things are more fun to eat when they are on a stick. Kids would definitely not argue with me on this. Fruit salad skewers are a great potluck or picnic item, as they can be made well in advance. Plus, they just look so darn lovely on a plate.
Skewer any fruit you like. I prefer to keep it all in a pattern. You may serve them just like that or top with a bit of citrus juice and fresh herbs such as basil, mint or tarragon. Or serve alongside a sweet, creamy dip.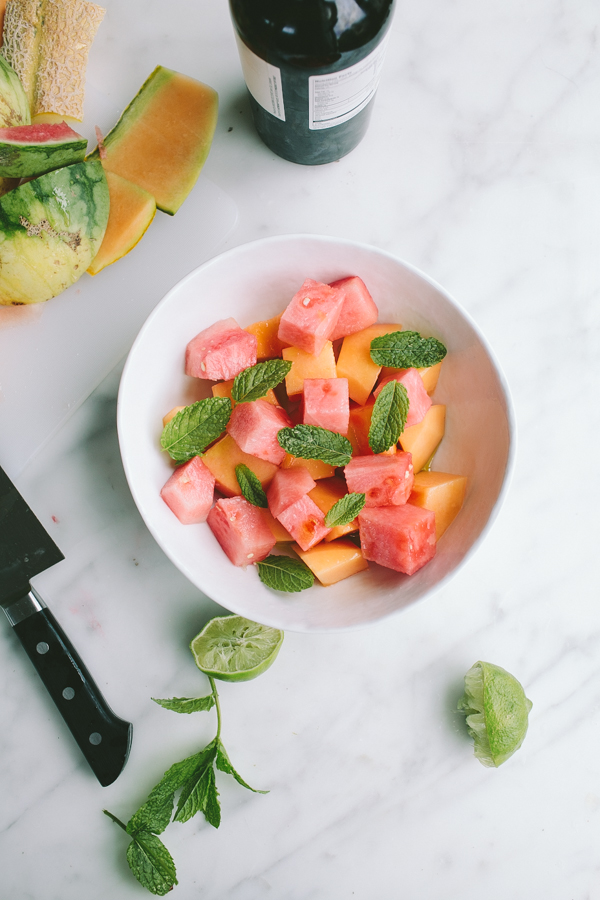 Recipe Idea #4: Add a vinaigrette
For years now I've been making a classic chopped fruit salad with whatever is in season, then tossing it all together with a vinaigrette seasoned with lime juice, fresh mint, a touch of honey and olive oil. It takes something familiar and turns it into something unforgettable. The soft savory olive oil balances the sweetness and the lime juices makes everything sing. Peaches and nectarines seem to particularly love this vinaigrette.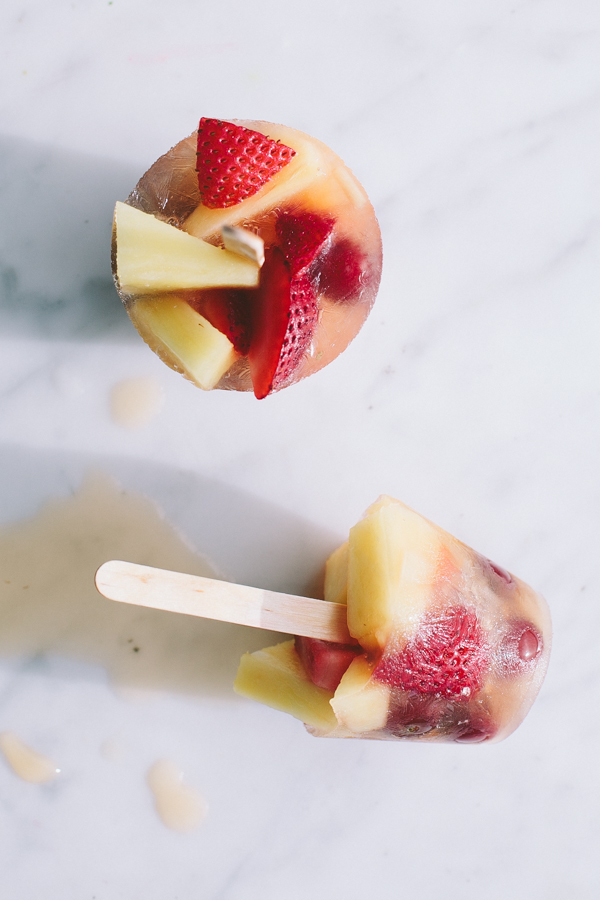 Recipe #5: Chill out
y now you're well aware that I'm a fan of the popsicle. In fact we talked about this very one not too long ago, but I thought I'd mention it again because the truth is it's basically a frozen fruit salad suspended with a splash of apple juice.
Combine chunks of fresh fruit with fruit juice in a popsicle mold or cup. Insert a popsicle stick and freeze. A frozen and incredibly refreshing fruit salad that doubles as dessert.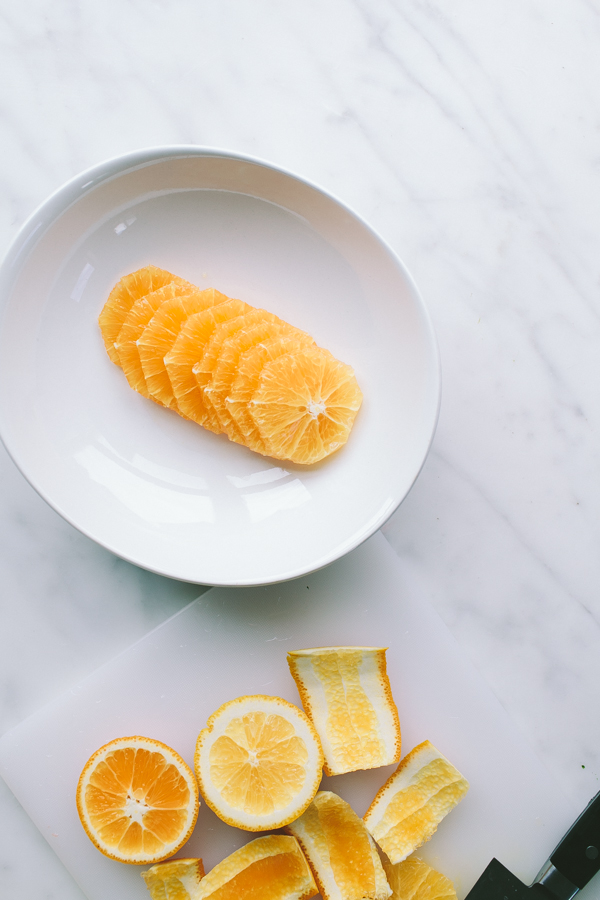 Recipe #6: With a bit of booze
This salad is reserved for the adults at the party. It's perhaps a stretch to call it a salad, but I'm okay with it if you are. Here, slices of orange are topped with a splash of Cointreau or Grand Marnier then left to soak for a couple of hours. You could quite easily take them and serve them alongside crème fraîche and a touch of cinnamon and call it a dessert. Or dish these out after a meal to serve both as the after dinner cocktail and dessert. It'd be real lovely with a cheese course.
Want more delicious ways to enjoy summer's fresh fruit bounty? Try the class Jam & Marmalade: The Blue Chair Way and transform your fresh produce into delicious jams you can spread year-round.
Or, pair fresh fruit with one of the unbelievably tasty breakfast buns your make in Classic & Creative Brioche Pastries for a picture perfect morning treat!
How do you reinvent the fruit salad?