During the week, dinner can be more than a little tricky. Not only are weeknights busy, but dinner comes at the end of long days when you're already tired. Having a few quick, tasty, and healthy recipes in your back pocket can help weeknight meals come together without all the stress. First up, a recipe for Thai coconut soup!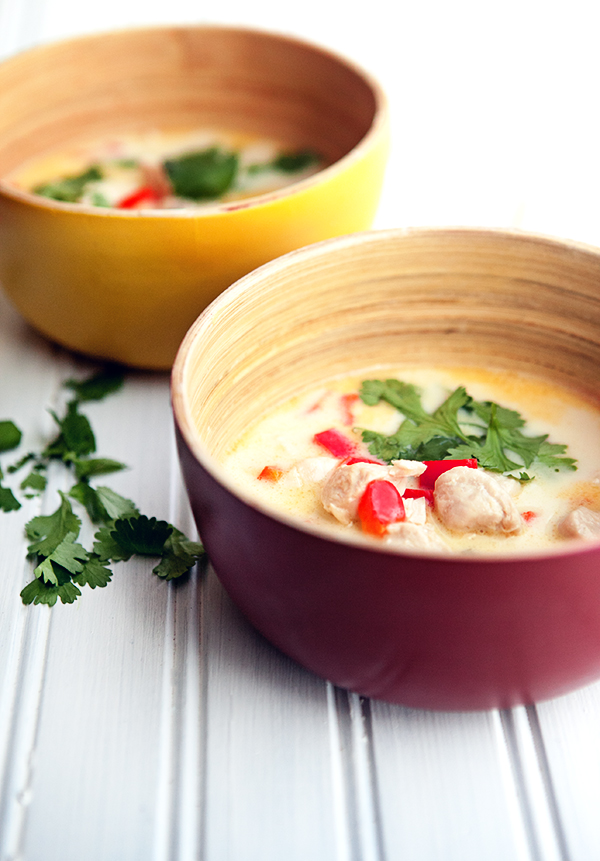 Photos via Some the Wiser
This recipe for Thai-style chicken soup is a perfect back pocket recipe. It can be on the table in less than 30 minutes, which means even when you're tired after a long day of work, it is still possible to enjoy a delicious homemade meal without any fuss. Best of all it is a healthy recipe that combines only a few simple ingredients for a delightfully unique flavor combination.
If you are familiar with Thai food, then you know that much of the cuisine is spicy and hot, often including cooking with lemongrass. This soup, while combining all the best Thai flavors, can be flexible. The rich coconut milk helps to tame the spice, giving it just the right amount of tingling with every bite. If you like your Thai food extra spicy, just add more jalapeños into the mix.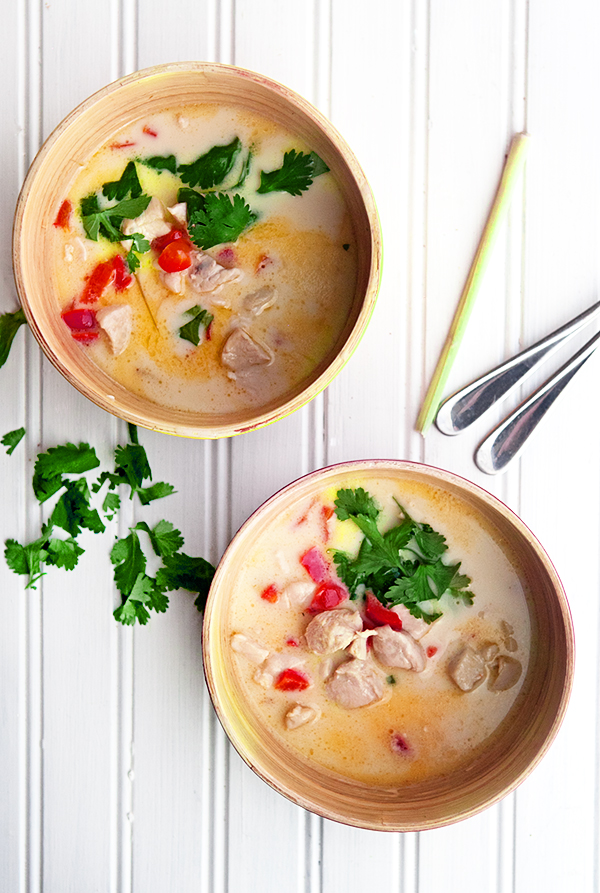 My favorite thing about this Thai Chicken Coconut Soup recipe is that even though it is one of the most simple recipes in my weeknight repertoire, it never feels like a mundane weeknight meal. It tastes fresh and vibrant, never ordinary no matter how many Wednesday nights it gets served. That, I think, is the beauty of being able to cook a Thai dish that, so many people only ever enjoy at restaurants.
Thai Coconut Chicken Soup
Yields 4 servings
Ingredients
1 tablespoon coconut oil
1/2 cup red bell pepper, chopped
3 teaspoons minced, peeled fresh ginger
2 teaspoons minced garlic
1 stalk lemongrass, halved lengthwise
1 small jalapeño pepper, seeds and ribs removed, thinly sliced (or to taste)
3 cups chicken broth
1 (15 oz) can coconut milk
1 1/2 tablespoons Asian fish sauce
1 pound cooked chicken breasts, cubed into bite size pieces
3 tablespoons fresh cilantro
2 tablespoons fresh lime juice, plus lime wedges for serving
Step 1:
In a dutch oven or large pot, heat coconut oil over medium heat. Add red bell pepper and next four ingredients. Saute, stirring often, for 4 to 5 minutes, or until bell pepper begins to soften.
Step 2:
Add the broth and bring to a boil. Reduce heat to a gentle simmer and cook for 10 minutes.
Step 3:
Stir in the coconut milk, fish sauce, and cooked chicken pieces. Cook for an additional 3 to 5 minutes, or until soup is heated through. Discard lemongrass. Stir in lime juice.
Serve with fresh cilantro and lime wedges.
Transform weeknight meals with the bold flavors of Thailand! Create quick curry, favorite pad Thai, satisfying stir-fry and more with the Craftsy class Everyday Thai Cooking. Watch your online, HD video lessons from the comfort of your kitchen, and learn on your own schedule!