How do you make it a party to remember? It's as simple as the perfect recipe for cocktail wieners.
As fun to say as they are to make, homemade cocktail wieners with sauce are a crowd-pleaser, well-suited to a variety of occasions, from holiday parties to weekday game nights. Wrap them in a crescent roll dough and immediately transform them into another classic, pigs in a blanket.
No matter how you serve them, these salty snacks are charmingly retro yet modern-day delicious, and remain a classic for a reason.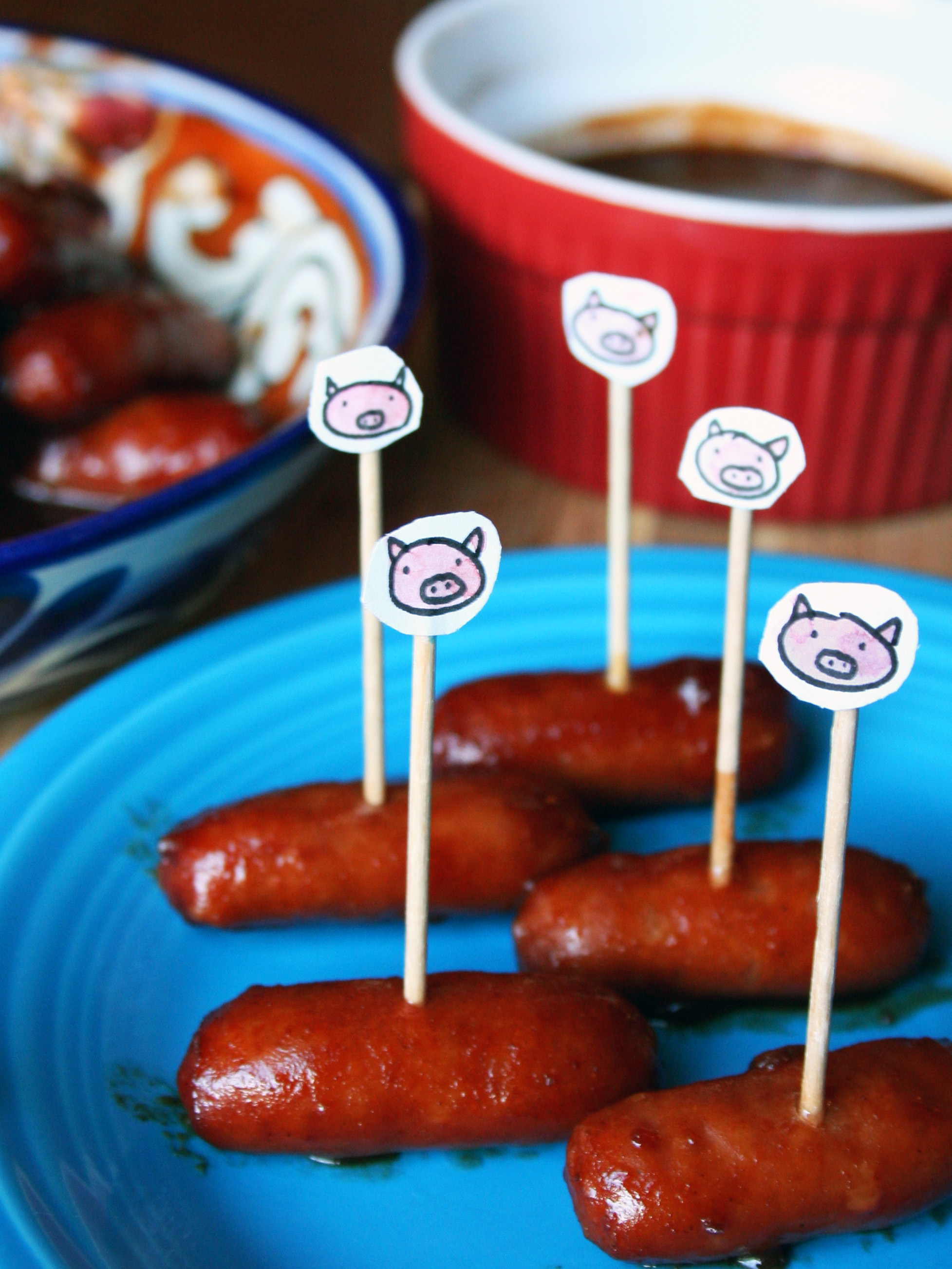 Photos via CakeSpy unless otherwise noted
If it's classic snacks you crave, check out Craftsy course Salty Snacks at Home. Cookbook author Cynthia Nims will guide you through more than a dozen salty snacks, from upgrading your popcorn to homemade chips from potato and beyond to homemade crackers and pretzels. You'll be able to whip up DIY snacks whenever you have a craving!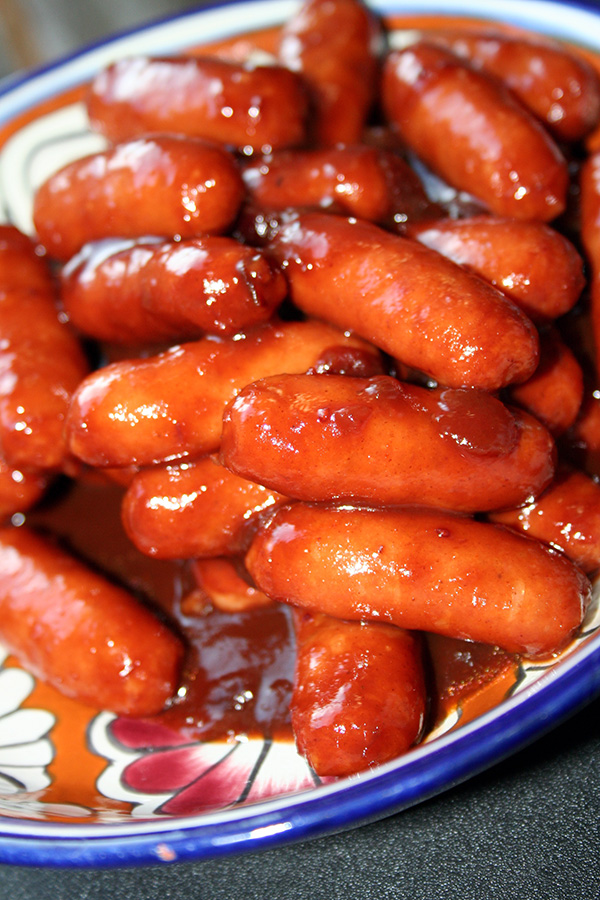 Cocktail wieners
Makes about 24
3/4 cup barbecue sauce
1/2 cup cranberry sauce (jellied, or strained whole berry so that your mixture is relatively smooth)
2 tablespoons sriracha sauce
pinch of salt
1 package (14 ounces) cocktail-size wieners
Note: International readers may enjoy our handy metric conversion guide.
Step 1:
In a large saucepan, combine the first four ingredients. Stir them together lightly, and then add the wieners.
Bring the mixture to a boil over medium heat. Reduce heat to low and simmer for 20 minutes or until the wieners have become plump and fully cooked.
Step 2:
Remove the wieners from the sauce to a serving platter. You should have a generous amount of sauce left over; pour it into a bowl for dipping.
Step 3:
Spear each of the weenies with a toothpick to make them party-friendly. Whether you choose to decorate those toothpicks is up to you. Serve immediately
Recipe notes
You can use all beef or sausage cocktail-sized links for this recipe. If you can't find them, use regular hot dogs cut in thirds.
This recipe is made using cranberry sauce. You can feel free to substitute 1/2 cup seedless jam or pureed fruit of your choice.
You can also make this recipe in a slow cooker. Grease the bowl, combine all of the ingredients and setting it on low for about 2 hours. Serve warm.
Pigs in a blanket dough
Should you choose to upgrade them to pigs in a blanket, follow the steps below.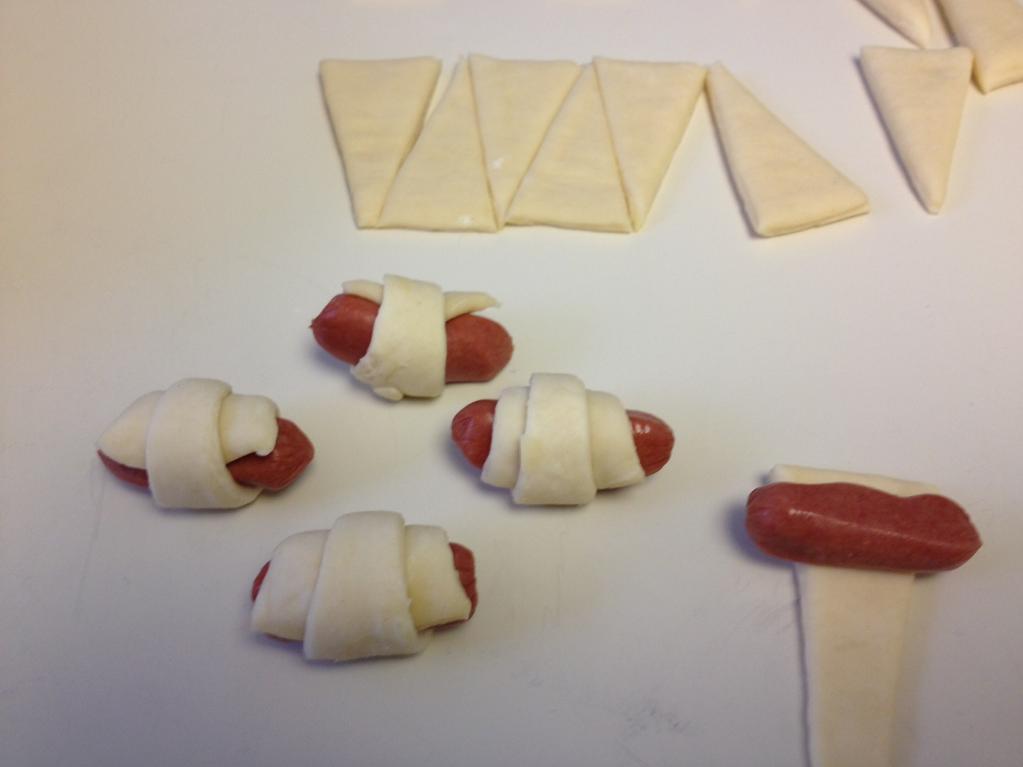 Pigs in a blanket via Craftsy member Sarahsock
Ingredients
2 (.25 ounce) packages active dry
yeast
3/4 cup warm water
1/2 cup white sugar
1 teaspoon salt
2 eggs
1/2 cup butter, room temperature
4 cups all-purpose flour
1/4 cup butter, softened
Step 1:
In the bowl of a stand mixer, dissolve the yeast in lukewarm (110 degrees F/ 45 degrees C) water. Once it begins to bubble slightly, stir in sugar, salt, eggs, butter, and 2 cups of flour. Beat until smooth. Mix in remaining flour until smooth. Scrape dough from side of bowl. Knead dough for 3-4 minutes, then cover it and let rise in a warm place until doubled in size, 1 1/2 to 2 hours.
Step 2:
Gently punch down the dough. Divide it in two equal halves for easier handling. Let it rise again for an hour, or until doubled in size.
Step 3:
Roll each portion into a 12-inch circle. Spread each circle with butter Cut each into 24 small triangles. The "bottom" of each oblong triangle should be slightly slimmer than the length of each wiener. 
Step 4:
Place the cocktail wiener on the shortest side of the triangle. Roll it up, so that the point of the triangle is the last bit to be rolled. Place the point facing down on the baking sheet. Align each rolled-up portion with an inch around it, 20 per sheet.
Step 5:
Bake at 400 degrees F for 10-15 minutes, or until browned (since the wieners are already cooked, no need to worry about them cooking through). Serve with the reserved sauce from cooking the wieners in the recipe above.
Notes:
This recipe yields enough dough to roll an entire batch of cocktail wieners, and may yield a few extra crescent rolls besides; each package can differ slightly in how many weenies are contained therein.
If you prefer, you can use croissant dough or store-bought crescent rolls. Follow the temperature and baking time as specified in the respective recipes.