Have you ever thought your breakfast would start with a giant rainbow chard leaf? Trust me, I was skeptical, too. But by the end of this post I will have you convinced that wrapping up your favorite breakfast ingredients into a giant green leaf is not only easy, but delicious!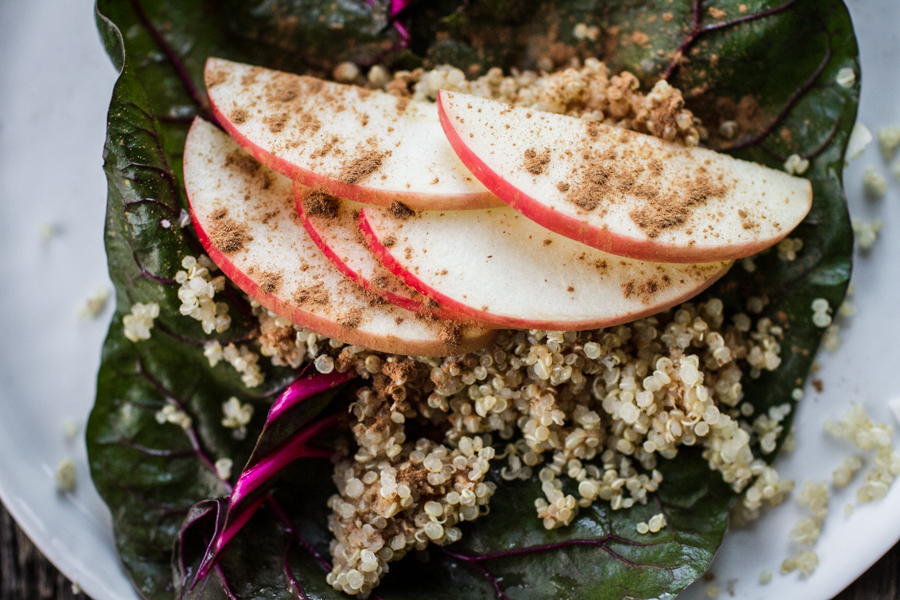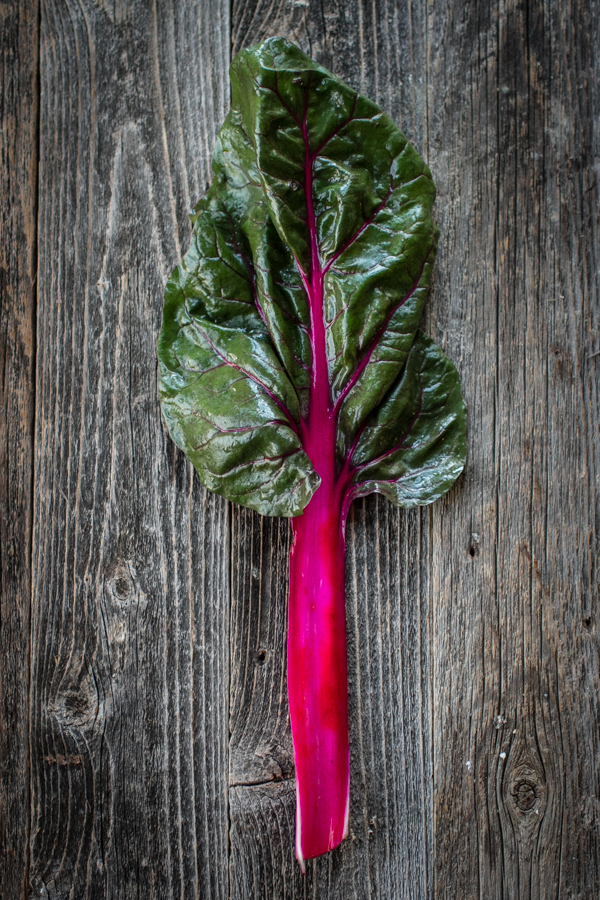 Photos via Edible Perspective
Today I'm going to teach you a recipe for a quick and healthy breakfast wrap that will leave you satiated all morning long but won't weigh you down.
First, it starts with the greens! You can use swiss chard (white stems), red chard (red stems), or rainbow chard (white, red, orange, fuscia stems). I like using chard leaves because they're nice and tender to chew. My second favorite green to use for these wraps are collard greens. They're a bit sturdier with less of an earthy flavor but not as tender as the chard.
I could really go either way with the greens, but the rainbow chard is always fun to use because the stems are so pretty.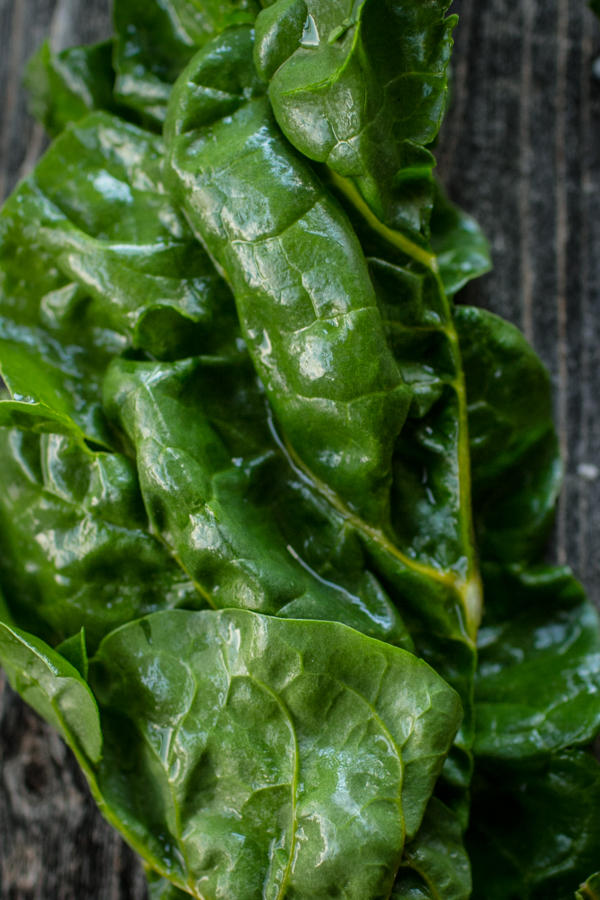 There are a million different combinations you could use for these wraps. You can make them sweet or savory. You can use leftover dinner ingredients or fresh fruit and other pantry staples. They take just a few minutes to throw together.
Here are some examples of what I like to combine for my rainbow chard breakfast wraps:
1. Banana nut
Almond, peanut butter, or sunflower butter
Sliced banana
Chopped walnuts or pecans
Sprinkle of cinnamon
Ground flax meal
Honey drizzle
2. Quinoa and fruit
Plain, leftover quinoa (chilled)
Thinly sliced apples
Nut butter (you'll want to mix the nut butter and quinoa together so it sticks in the wrap)
Sprinkle of cinnamon
Drizzle of maple syrup
3. Sweet potato mash
Mashed or cubed leftover sweet potato (chilled)
Sweet or savory nut butter (I love making this one with my salt & pepper cashew butter!)
4. Egg and cheese wrap
Scrambled eggs
Cheese
Salt and pepper
5. Tex-Mex (great to use up leftovers from taco night!)
Spiced rice
Beans
Potatoes
Cheese
Hot sauce
And this is just the beginning!
Other wrap ingredient ideas: chia seeds, hemp seeds, pepitas, summer berries, butternut squash, millet, sun-dried tomatoes, feta, cottage cheese, peppers, hummus, avocado, etc.
As you might imagine, these wraps can get a little messy and aren't super photogenic. But that doesn't mean they're not worth making and eating.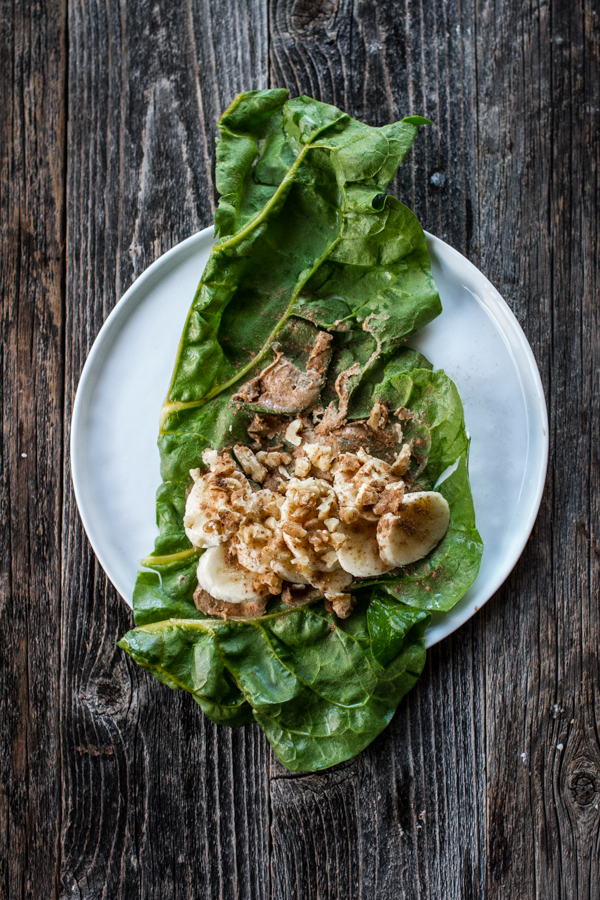 Banana nut breakfast wrap
The possibilities are endless.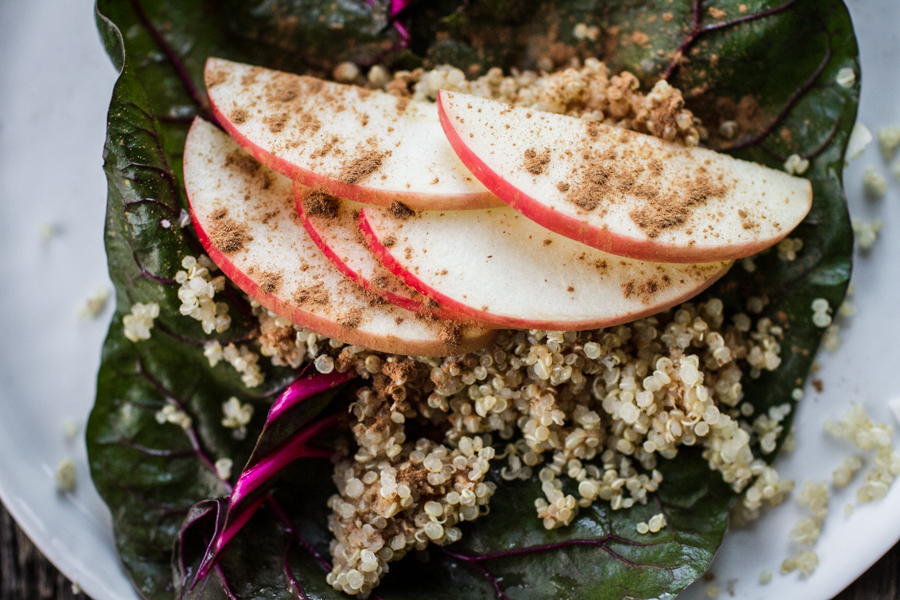 Quinoa and fruit breakfast wrap
Rainbow Chard Breakfast Wraps
Yields: 2 large breakfast wraps
Ingredients:
1 large rainbow chard leaves (stem on)
3 tablespoons nut butter
1/4 cup chilled quinoa
1 small banana
1 small apple
2 tablespoons chopped walnuts (or pecans)
Cinnamon
Honey (or maple syrup)
Step 1:
Wash chard leaves and pat to dry. Slice around the stem but leave about 3-4 inches at the top so the two leaf-sides are still attached. Repeat with other leaf.
Note: If your leaves are gigantic (this happens a lot!) you may want to trim some of the ends off (at the bottom where they're not attached). Save excess in the fridge to use at a later time.
Step 2:
Place the leaf on a large plate and overlap the loose ends. For the Banana Nut wrap: Spread  1 1/2 – 2 tablespoons of nut butter at the overlapped ends. Place sliced banana in two overlapping rows (refer to 3rd photo). Sprinkle with cinnamon and add chopped nuts. Drizzle with honey if desired.
Step 3:
Try to fold the sides in if possible, then roll, starting at the bottom where the ingredients are until you reach the top. Serve immediately.
Step 4:
For the quiona and fruit mixture: Mash together 1 1/2 tablespoons nut butter and the quinoa. Use more nut butter if needed to hold the quinoa together. Place at the end of your second leaf. Top with sliced apple, a sprinkle of cinnamon, and drizzle of honey. Roll, starting at the bottom until you reach the top. Serve immediately.