Quilts comprised entirely of solid colored fabrics, whether in one color, two-color, or multicolor combinations, are found in both antique and vintage quilts as well as in modern designs.
Here are some expert tips and techniques for creating stunning quilts utilizing your favorite solids!
While quilts comprised of only solid-colored fabrics grace museum displays of antique quilts and modern quilt collections alike, these solid colored quilts often represent a challenge for today's quilter. With so many coordinated fabric collections available for projects, quilters often struggle with how best to combine solids for today's quilts.
Options abound for today's quilter to start working with solids, that's why I'm going to share a few ideas to get you going on bold and beautiful solid quilt design!
Start with a one color quilt.
The best way to get started using solid fabrics in quilt designs is to pick a favorite color and make a variety of blocks using solid fabrics in that color or variations of that color. Choose a neutral background like white, cream or gray (depending on what type of backdrop looks best with your chosen color).
You can mix and match quilt blocks with ease because the uniform background and single accent color will tie together nicely. Not only is this an easy way for beginner quilters to start using solids, but one-color, monochrome quilts are beautiful.
Move on to a two-color quilt with your favorite coordinating solids.
Another way to practice working with solids is to pick two coordinating or contrast colors along with a single background fabric. Think red and blue quilts with white or cream backgrounds or green and red quilts also with white or cream backgrounds. How about a black and red quilt with a gray background?
It's easy to work with solid colored fabrics when you begin with color combinations you already know and love. Later you can practice with combinations just for fun and might find you are surprised by colors that end up being a lot of fun in combination with one another.
Mix and match favorite colors for a splash of solids.
Using a variety of solids in a rainbow of colors creates a stunning visual display. The solids quilt pictured above uses a variety of colors all cut in simple squares which work well in combination with one another. By using simple shapes and designs in solid colored quilts the variety of colors becomes the primary focus. Other simple shapes that are stunning in quilts with solid fabrics are circles, rectangles, and hexagons.
Combine two color blocks for even more variety
After working with one color and two-color pairings for solid fabric quilt designs, have fun — mix and match a variety of blocks pieced with solids. The quilt above has one color, two-color, three-color and multi color blocks all pieced with solid fabric pieces. While some might see this quilt as a modern interpretation of the use of solid colored fabrics, the individual blocks are all very traditional in design.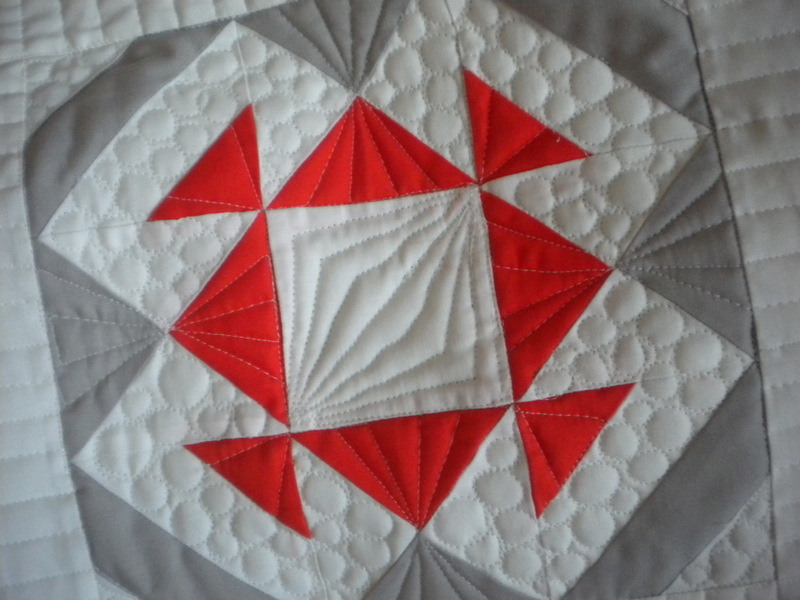 Close up of an individual block from Solids Sampler by Sherri McConnell of A Quilting Life
After practicing with one or more of these techniques for utilizing solids in quilt designs, I promise it just gets easier to create modern quilts using solid colored fabrics!
Get inspired with Craftsy Quilting Kits!
Unlock your creative potential with our collection of quilting kits. Discover beautiful, color fabric collections paired with perfect patterns for lovely finished quilts that captivate.
Which type of solid quilt will you make first?