Leftover fabrics from projects, commonly known as "scraps" seem to accumulate and multiply quickly for all quilters. Most of us love these little bits and pieces and intend to use them someday: here are a few ideas for organizing and quilting with scraps.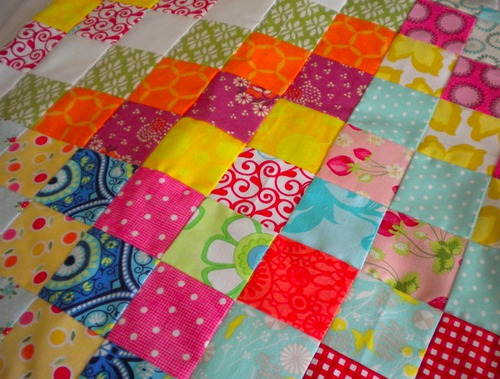 Taking a little extra time to organize your scraps can make it much easier to use them. When finishing up a project, it's a good idea to organize the scraps from that project right away. A scrap organization system can help you make the most of your scraps. Using separate boxes or bins to organize similarly sized scraps is the best way to keep things ready to use.
Here are some ideas for quilting with scraps to get you started:
Save 2 1/2″ strips. If you have a lot of these you can further separate them by lights, brights, and darks.
Save 2 1/2″ squares. Again these can be further divided if you begin to accumulate a lot.
Save "strings" or strips smaller than 2 1/2″ of varying sizes.
Save 5″ squares, or "charm" squares.
Save any other size of scrap you commonly use.
Have a scrap bin for pieces you're not sure about. Make sure this container isn't too big, and then when it fills up decide what to do with the fabrics-cutting them into savable pieces or tossing them. At the completion of a project cut up small pieces and store them in the appropriate bin. Then when you are ready to begin a scrap project you'll have a box of fabrics ready to go. This takes a little getting used to in the beginning, but it becomes a habit eventually, and the results make it worth the extra time it takes.
Having an ongoing idea of the types of projects you might want to use your saved scraps for makes it easy to actually sew with your scraps.
Begin with a few of these tips:
Nine patch and sixteen patch blocks are great ideas to utilize 2 1/2″ squares. Simply take a little time every once in awhile to sew up a couple blocks. As your scrap bin grows, make more blocks, and before you know it you'll have enough blocks to set together in a quilt.
String quilts can be put together over a long period of time as well. Whenever your "strings" bin gets full, make a few blocks.
Charm square quilts are another easy project. Sew your 5″ squares into 9 patches and then you can eventually sew all of the 9 patch blocks into a quilt.
Sewing 2 1/2″ strips together into strip sets and then trimming to make square or rectangular blocks is another idea. Later all the blocks can be set together to make a quilt.