Many modern quilters choose to quilt their own pieced tops, rather than send them to a long-arm quilter. Modern quilting typically features dense quilting, which requires lots of filler stitching. Though you could use a traditional stipple, there are many more quilting filler designs that will help you keep the modern design of your quilt.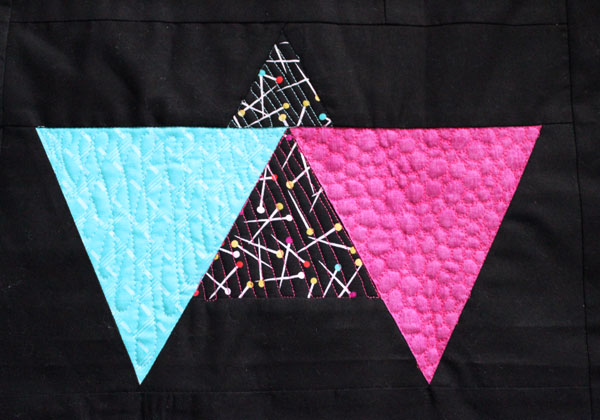 Straight-line quilting
Whether you evenly space your straight lines, make them various widths, or put them a matchstick apart, straight lines are simple to quilt, and therefore often found in modern quilting. For a beginning quilter, straight-line quilting is easily accomplished with a walking foot. Use the edge of the walking foot as a guide to keep lines straight as you stitch back and forth across the quilt.
If you are using straight-line quilting in combination with other free-motion quilting designs, you may want to quilt the lines using your free-motion foot. Creating perfectly straight and even lines when free-motion quilting requires practice. Use the edge of the free-motion foot as your guide to keep your lines evenly spaced.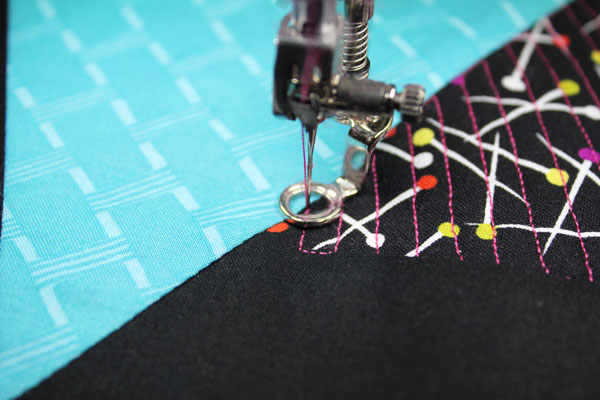 Simple loops
Loops can help fill in an irregular-shaped space. You can use a loopy stipple to fill in a large area. As you stitch, imagine yourself writing in cursive, repeating the letter e, then o, then e, then o. This will help you create a more irregular pattern.
Loopy quilting filler designs doesn't have to be random. You can vary both the height and width of your loops as needed to fill in an area.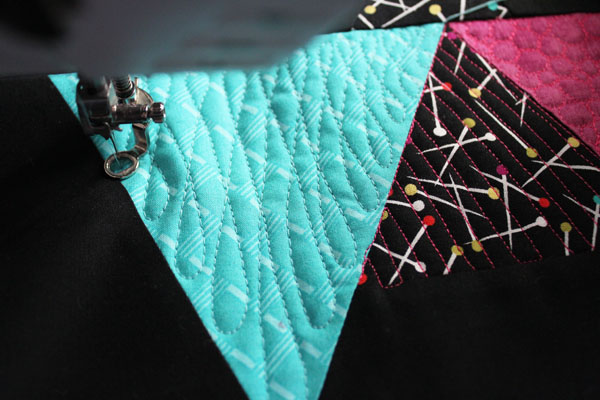 Creating these swirls and loops adds different texture than simple straight-line quilting, but does not require much more skill. In fact, irregularities in the distance between lines or the height of the loops are less noticeable with loopy fills, making them more forgiving.
Pebbles
Perhaps the most time-consuming modern fill, pebbles both fill an area and provide a lot of texture to your quilt. Use a coordinating thread to help your pebbles become part of the background, or a contrasting thread to really make your quilting shine.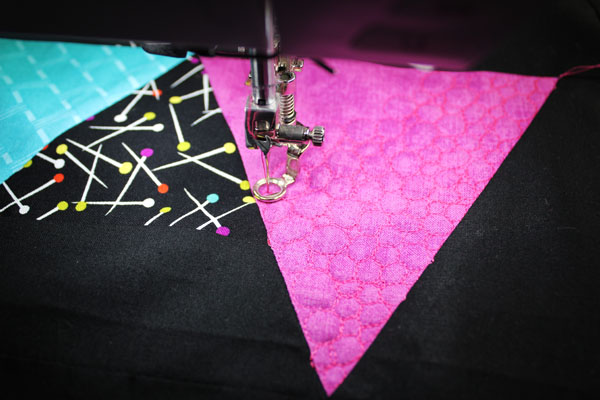 In their most basic form, pebbles are really a loopy fill that is very densely quilted. Create loop after loop, as if creating a series of figure eights, varying the size of the loops.
Pebble quilting is very forgiving. Because it is so dense, mistakes are less visible. If you find you have quilted yourself into a corner, you can follow the "grout" lines between the pebbles to find your way back to un-quilted space. Your pebbles don't have to be uniform in size, or even uniform in shape! You can make pebbles that are round, bean-shaped or oval.
Combining quilting filler designs
You can use a single fill across a quilt — but that adds little interest. Use different quilting filler designs to differentiate different areas of the quilt. Transition from one fill to the next. Use the different fills to add texture and interest to the quilt. When you finish, not only will the front of your quilt have an entirely new level of depth, but upon turning your quilt over, you'll find that the back of your quilt has taken on a life of its own.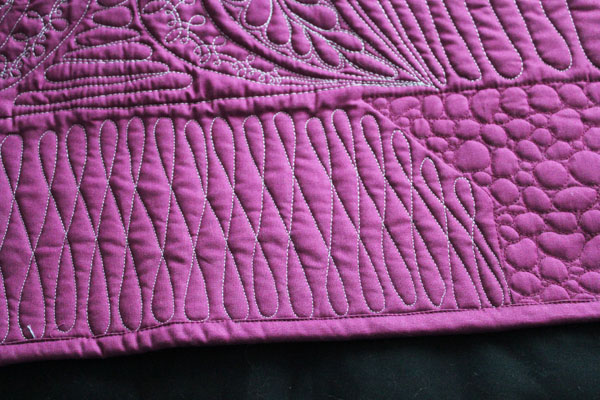 Learn more about how to fill the negative space in your modern quilts with Angela Walters in her Craftsy class Machine Quilting Negative Space.
Sign me up!
What makes online Craftsy classes great?
Learn for life! With lifetime access to your classes, you can watch lessons at your preferred pace and easily revisit your favorite concepts with just a click.
Kick up your feet! Enjoy classes anytime from the convenience of your home or even on-the-go with our mobile apps.
Get personalized guidance! Ask your fellow students questions to receive all the answers and feedback you need to succeed.
Love it! There's no risk in trying when it's free.