Sometimes I forget how much I rely on my favorite quilting accessories: cutting mats, rulers and rotary cutters. After a recent move, I found myself searching for my favorites spread out among boxes in my basement. With one curved ruler broken during the move (it was a favorite!), and others buried under bags of books and mementos, I'm finally starting to get my sewing room and quilting notions back in a useable order.
I was curious to see what quilting accessories are your favorites, so I started asking around. What size of cutting mat is the most practical? Do most quilters go for ergonomic or traditional rotary cutters? If you could own only one cutting ruler, which size would you choose? The results are in, and here's what some of you had to say.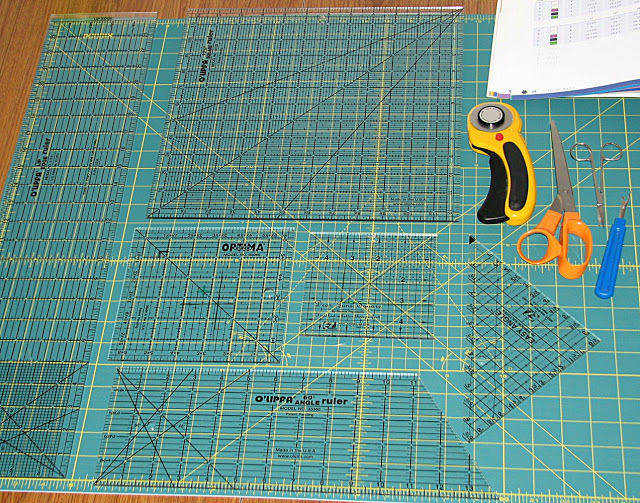 O'Lipfa brand rulers in a variety of sizes are blogger Denise Clason's favorite, and she says she's used most of them for more than 20 years! The 5" x 24" long ruler has a lip on the edge, which hooks on to a cutting map for more secure cutting. She also loves the 6" x 18" with a 45 degree angle and square rulers in 12" and 6 1/2" for squaring up blocks. She has passed several quilting rulers along to her daughter, which just shows how well they have held up over time.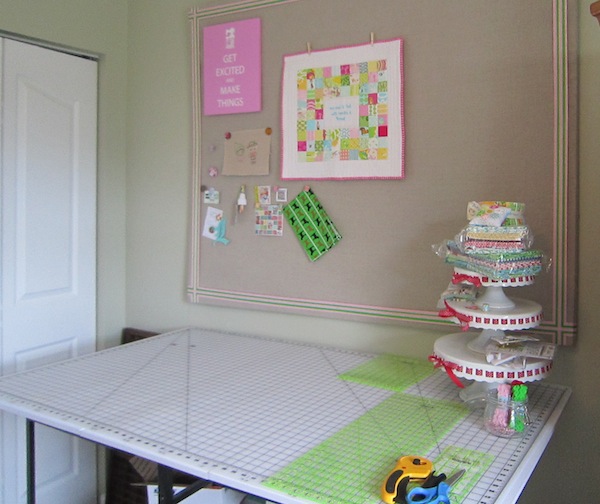 Elena at Hot Pink Stitches uses a giant 54" tabletop cutting mat, which she says is thick, easy to read and gets the job done. She calls the ergonomic 45mm Olfa her go-to rotary cutter, and uses the smaller 18mm rotary cutter for trimming half-square triangles. "I kick it up to 60mm when being naughty and cutting 8 to 10 layers at a time," she confesses. "I've always gotten the Omnigrid rulers because I like the different colored lines for reading measurements. I also like specialty rulers, like Dresden and Tri-Rec rulers for special projects."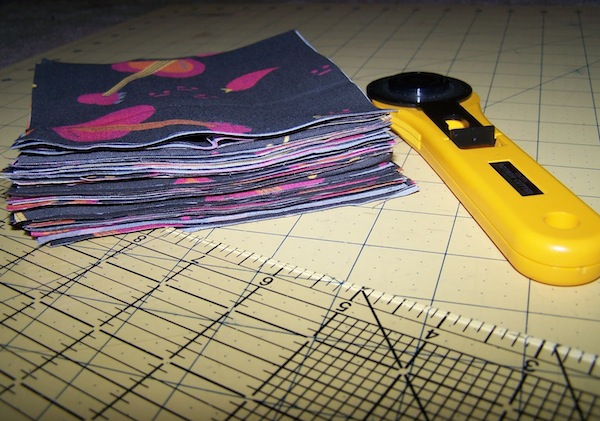 Veronica of sewVery uses a Fiskars 24" x 36" self-healing cutting mat, which she uses all the time with her Fiskars 3" x 18" or Omnigrid 6" x 24" clear rulers. "I've been very happy with rulers and the cutting mat, which is similar to what I used as an engineer, for a drafting table." She also has several sizes of Fiskars rotary cutters, but says she think Olfa rotary cutters work better.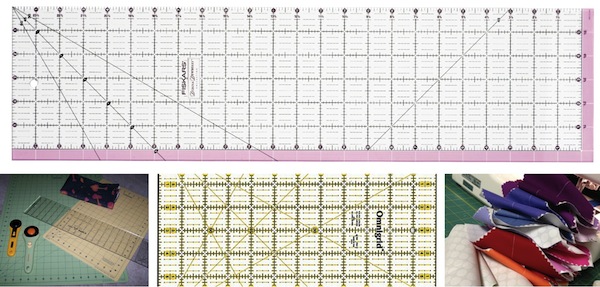 Kristine Tsai calls the Olfa rotary cutter (45mm ergonomic) and mat (36" x 24") her favorite quilting accessories. For rulers, she loves her 6 1/2" x 24" Donna Dewberry ruler by Fiskars. "I love the fact that the extra 1/2" is colored differently from the rest of the ruler (purple instead of clear)." Kristine also loves the 6" x 12" ruler by Omnigrid, which she says is easier to move around and works really well with fat quarters. "It also travels really well — I brought it with me to the Sewing Summit conference."
If you are new to quilting, these recommendations should help you get started. A large cutting mat, long acrylic ruler and 45mm rotary cutter should work to get you started. And since quilting accessories don't always come cheap, you should probably treat yourself to a FREE Bluprint mini-class, like Sew Ready: Machine Basics with Amy Alan or Creative Quilt Backs with Elizabeth Hartman.
Which quilting accessories are your favorites when it comes to mats, rulers and rotary cutters? Are there any specific brands or sizes that you'd recommend?