Have you ever met a child that doesn't love a good doll or stuffed animal? They are beloved toys that are treasured forever. Rather than purchasing one from a store, why not try quilting or sewing your own handmade creations? Softies are fun and quick to make. And these quilted stuffed animals make perfect gifts for the little ones in your life!
Here are 7 adorable softies and stuffed animal patterns available here on Craftsy:
Photo via Larissa Holland

In the Baby Binky Bunny pattern, you will learn how to make a 15" baby bunny in a cloth diaper along with a 14″ by 18" patchwork blanket for the bunny to snuggle with. The pattern includes directions on how to make the bunny sleeping or awake, boy or girl. There is some space on the back to personalize the bunny with embroidery!
Photo via Patchwork Posse
Learn how to sew a stuffed robot with this super easy Robot Plushie pattern! The robot sewing pattern makes a softie that measures 11″ by 6″. This is a great project for fabric scraps, leftover rickrack and buttons. Add some pink and you have a Miss Robot!
Photo via DIY Fluffies
Check out this adorable Owl Softie sewing pattern! The finished softie measures 12" across, so it makes a great pillow gift. There pattern includes hearts and raindrops for the belly, so the owl can be made for a little boy or a girl.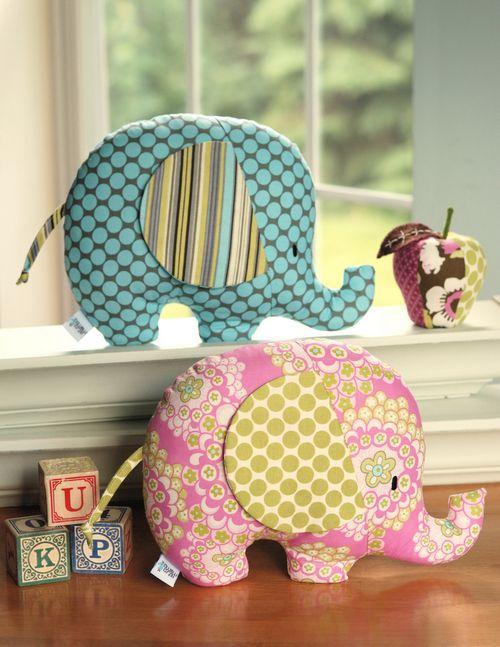 Photo via Retro Mama
Little ones won't be able to resist the big floppy ears, embroidered eyes, and cute knotted tail on this Elephant Softies. This pattern is perfect for the beginner stitcher, and you will receive an 8-page pattern with a tutorial, photographs and full-size pattern pieces. No need to enlarge, just print and sew!
Photo via Tictac and Toe
The Matryoshka Dolls pattern is an easy-to-sew project that includes a bit of embroidery. These girls are named Nikita, Oksana, Tatiana, Anastasia and Svetlana, and instructions are included to make each. The finished doll is 12" tall!
Photo via DIY Fluffies
Do you have lots of fabric scraps laying around? Use them for this funky monster! Little boys and girls will love playing with this little guy. This Monster Doll pattern includes an easy-to-follow tutorial with many illustrations.
Photo via Shoeology
What can cuter than children dressed up in costumes? You can make all three of these dolls for the little ones in your life! Paper patterns for all three dolls (fox, bear and bunny) are included in this purchase.
Photo via Soto Sewn
Last but certainly not least is the Batty Pattern! This sweet little bat is a fun and playful toy. Make it either creepy or cute, depending on the preference of your little one!
Have you ever made a softie or quilted stuff animal? Please share!