If you've been quilting for some time, you've probably heard the terms quilt stippling and meandering. Both words are used to describe a quilting pattern with a series of "S" curves that weave around each other without touching or crossing. This may be used in a small area, such as a border or appliqué, or as an all over quilting design.
The terms are often used interchangeably, although the main difference is in their size or scale.
If you're talking about lines that are very close to each other, with no more than 1/4" of free space, this is referred to as quilt stippling. If you are talking about a quilting design with stitches more than 1/4" apart (and some quilters say 1/2"), this is referred to as a meandering stitch.
This above quilting sample by Karin of The Quilt Yarn shows a smaller stippled design and a wider meandering stitch side by side.
Karin's tip is to start quilt stippling from the bottom up, so you can see how far apart your previous stitches were.

But what if you want to go even smaller than normal quilt stippling?
This is often called microstippling.
Leah Day offers a free video tutorial on microstippling, which is the tiniest version of quilt stippling where the lines do not cross and are smaller than 1/4" apart. She says this is a great technique for flattening a section of a quilt, such as the inside of the hearts and interlocking diamonds.
But how small is too small? Quilter Diane Gaudynski says she likes to keep her stitches to about 1/8" apart to get a great effect without too many needle holes. Using a low-loft batting will also help your quilt to lie flatter after stippling or microstippling.
Try practicing many sizes of this stitch, and you'll probably settle on a comfortable size for you and your machine.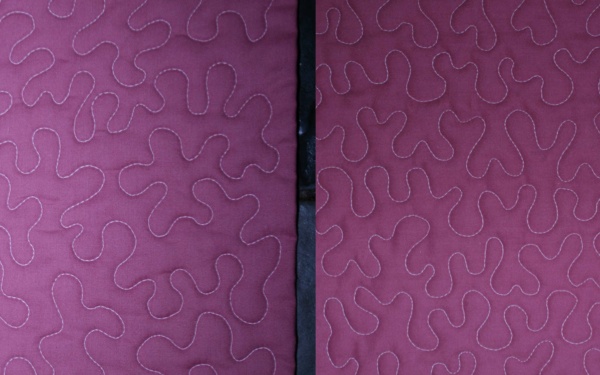 One way of getting comfortable with stippling or meandering is to change your stitch direction.
Karin of The Quilt Yarn practices her meandering stitch in a random pattern (left) and in rows (right). Like many quilters, she says she finds the random approach challenging and feels like she has more control if she quilts the pattern in rows.
You can also try to practice the number of prongs on your meandering stitch. A helpful illustration from Leah Day shows how you can quilt "bubble letters" of a capital E, L, H, F, M, C and U to help you form a nice-looking meandering pattern.
When a meandering stitch is used over an entire quilt, it has a great effect, which is probably why it's such a popular quilting pattern for many free-motion quilters.
The Cathedral Squares quilt and Craftsy pattern designer Freshly Pieced uses a soft meandering stitch to help tie together on point quilt blocks.
The Floral Wall Hanging by Craftsy member Sarah Becker offers a great visual of quilt stippling on a finished project. By flattening the sky background with a tight stipple but leaving the flower buds and parts of the border unquilted, she creates a contrast in the texture and dimension of the mini quilt.
Looking to boost your confidence when it comes to quilt stippling and meandering? Check out the course Machine Quilting: Free-Motion & More with Wendy Butler Berns to overcome your fears while you learn great tips and techniques!
Do you like to use quilt stippling or meandering in your projects? We'd love to hear how far apart you typically keep your stitches.