All eyes were on Pittsburgh May 16th – 18th as the International Quilt Market converged on the historic city. Prints, patterns, textiles and notions of every type were on display for shop owners and industry professionals to preview upcoming trends and products. To kick off this series of posts going behind-the-scenes at this exclusive quilting trade show, I wanted to focus on two of the most important parts of the event: pattern and color.
Let's take an insider look at the International Quilt Market spring 2014, where color was king and pattern prevailed!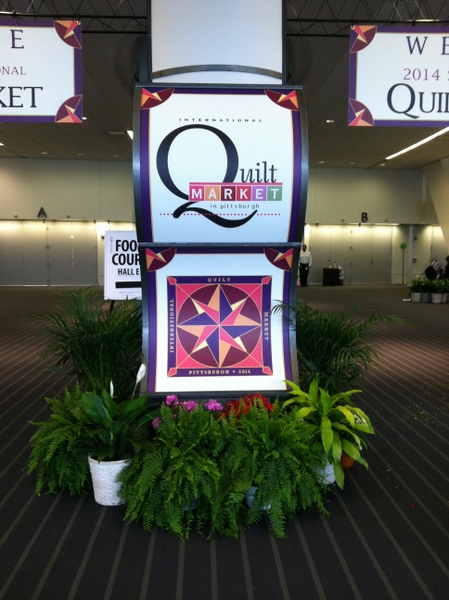 Bright color everywhere
Every display and booth at the International Quilt Market was a brilliant combination of print and pattern along with style and most notably, color. Colors were everywhere: While there were palettes sure to please every quilter, the bright vivid displays seemed to encompass the overall mood of the show.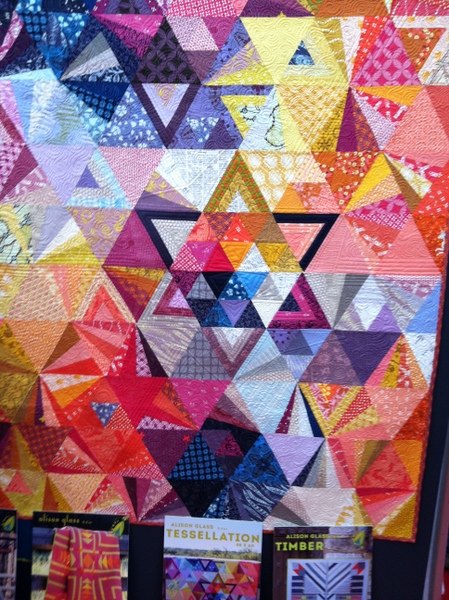 Photo from the booth of designer Alison Glass — All images via A Quilting Life
The stunning use of color was everywhere at the market. Often, quilts displayed bright colors like sparkling gems in a night sky with the use of dark backgrounds or no background fabrics at all. Booth displays seemed focused on showcasing how today's quilter can use these stunning bright colors in today's clothing, quilts and home decor.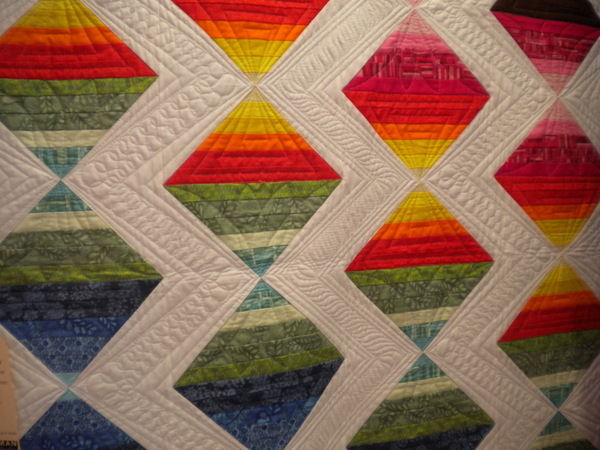 Valori Wells fabrics, framed with white accents in this quilt at the Robert Kaufman booth
Sometimes, however, the bright fabrics were accented by whites and neutrals, presenting an amazing combination of open space and brilliance. The open space created by the addition of white and other light fabrics allowed the colors to truly shine.
[box type="shadow"]
Get insider knowledge on how top quilters and fabric designers achieve masterful color combinations in their quilts (and create colorful quilt projects of your own!) in Joen Wolfrom's Bluprint class Color Play for Quilters.
[/box]
Bright colors are clearly the focus for Moda designer April Rosenthal's "Best. Day. Ever." collection.
Patterns take shape
Diamond and star motifs were everywhere as shown in this bright quilt by designer April Rosenthal. The juxtaposition of bright colors, simple shapes and wide open white space proved the perfect combination of design elements. Design combinations utilizing simplicity, color and white accents and backgrounds could be found in many different areas of the showroom floor.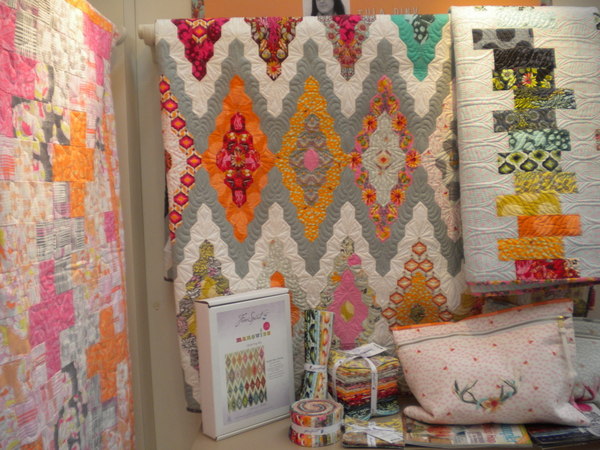 "Moonshine" collection by Tula Pink on display in the Free Spirit booth
Graphic shapes and designs continued to be on trend as shown in Tula Pink's booth presenting her upcoming collection "Moonshine." Not only were hexagon quilts again prevalent as a design element in quilts and accessories, but "plus signs" and simple rectangles were also frequently found in designs and patterns. The use of simple shapes makes it possible for even beginner-level quilters to create stunning quilts with these beautiful fabrics–simple shapes are easy to piece and allow the fabrics to become the focus of the quilt.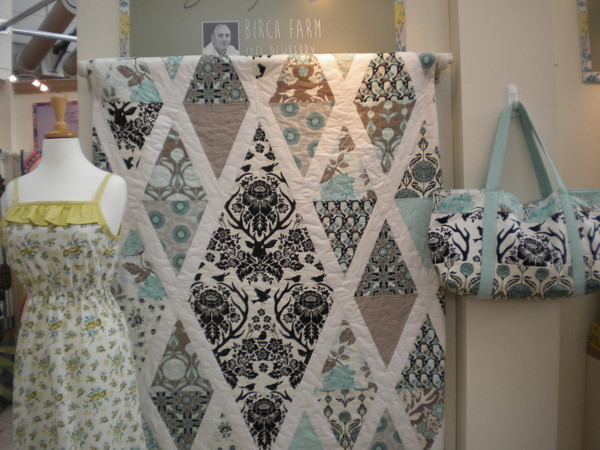 Joel Dewberry display in Free Spirit Booth
Another prevalent design element was the antler motif as seen in the Joel Dewberry collection "Birch Farm" and the "Rustique" collection by Emily Herrick for Michael Miller Fabrics. Whether in grays or taupes, purples or greens, these graceful scroll motifs from nature seemed to be a popular element in several new collections.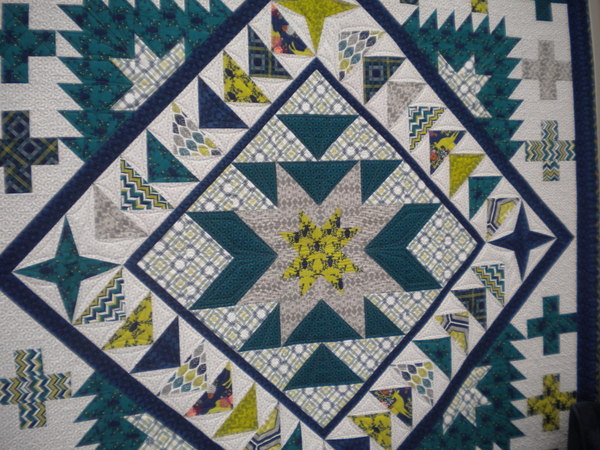 "Rustique" by Emily Herrick for Michael Miller Fabrics, also featuring an antler motif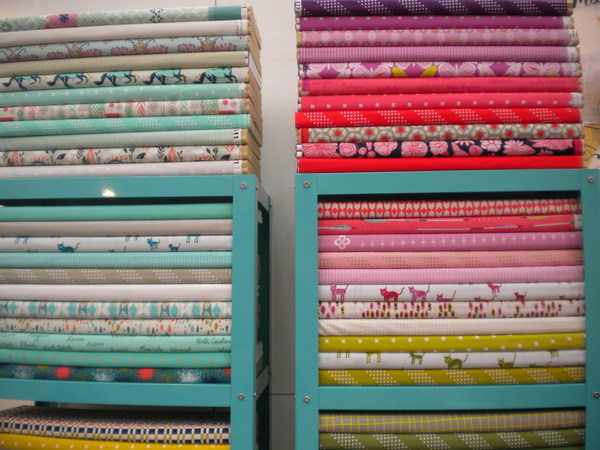 Fabrics from the "Cotton and Steel" collection, a division of RJR Fabrics
Collaborative designer collections
Another continuing trend I notices is the creation of fabric collections by one designer and groups of designers that coordinate and work well with other designer collections. The creation of these fabric collections allows endless possibilities as quilters are now able to confidently mix collections and create unique combinations of fabrics. The "Cotton and Steel" fabric collection by five designers working in combination with RJR fabrics was the latest evidence of this growing trend in fabric design.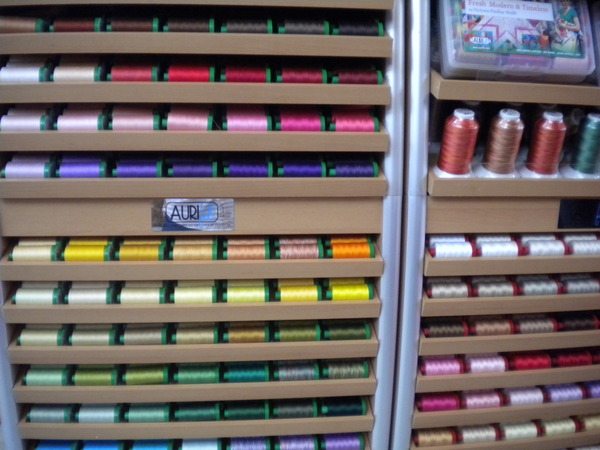 A rainbow of threads by Aurifil
A rainbow of thread
Not only were brilliant colors festively displayed in fabric, but thread collections also presented the brilliance of color. Of special note was the beautiful rainbow of threads found in the Aurifil booth. Aurifil threads also come in specialty collections perfectly paired with designer fabric collections. These are especially useful for appliqué and fabric embellishment. No longer does today's quilter need to struggle to find the perfect thread for a project.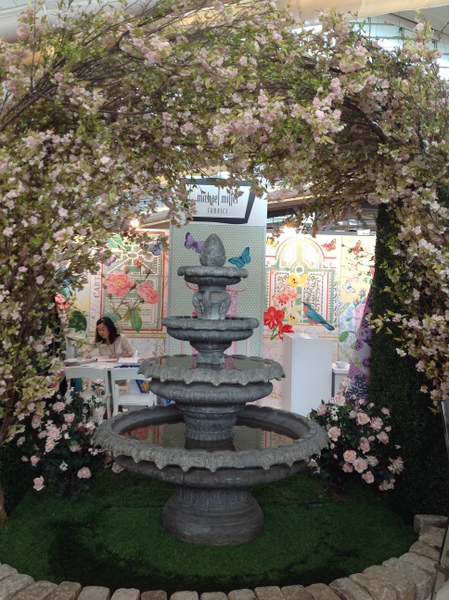 Fountain and flowers from the Michael Miller Fabrics booth
While brilliant color and design were everywhere, there was also a prevalence of softer tones and hues which portray simple reverie and respite through gentle colors and tones. The fountain and flowers display in the Michael Miller Fabrics booth was the centerpiece to other displays that showcased a softer, more vintage appeal of timeless fabrics.
Which spring International Quilt Market trends in pattern and color are your favorites?