Have you ever thought of entering your quilting work into a show or competition? Do you wonder what makes an award-winning quilt, but aren't sure of the quilt judging criteria?
Here are five things judges look for in an award-winning quilt: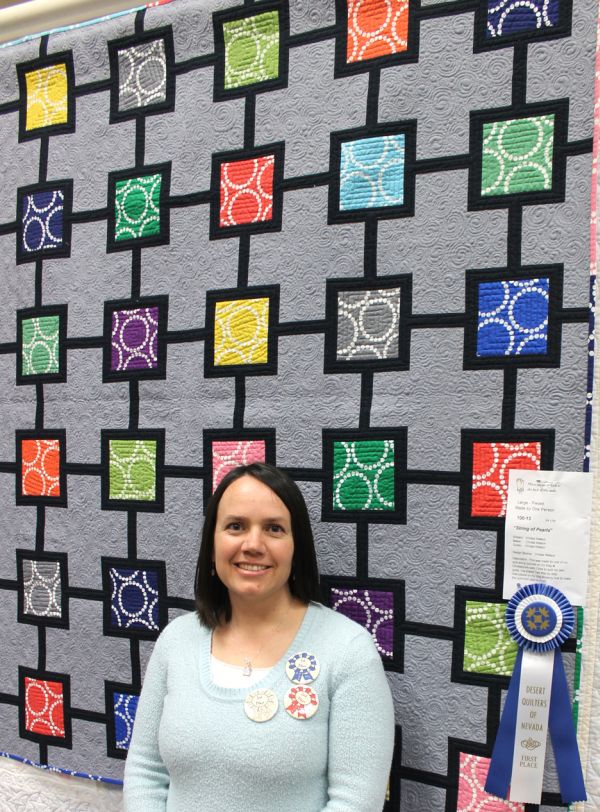 Award-winning String of Pearls Quilt photo via Craftsy member Christa Watson
1. Original design
This doesn't necessarily imply that the quilt has to be your own original design. Most shows allow entrants to make quilts from published quilting patterns as long as they obtain permission from the designer. However, quilt judges love to see fresh new ideas that they haven't seen anywhere else or in show after show.
2. Good workmanship
It goes without saying that a well-designed quilt may not receive the recognition it deserves if the workmanship is poor. Quilt judging criteria includes straight seams, matching points and straight borders and they all enhance the overall appearance of the quilt. Take your time and do the best job you can when making a quilt for a show.
3. Even distribution of quilting
Whether your quilt is finished with hand quilting, machine quilting or longarm quilting, be sure that the quilting enhances the overall design of the quilt and that there is enough quilting.
What is enough? There shouldn't be any large unquilted spaces on the piece, and the density of the quilting should remain consistent throughout the quilt. Along with an even distribution of quilting, quilt judging criteria also includes consistency of stitch length throughout the quilt, especially when quilting by machine.

 Award-winning Colorful Chevrons Quilt photo via Craftsy member Christa Watson
4. A clean quilt
This seems to be common sense, but you would be surprised how many quilts show up at a show with pet hair, a smoky smell or stains on them. Do the best job you can to keep your quilt clean and show-ready. Most shows reserve the right to reject a quilt with any of these problems, so don't let your hard work go unnoticed if one of your furry friends just happens to want to sit on your quilt!
5. Fully stuffed and finished binding
The binding is the frame around your quilt and is the last place the judges look before making a final decision about your quilt. Be sure the batting goes all the way through to the edges of the binding. The corners on the front and back should form a perfect miter and should be hand-sewn shut on both sides. Judges prefer that the binding is the same width on both front and back, and there are no wrinkles. Choose a straight grain binding for rectangular or square quilts, or bias binding for quilts with curved edges such as scallops.
Although the judge does not know who made the quilt in most cases, be sure to include a label on the back with your complete contact information as well as a standard 4″ hanging sleeve. Whether you attend a local quilt show, or a regional or national show, it is fun to share your work with others and get constructive feedback on how you can improve. If your quilt happens to win a ribbon, that is icing on the cake!