Keeping the program at your quilt guild interesting and entertaining can be a daunting task for any quilt guild leadership. A quilt guild challenge, or series of quilt guild challenges, can be a fun way to vary the programming. While having a speaker and learning a new technique are a standard part of the program rounded out by show-and-tell, a quilt challenge can help to create community.
By giving all the members a mission, and allowing the members to see how their fellow quilters executed that mission, your members create a bond. Their shared successes, growth, and learning opportunities create a connection that will strengthen the guild.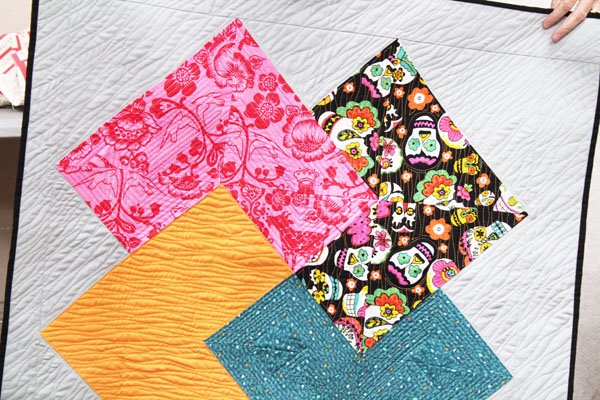 Card Trick one-block quilt by Sandy Glynn at the Las Vegas Modern Quilt Guild
 The basics of a quilt guild challenge
1. Decide on a challenge.
You'll find a list of challenge topics below. You can allow your guild to decide what challenge they would like to take on. With a larger group, it is often easier for leadership to choose a topic, then present it to the group.
2. Select the timeframe.
How long will your membership have to complete the challenge? Quilts can be a large investment of time – most challenges should allow at least 2-3 months for completion.
3. Will there be prizes?
Does your guild have a budget to purchase a prize, such as a gift card to the local fabric store? If so, how will the winner be determined – will there be a vote among the guild, or will there be a raffle among the completed entries? You don't need to have a prize at stake for the challenge to be successful – for many guild members, attempting and completing the challenge is prize enough!
4. Determine the quilt challenge rules.
Especially if there are prizes on the line, you will want to be clear about the rules. Is there a size requirement? Must the project be a quilt, or can it be a garment or bag? Does the project have to be completed (quilted and bound) to qualify? You can set as many rules as you would like. Remember that less rules allows for more creativity among your members, and also results in less confusion.
5. Present the quilt challenge.
Present the quilt challenge, and all the details, to your membership. You may want to have the details written down to hand out, in addition to making them available on the guild website.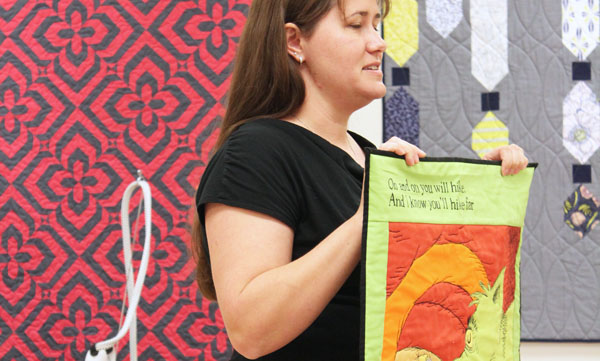 Quilt challenge ideas
January: Ugly fabric challenge
A traditional challenge idea, each member brings in 1 yard of "ugly" fabric from their stash. These yards are exchanged with the other members, and each member is challenged to create a quilt with the yard of fabric they go home with. Alternately, the guild could purchase a bolt of "ugly" fabric from the sale section of the quilt shop, and each member is given 1/2 yard to create their challenge project.
February: Block challenge
Pick a popular block for quilt guild members to include in their quilts. The block can be used once, or repeated throughout the quilt. Great blocks to use include the Log Cabin, Ohio Star, and Churn Dash.
March: Using fabrics or pattern from a designer
If you are anticipating a visit from a pattern or fabric designer, challenge members to use a pattern or fabric from that designer. Schedule the challenge so that the reveal will be at the meeting the designer visits.
April: Color challenge
Choose a color as a group. This color is to be the dominant color in all submitted quilts. This challenge is fun at the beginning of the year when Pantone announces their "color of the year".
May: Technique challenge
Select a technique the group would like to work on – this could be a technique recently taught in the guild, or a standard quilting technique. All challenge projects are to incorporate the technique in some way. Ideas for techniques include free motion quilting, applique, Y-seams, paper piecing, and piecing curves.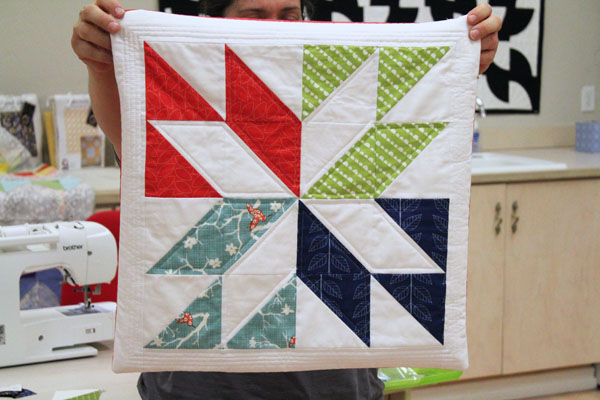 June: UFO (Un-Finished Object) challenge
Each member brings in a project they have begun, but will never finish. The projects are exchanged, and each member is challenged to complete (in their own way) the Un-Finished Object they were given. UFOs can be brought in brown sacks to exchange in a "White Elephant Gift" style, for an entertaining meeting activity.
July: Fat Quarter challenge
Members pay in advance for 4 fat quarters of fabric. At the meeting, each participating member is given an identical set of 4 fat quarters to make their challenge entry with. This could also be done with more or less fat quarters, or stacks of 5″ precuts.
August: Block swap
The block swap is done in two parts. At the first meeting, members bring a block to swap. Each member goes home with a different block than the one they arrived with – and the challenge to incorporate that block into a new quilt.
September: Non-quilt challenge
Challenge quilt guild members to create a garment or bag – anything but a quilt! Thinking like a stitcher that is not a quilter is a great exercise to help your members think out of the box.
October: Inspiration challenge
Ask your members to choose an inspiration image. When they bring in their completed quilt, they should bring in their inspiration image as well, and explain the process from inspiration to completed quilt.
November: Improv quilt challenge
Throw patterns out the window! Challenge your quilt guild members to create a quilt without a plan – using improvisational piecing to create a modern masterpiece.
December: Scrap quilt challenge
Members are challenged to create quilts using just their fabric scraps. Bonus points to members who piece a back from larger scraps! This is best announced several months in advance. If it is announced with only a few months notice, there will always be a member who recently purged their scraps, and will not be able to participate.