Thinking about applying for our 2017 Quilt Designer Fellowship? "Just go for it!" That's the advice of last year's winner, Sheri Cifaldi-Morrill. At her first Quilt Market last fall, we asked her to share some words of wisdom for our 2017 applicants — and we think her tips are spot on!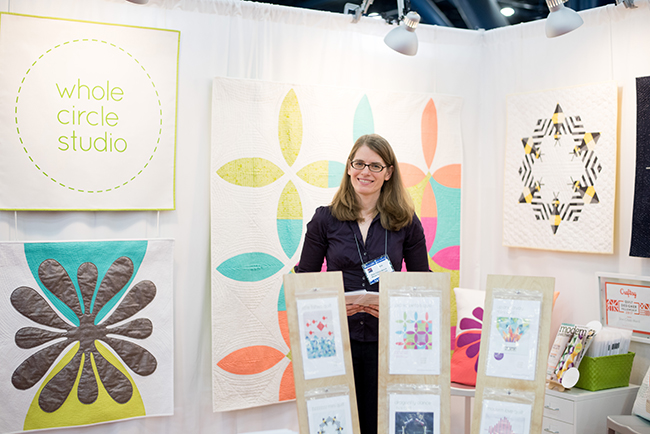 1. Keep it simple.
What's most important is that your application shows off your skills and your passion for quilting. Keep your application simple — no need for over-the-top embellishments. But remember, simple doesn't always mean easy. "Sometimes the simplest things take the most work," Sheri says (and she knows from experience!). Be thoughtful about each piece of the application, and figure out the most effective way to tell the judges what you're all about.
2. Stay true to yourself.
"Everyone has moments of self doubt," Sheri says, but staying true to herself and her unique quilting style is what earned her the 2016 Fellowship. Push your doubt to the side and put yourself out there. While Sheri's style stole our hearts last year, the judges are open to all styles of quilting, so don't hold back because you have a different approach.
3. Practice your photography.
Since our judges can't see your quilts in person, high-quality photos are so important. "If you don't photograph it well, you're not doing it justice." Sheri recommends a real, 35mm camera — avoid your smartphone if you can. Don't have a fancy camera? Ask a friend to lend their skills, or consider hiring a pro.
4. Don't let the application intimidate you.
The main goal of the Fellowship application is to give our judges plenty of ways to get to know you, so don't let it scare you away. You can make it a little more manageable by giving yourself plenty of time to finish. Sheri says she put together her application and then put it out of sight and out of mind for a couple of days. That way, she could come back to it with fresh eyes. 
5. Stay positive if you don't get it.
Our judges face the big challenge of choosing just one winner from a huge group of talented quilters. Even if the judges choose another designer, keep your chin up. "I've been fortunate enough to win a good number of awards, but there are also a lot of things I've applied for that I haven't gotten," Sheri says. "Don't get discouraged. And if you don't get it this year, apply again next year." We couldn't agree more!
Ready for Your Time to Shine?
Find out how to apply for our 2017 Quilt Designer Fellowship, and take a peek at what prizes are in store (we think you'll like them!).