Pointillism is a technique used to apply dots of various size and color to form an image. We can use pointillism with stamping to add shadow around an image, to add texture, create fur or curly hair, to simply add depth or to color an entire image.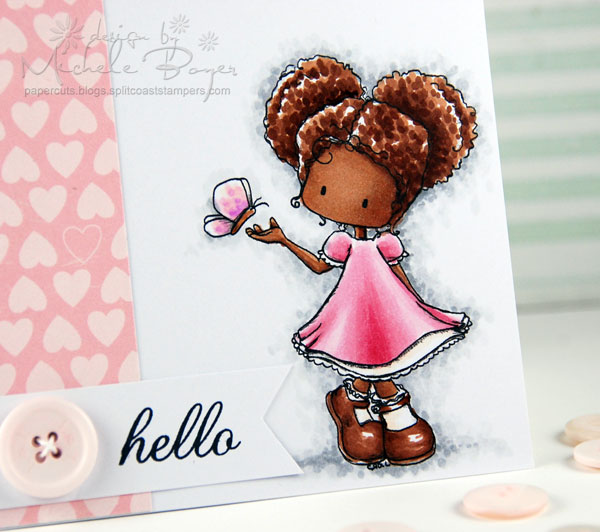 The idea is to use darker dots in shadow areas with lighter dots in highlight areas. It is also helpful to leave some areas uncovered as the white of the paper can create the brightest highlights.
Most any color medium can be used to achieve the pointillism technique. For this tutorial, I've used Copic markers.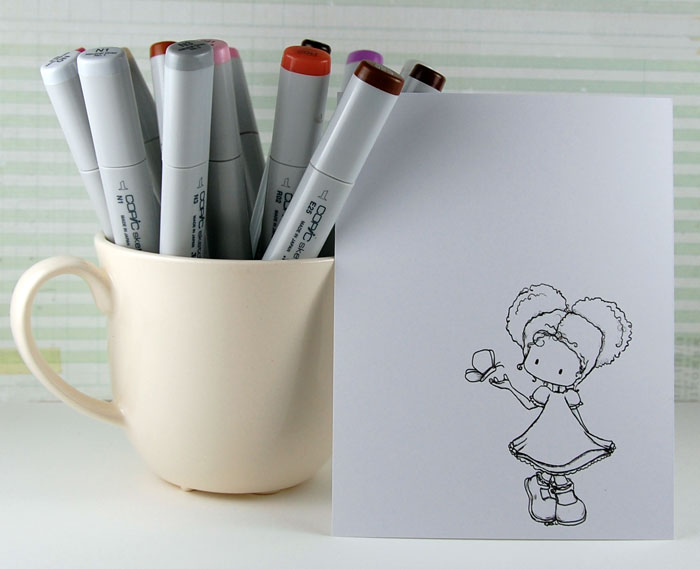 Easy pointillism tutorial
Supplies you'll need:
Image (I used digital image Faythe Flies by Tiddly Inks)
Copic compatible cardstock (I used X-Press It Blending Card)
Copic markers* (I used N0, N1, N3, E23, E25, E27, E29, Colorless Blender Pen)
*Only those colors used for the pointillism portion of this tutorial have been listed above.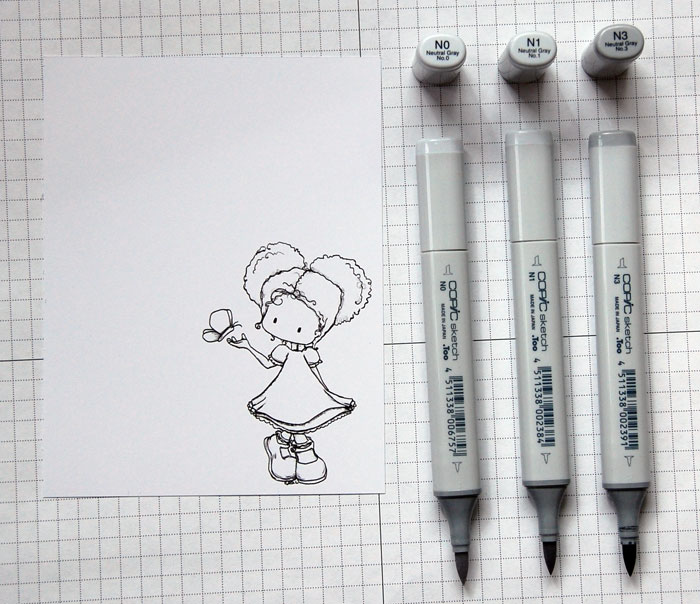 Step 1:
Print or stamp image onto white cardstock.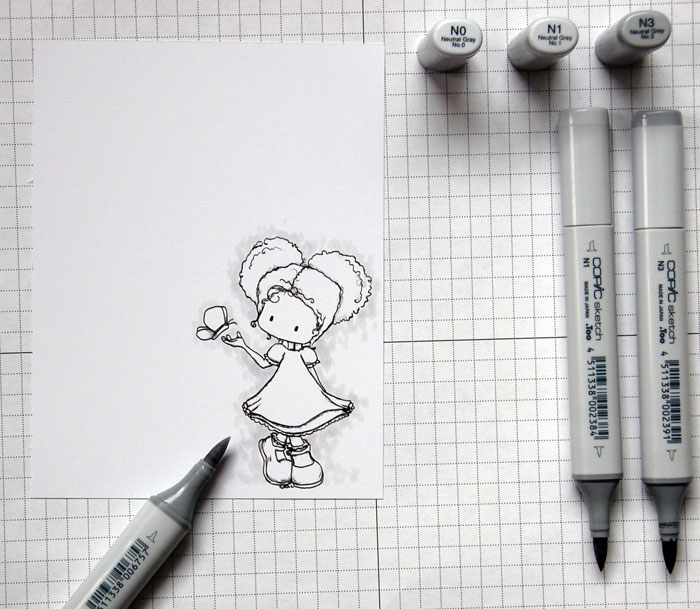 Step 2:
Using the lightest gray, N0, begin to add dots around the image. Decrease the dot size while moving farther away from the image.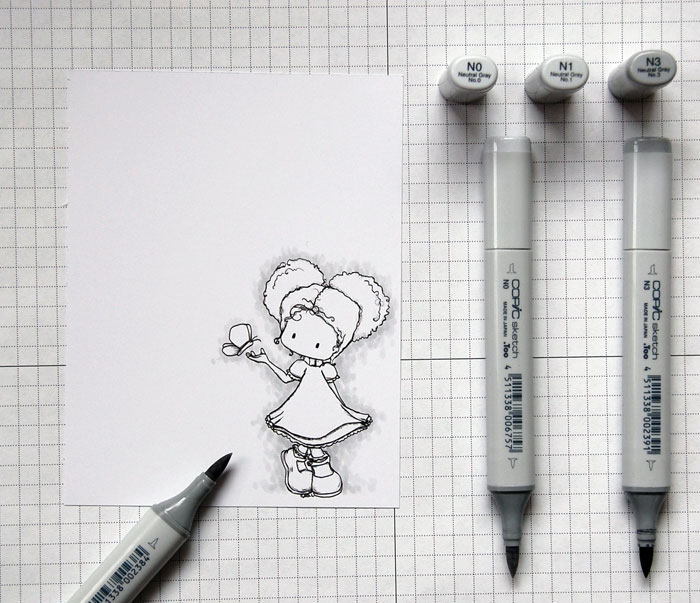 Step 3:
Using next darker gray, N1, begin to add slightly smaller dots close to the image. Randomly add very small dots scattered farther away. This will help to create a "blend" of the various shades of dots.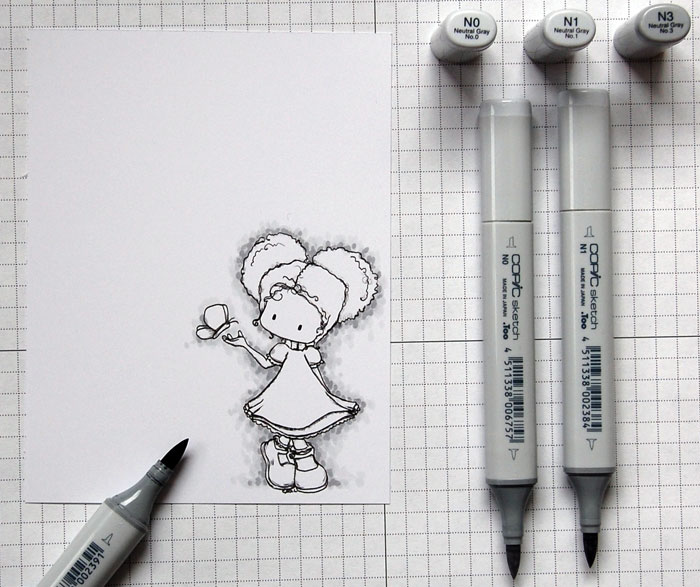 Step 4:
Using darkest gray, N3, add small dots close to the image. While concentrating the darkest dots close to the image lines, be sure to "scatter" tiny dots farther away as in Step 3.
Step 5:
Return to N1 and/or N0 to "fill" any areas where additional dots may be needed.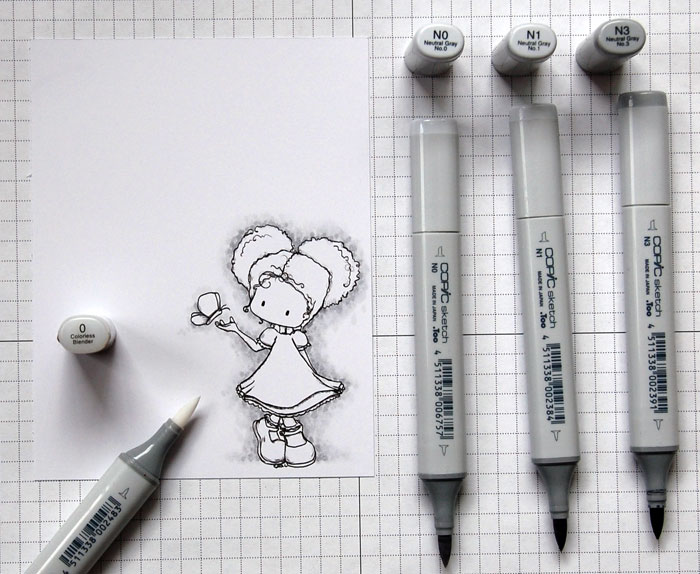 Step 6:
Once satisfied with the dotted shading, color over the dotted area with the Colorless Blender. This will slightly soften the ink without losing the illusion of the dots. Doing so will also soften the outermost edges of dots, creating a soft blend into the surrounding paper.
Before adding color to hair, I always color the face/skin first. Here, I've used the two lighter browns, E23 and E25.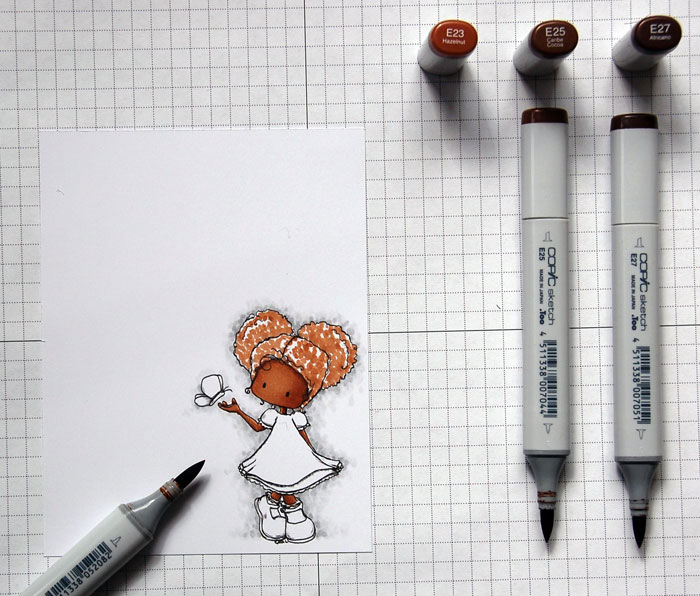 Step 7:
Before beginning, note any lines within the area that indicate shape. Close to the outer edges of the two ponytails, you will see a squiggled line indicating a rise or ripple in the hair. Use these "guides" to help in determining the placement of color. I left a bit of white just below the line to create a highlight. A shadow is created by concentrating darker color above the line. I also left a larger area of white to each side of the part in the hair to create dimension.
Using E23, begin to apply dots to hair. As the base color, the dots can be bigger than those created with the darker markers. Leave some areas white to create highlights.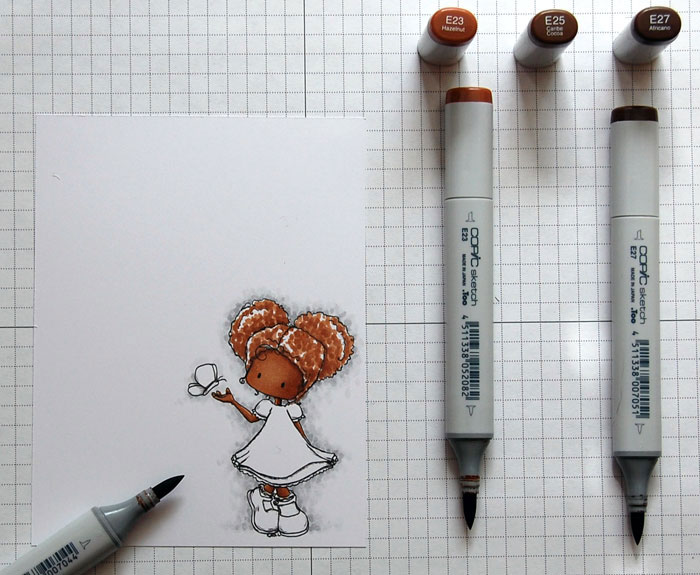 Step 8:
Moving to the next darker brown, E25, begin to add smaller dots, concentrating color in areas of shadow and around the face.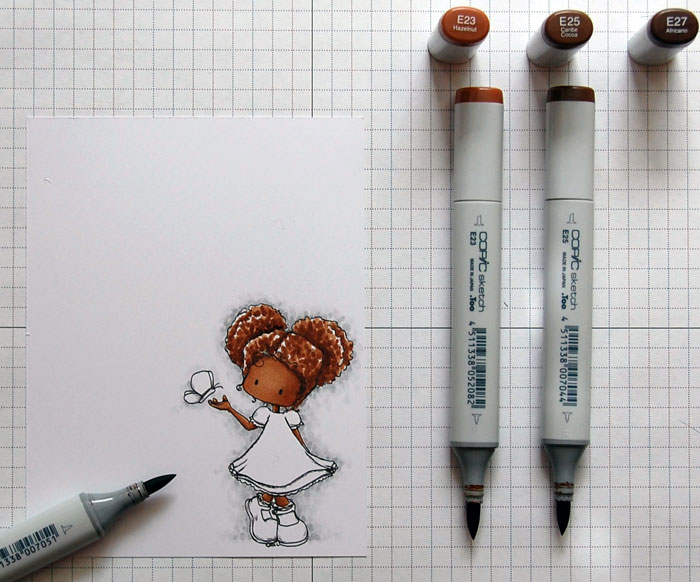 Step 9:
Using the next darker brown, E27, add very small dots, placing them closer together in areas of darkest shadow and around the face. Remember to scatter a few tiny dots randomly throughout to create depth.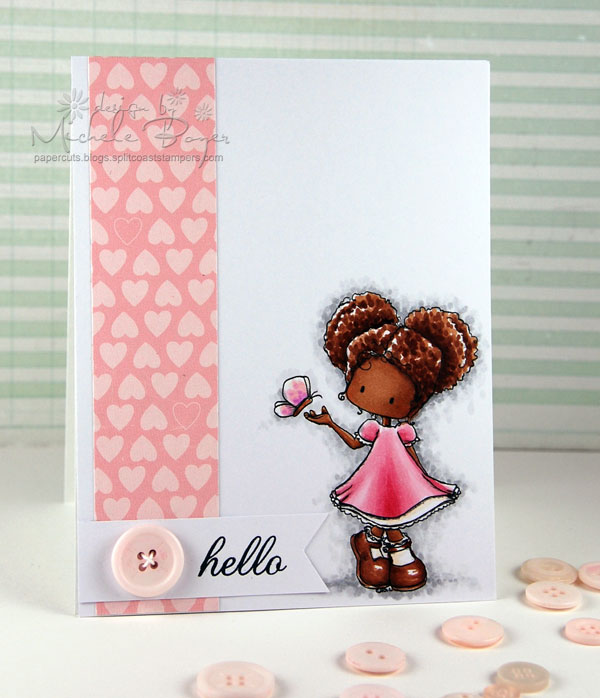 Step 10:
If needed, return to E25 and E27.
Before finishing the card, I added just a bit more shadow and depth in the darkest areas with a darker brown, E29.
Make Your Most Colorful Cards Yet!
Learn the secrets to vibrant handmade cards that WOW in Vibrant Stamping: Creative Color Techniques, which includes an entire lesson on coloring with Copic markers! Enroll Now »