Once you have taken all of your beautiful photos, what comes next? Do they go on to a hard drive, never to be seen again until you reorganize your files? Do they go on Facebook to be buried by the other 350 million photos that are uploaded every day? Perhaps it is time to consider making some hard copies of those painstakingly created images!
Here are some photography display ideas for taking your images from digital to physical: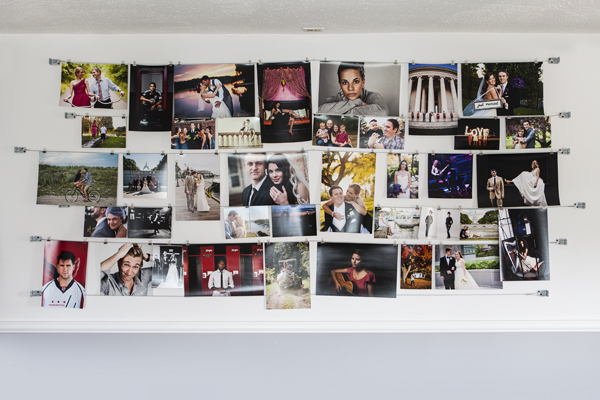 Framed prints
Framed prints are the most classic way to display photography around the house or office. You can get them in a variety of sizes, to hang on a wall or to sit on a tabletop or shelf. You can also get them with or without mats. Some companies, like White House Custom Color, Black River Imaging, and Millers Professional Imaging are able to put together prints with matting and frames included. There are a lot of options to choose from for your frame materials and colors and mat colors. Frames can be built to be quite large and quite small. I like building my own frames to give them a unique look. Once you have chosen a frame, you can also add variety by using different papers (like pearl or metallic) or textures (like a high gloss or a linen finish) on the print.
Canvas prints
If you are looking for something a little more modern, canvas prints are a good way to go. I think that these only really look good at 11×14 or larger. The photo is printed on canvas and stretched on wooden supports, so it sticks off the wall a bit. Some are thinner (3/4 inch) and some are thicker (2 or more inches). The image typically wraps around the sides, so your print needs to be able to be cropped a little bit to fit on the front AND the sides.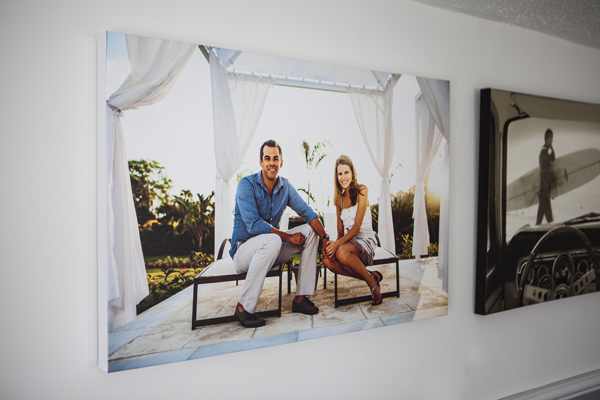 Alternative prints
Nowadays, you can print on just about anything. Many companies will print on wood, metal and plastic sometimes with the base material showing through to create extra texture. Wood prints are neat because they add a warm feel and a grainy texture. Metal prints are super glossy, eliminate the need to use glass, and reflect light so they seem a little brighter than a normal print.
Books and albums
Putting your photos into book form can also be a great way to showcase them, without taking up a lot of space. You can keep these books on a coffee table or on a bookshelf to be pulled out when you want to see them or show them. The three companies I mentioned above will help with creating great looking books and albums, but many people also use sites like Shutterfly and Snapfish for creating photo books on a budget. If you really want to create a showpiece, consider hiring a designer to make the book for you, or looking for templates that will help you spice up your own design.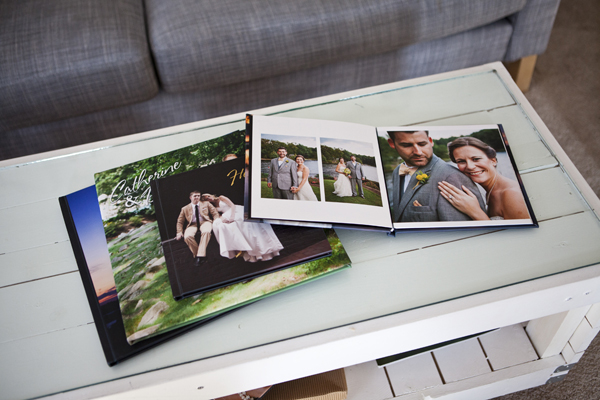 Calendar
I think that calendars are cool ideas for showing photos. It's useful, easy to display and you can cycle through a variety of images. The imagery stays fresh and you have something new to look at every month. There are lots of places online to make calendars, including all the shops mentioned above, but you could also go into Wal-Mart, Walgreens, or Costco to get something made.
Small items
There are so many little things that you can get photos printed on. Some are very cool, some are pretty cheesy, and some are both. Consider making coasters, magnets, mugs, a puzzle, playing cards, an iPhone case or a mouse pad out of our beautiful imagery.
DIY
Many of my photo display projects have been do-it-yourself things. You can attach clothespins to a surprising number of things to hold prints. My most recent project was building fake window panes to insert photo prints into, which were hung on a wall to look like a window looking outward. Use your creativity to find a fun way to display your work.
How do you display photos uniquely?
Free Online Photography Class