Pear wood's delicate texture and quiet dignity make it a fascinating feature of a fine work in wood. Let's take a closer look at the unique characteristics of this special wood.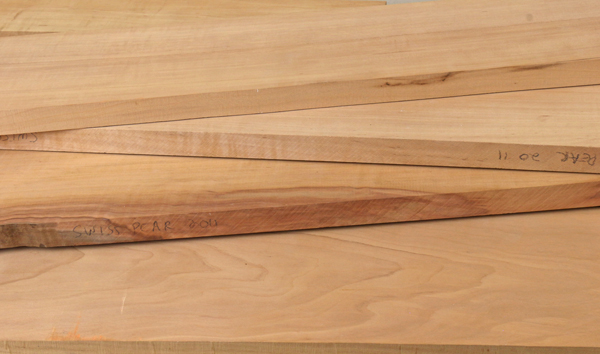 Now available: Woodworking classes from Craftsy! Browse our growing selection of online woodworking classes today and enjoy HD video lessons and expert instruction from some of the world's best woodworkers from the comfort of your own home!
Anatomy of beauty
The end grain view reveals the structural basis of pear wood's charm. The pores, which are the openings of the vessels that transport sap, are very fine, exceptionally uniform and evenly distributed throughout the earlywood and latewood. To this diffuse porous anatomy, add a marvelous fleshy salmon pink color and the result is the appealing distinctiveness that is pear wood.
In the process of converting a log to usable pear wood lumber, it's often steamed to enhance the pink color. Opinions vary as to the aesthetic benefit of this but ultimately the wood of each tree must be managed individually.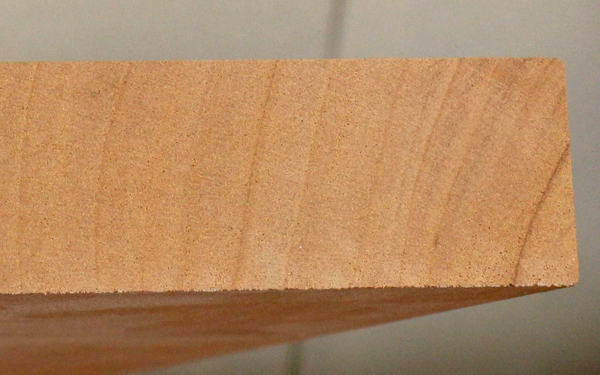 In the photo below, the color of unfinished woods can be compared. Placed in front of a pile of pear boards are, from left to right, Claro walnut, Central American mahogany and curly big-leaf maple.
Moreover, nature herself provides some lovely occasional variants in pear wood. Random darker streaks, called pigment figure, are what the late James Krenov referred to as "precious touch[es] of color." An example is seen below of brick red streaks near the bark edge of a board.
Pear can also sometimes exhibit a curly figure that, though rather light, enhances the silky look of the wood. Some boards have a fine ray fleck figure on quartered surfaces, though I do not feel that is one of the better looks pear has to offer.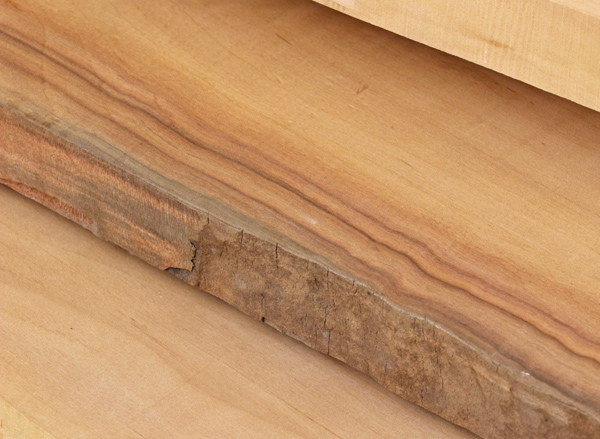 The drawer front below is made from a precious piece of pear wood with extraordinary color deposits.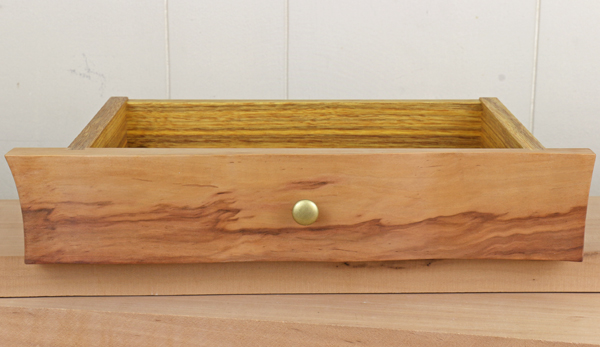 Now for a sidebar
Are you getting the impression that I love wood? Well, I do. Potter, metalworkers, weavers and other fellow craftspeople consider that woodworkers have the endless biological variety of the material itself to enjoy and motivate us. Even before we craft it, a board of wood, in its uniqueness, can have great appeal on its own, which sets up both a creative opportunity and a creative burden.
The woodworker is starting at a different point with the material than, for example, a potter faced with an amorphous mass of clay. It's not a matter of better or worse, but it is a different paradigm.
So, I hope you'll understand as I continue to indulge myself here. Now, back to pear wood.
It starts with the tree
Most commercially available pear wood is Pyrus communis, or common pear, and P. nivalis, or Swiss pear. Of course, these are fruit trees, not big red oaks, so do not expect to find large, clear boards. Splits and defects are the norm. Furthermore, it is expensive wood. I've seen it in the range of $15 – $30 per board foot. It is not, to my knowledge, a threatened species.
Pear is neither practical nor, in my view, appealing as a primary wood in a large project such as a dining table or chest of drawers. Rather, it shines as a contrast or accent wood, often acting as a peaceful "yin" to the "yang" of flashier or more deeply pigmented or figured woods. I like to use it for drawer fronts and panels in frame and panel designs.
The closeup photo below shows one of several pear wood drawer fronts in a cabinet with curly maple as the primary wood. The visually peaceful pear wood contrasts nicely with the busier maple and the rich Honduras rosewood handle.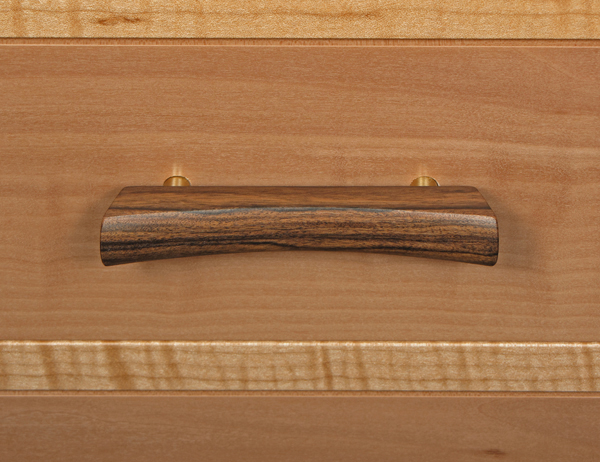 At the bench
Pear is moderately dense and hard, exceeding in these properties walnut and cherry and approaching white oak. In my experience, European-grown pear can be particularly dense and hard.
With shrinkage values listed as 3.9% radial, and 11.3% tangential, volumetric change is not bad, but the 2.9 T/R ratio sounds like cupping would be a problem. In practice, however, I'm usually working with quartered or rift boards and cupping is not problematic.
Pear wood is not generally difficult to work with hand or power tools. It is however, unforgiving. The slightest defect in a smoothing plane blade will show up on the surface of this finely textured wood. Misfits in joinery are also readily apparent. Careful workmanship will be rewarded though, with crisp profiles and resplendent silky surfaces. These properties are also favored by carvers and turners.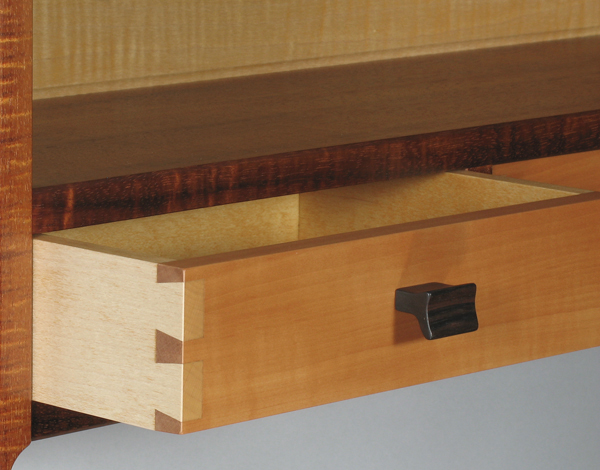 As for finishing, less is more — get out of the way and let this beauty shine. I usually prefer waterbase acrylic that imparts minimal color change. Sometimes a thin coat of gel solvent-based varnish can look good after a sealer coat of waterbase. Please don't oil bare pear wood and give it that greasy look.
Finish your woodworking projects with confidence! Join furniture maker Rober Spiece for his FREE Craftsy mini-class Flawless Finishing and discover the secrets to bringing out the beauty of your wood.
Have you tried pear wood in a project?