Your snack cravings are about to get a whole lot healthier and more delicious healthier with these peanut butter power balls. Not only do they take just minutes to whip up but they taste like peanut butter cookie dough.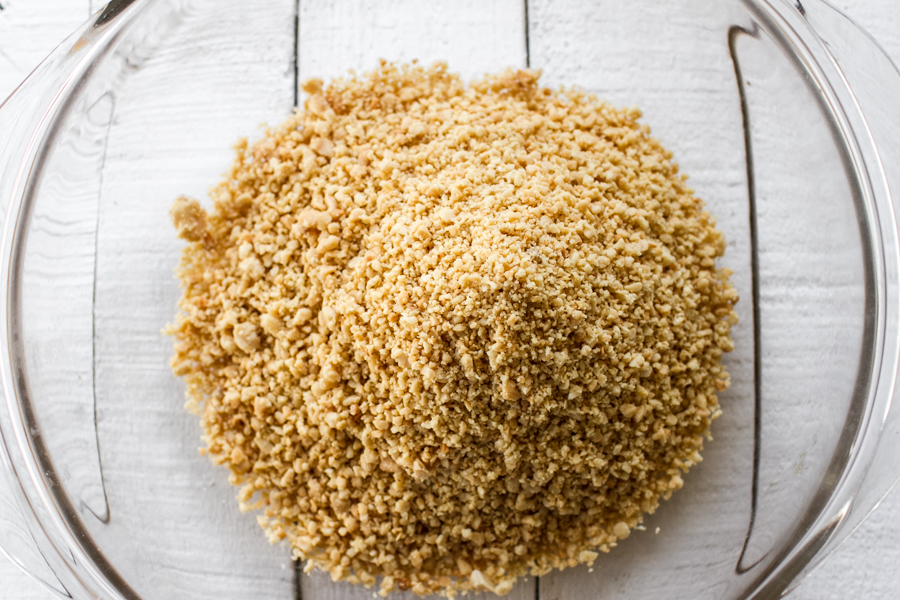 Photos via Edible Perspective
Do you want to up your snack-making game? These peanut butter power bites are just the thing to get your started!
Did I mention you only need two main ingredients? You heard that right. Peanuts and dates. You'll add a sprinkle of salt and splash of vanilla and be on your way to the perfect breakfast bite, afternoon pick me up, or pre/post workout snack.
And the kids are going to love these, especially if you let them pick the mix-ins! They'll never know they're refined sugar free and sweetened completely with dates.
Here are a few of the mix-ins I recommend:
Unsweetened shredded coconut
Hemp seeds
Dark chocolate
Chia seeds
But really, the skies the limit! Just be careful not to add too much of the extra ingredients or they won't hold together. I've listed out the measurements you'll need when using these four ingredients in the recipe directions below.
My favorite variety are probably the hemp. I love the earthy, seedy flavor the hemp seeds add, but coconut comes in at a close second. Are you surprised I didn't pick chocolate as my favorite? I know, me too.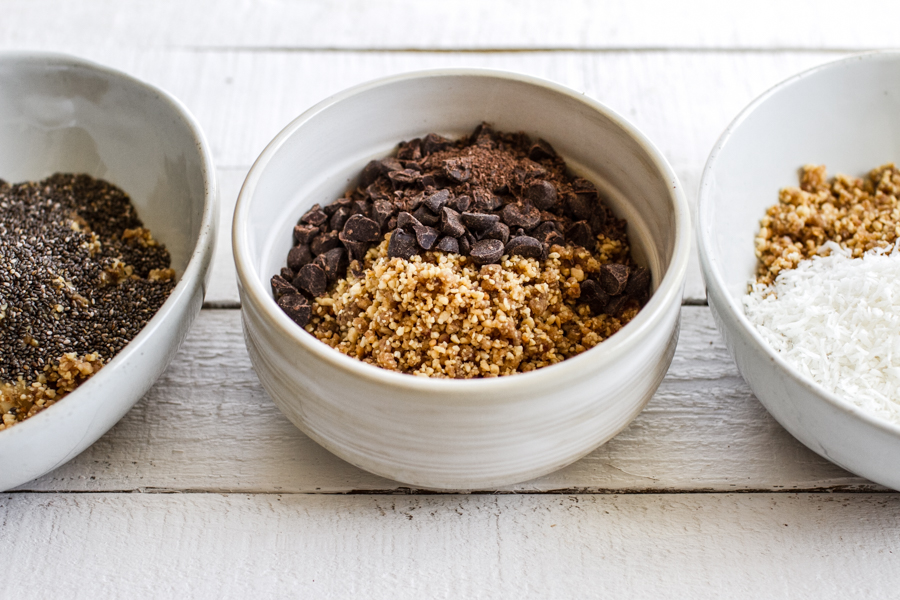 You have probably seen similar recipes here and there over the past few years, but I did something a little different with these bites. I ground the dates into a smooth paste, which really helped hold them together. They're my favorite power bite recipe to date (no pun intended)!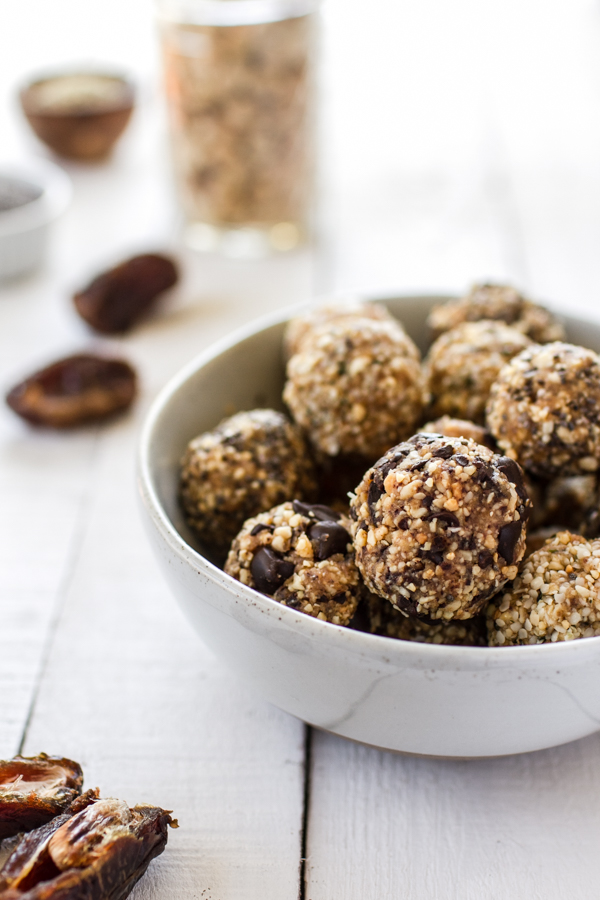 A little crunchy, a little creamy, super flavorful, and oh so satisfying.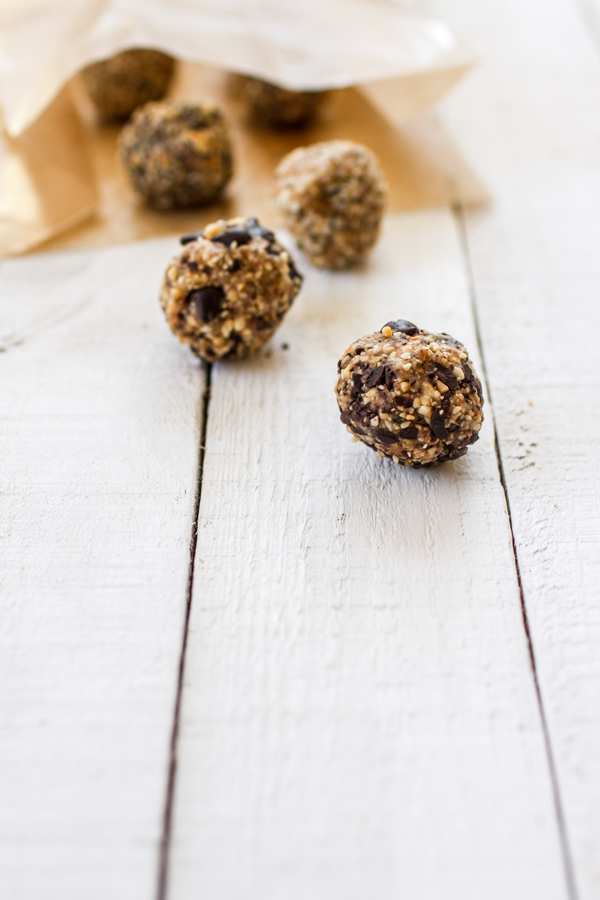 Peanut Butter Power Bites
Yields: 20 bites (vegan, gluten-free, grain free, dairy free)
Ingredients:
1 3/4 dry roasted unsalted peanuts
14 – 16 medjool dates, pitted
3/4 teaspoon pure vanilla extract
1/4 – 1/2 teaspoon salt
optional: unsweetened shredded coconut, chia seeds, dark chocolate chips, hemp seeds
Place peanuts in a large food processor and turn on until ground into roughly textured, peanut meal. Be careful not to process too long or it will start to turn into peanut butter. Refer to photo 1.
Measure 1 1/2 cups of ground peanuts and set aside. Empty food processor.
Place pitted dates in the food processor and turn on until it turns smooth and starts to collect on the sides. First it will collect into a large ball and then it will start to smooth out and become smooth and paste-like. About 20-30 seconds. 
Scrape the date paste and measure 1/2 cup plus 2 tablespoons.
Place the peanuts and date paste back into the food processor, along with the vanilla and 1/4 teaspoon salt. Turn on until fully incorporated. About 10-15 seconds. Taste and add more salt if needed. The mixture will appear loose but when squeezed it should hold together. If it's too crumbly you'll need to finely chop 1-3 more dates and pulse them in to the mixture.
Place mixture in a bowl and press into 1 1/2 inch balls by pressing the mixture back and forth between your palms. Store in a container in the fridge for about 2 weeks and remove prior to eating.
Optional:
To add mix-ins: Divide the dough into 4 portions and place in separate bowls. In each bowl add one of the following: 2 tablespoons shredded coconut, 1 1/2 tablespoons chia seeds, 3-4 tablespoons hemp seeds, 2-3 tablespoons chopped chocolate — incorporate the ingredients with your hands and form the contents of each bowl into 5 balls. If you only want two different blends, double the amount of two of the ingredients above. Using more than specified amount will cause the ingredients to not hold together well. If you only want 1 variation, quadruple one of the ingredient amounts above.
Notes:
Be sure your dates are fresh and labeled "medjool." You want them to be soft and plump. If they're dried out and/or heard they won't hold together or taste fresh. Other date varieties (like deglet noor) are not as sticky and won't hold together as well.