You might think that patchwork crochet just means putting together some lovely, plain colored crochet squares into a blanket or throw. It certainly can be that — and that's a great stash-busting project. But the inventive and inspirational designers here on Bluprint have taken the concept to another level. Read on for a selection of wonderful creative patterns available for just a few dollars.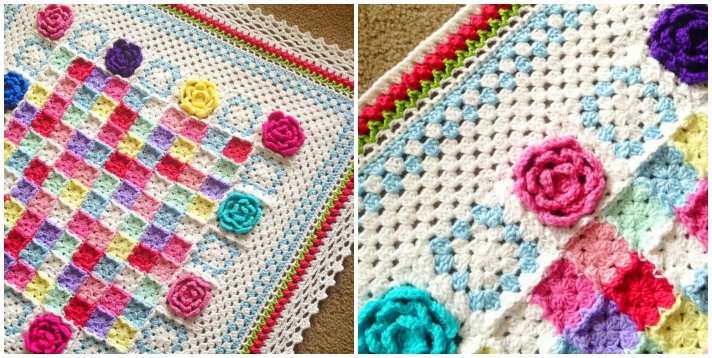 Photos via Bluprint member BabyLove Brand
1. Rosa Fresca Blanket
This vintage-inspired, shabby-chic throw uses a patchwork of two-round granny squares as its centerpiece. The deep, mainly white border and lacy edge provides an elegant finish, and the rose squares placed around the patchwork pick out the colors perfectly.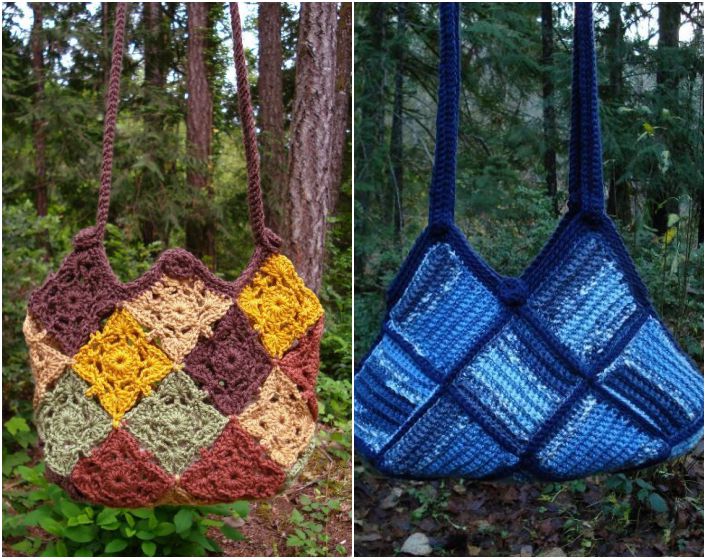 Photos via Bluprint member Nancy Brown-Designer 
2. Patchwork Bag
Crochet bags are such a statement piece, and once you start making them, they become very addictive! The two patchwork-style bags pictured above come from the same designer Nancy Brown and show how the technique of using squares can produce very different styles.
On the left is a rich, fall-inspired bag with robust but lacy motifs that are joined to produce a fun and useful tote bag. A total of 25 motifs are used, and you can follow Nancy's colorway or devise your own.
3. Patchwork Squares Bag
The second bag, on the right, is made from 17 squares made in a solid style. The whole project uses the same yarn, which has subtle color and design variations. Joined together with crochet, the bag is finished off with crochet handles that you can adapt to any length you want. 

Photos via Bluprint member Fantasticmio 
4. Snowflake Blanket
This stunning and very clever design by Canadian crochet designer Fantasticmio gives you all the instructions needed to produce this piece of crochet art. Smaller squares, larger motifs and additional crochet panels are used to create a very realistic snowflake to keep you warm in winter. Done here in shades of cool blue and white, it can transform your bedroom.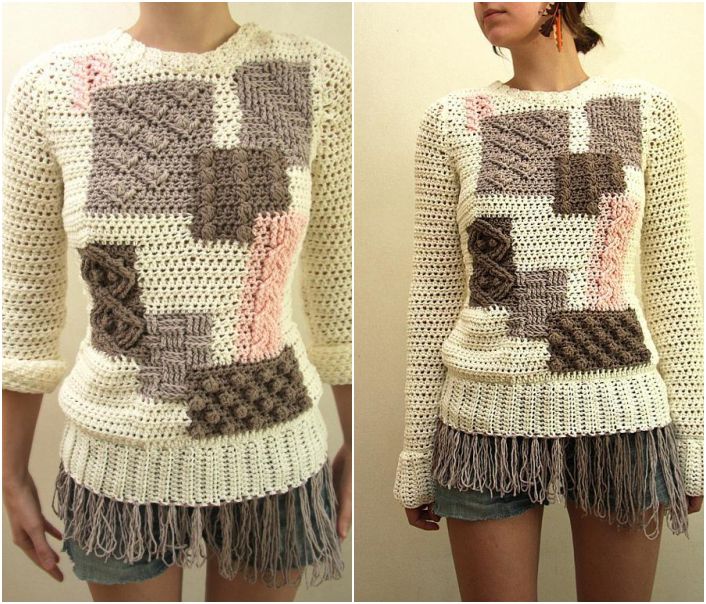 Photos via Bluprint member ElevenHandmade
5. Yoko Sweater
Patchwork crochet to wear? Would you have expected it to look so stylish? The Yoko Sweater provides a challenge to intermediate and advanced crocheters, with cabling and popcorn stitch patterns incorporated using colorwork techniques into the plain cream body of the garment. The pattern includes sizing for small, medium and large.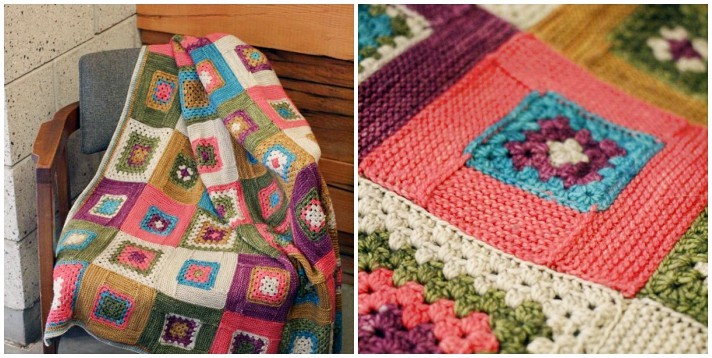 Photos via Bluprint instructor Miriam Felton
6. Granny Log Cabin Blanket
Using a design inspired by traditional log cabin patchwork quilts, Miriam Felton, one of our Bluprint instructors, has created an afghan pattern to create a family heirloom. The colors are rich and coordinate perfectly. A few knitted panels, made in basic garter stitch, are used to border some of the crochet squares.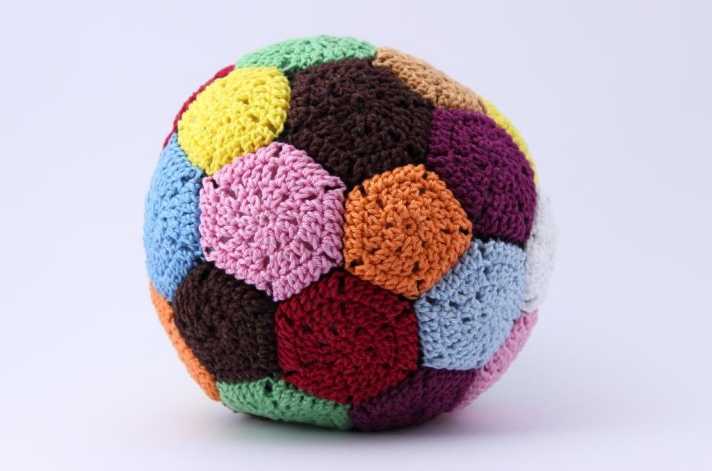 Photos via Bluprint member Cropals
7. Patchwork Ball
Patchwork crochet doesn't always mean making a blanket that takes miles of yarn and weeks of time. This fun crochet ball is fast and fun — and great for using up little bits of yarn left over from other projects. The tiny hexagons can be crocheted in minutes and then sewn together to produce a sphere ready for stuffing. Perfect for soft play!
Photos via Bluprint member BabyLove Brand
8. Modern Patchwork Blanket
This modern patchwork crochet blanket in soothing tones of pink, gray, mocha and cream is one of Bluprint's most popular patterns. The squares are made individually and then joined before adding a contrasting granny stripe border. Traditional granny squares sit alongside circles-within-squares and stunning chevron squares to produce a blanket or throw to treasure.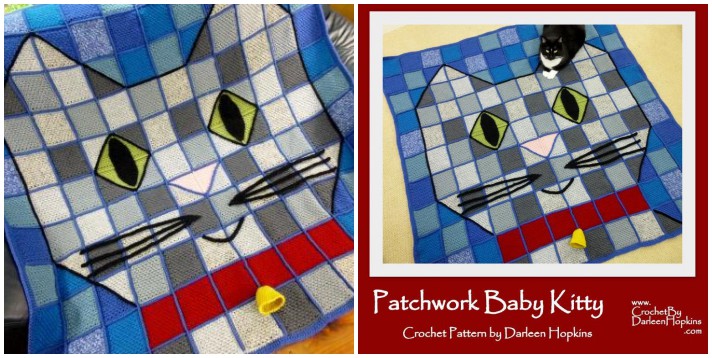 Photos via Bluprint member Darleen Hopkins
9. Patchwork Baby Kitty Throw Blanket
A cute throw for cat lovers everywhere — isn't this gorgeous? Solid crochet squares form the face of a cat. Most of the squares are plain, but the shaping of the face is cleverly done using colorwork techniques. The facial features are crocheted and sewn on at the end.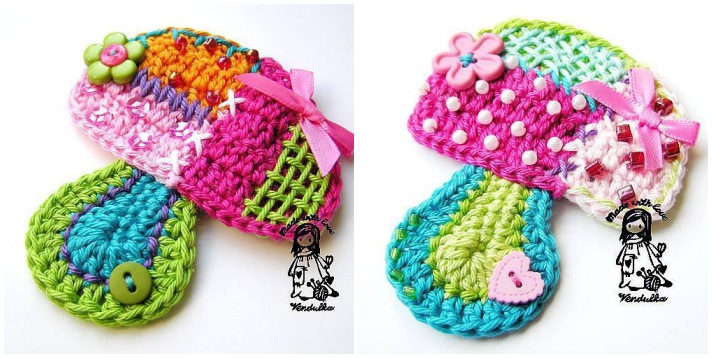 Photos via Bluprint member Vendula
10. Patchwork Mushroom Appliqué
Small but beautiful, this bright and colorful appliqué would be a great addition to a sweater, hat, scarf or a crochet bag. The pattern consists of 13 pages of instructions with a photo tutorial to help you create something unique. The crochet base is made using colorwork techniques and then embellished with buttons, bows, beads and sequins!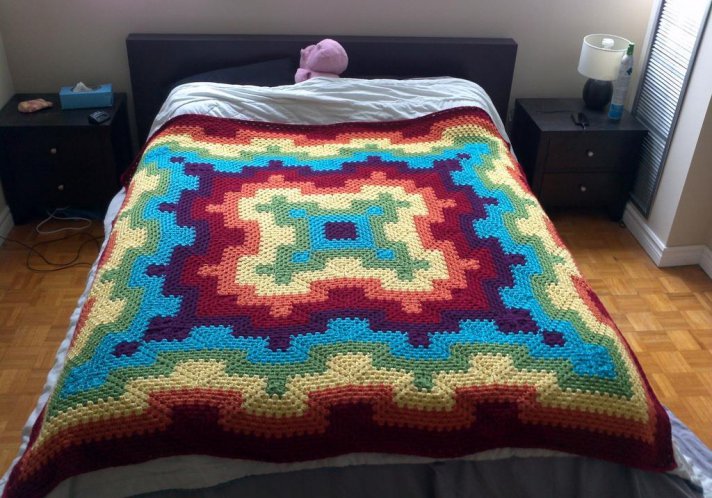 Photos via Bluprint member Fantasticmio 
11. Fireworks Blanket
This blanket is inspired by the exploding colors of a firework display. The pattern has detailed instructions showing how to produce an afghan that is around 75 inches square, but the designer also explains how to adapt the pattern for other sizes. The pattern includes estimates of how much yarn you will need in each color.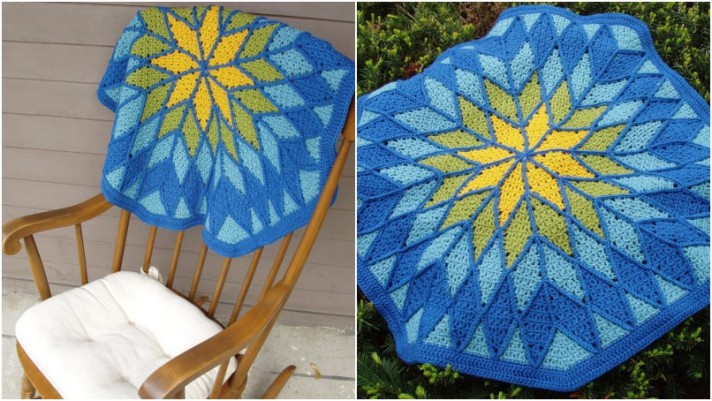 Photos via Bluprint member Crochet by Faye
12. Reims Baby Quilt
A starburst flower quilt made from diamond motifs looks at first glance like it couldn't possibly be crochet! The designer was inspired by traditional diamond quilt patterns. The final product resembles a stained-glass window from an ancient church. The diamond motifs are made individually and then crocheted together — the pattern shows how to construct the simple motif and then gives you two different layouts.
Crochet With Feeling!
Elevate your crochet with three amazing textures! Learn how to stitch them all in this FREE Bluprint mini-class.Enroll FREE Now »