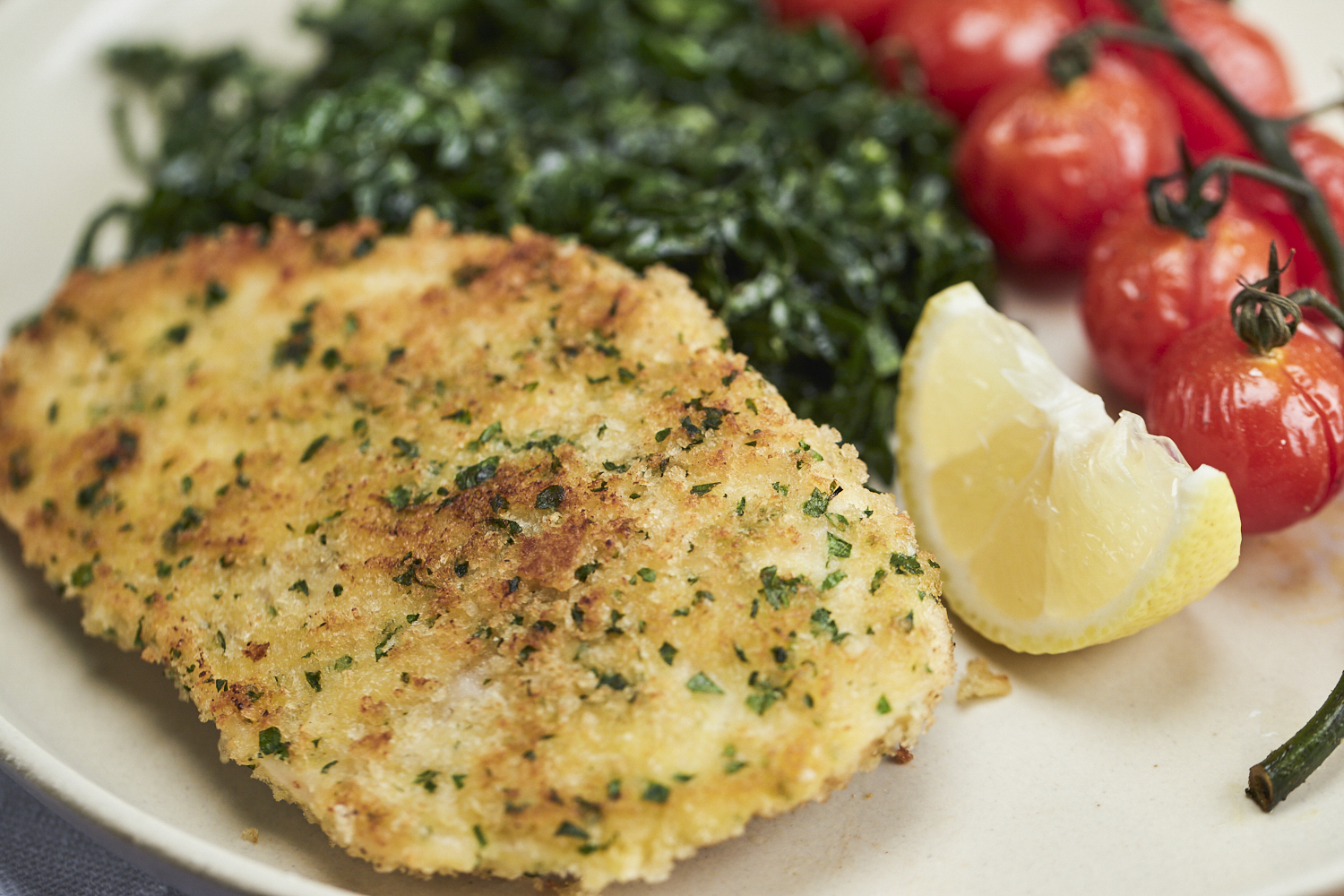 Chef Curtis Stone wants to rock your weeknight world by introducing you to quick recipes that don't skimp on flavor. First up: Parmesan chicken so good you'll want to make it a weekly tradition.
Good to Know: Want more? Get it all in our Efficient Weeknight Cooking class taught by Curtis and NBC's Dylan Dryer.
Parm-Crusted Chicken Cutlets With Lemony Kale Salad
Serves: 4 Make-Ahead: Feel free to bread these cutlets up to two hours ahead. Covered and refrigerate until ready to cook.
Ingredients
For the Chicken Cutlets
1 cup all-purpose flour
2 large eggs
1½ cups panko (Japanese dried bread crumbs)
1 cup freshly grated Parmesan cheese
¼ cup finely chopped fresh flat-leaf parsley
2 boneless skinless chicken breasts, trimmed and halved (about 6-8 ounces each)
Kosher salt and freshly ground black pepper
6 tablespoons (¾ stick) unsalted butter
3 tablespoons olive oil
For the Salad
4 bunches cherry tomatoes on the vine or about 20 cherry tomatoes
2 tablespoons extra-virgin olive oil
Kosher salt and freshly ground black pepper
1 bunch cavolo nero (Tuscan kale), stemmed and thinly sliced
Grated zest of 2 lemons
¼ cup fresh lemon juice
¼ cup extra-virgin olive oil
Instructions:
1. Preheat the oven to 450 F.
2. To prepare the chicken, place the flour in a pie plate. In a second pie plate, lightly whisk the eggs to blend. In a third pie plate, mix the panko, Parmesan cheese, and parsley.
3. Using a meat mallet, pound each chicken half between two sheets of plastic wrap to about a ½-inch thickness. Sprinkle the cutlets generously on both sides with salt and pepper. Dip one cutlet into the flour, turning to coat lightly, then dip into the eggs, letting the excess drip off, and then into the bread crumb mixture, patting firmly to coat completely. Place on a baking sheet lined with parchment paper. Repeat with the remaining cutlets.
4. In each of two large nonstick skillets or flat griddle pans, melt 2 tablespoons of the butter with 1 tablespoon of the oil over medium heat. Add two cutlets to each pan and cook for about three minutes, or until golden brown on the bottom. Turn the cutlets over, add one tablespoon of the remaining butter and ½ tablespoon of the remaining oil to each pan, letting the butter melt around the cutlets. Cook for about three minutes, or until the cutlets are golden brown on the bottom and just cooked through. Transfer the cutlets to a plate lined with paper towels to absorb any excess oil and butter.
5. Meanwhile, to prepare the salad and roast the tomatoes, place the tomatoes on a heavy baking sheet, drizzle with the olive oil, and season with salt and pepper. Roast for about five minutes, or until the tomatoes are hot and begin to burst.
6. While the tomatoes roast, in a medium bowl, toss the kale with the lemon zest and juice and the extra-virgin olive oil. Season with salt and pepper.
7. Serve the cutlets with the kale salad and roasted tomatoes alongside.