Painting quilts is a fascinating technique that can add softness, dimension, and dynamism to your projects. Techniques like shading and blending can turn ordinary appliqué into a three-dimensional quilted work of art!
It's possible to paint a quilt either before or after you've quilted it, although touching a paintbrush to a finished quilt can be nerve-wracking. For this reason, it's recommended to practice painting on muslin fabric before you take your skills to an actual project. The fabric paints you choose, from soft hues to shiny metallics or paint markers, will play a huge role in how your painted quilt looks like a finished project.
If you're ready to take a paintbrush to your next quilting project, check out these inspiring examples from the quilting community.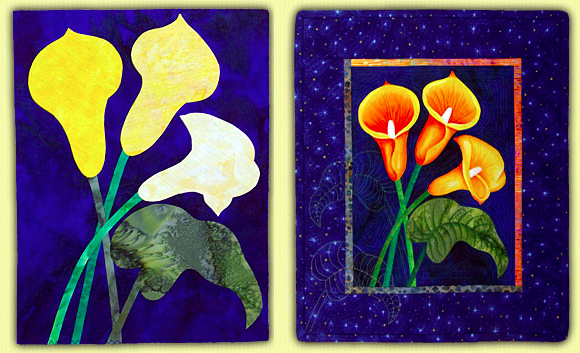 Painting Pictorial Quilts taught by Bluprint instructor Annette Kennedy covers all aspects of painting quilts, from gathering the right supplies to adding depth and dimension to images. Annette uses photographs and fused quilts as inspiration while teaching how to paint a three-dimensional canyon and Calla Lily. The photographs pictured show her quilt before and after painting the flowers.

Bluprint member Janet H created this Painted Mountains art quilt as part of the Painting Pictorial Quilts class. She used cotton fabrics and Setacolor paint to add depth and dimension to the mountains and add movement to the curves of the road, as you can see in these before and after pictures of her quilt.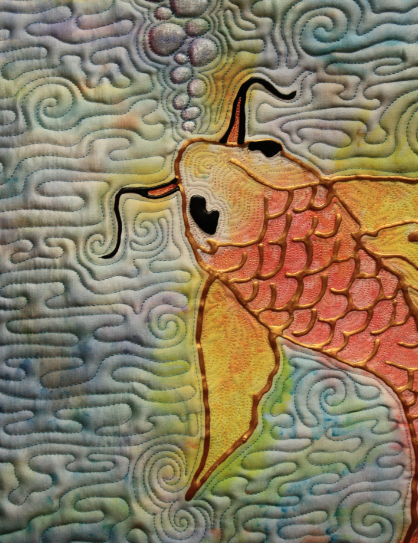 Quiltinjeni created her Painted Koi Fish quilt by transferring a line art drawing to fabric and painting the quilt, which she finished in silk thread. She utilized a metallic resist around the body of the koi, which adds dimension and a contrast to the watercolor-style paints.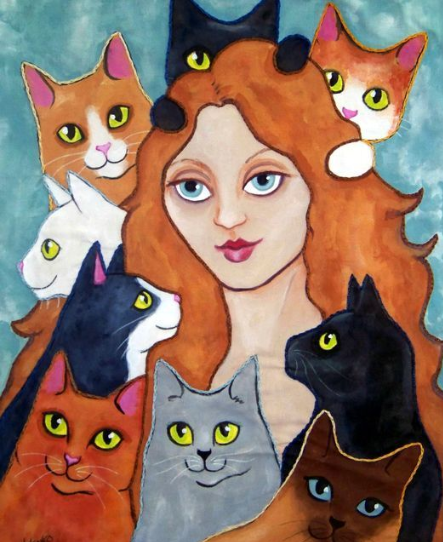 Art quilter Lisa Monica Nelson painted the Cat Lady Art Quilt on muslin before she embroidered the quilt onto a backing fabric and added a decorative button border. The soft paints and blending resemble art created with oil pastels, for a whimsical feel to her finished painted quilt.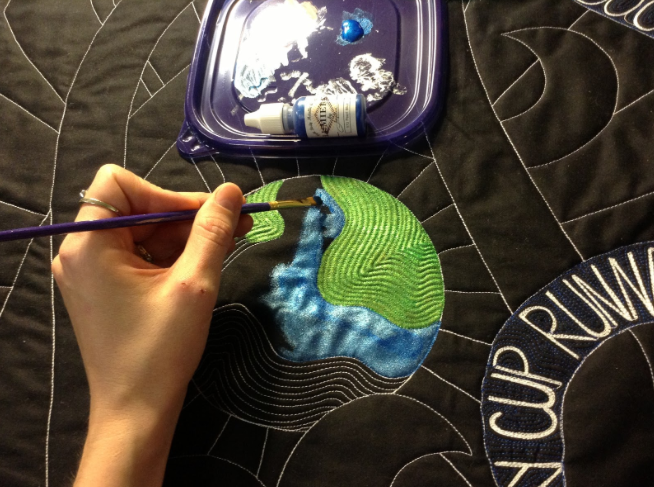 Leah Day, Bluprint instructor of the new course Free Motion Fillers Vol. 2, shares a quilt painting video tutorial at her blog The Free Motion Quilting Project. Starting off with a black wholecloth quilt, she quilts a free-motion design and then paints the quilt with a brush and fabric paint. Leah adds that the techniques of painting quilts before and after stitching can both add a lot of dynamism to your projects.
Quilter Sue Kelly teaches a technique of painting a quilt after it has already been machine quilted. This quick tutorial on Cedar Canyon Textiles discusses the steps for painting with iridescent Artist's Paintstiks. The painted quilt is allowed to air dry for at least one week before the paint is heat set with an iron and an old T-shirt or muslin used as a pressing cloth.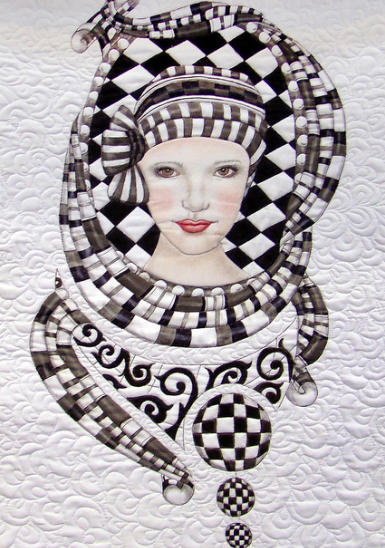 Kathleen Collins painted an 18th-century European woman in an ornate headdress on cotton fabric. She displayed the quilt at the Pacific International Quilt Festival, and many more quilts from the show are blogged at Dutchbaby.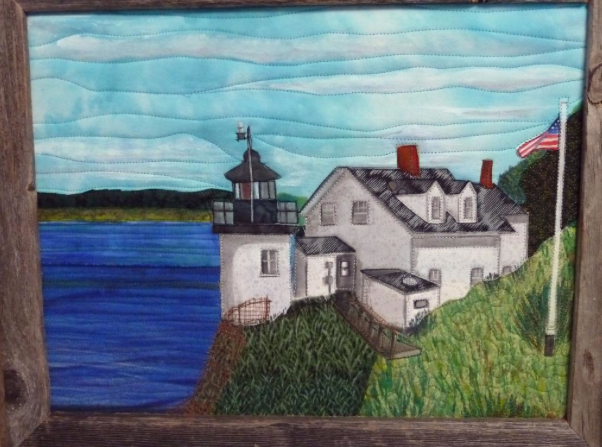 The Lighthouse Pictorial Quilt by KatsQuiltArt was inspired by a vacation photograph. When painting quilts from a photo, you can first create a sketch and cut fabric appliqués for the major pieces, like the house, water, sky, and hills. Details like the American flag, the windows and chimneys can be painted on before quilting. Free-motion quilting is the final step here, with a matching thread used as an outline for the house and to create movement in the water, grass, and sky.
What do you think about painting quilts? Is this a technique you'd like to try?