Is it a pen, a marker or a paint brush? As it turns out, paint pen art combines aspects of all three, and can be applied to a wide variety of artistic styles. Whether you're into fine art painting, prefer to stick with drawing or primarily work in paper crafts, paint pens can be a powerful tool for creating your art.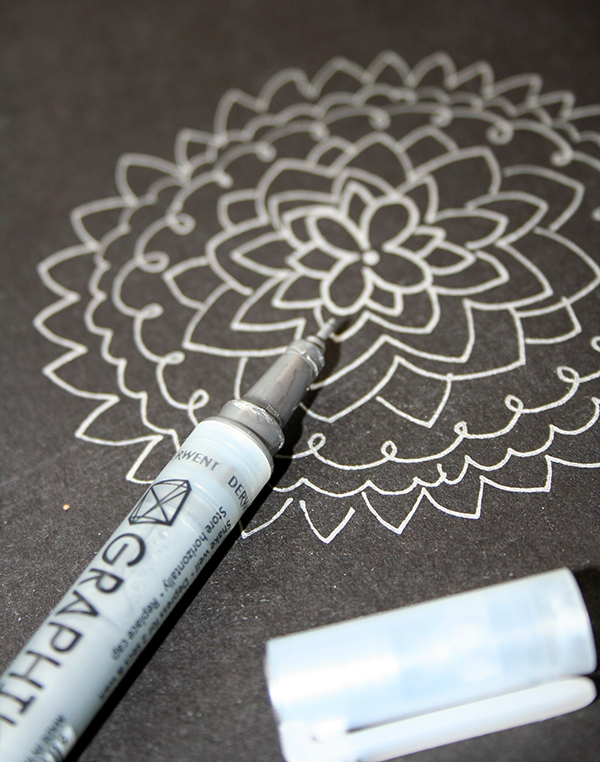 Photos and art via CakeSpy
What is a paint pen?
What exactly is a paint pen? Do you paint or draw with it? Well, a little bit of both. Paint pens are markers that come with nibs of all sizes that contain a permanent pigment ink. The pigment makes them opaque when applied, which makes them suitable for projects that regular ink pens would not work for. Paint pens can draw on top of paint and photographs, on dark surfaces and even on non-paper surfaces such as glass.
Paint pen art ideas
These are just a few of the many ways that you can use paint pens to create vibrant works of art. 
Create drawings on dark surfaces 
Paint pens contain opaque pigments, which means the colors will show even on a dark surface. Your images will pop when rendered on a black or dark surface paper (like in the photo at the top of the page), creating an instantly striking, graphic feel to your artwork. Using opaque paint pen on a dark surface can make subject matter seem anew all over again.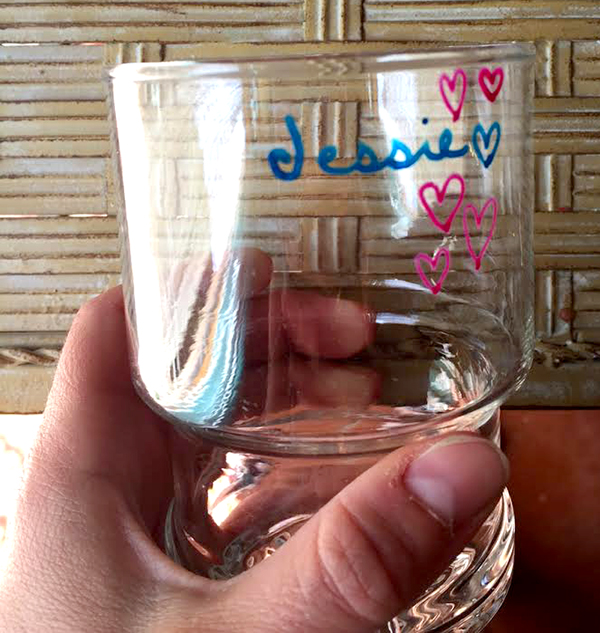 Write on glass
Paint pens are opaque and pigment-based, which means that they are suitable for writing on glass. This means that you could use them to write names on the outside of glasses for parties (not too close to the rim of the drinking glass, as paint pen pigments are not safe for consumption), draw pictures on the glass on of photo frames or even create art around the border of a mirror.
Note: Water-based pigment paint pens can typically be removed quite easily from glass with soap and warm water.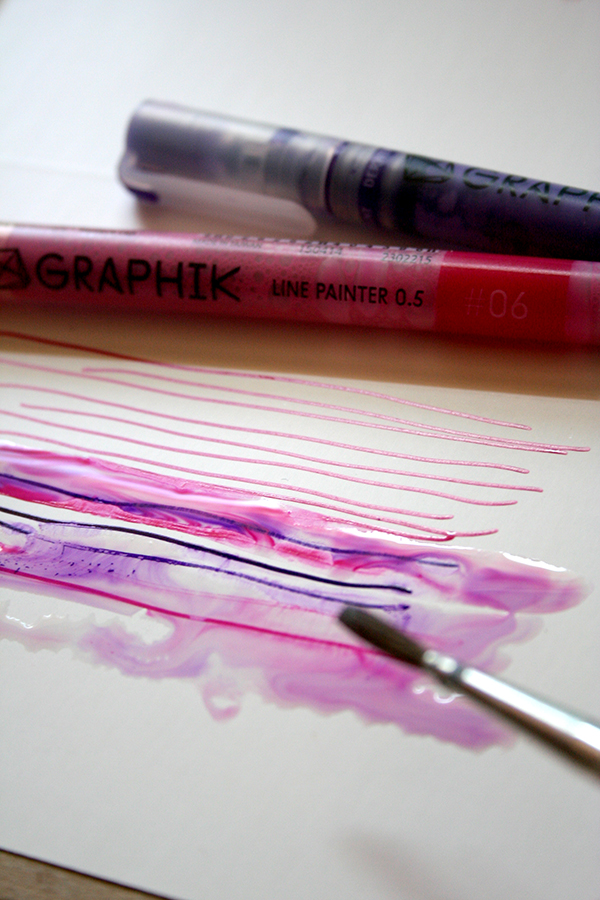 Create unique "washes"
If your paint pens contain water-based pigments, then you can use them to create a new kind of wash. Simply use the pens to draw lines or shapes, then "wash" a wet paintbrush over the surface directly after drawing the lines. The paint marker will bleed, creating a unique wash effect in its wake. 
Create "resist" pieces with watercolor and paint pen
If your paint pens contain an oil pigment or if you acrylic water-based pigment paint pens dry, you can paint over the drawn areas with watercolor. The lines will "resist" the paint, which creates a striking visual.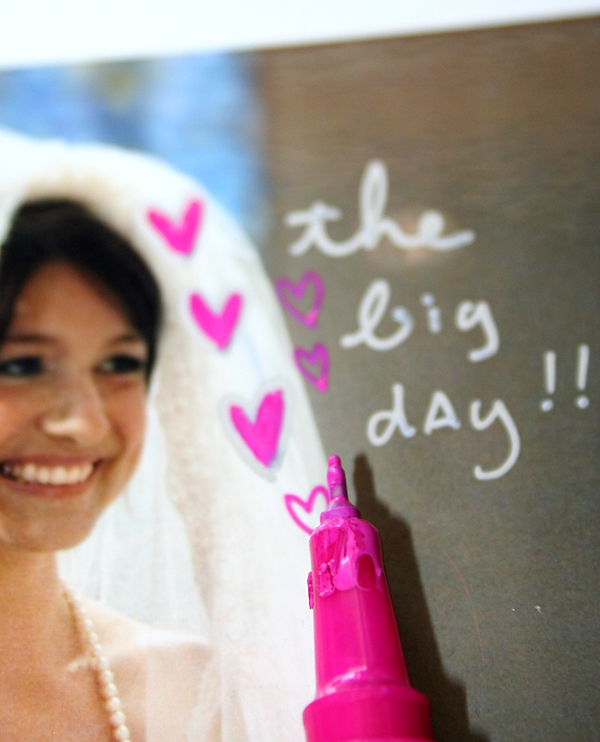 Use paint pens on photographs or in collages
The pigment and opacity of paint pens makes them an ideal medium for drawing on top of photographs, even if they have a glossy finish. This opens up a world of opportunities for augmenting photos and collages, from writing dates on photos to adding hearts to wedding photos.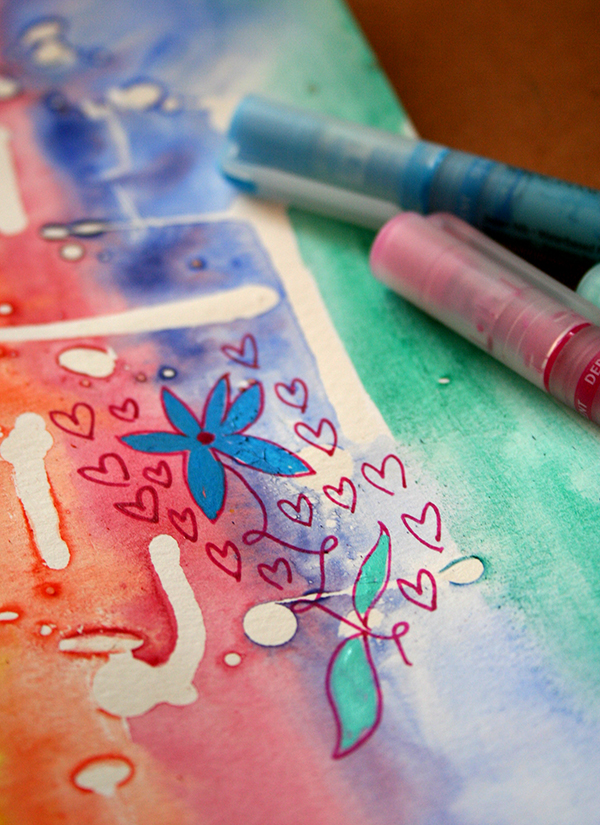 Use paint pens to draw on top of paint 
Paint pens are a fantastic tool for creating mixed media masterpieces. They can be smoothly applied over dried acrylic, watercolor, or gouache paint, which means they can add contrasting layers of imagery, define lines, fix mistakes and even fill in hard-to-paint areas.