Works in progress — affectionately known as WIPs. We all have them, and we might even be hiding a few that we're ashamed of. I recently pulled out a WIP wrap sweater that I started working on around 15 years ago and never finished. The cotton yarn is amazing, but I just don't see myself wearing this wrap sweater. Fifteen years ago, sure. But today? Nah.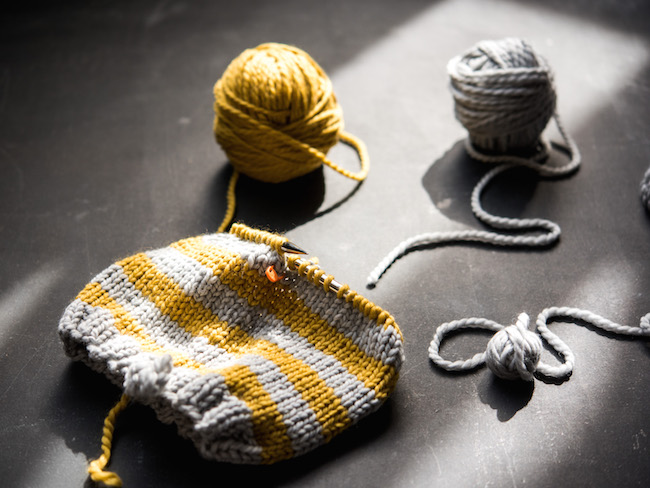 So I ripped it out. And it felt amazing. Now I'm going to use that cotton to make something that I'll actually wear.
Don't be held back by WIPs anymore! If you feel some of these symptoms coming on, you know what you have to do: just rip it!
1. You cringe when you look at it.
Those bad feeling may never go away. Why torture yourself?
2. You already have other plans for the yarn.
You dream of a shawl or socks instead of the pair of mittens you're halfway through. If you're not enjoying the process and are instead thinking of other ways you can use the yarn, it's probably time to move on.
3. The pattern already went out of style.
Those drop shoulders were fashionable two years ago, but you're kind of over the trend now. If you can't picture yourself wearing it, don't knit it. Instead, focus on projects that you want to wear now.
4. You just don't like the project anymore.
Maybe it's not turning out the way you thought it would, or maybe you're just struggling big time with one of the stitches. But you just don't like the project anymore. It happens, and it's no longer worth your time.
5. You don't like the yarn.
Sometimes that gorgeous yarn you purchased doesn't work up the way you thought it would. Maybe it's scratchier than you thought, or maybe the drape just isn't working with the pattern. Perhaps that yarn would be better used for a different project. You can always find a different yarn for your WIP.
6. You haven't worked on it in months — or maybe even years.
If you're not interested enough to pick it up again, you probably won't finish it. Sometimes we wait for a season to roll around again, and that's OK. But if it's been quite a while and you don't have a reason for putting down the WIP, it might be time to rip it.
7. The WIP is a running joke among your knitting friends.
I was once working on a knitted dress. I took the dress to every stitch meetup, and I was constantly working on but never finishing. Every time my friends saw me take it out of my project bag, they'd smile and ask, "Are you still working on that?!" I eventually gave up on it, but admittedly I haven't ripped it out yet.
8. You found it in the back of the closet and didn't even know it was there.
Out of sight, out of mind. If you found it in the back of the closet, it's likely you put it there because you never wanted to look at it again.
9. You're not even sure what you were working on.
I've discovered a couple of projects over time that I abandoned for so long that I have no idea what they even are. Definitely a sign that I need to rip it out and use that yarn for something spectacular.
10. Your WIPs are taking up more room in your craft space than your yarn stash is.
If you're overrun with WIPs, that might be a sign that you need to rip out some of the projects. Find a couple that you don't feel excited about any more, rip them out, and use the yarn to make something fun that you know you'll finish.
What's the oldest WIP you have in your collection? Do you think you'll finish it?