You have probably tried baking fish in the oven, but have you ever attempted to roast fish in the oven at a higher temperature? It's a whole new ball game, and a tasty one at that. Oven-roasted fish is one of the best things that ever happened to me, well as far as dinner goes anyway.
Knowing how to cook fish and cook it well is a very useful cooking technique and I'd venture to say, perhaps even an important life skill. Partly because fish is such an investment, it's going to leave a much bigger dent in your wallet than a chicken breast. And also partly because it promises both health and flavor packed into every bite. Good fish prepared well is a pleasure worth every penny.
Having breaded fish fillets, sautéed fish on the stove top, and even grilled fish, but this oven-roasted recipe is by far my favorite — and soon to be yours too!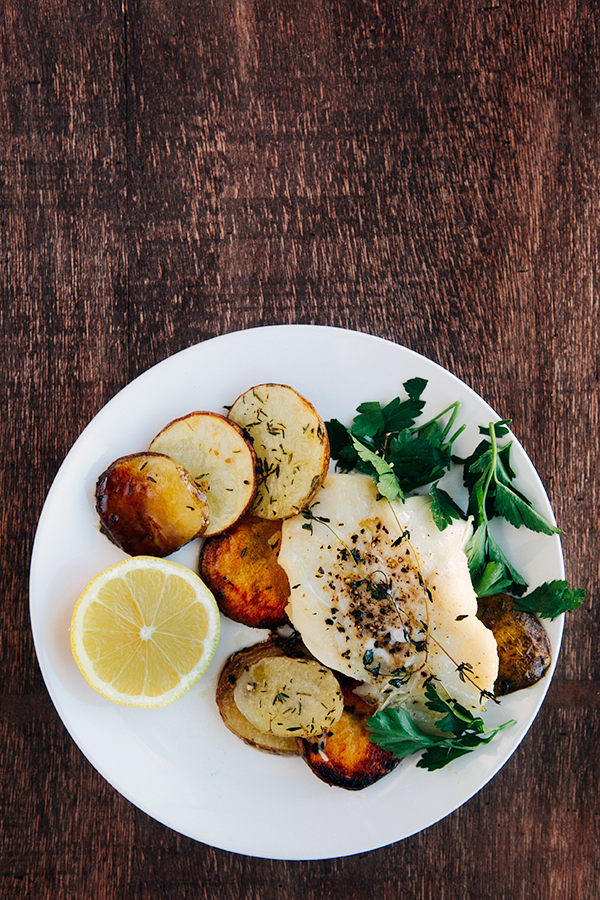 Photos via Some the Wiser
The best thing about this particular Oven-Roasted Fish recipe is that it's a complete dinner all in one pan. I've done it a million times with my family's favorite Sheet Pan Roast Chicken Dinner, so why not fish? Turns out, oven-roasted fish with crispy potatoes, baked all in one pan, might be a little more elegant than our ordinary chicken dinner, but it's just as delicious and most importantly, just as simple.
This is an ideal recipe for the home cook. It's fish without all the complications and fuss. It's fish that you can enjoy on a weeknight, which makes it a dinner winner for this home cook!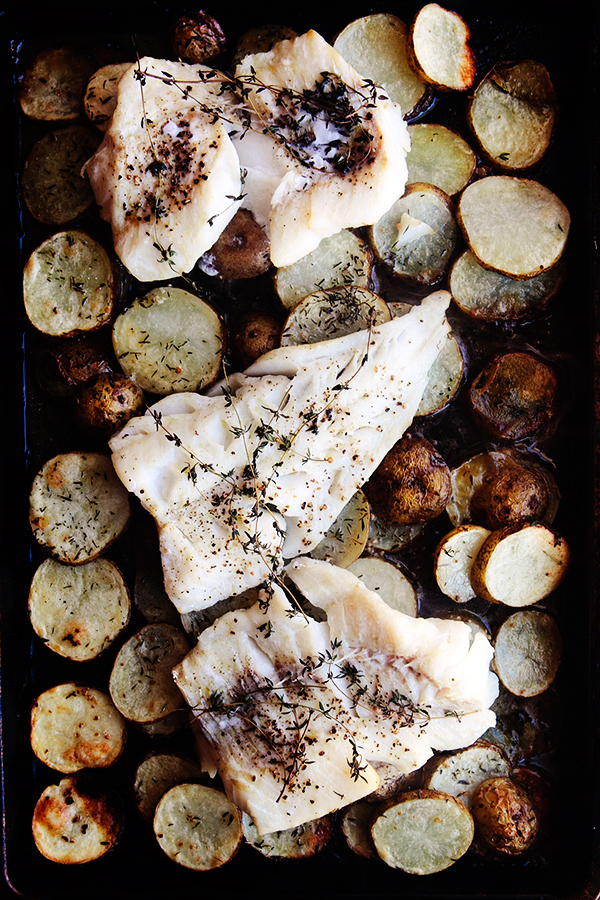 The main difference between baking fish and roasting fish is the higher oven temperature. Raising the oven temperature to a toasty 450 F not only brings out all the best flavors in a piece of cod, it also makes it possible to craft dinner with crispy potatoes and fish in one pan.
As the fish roasts over the top of the potato rounds, the juices and oils seep into the potatoes turning them into the perfect crispy side dish. Though I can't begin to know how or why, roasting fish this way also keeps it moist and tender, even more so than when you bake it. It's a little kitchen miracle.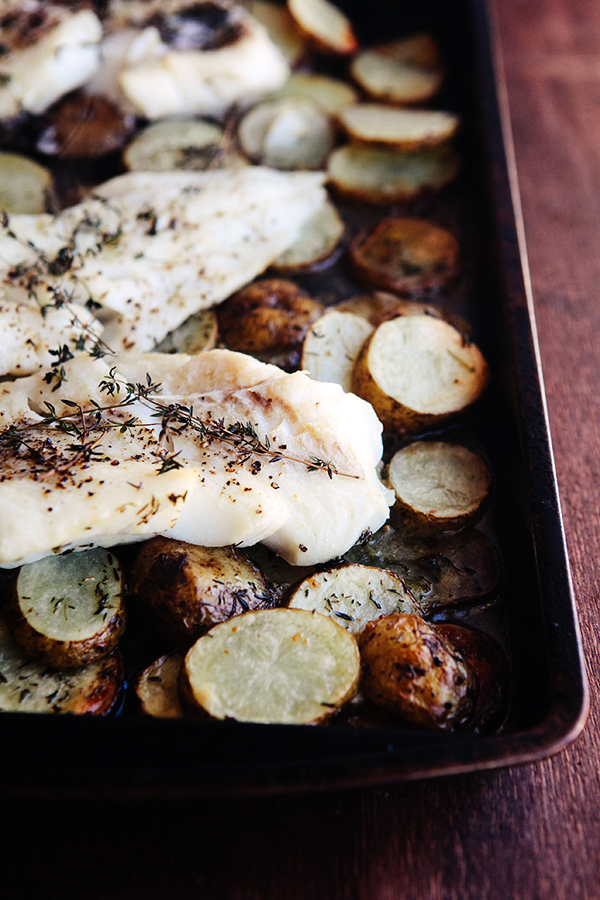 Oven-Roasted Fish with Crispy Potatoes
Recipe adapted from Marcella Hazan
Ingredients:
2 pounds thick cod fillets
1 1/2 pounds small russet potatoes, scrubbed
1/3 cup extra virgin olive oil
coarse salt and fresh ground pepper
2 teaspoons fresh thyme leaves, plus a few sprigs
1/2 cup packed fresh flat leaf parsley leaves
1 tablespoon fresh lemon juice
lemon wedges for serving
Directions
Step 1:
Preheat oven to 450 F.
Step 2:
Slice the well scrubbed potatoes into thin rounds, like thick potato chips. Rinse the rounds in cold water and thoroughly pat dry. On a large rimmed sheet pan, toss the potato rounds with half the olive oil, a few shakes of salt and pepper, and the fresh thyme leaves.
When the potatoes are evenly coated, spread them evenly along the bottom of the pan. Place in oven and roast for 12 minutes.
Step 3:
Meanwhile, toss the parsley with lemon juice and season with salt and pepper. Set aside.
Step 4:
Remove the potatoes from the oven and place the fish fillets skin side down on the potatoes. Rub fish with remaining olive oil and season with salt and pepper. Top each fillet with a couple sprigs of fresh thyme. Return pan to oven and roast for another 10 minutes.
Step 5:
Remove pan from oven just long enough to baste the fish fillets with some of the juices and oils in the bottom of the pan. Use a spatula to toss the potatoes so they continue to roast evenly, moving rounds from the sides of the pan to the middle. Return to oven and roast for an additional 5 to 7 minutes, or until fish pulls away in flaky, thick chunks.
Step 6:
Serve fish and potatoes directly from the sheet pan, spooning the juices from the bottom of the pan onto each portion. Serve with a side of prepared parsley lemon salad and lemon wedges. Serves 4.