Whether you quilt in a large crafting room or simply set up in a corner of your dining room, being able to keep things organized is the key to making effective use of your quilting and sewing time. Organizing your area doesn't have to be complicated or time consuming; however, there are a few things to keep in mind when setting things up.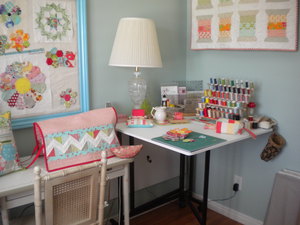 First, it's a good idea to keep similar things together so that you'll always know where to find them. For example, identify a specific spot for your scissors and rotary cutters. And store your rules next to each other; perhaps in a wooden stand that accommodates even specialty types. Notions that are frequently used can be placed together in jars, canisters, sewing caddies, or storage containers with multiple drawers.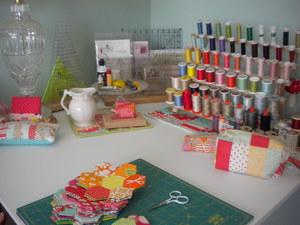 When it comes to inspiration and future projects, patterns and possibilities should be stored in a tidy way. Patterns can be kept in boxes or bins and separated by designer or by type. For example, place bag patterns in one bin, quilt patterns in different bin, and pillow patterns in another. It's also important to routinely go through your stack of quilting magazines (you know you have one!), keeping only those project pages you think you'll really use one day. The ones you want to hang on to can be secured in sheet protectors and then filed in binders by project type.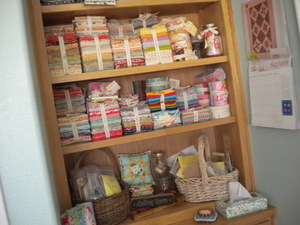 Beyond that, having a good way to store fabric in your quilting area is a necessity. You can't use what you can't see (or don't remember you have), so organizing your fabric periodically is key. There are basically four categories of fabric storage: precuts, scraps, stash fabrics 1/4- 1/2 yard, and larger cuts of fabric for borders and backings. Precuts can easily be kept together on a shelf or in a drawer. Scraps and stash fabric storage usually provide the biggest challenge for quilters. Keep 2 1/2″ strips in one large bin and 2 1/2″ squares in another bin. Then organize the rest of your smaller scraps into color bins (all the reds together in one, pinks in another, and so on). Fold 1/4-1/2 yard pieces in a similar way and stack them on shelves by color. For large pieces of fabric, try to collect left over bolts and roll yardages so that they are easy to see and use. Finally, fabric currently being used for ongoing projects should be stored in project boxes with the pattern and fabrics together.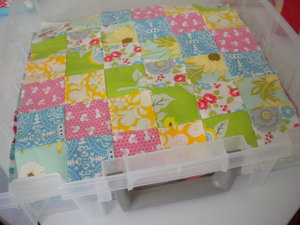 Also, when it comes to your quilting area, make sure you have the right surfaces for accomplishing every aspect of your project. Every quilting space needs a place to cut and press. Even if you do your major cutting for big projects out on the kitchen counter, it's great to have some sort of sturdy surface near your sewing machine; for example: a desk. Likewise, if you don't have room for a big ironing board in your sewing room, a small board or pressing surface can help save a lot of time.
With these tips for your quilting room, you're well on your way to saving yourself time and completing more projects.