There's something wonderful about finding the perfect knitted scarf to wear — especially when that scarf plays with negative space in an airy pattern. An openwork scarf can be the finishing touch that takes a simple outfit from ordinary to eye-catching.
These accessories are both gorgeous works of art, with open panels and an architectural gravitas. Here are eight more openwork knitting patterns to help you find the scarf your wardrobe needs.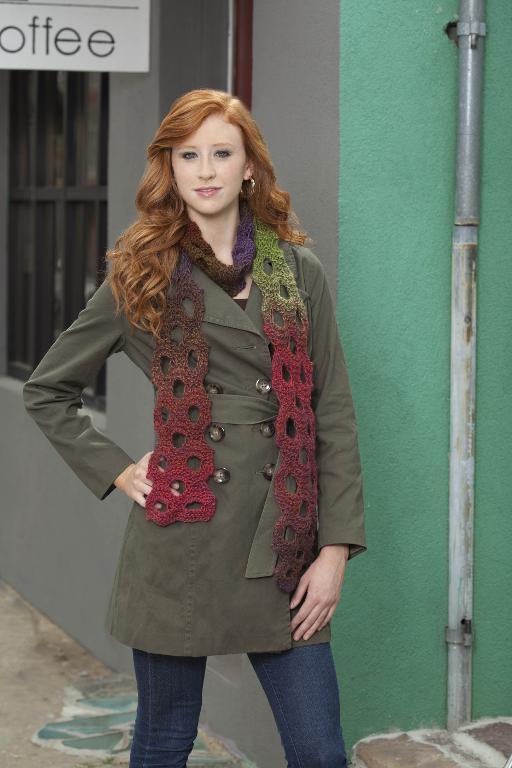 Photo via Bluprint member Universal Yarn
1. Hole-in-One
This simple and dramatic scarf demonstrates how openwork can save you yarn and time. Although long enough to wrap around the neck, it takes only one skein of Universal Classic Shades yarn. The gradual color shifts add drama to what is, at heart, a simple garter stitch scarf.
Get the Hole-in-One pattern here.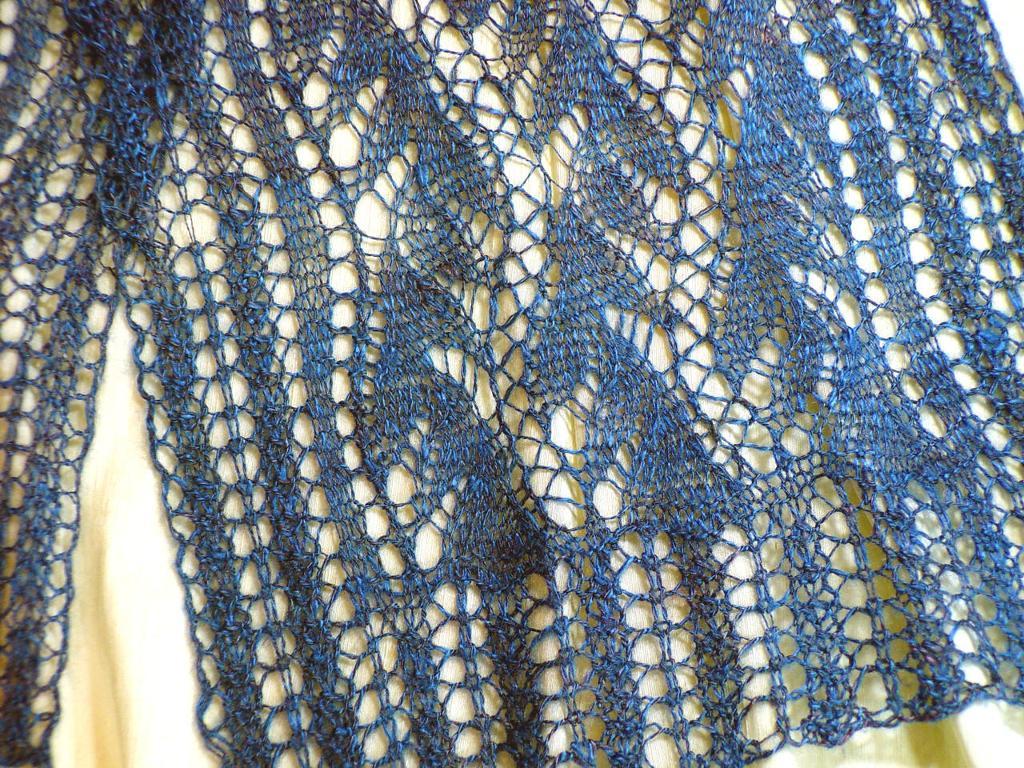 Photo via Bluprint member JackieES
2. Lead or Follow Lace Scarf
Since openwork refers to any project in which holes play a significant role, why not try your hand at some old-fashioned lace? This lovely and light scarf is a true lace, meaning that holes are worked on both sides of the fabric. Use a fine cotton thread for a summer scarf or a beautiful mohair blend for winter. Mohair's delicate fibers fill in the holes of lace and trap air to make airy scarves that are still wonderfully warm.
Get the Lead or Follow Lace Scarf pattern here.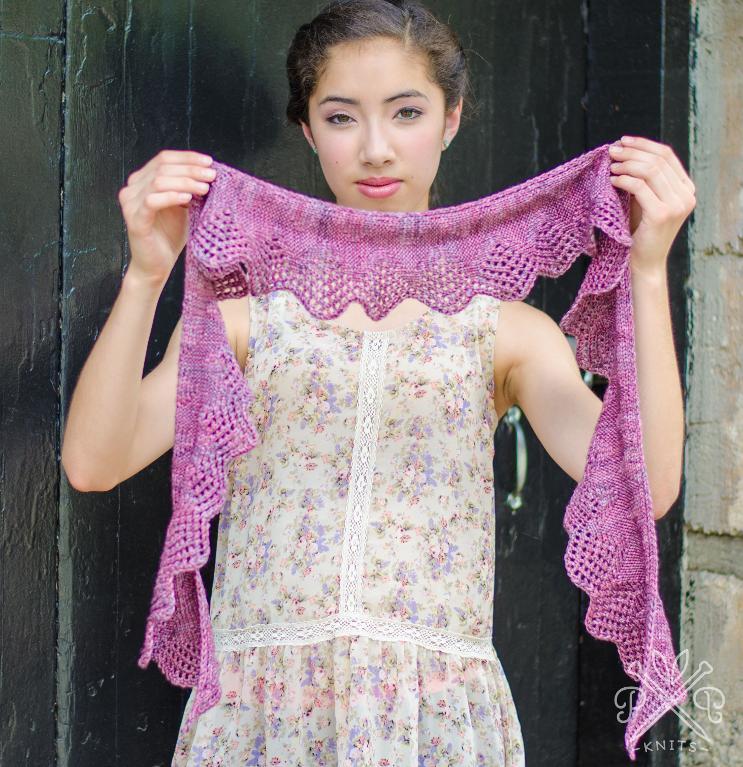 Photo via Bluprint instructor Pam Powers Knits
3. Battenburg Lace Scarf
The Battenburg Lace Scarf, formerly a mystery knit-along on Bluprint, is knit in just 250 yards of DK-weight yarn. Shaped like a gentle crescent, it wraps beautifully.
Get the Battenburg Lace Scarf pattern here.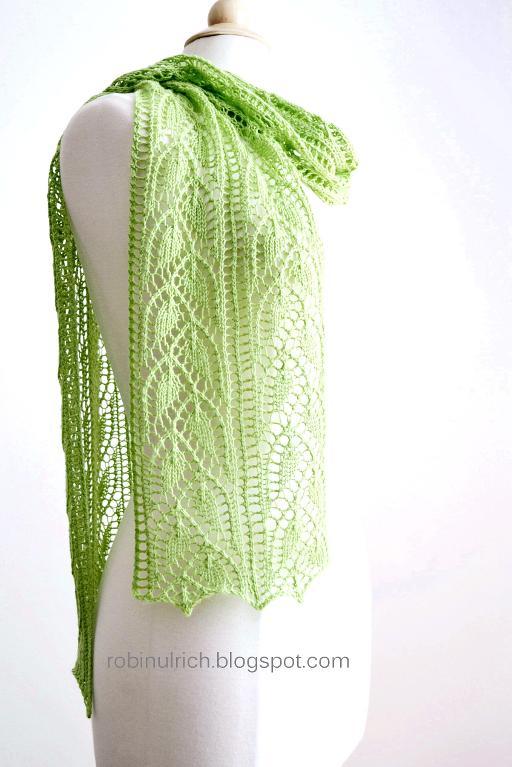 Photo via Bluprint member Robin Ulrich
4. Philodendra
Scarves are a great alternate use for one of the many, many skeins of sock yarn you undoubtedly own if you are like me. I'm not much of a sock knitter, but I can't resist a leafy lace. Leaves seem to hang, suspended, in this delicate number. With a purled wrong side, there's plenty of rest between fun and challenging lace rows. And since it takes only 400 yards of fingering weight yarn, just one skein should suffice.
Get the Philodendra pattern here.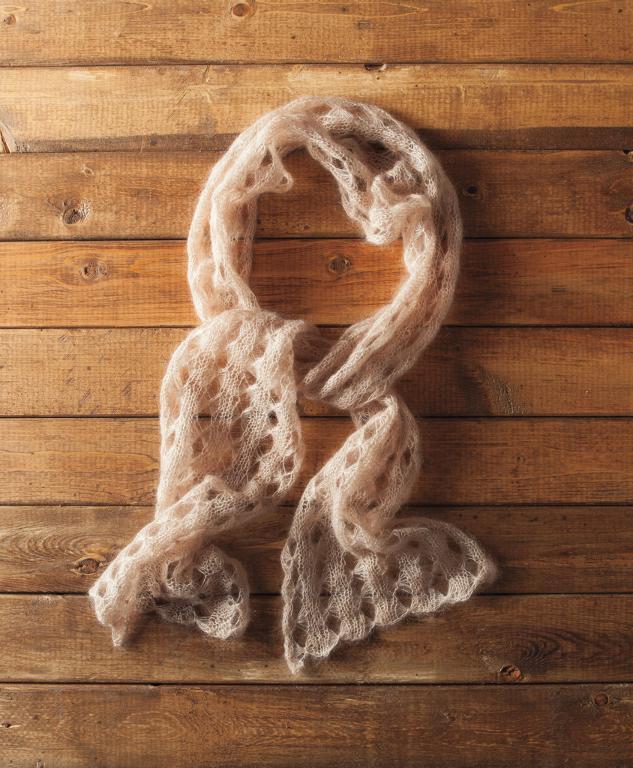 Photo via Bluprint member Tangram Knits
5. Butterfly Lace Scarf
All-over lace can be romantic and striking when the holes are outsized. The diamond holes in this scarf are shaped by little, delicate butterflies of yarn. This would be a great use for a special skein, like Artyarns Cashmere 1.
Get the Butterfly Lace Scarf pattern here.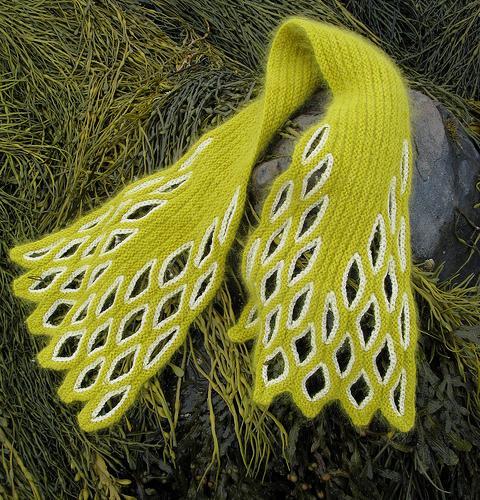 Photo via Bluprint instructor Lucy Neatby
6. Emperor's New Scarf
The arresting holes in this short scarf are made all the more noticeable with a contrasting crocheted edge added after the knitting. I'd make this scarf longer, and use a really soft and warm yarn for my main color. It looks almost like a stylized peacock's tail!
Get the Emperor's New Scarf pattern here.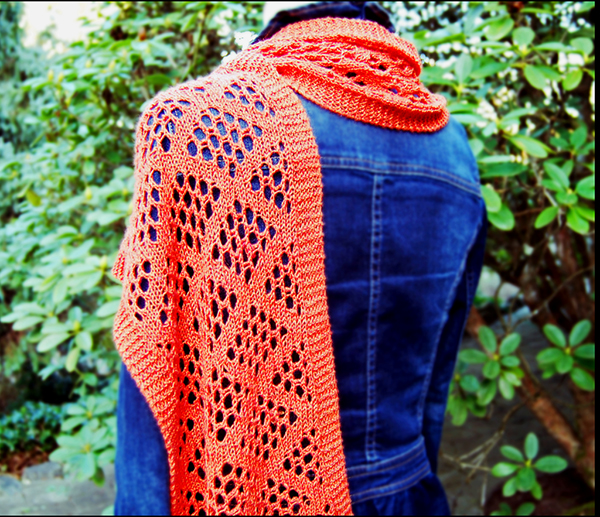 Photo via Bluprint member kayhopkins
7. Devil's Punch Bowl
Bright color combines with geometrically grouped holes to make a dazzling statement scarf. If you want to knit this as a year-round accessory, try a yarn like Lorna's Laces Solemate. It comes in an array of colors and contain Outlast©, a fiber developed for NASA that moderates temperature and reacts to the heat of your body.
Get the Devil's Punch Bowl pattern here.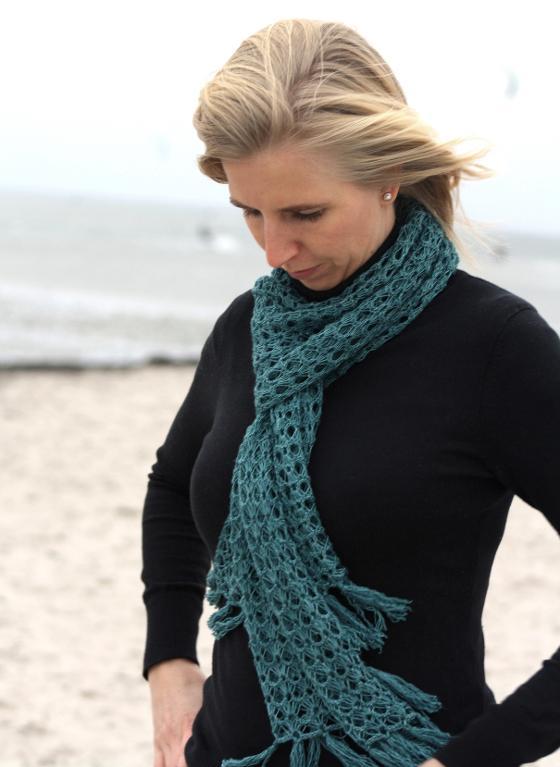 Photo via Bluprint member janukke
8. Yarrow Lace
The beautiful stitch pattern used in the Yarrow Lace Loop and Scarf was invented by its designer, Jana Huck. Each step is illustrated with pictures, making a fiddly stitch pattern clear to the knitter. The fiddliness is well worth it, too, when the end result is a lace that looks like tiny yarrow blossoms. The pattern also includes a looped cowl knit in a heavier yarn.