Beyond the occasional pan of lasagna, I haven't delved much into the world of baked pasta. With the recent roaring success of lasagna dinners — but also memories of horrific kitchen messes that come with making lasagna — in mind, I wanted to find something as satisfying as lasagna but not nearly the same amount of work. So I turned my attention to a pasta bake recipe.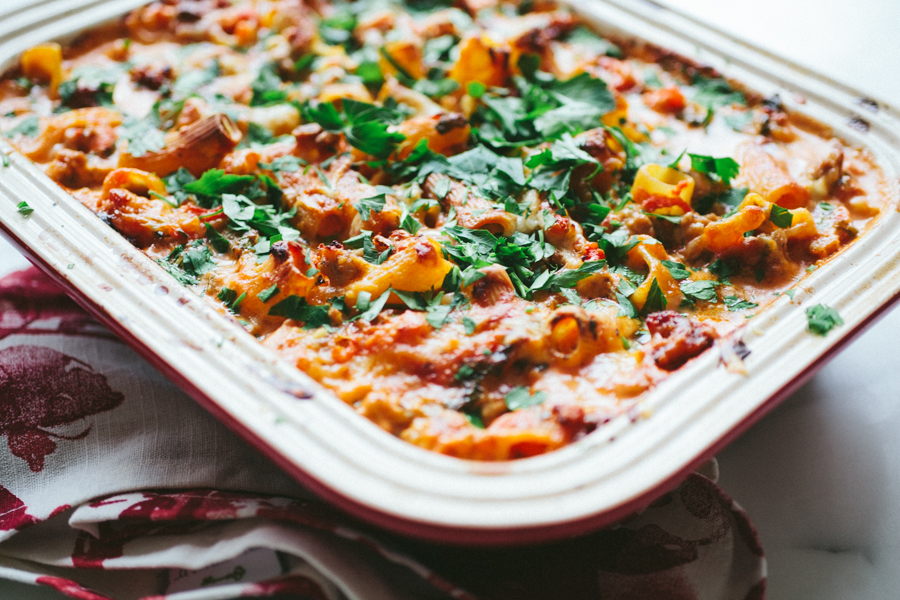 Cook up one-dish dinners your loved ones will devour!
From classic chicken pot pie to no-fail lasagna, learn how to make a new meal every night with these HD video lessons. Enroll Now »
The name says it all: This pasta dish is baked in the oven rather than boiled and served with sauce.
While researching the best way to go about this, I found an article that claimed soaking the pasta in salted warm water for 45 minutes was enough to wake up those starches and help kick the cooking process into gear. I'm not sure where I went wrong in that step, but the final dish was delicious aside from the gummy pasta. Leftovers of that dish still sit in the fridge a week later.
So parboiling is the route for me. I was trying to avoid it to save a step. I mean, if I was going to go through the hassle of cooking pasta, why wouldn't I just serve pasta with the sauce on top like I usually do?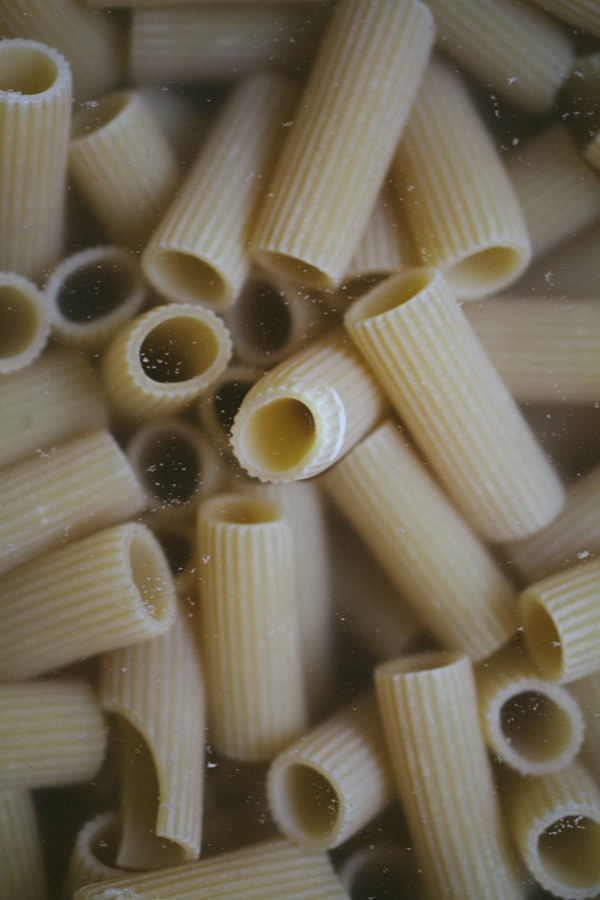 That's when I discovered that the magic happens when the two — pasta and sauce — bake together. The sauce entangles with the pasta, seeping its flavor into its parcooked starches. Also, the sauce becomes the sauce in the oven. Before that, it's just a mix of standard pantry items thrown into a 9×13-inch baking dish. While you are helping with homework, folding the last load of laundry or sitting on the couch with a glass of red wine, dinner is essentially making itself.
An hour or so later you have a simply baked pasta that (arguably) tops a classic lasagna. It's creamy and rich with a nice freshness thanks to fresh herbs. Serve with a simple green salad and crusty garlic bread.
Easy one-pot pasta bake recipe
Ingredients:
1 pound rigatoni
1/2 pound sausage
Two 14.5-ounce cans diced tomatoes
1 cup whole milk
1/2 cup cream
4 garlic cloves, minced
1/4 teaspoon red chili flakes
2 tablespoons tomato paste
1/4 cup chopped fresh basil
1/2 teaspoon kosher salt
1 1/2 cups grated fontina
1/2 cup grated Parmesan
1 cup grated mozzarella
1/4 cup chopped fresh parsley
Step 1:
Preheat the oven to 350 F. Parcook the pasta in heavily salted water until al dente (still quite firm), about 5 minutes. Drain, then add the pasta to a 9×13-inch baking dish.
Step 2:
Sauté the sausage until no pink remains, crumbling it into little bits as it cooks.
Step 3:
In a large bowl, combine the diced tomatoes, whole milk, cream, garlic, chili flakes, tomato paste, basil, salt, sausage and two cups of the cheese, reserving 1 cup for the top.
Pour this mixture over the top of the pasta, then give it a gentle stir to combine. Top with the remaining 1 cup of cheese.
Step 4:
Bake for 30 minutes. After 30 minutes, turn up the heat to 400 F and bake for an additional 10 to 15 minutes, until the cheese is bronzed and bubbly in parts.
Garnish with fresh parsley.
Cook up one-dish dinners your loved ones will devour!
From classic chicken pot pie to no-fail lasagna, learn how to make a new meal every night with these HD video lessons. Enroll Now »