Ombré is hot! Especially ombré weaving on a loom. There is something serenely satisfying about woven designs with gradual transitions of color. Break away from stripes and get into ombré. It's easy and eliminates any creative struggle over color decisions.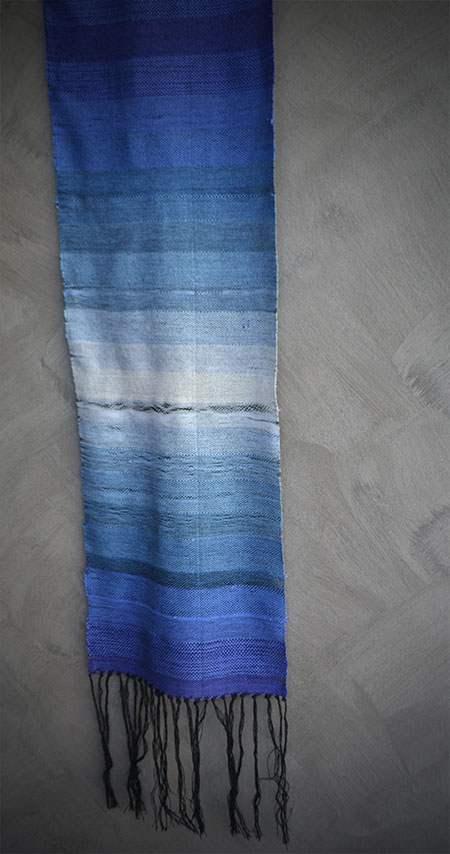 What is ombré weaving on a loom
Ombré is a French word for shading. In cloth it is the gradual transition from one color or shade to another, subduing the obvious striped effect so commonly associated with weave designs. Ombré effects provide depth and interest, adding another dimension to woven designs. Although commercial space dyed yarns may provide an ombré effect of color gradation, I think it's more rewarding to have a go at creating your own by blending colors directly in the weft.
Create your own color blends
In hand-weaving you can add ombré in a number of ways. You can add it to the warp, weft or even both. The principles here are the same for all. You can create the gradations by blending yarns, specific weave techniques or dyeing. The blended yarn technique is explained here as it is the easiest to experiment with.
In the example illustrated I'm using a black warp, which is set to produce a plain weave fabric emphasizing the weft colors I weave across it. Because you will be using doubled yarn, a finer yarn is recommended.
Try ombré weaving on a loom!
Step 1: Gather the colors
Gather about five or six colors that might transition nicely. It is very easy if you stick to a monotone choice. For example, shades of blue ranging from very light to dark and white or cream. Arrange them from dark to light. Starting with a serene monotone selection in a color you really like will make it easy and enjoyable. Then you can save the wilder colors for your next project!

Step 2: Wind the wefts
Prepare your wefts. Wind them into a suitable weft package for your loom, such as a bobbin spool (as used with a boat shuttle but stick shuttles or butterfly wefts can also be used). Each bobbin will have two of the yarns wound on together.
Begin with the darkest color. Wind the bobbin with two strands of the darkest color together. The next bobbin will be one of the darkest color and one of the next color in your lineup. The following bobbin will have two strands of color two.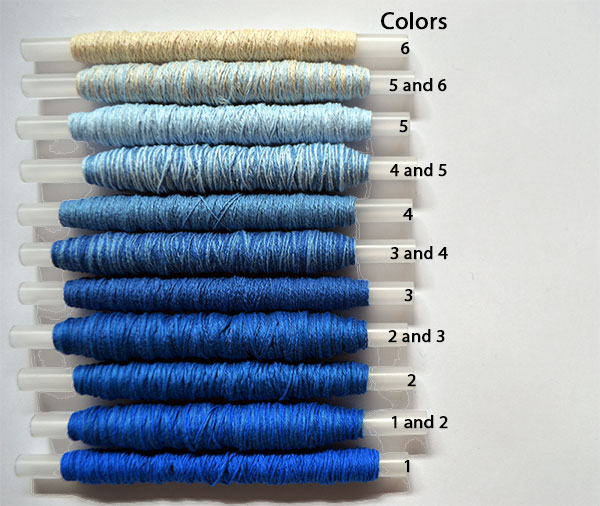 This is how to transition the colors. Each transitional bobbin drops the previous color and picks up the next one. Continue to wind the colors of the bobbins in this way.
Step 3: Take them to your loom
Making sure all of your bobbins are in color and transitional color order, start weaving with each one in its turn. Enjoy the tones as they become delightful ombré woven cloth.
Wild ombré ideas
When you're game, look at more unusual color options for your ombré woven designs. For example, leave the monotones behind and choose a wilder color base.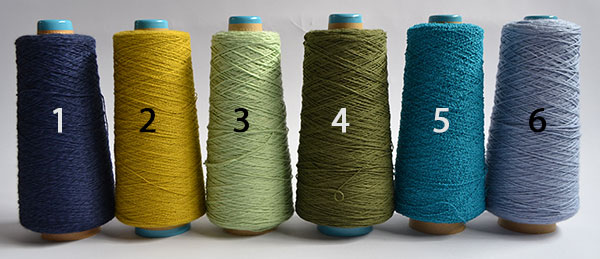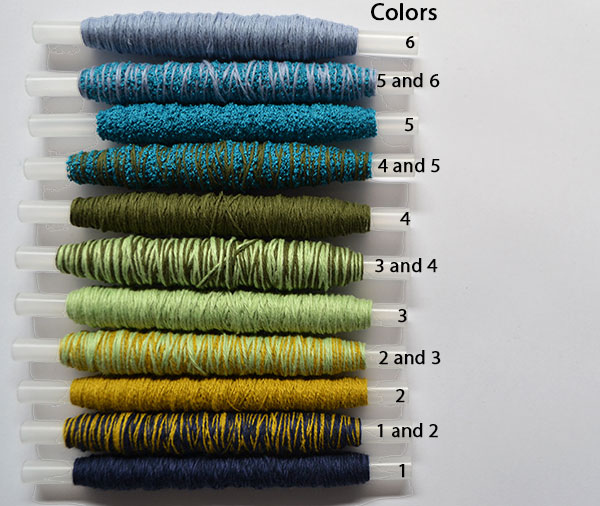 Get inspired!
Using a computer to visualize more abstract color blends can be helpful before you choose colors. Check these great links out!
Ombré is hot…is it not? Have you tried ombré weaving on a loom?