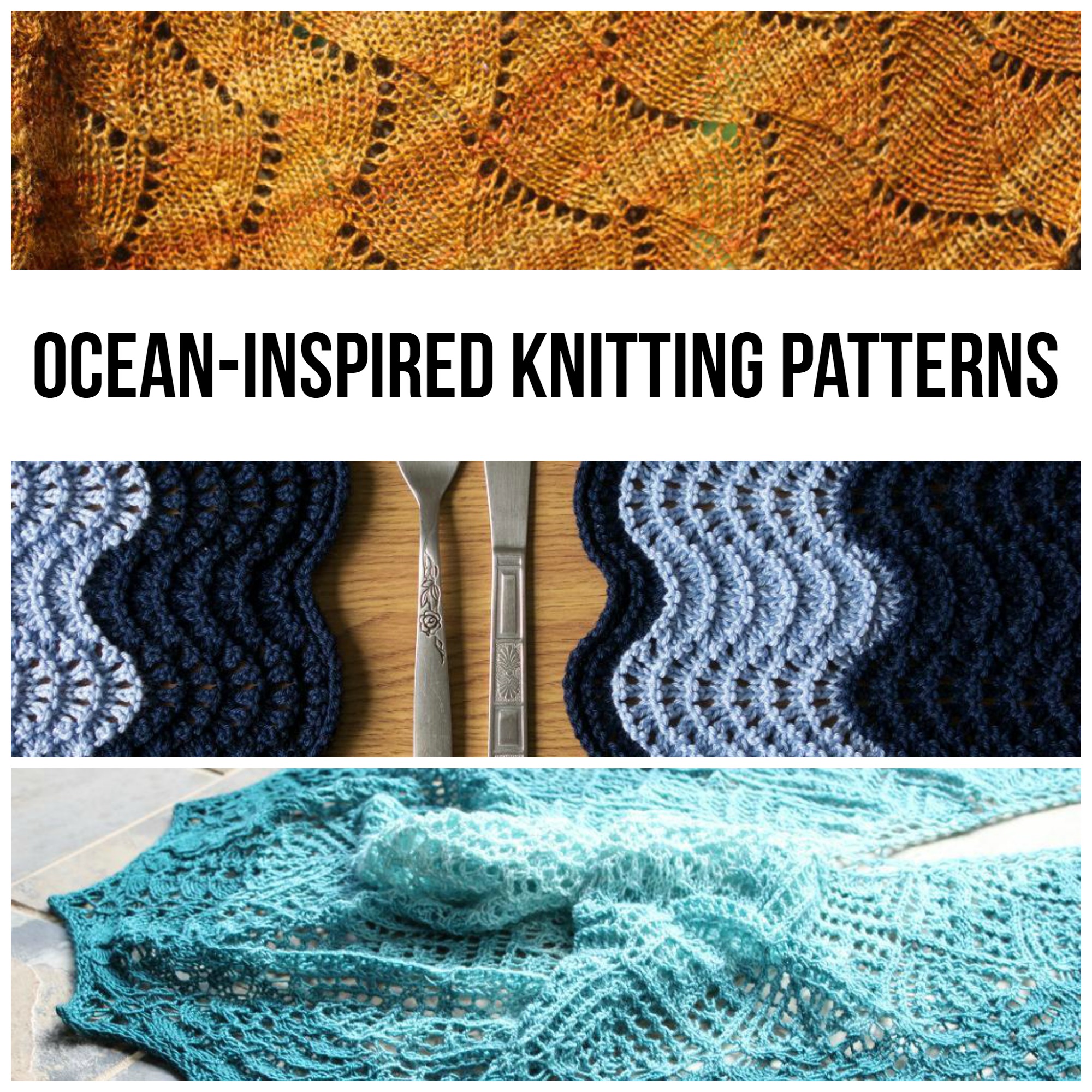 Many knitting pattern designers draw inspiration from nature, whether it's in yarn color or in stitch design. With summer in full swing there are plenty of beautiful natural elements to draw inspiration from, but one of the most popular seems to be the ocean. 
Even if you're not visiting the beach this summer (sigh), you can still pay tribute to the rolling waves of the sea with these ocean-inspired knitting patterns.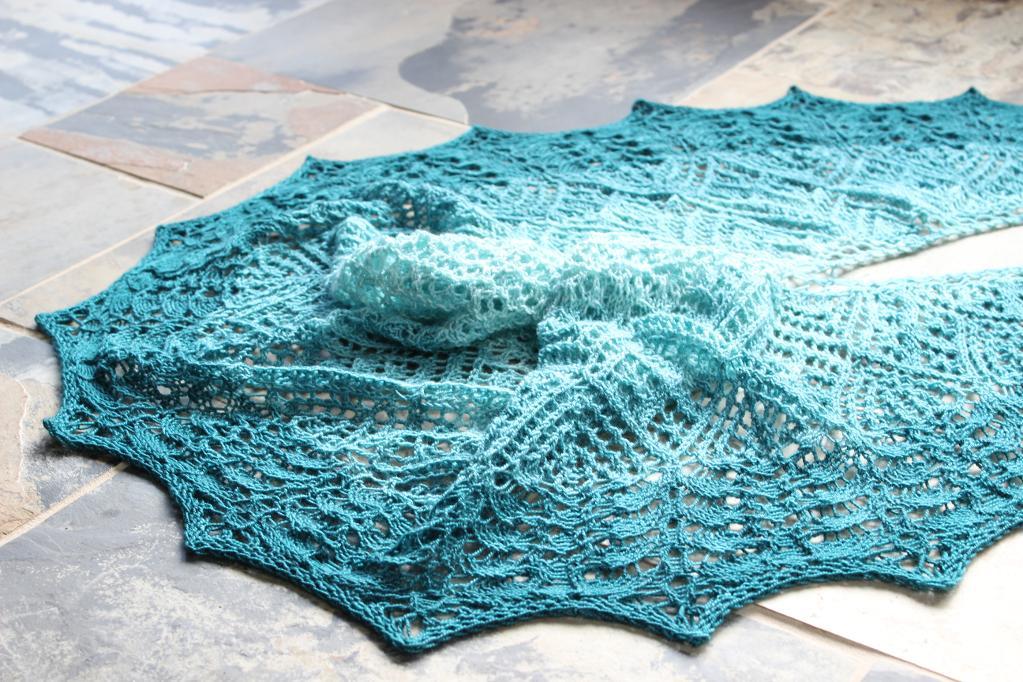 Photo via Bluprint instructor Anna Dalvi
Mystic Ocean
This crescent-shaped shawl pays tribute not just in color but also in a beautiful lace pattern. You'll need to know how to read charts to knit this one. Knitting a lace shawl for the first time? The designer of this shawl just happens to be our own Anna Dalvi, the very instructor who's guiding our Bluprint members in her class My First Lace Shawl. Check it out if you're feeling uneasy about trying this one.
Get the Mystic Ocean pattern here.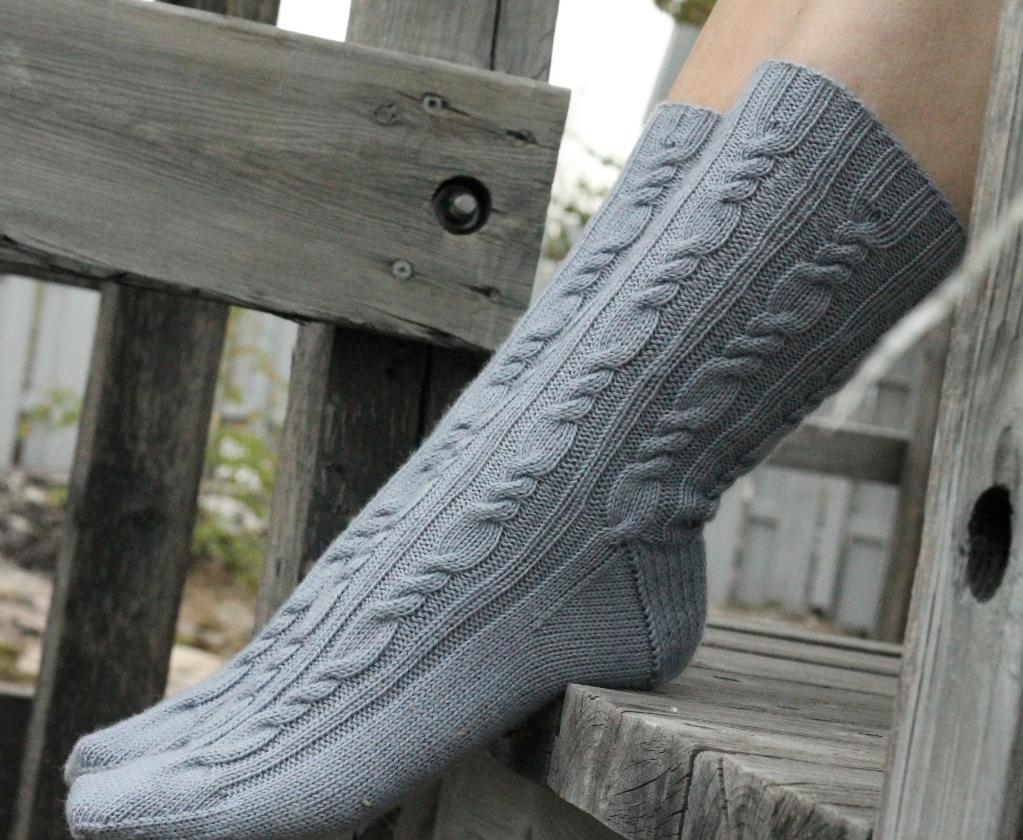 Photo via Bluprint member MichelleKrause
Ocean Mist Socks
Not all oceans conjure images of sweat and sand. Some of the northern rocky beaches can be treacherous and chilly. These socks are an ode to Vancouver Island, where the ocean crashes over rocks and the beach-goers often sport toasty socks.
Get the Ocean Mist Socks pattern here.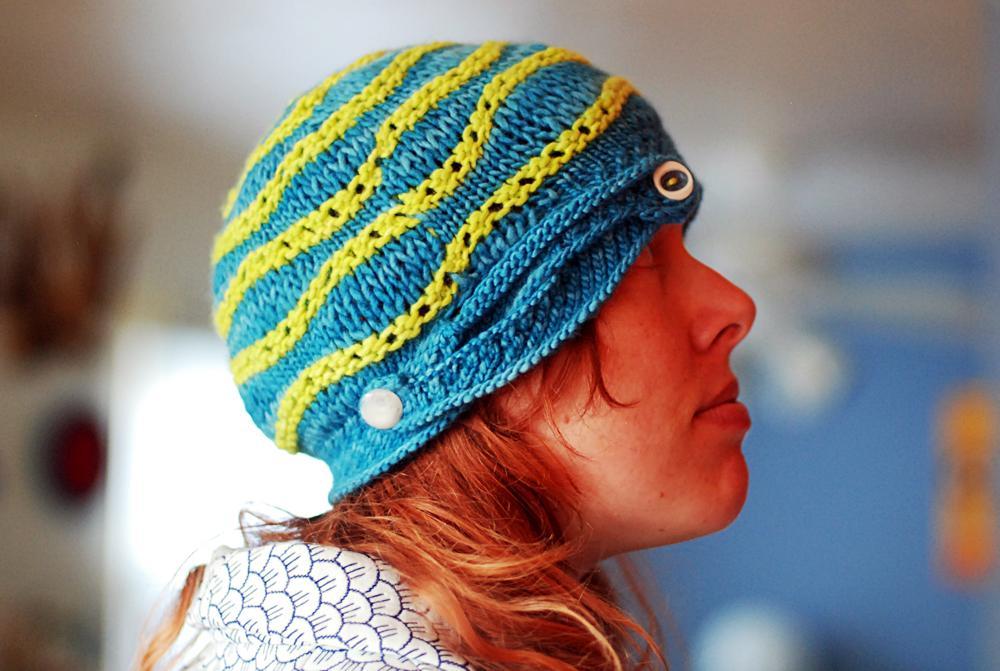 Photo via Bluprint member leethal
Ocean Breezes
The wavy texture of this hat is a clear nod to the ocean. The buttons ensure the perfect fit for the hat, even on a breezy day. Choose from either a cloche or beret style for your hat.
Get the Ocean Breezes pattern here.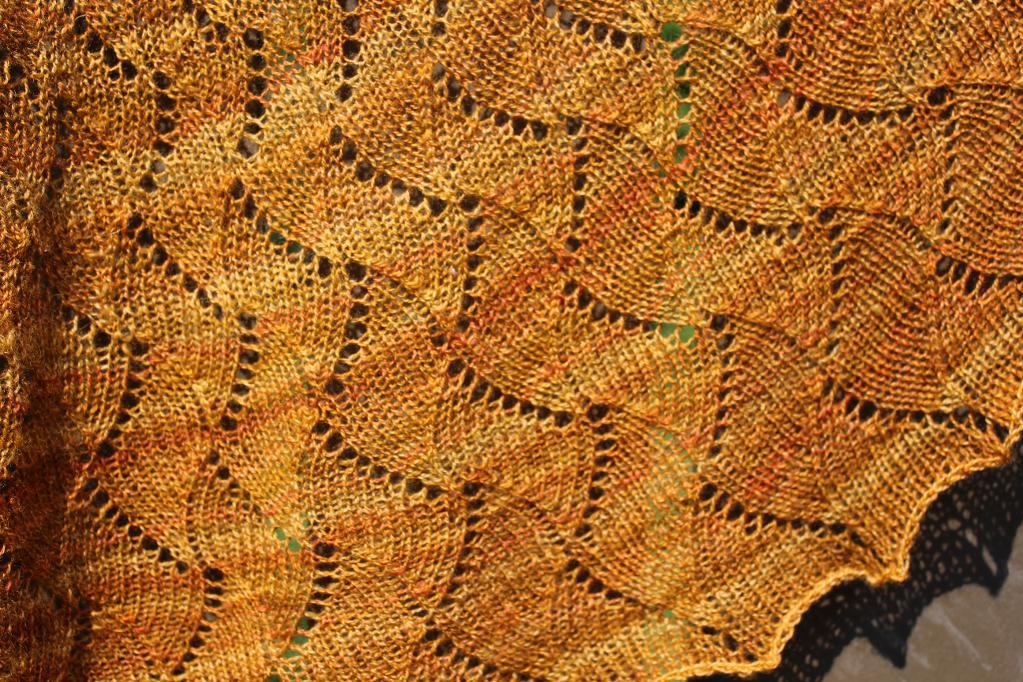 Photo via Bluprint member gnattygirl
Waves Along the Shore
An ode to the ocean doesn't have to involve blue or green. This beautiful golden yarn is inspired more by the sandbars. The more the shawl grows, the longer the waves become. Designer gnattygirl says the repetitive pattern is perfect for sofa knitting!
Get the Waves Along the Shore pattern here.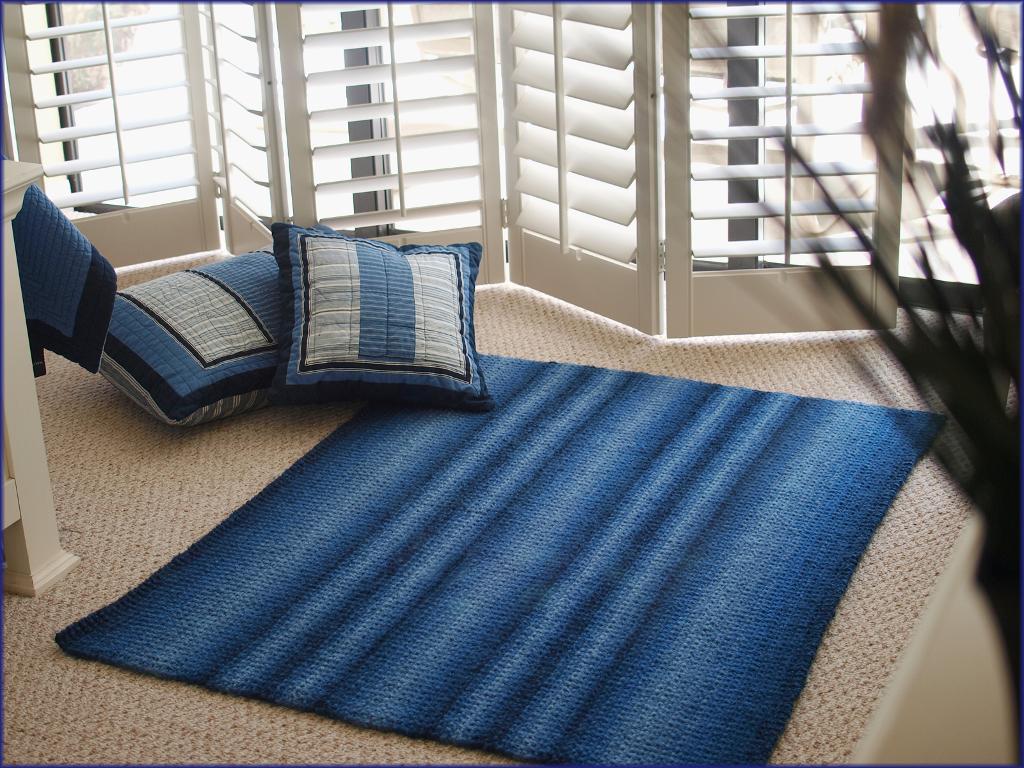 Photo via Bluprint member Wyndlestraw
Ocean Currents Rug
You don't have to own a beach house to use this pretty rug. Two strands of yarn together knit in a yarn with several different blue tones give this rug its ocean wave colors. When you're finished knitting, add a non-slip rug backing to make the rug even more stable.
Get the Ocean Currents Rug pattern here.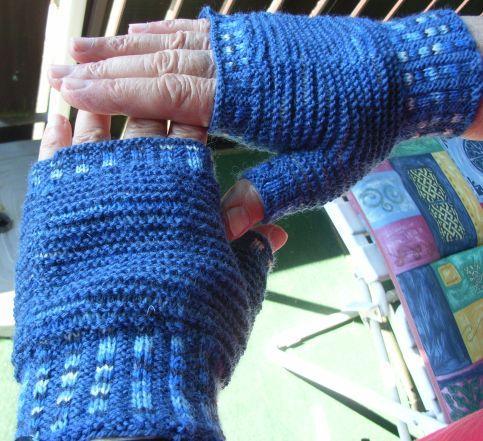 Photo via Bluprint member stoperror
Ocean Mitts
These mitts get their name for two reasons: one is the waves that the purl stitches create and the other is the combination of all the blue shades. Designer stoperror recommends substituting white yarn if you don't have any variegated blue yarn.
Get the FREE Ocean Mitts pattern here.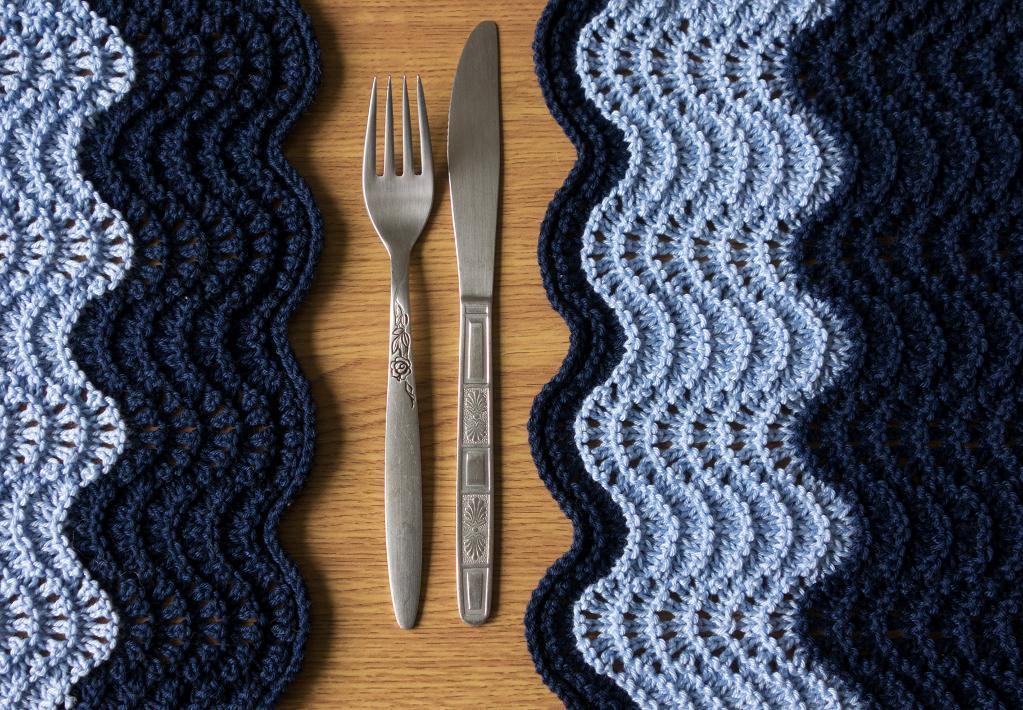 Photo via Bluprint member Anna_Rave
Ocean Placemat
One thing I've learned about knitting placemats: be sure to choose a yarn that's easy to care for! Cotton is a nice choice for these placemats, since it's washable and durable. Use these placemats any time of year to remind you of the ocean waves. These would look lovely in sea green or turquoise hues, too!
Get the Ocean Placemat pattern here.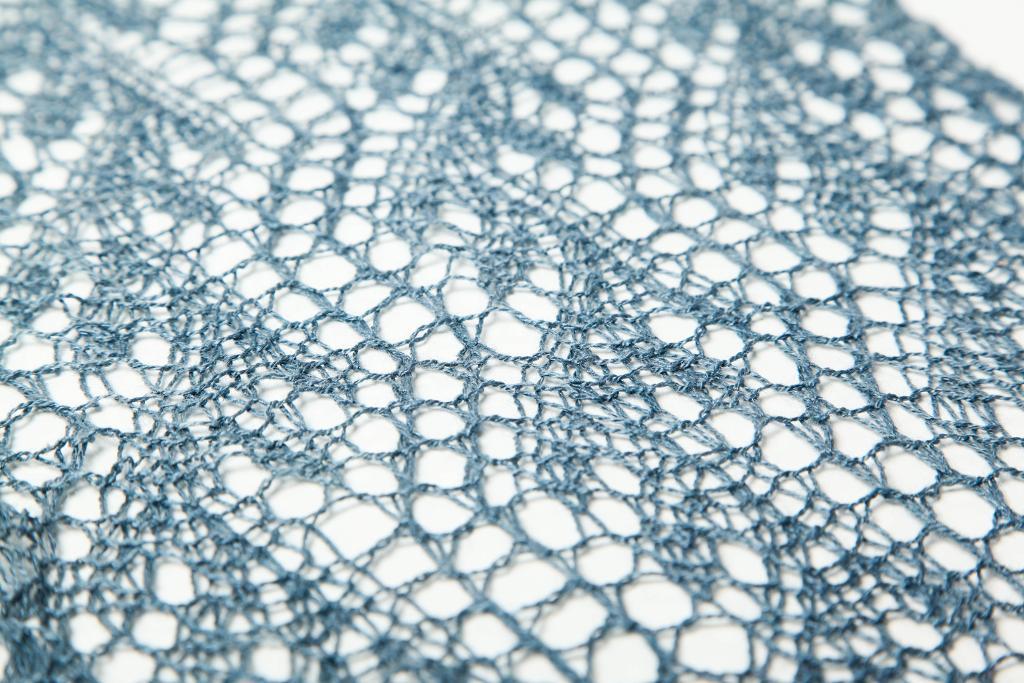 Photo via Bluprint instructor Eunny Jang
Laceweight Ocean Scarf
This delicate ocean scarf is perfect for those cool summer nights. You can knit it up in lace weight or in a fingering weight for something just a little more substantial. This pattern is available exclusively to Bluprint members enrolled in Lace Knitting: Basics and Beyond class with Eunny Jang. Eunny will guide you through creating this gorgeous scarf, no matter which yarn weight you choose.
Read more about the Laceweight Ocean Scarf here.
Enroll in Lace Knitting: Basics and Beyond here.
Get Yarn You'll Love, Fast!
Find the yarn you need for your next project, at the right price.Shop yarn now>>