When this year's Fashion Weeks rolled into London, Paris and New York in early 2015, one clothing element seen on lots of runways and quickly dubbed a trend was the turtleneck collar.

Turtlenecks (or polo necks, as they are called in the U.K.) were everywhere. Since then, the turtleneck craze has been mocked by some, questioned by others and embraced by a faithful fashion contingent. One micro-tend, of special interest to us knitters, also emerged in 2015: a turtleneck without the sweater — just the collar. Of course, the elegant collar, the chic neckwarmer and the stylish cowl are all mastered beautifully by many hand-knit designers.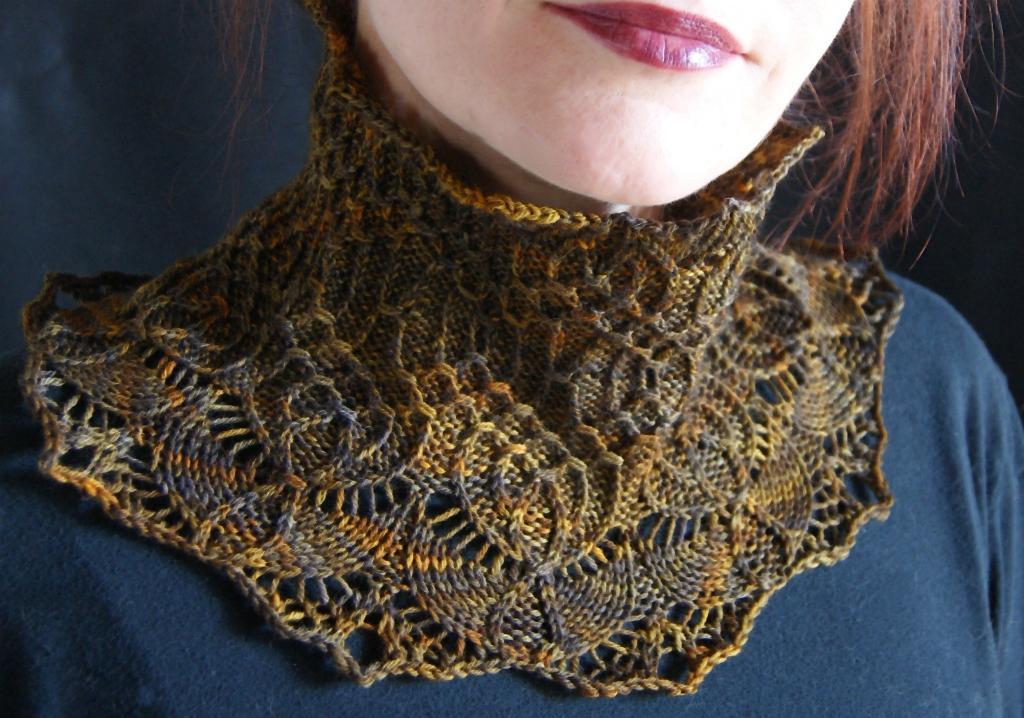 Photo via Bluprint member Lavish Craft
1. Lierne – Tierceron II
First up is my personal favorite out of the five patterns in this lineup. I don't know whether I'm more fond of the intricate stitch pattern in the stand-up portion of this collar or the striking lace elements gracing the collar's base. In a sophisticated variegated palette, paired with a beautiful fall-appropriate solid color (like teal) in your outfit, and with an autumnal deep burgundy lip color, this neckwarmer is a hot fall and winter accessory. This pattern is definitely going to require some lacework and nimble stitchwork experience.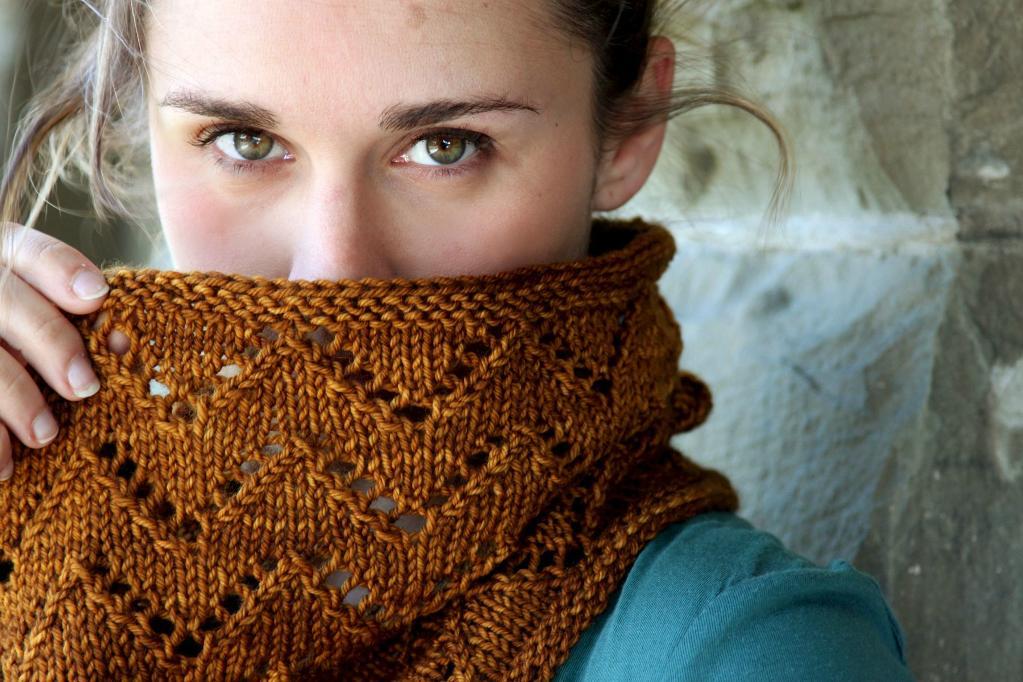 Photo via Bluprint member Very Shannon
2. Downton Cowl
This pattern features a simpler design and will be rewarding for beginner knitters ready to try out a few lace elements. A charming and versatile design that's worn more loosely than a traditional turtleneck, the Downton Cowl will show off your favorite hand-dyed yarn beautifully.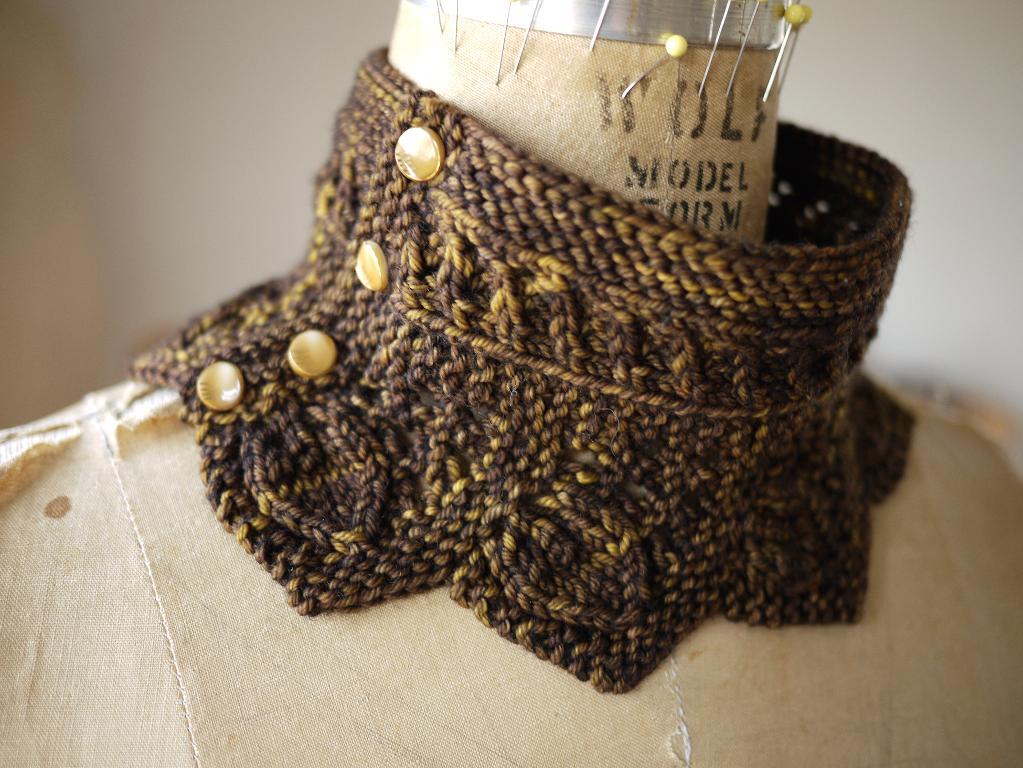 Photo via Bluprint member Anne Hanson

3. Haselnusse
Using fewer than 150 yards of DK yarn, the Haselnusse is a speedy knit that could make a quick gift. It calls for four dainty buttons, letting you show off your style with more than stitches. A very close-fitting collar, the Haselnusse begs for the softest yarn around, something that's perfect for next-to-skin wear. I am thinking silk (like Rowan Truesilk) or a blend of merino wool and silk (such as Manos Silk Blend) would work well. A collar like this needn't be styled to appear too Victorian. Pair it up with some leather and chunky jewelry and you will have a look that's spot on now.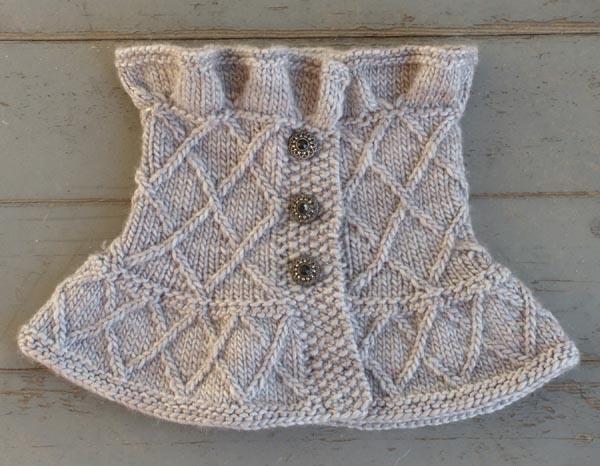 Photo via Bluprint member ninaknits

4. Julia Neckwarmer
Those gorgeous silk and silk/merino skeins of yarn we just talked about are going to be perfect for the Julia Neckwarmer, too, which buttons up snugly around the neck and ruffles softly at the top and bottom. Featuring sweet lattice-like motifs, this collar is also ideal for putting distinctive buttons on display. Written in three sizes, the Julia Neckwarmer in a silk blend yarn will be perfect for early fall and late spring. Knit in a loftier yarn, it will do beautifully in the middle of winter.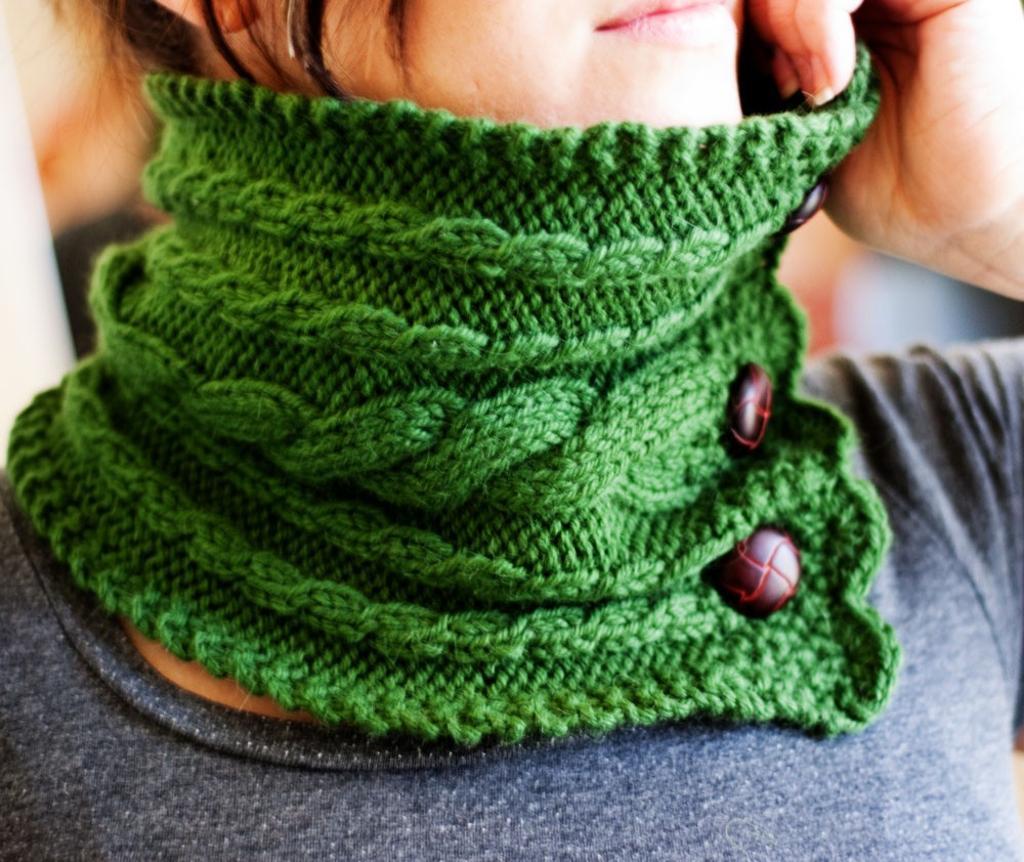 Photo via Bluprint member Kalurah Hudson

5. Ireland Neck Warmer
Unlike the patterns above, this neck warmer is knitted side to side, with basic cable elements stretching width-wise. Knitted in a characteristic green, in the designer's words, it echoes "the rugged beauty of the Atlantic Highlands" and "imitates the rocky terrain and mossy exterior of the beautiful Irish landscape." Having experienced Ireland's rugged Highlands firsthand, that's stunning inspiration for any knit design.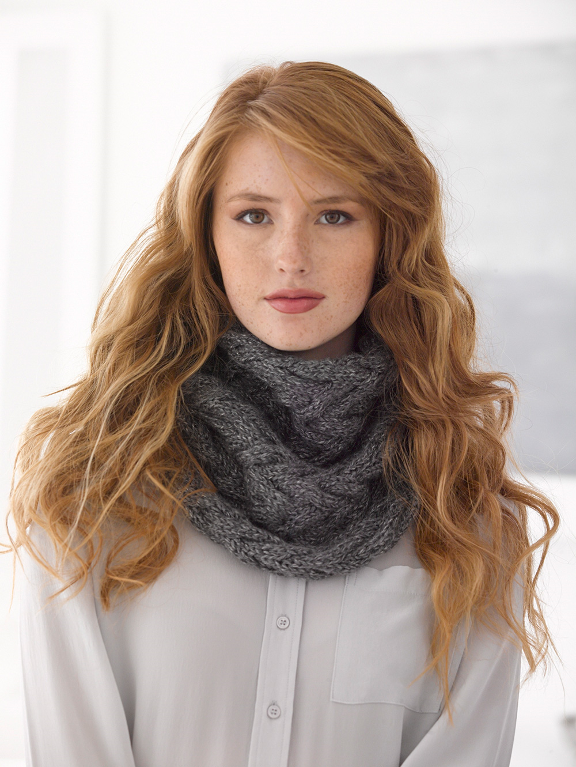 5. Captivating Cowl Kit
No time to look for a pattern and yarn? Grab the Captivating Cowl Kit and get knitting! Though looser and larger than the turtleneck collars above, this chunky cabled cowl mirrors the same style. Plus, the kit offers several lovely color options.
Knitting Kits You'll Love!
Your next project, made easy: Get a designer pattern & perfectly paired yarnShop Kits Now »