Keeping a nature illustration journal is a rewarding practice that not only connects you with your surroundings but offers an incredible opportunity for artistic growth. Need a little help getting started? These nature drawing ideas will help you on your way!
Rocks drawing via Craftsy member Crystal
These artistic prompts are intended inspire your nature journaling, offering exercises to creatively channel the energy and beauty of the great outdoors in your art. So break out your favorite drawing or painting media and get ready to create! 
To continue on your nature illustration journaling journey, check out the Craftsy course Illustrated Nature Journaling. Along with instructor Gay Kraeger, you'll learn how to combine nature and art in beautiful illustrated form, bound as a journal so that you can monitor your progress and maintain a keepsake of your work.
Six inspiring nature drawing ideas for illustration journaling 
1. Work in "sprints."
Having trouble getting started with a journaling session? Have a timer handy and work in short blasts of 30 seconds to 1 minute each. Either using with a photo reference or working with a physical reference in a natural setting, try to capture the essence of your scene as concisely and quickly as possible.
Consider the cross-training of illustration journaling — it's a little muscle-memory building session that will give you the chops to work through longer sessions.
Note: This method works for just about any method of illustration journaling, regardless of subject matter!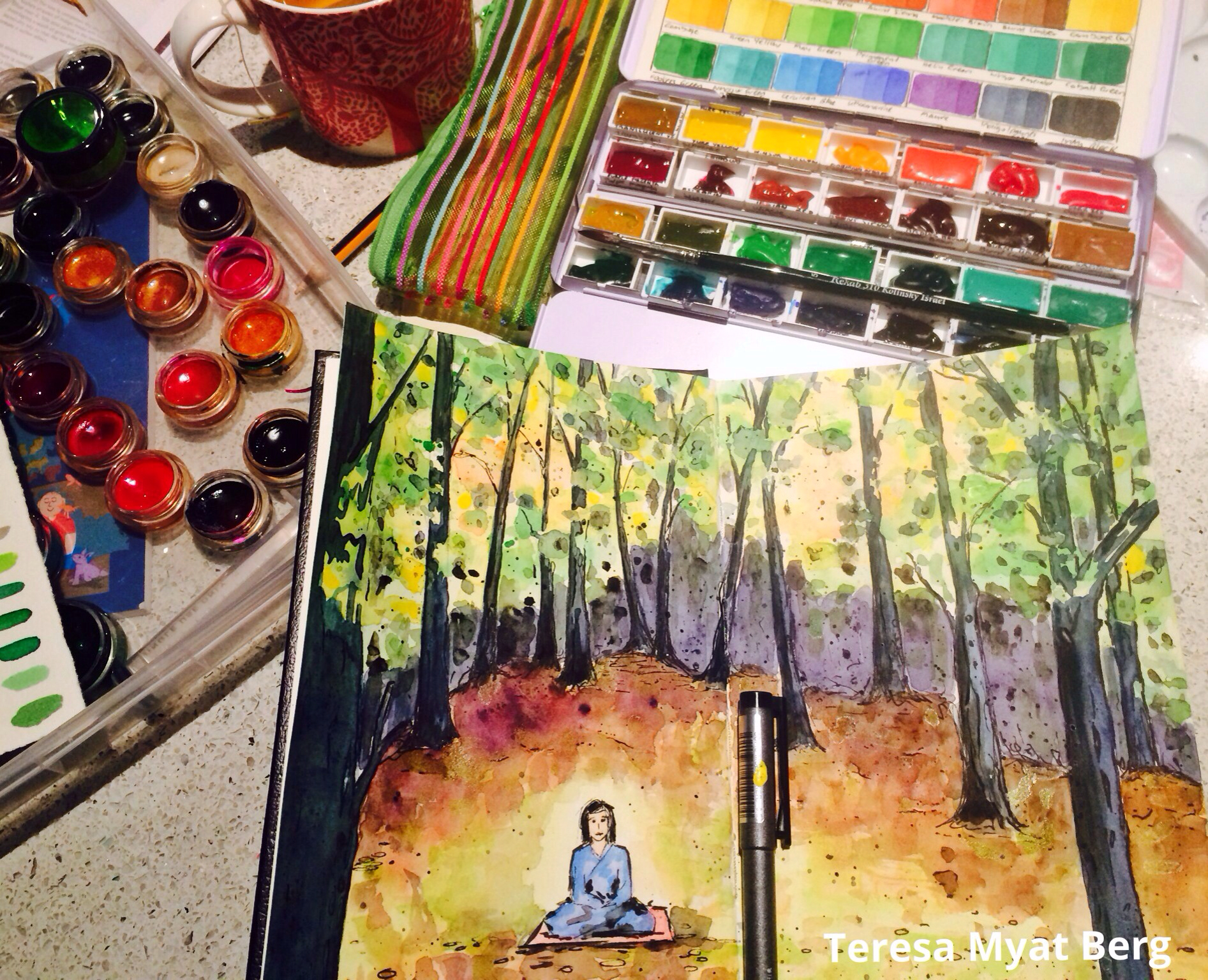 With Nature painting via Craftsy member Teresa Berg 
2. Draw a fantasy landscape.
Your journal drawings don't have to be totally accurate. A journal provides a place to daydream and to create, which means you don't need to create a perfect natural scene. Combine favorite elements of real natural settings, mixing and matching the sky, land, sea or landscape that suits your imagination. Create the world that you'd like to see. 
3. Capture a scene emotionally, rather than physically.
Whether you're sketching a lovely sunset or a tranquil mountain scene, shift your perspective from trying to capture the physical beauty of the scene to trying to capture the energy of the scene. This could mean that you use brighter colors or more free forms than usual. Observe what techniques, colors and methods you gravitate toward in trying to capture the emotional energy of a scene. You may be surprised by how working intuitively like this can add personality to your drawings!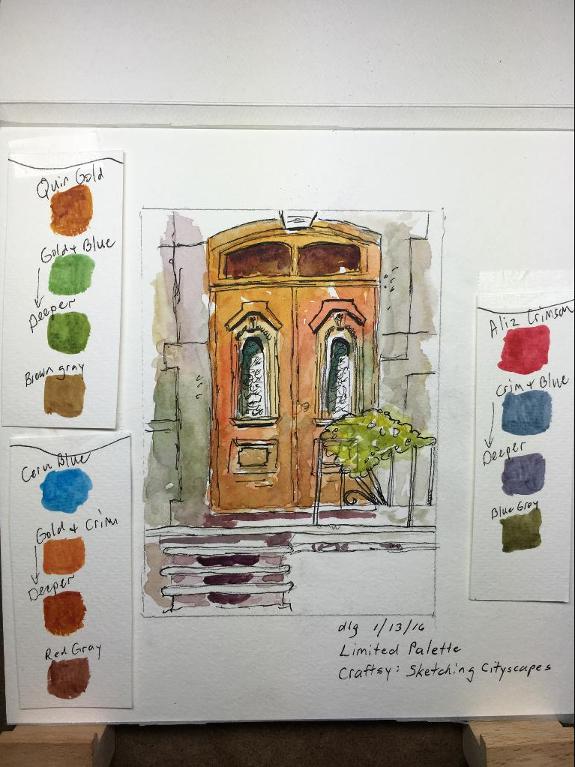 Limited palette via Craftsy member denise.go3776105
4. Control your color scheme.
Working in a controlled color scheme can add interest to your journaling session, help you explore emotions in your work and help improve your color theory knowledge. There are many ways to work with a limited palette when creating nature-themed artwork, but here are just a few ideas for your next journaling sesh: 
Work in seasonally appropriate colors: rich reds and browns for fall, icy blues and grays for winter, sweet pastels for spring, bright colors for summer. 
Try working with a triad: only the primary or only the secondary colors. 
Simply choose a palette of anywhere from 2 to 12 colors that you enjoy together and create a scene using only those.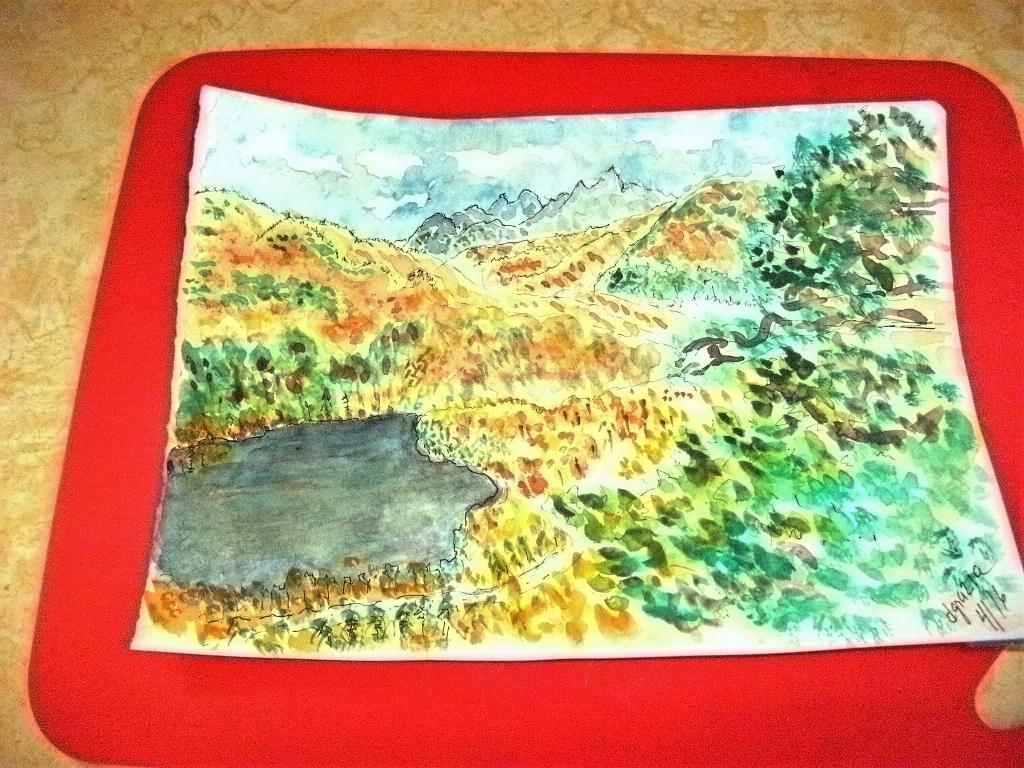 Hiking in Upper State NY via Craftsy member Diana Grazia 
5.  Try to draw in the style of a great master. 
This is one of my personal favorite prompts: Try to work in the style of a master artist or a particular painting while creating a scene. Perhaps this means that you'll try drawing your backyard in the style of "The Starry Night," or try to add some Keith Haring flair to your drawing of a tree. Emulating the styles of classic art in your own work can help you create some really interesting scenes, and makes for a really fun journaling prompt.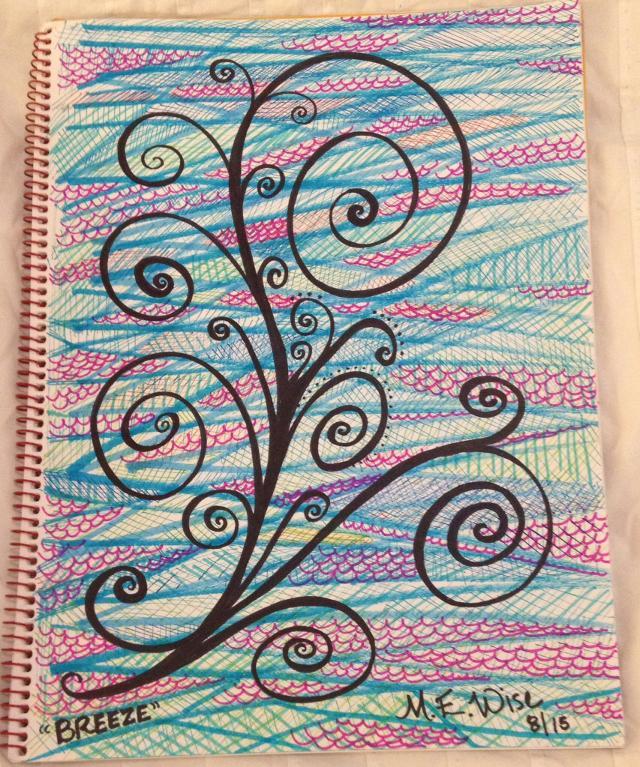 Breeze via Craftsy member M.E. Wise
6. Choose a single word as a prompt. 
Using a single word or phrase as an artistic prompt can be a fun way to creatively connect with nature. You can make a list of words and phrases or use Craftsy's free list of prompts. Choose a different one whenever you need a prompt for journaling. For instance, if your prompt is "breeze," you might draw a realistic scene of flowers being blown in the wind — or maybe you draw a more abstract piece, like the one above. It's amazing how one word or phrase can inspire any number of pieces of art.