As a music lover, I'm constantly looking for ways to combine my love of music and my love of knitting. That's not difficult to do when there are so many awesome music knitting patterns floating around out there — especially right here on Craftsy.
Whether you want to show off your music obsession in home decor or just with a Bob Marley baby hat…
Check out these noteworthy music knitting patterns.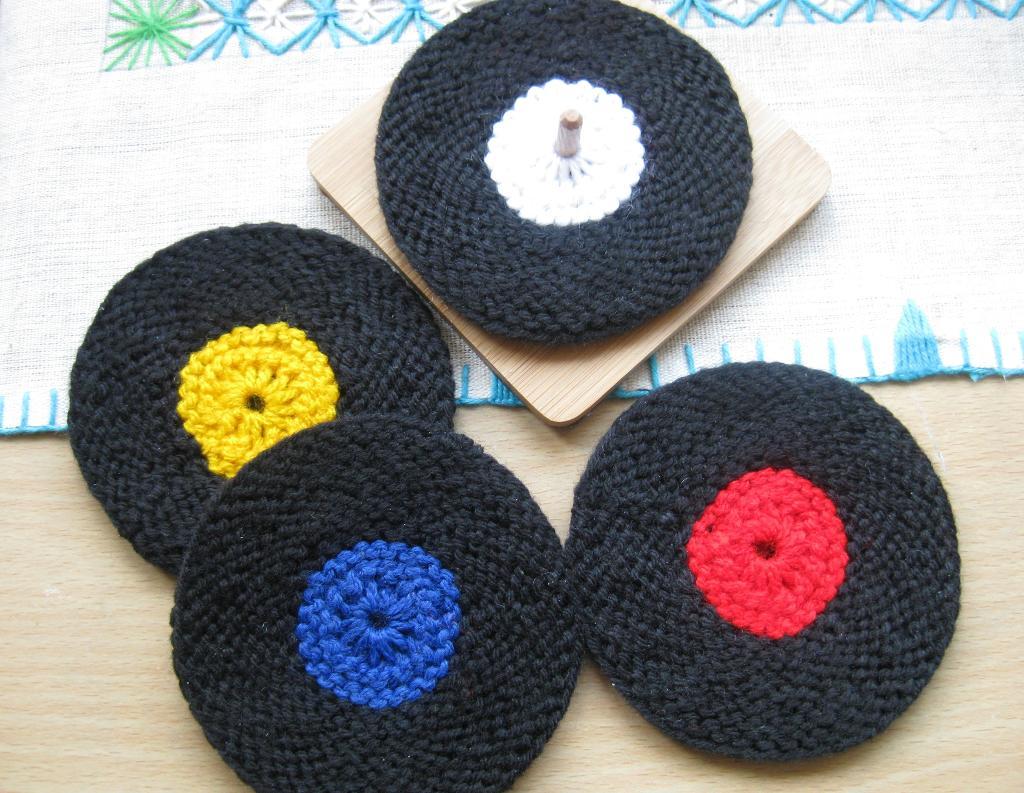 Photo via Craftsy member Ellen Kapusniak
Vinyl record coasters
Knit up these little retro-inspired coasters and maybe you can even stack them on the wooden "turntable" to store them. I can already hear the "ooos" and "aaahs" when I pull these out at parties! This project is also perfect for using up those pesky yarn scraps.
Photo via Craftsy member Patchworks By D
Musica Hat
If you can read a chart, you can knit up this piano key hat! It's great for practicing colorwork, and the project only uses two colors so you won't be overwhelmed. There are also chart instructions to include a G-clef in place of the music notes on the crown.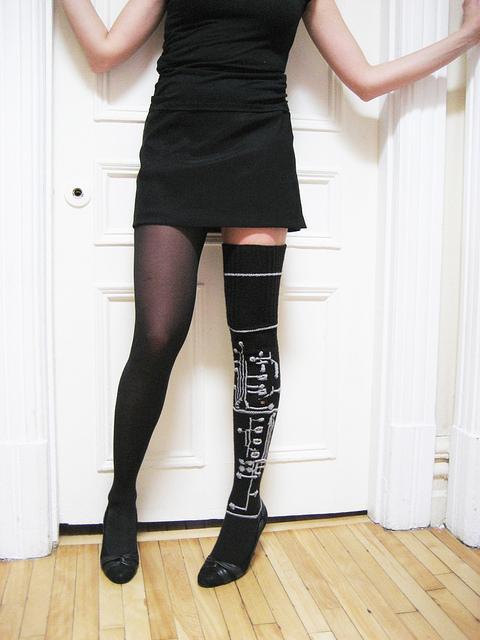 Photo via Craftsy member oriocookie
Clarinet Socks
Whether you played clarinet in high school marching band, play clarinet now, or just like the simple black and white style, these clarinet socks are a great knit for you. You'll need skills to knit in the round, as well as intarsia.
If you need some extra  help with the intarsia part of the pattern, check out Intarsia: Basics and Beyond with Sally Melville. You'll learn how to deal with those frustrating intarsia charts, plus how to create your very own chart. (Flute socks, anyone?)
Enroll in Intarsia: Basics and Beyond here.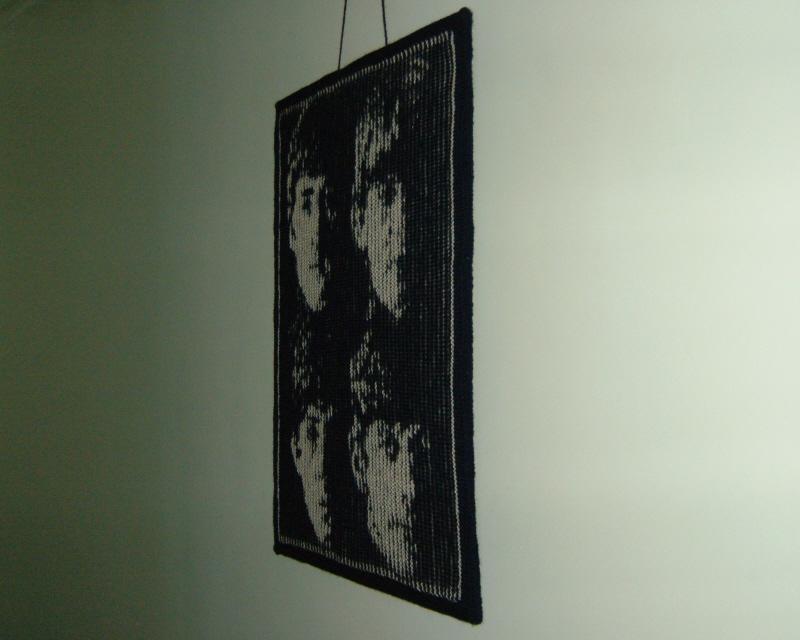 Photo via Craftsy member Steve Plummer
Beatles Illusion Wall Hanging
I know it's totally cliche, but the Beatles is my favorite band ever, so I couldn't resist including this illusion wall art. Look at the wall hanging straight on and it looks like a plain knitted piece of fabric, but step over to the side and you'll see the faces of the Fab Four. Too cool!
Photo via Craftsy member knitsewcrochet
Sam's Guitar Player Mitts
Have you ever tried brioche knitting? These guitar player mitts are for strummers who don't want their cold hands to affect their playing. No matter where you're playing guitar, your hands will be toasty warm.
Not super confident that you have the brioche skills you need to make the mitts? Enroll in Brioche Knitting Made Easy with Mercedes Tarasovich-Clark to learn all the brioche basics you'll need to make these mitts, plus Mercedes's own mitts, hat, and cowl patterns.
Enroll in Brioche Knitting Made Easy here.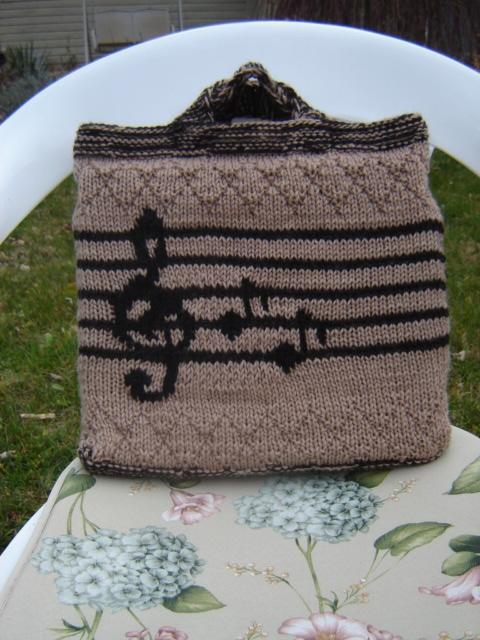 Photo via Craftsy member Nadya s Designs
Music Tote Bag
Simple intarsia is at work again here, this time mimicking a treble clef. Use this bag as your everyday tote, or use it to store all your sheet music. Designer Nadya s Designs also included a super fun chart to change the notes on the staff to spell BAG.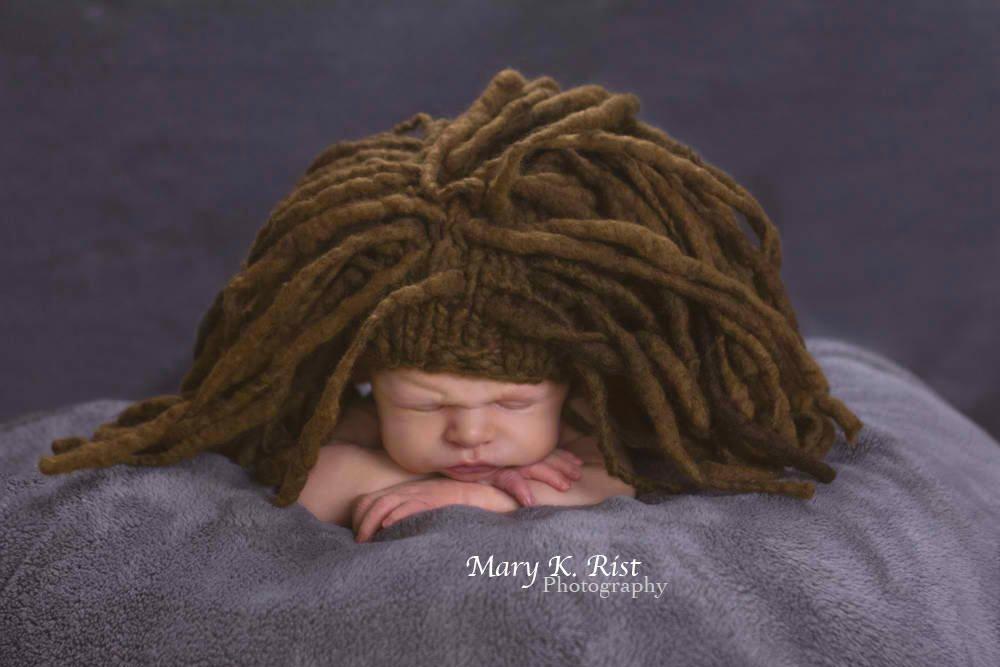 Photo via Craftsy member Petalknits
Marley Baby Dreadlock Hat
Parents who are fans of Bob Marley will go crazy over this baby hat. Put it on your list as a possible baby shower gift in the future! A bulky, felted yarn gives those dreadlocks their realistic texture, so you don't have to learn any new techniques to knit it.
Are you a music fan? Who's your favorite musician?