There are many modern quilting design options available. Sometimes designs call for spectacular, highly detailed quilting. Other times, very simple designs are the perfect accent.
Here are a five modern design options to inspire your next quilting project.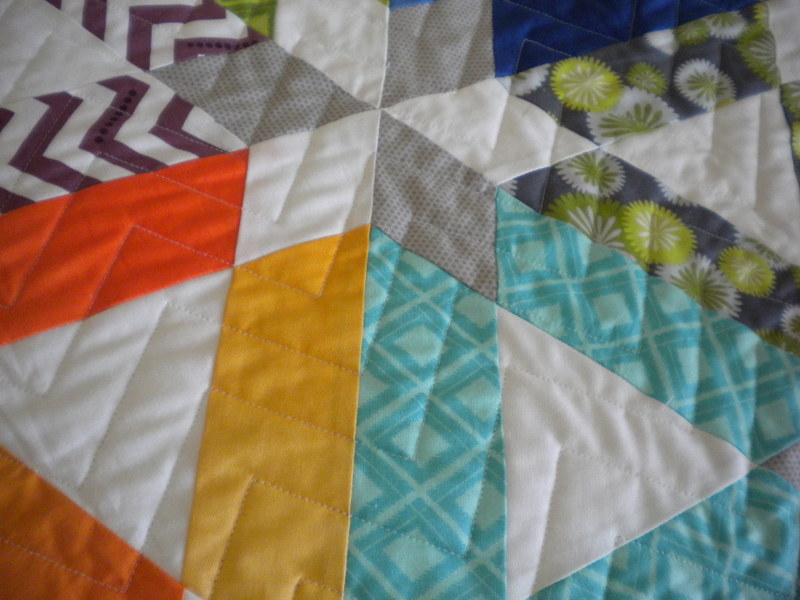 Chevron quilting:
Chevron quilting, otherwise known as zigzag quilting, can be a fun design for many different types of modern quilts. While this style of quilting can add pizzazz to very simple modern quilts, it can also be used with more complicated designs without taking over the quilt and overwhelming the eye.
The zigzag lines can be evenly or unevenly spaced, depending on the desired effect. The depth, or height, of the zigzags can also be adjusted to your liking.
Pattern seen above available here.
Straight line quilting:
Straight line quilting is a simple quilting style that is perfect for many modern quilts. This design is also one that's easy for a beginner quilter to use on her home machine. Lines can be kept evenly spaced by using a quilting bar attachment for the machine, or by simply using painters tape as a guide for the quilting lines. As with the chevron design, varying the width of the lines can be done to achieve different finishes.
Pattern seen above available here.

Wavy line quilting:
A variation on straight line quilting, the home machine can be set to stitch a wide zigzag to create this look. Perfect for simple and complicated designs alike, this  design can add a bit of interest to a quilt. The wavy lines can be spaced close together or further apart as desired.

Circles and pebbles:
Circles and pebbles are a fun way to add interest and variety to quilts that have a lot of straight lines. The circles and pebbles can be spaced far apart, their arcs can overlap, or they can be quilted quite close together. Circles and pebbles quilting of different sizes can also be used in the same quilt to create more variety.
Pattern seen above available here.

Baptist Fan quilting:
The Baptist Fan is a traditional quilting design used in many modern quilts. It's composed of curved arcs, or rainbow designs, which are evenly spaced and repeated across the entire quilt. This design adds depth and interest to the quilt without overwhelming the block design and fabric choices.
Pattern seen above available here.
For more ideas on modern quilting designs, check out Craftsy's quilting classes. Angela Walters has several classes that offer ideas for modern quilting designs: Machine Quilting Negative Space and Dot to Dot Quilting. You might also enjoy Angela's Craftsy class Free Motion Quilting With Feathers.
What's your favorite modern quilting design?