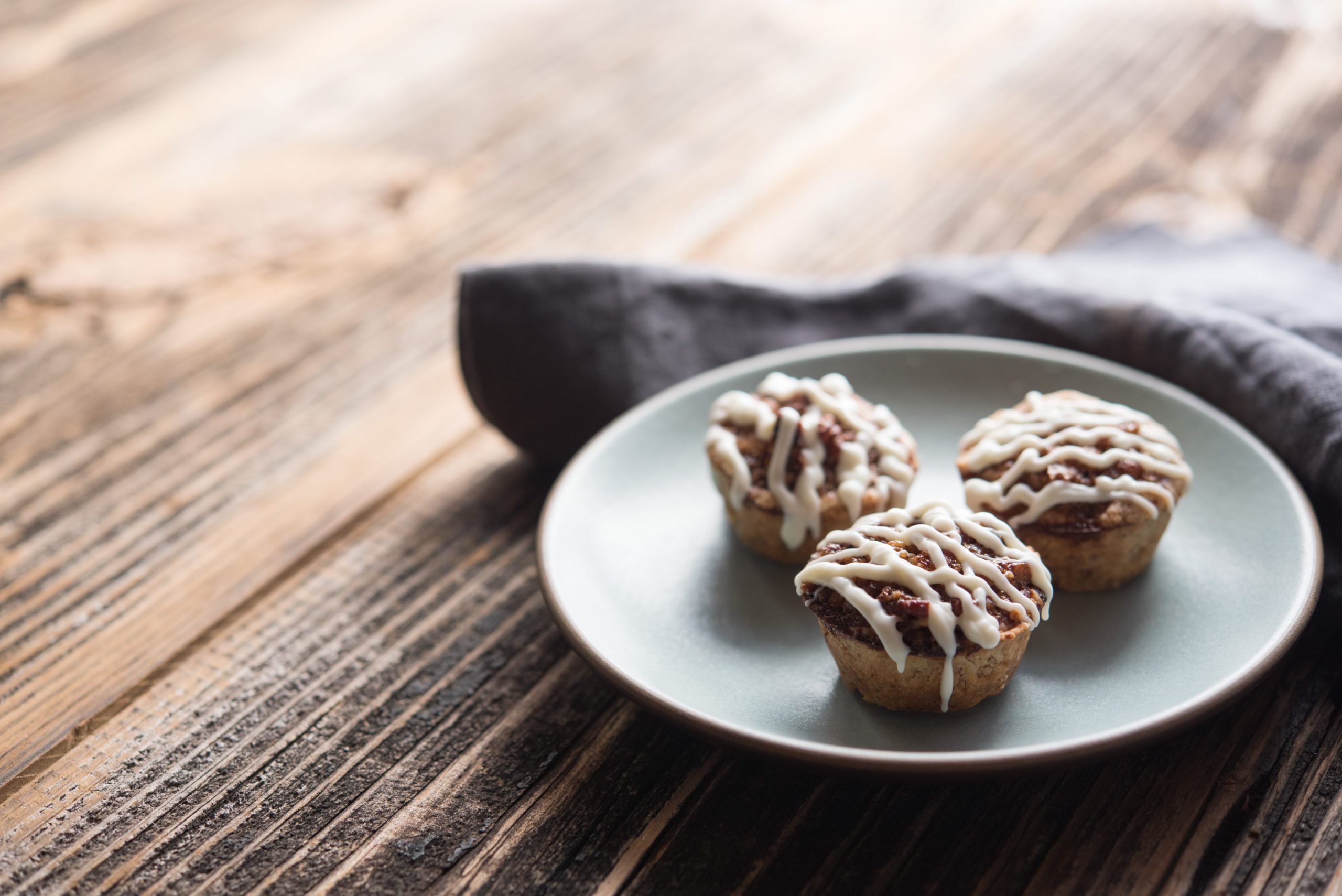 We're always on Team Pecan Pie, no matter how big or small but these bite-sized sweeties have a special place in our hearts. Could it be the cream cheese in the pastry that makes them so irresistible?
If you need one more reason to file these under "perfect," here it is: they hold up beautifully in an airtight container for five days, and can be frozen, wrapped well, for three months.
Mini Pecan Tartlets
Yield: 16 tarts
Ingredients:
1¼ cups pecans, divided
4 ounces cream cheese, room temperature
5 tablespoons unsalted butter, room temperature, divided
⅛ teaspoon plus ¼ teaspoon fine sea salt, divided
⅛ teaspoon ground cinnamon
¾ cup flour
1 large egg
¼ cup plus 1 tablespoon packed light brown sugar
2 teaspoons pure vanilla extract
Melted white, semisweet, or bittersweet chocolate (optional)
Instructions
1. Preheat the oven to 350 F. Spread ¾ cup of the pecans onto a baking sheet. Bake for 7 to 9 minutes, until the nuts are fragrant and lightly toasted (watch them carefully so they don't burn!). Set aside and allow the nuts to cool.
2. Place the remaining ½ cup of pecans in a food processor and process until finely ground.
3. In a mixing bowl, beat the cream cheese and 4 tablespoons of the butter on medium-high speed until well blended.
4. Add ⅛ teaspoon of salt, the cinnamon and the finely chopped pecans and mix to combine.
5. Scrape the sides of the mixing bowl. Add the flour and mix on medium-low until the dough comes together.
6. Roll the dough into 16 rough balls, each about 1 inch wide, and press them into the bottoms and along the sides of a mini-muffin tin, leaving room for the filling. Place in the refrigerator.
7. In a small bowl, combine the egg, brown sugar, vanilla, ¼ teaspoon of salt and 1 tablespoon of softened butter, stirring until the butter is mostly incorporated. Coarsely chop the toasted pecans and stir them into the mixture. Use a spoon to divide the filling among the chilled muffin cups.
8. Bake at 350 F for 22-24 minutes, until the tarts are golden around the edges. Run a sharp knife around the edge of each tart and transfer them to a cooling rack. Allow to cool completely before serving. The tarts can be served as-is or drizzled with melted chocolate.