Memory quilts are such wonderful tributes and keepsakes for those we love. While the memory T-shirt quilt is still a steadfast method in this trend, there are many other unique ways to design memory quilts. Keep reading to see some of our favorite memory quilt ideas.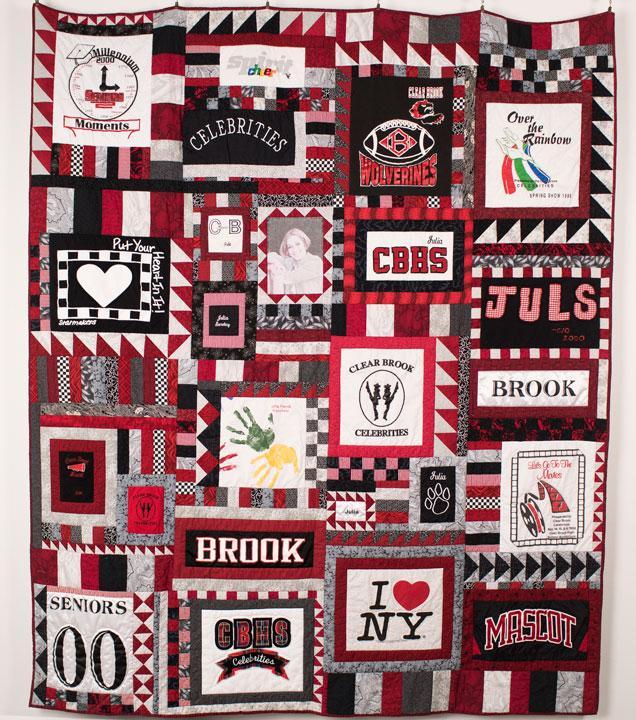 Photo via Craftsy instructor Winnie Fleming
1. Memory quilt from T-shirts
First up is the ever-popular T-shirt memory quilt. We love this high school T-shirt quilt made by Craftsy instructor Winnie Fleming — it would make a great graduation gift!
If you'd like to try making your own, there are a few things you should consider:
Back the T-shirt with a light interfacing to prevent stretching when working with the quilt.
Cut out different sizes of T-shirt blocks and make them the same size by adding different width borders to them.
Like this quilt, alternate other blocks amongst the T-shirt blocks. It makes the blocks last longer and breaks it up a bit, especially if you have T-shirts in all sorts of colors!
Learn how to sew your own T-shirt quilt with personalized guidance from Winnie in her online Craftsy class The Ultimate T-Shirt Quilt.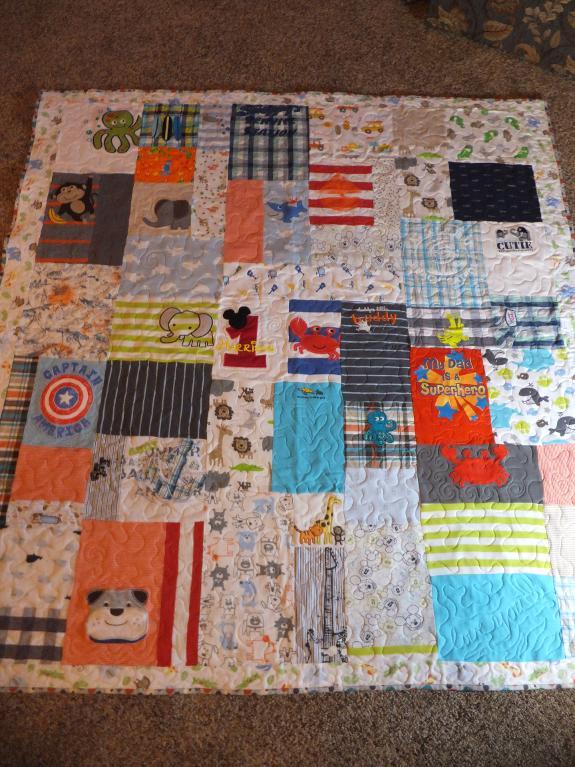 Photo via Craftsy member Sew Silly Paula
2. Baby clothes memory quilt
Once little ones grow out of their adorable teeny-tiny clothes, they often get tucked away in a drawer, chest or attic. Why not repurpose them and preserve special memories by turning them into a memory quilt? By carefully cutting out different squares and rectangles out of the baby's clothing and blankets, backing with a light interfacing if necessary to keep the shapes in place, you can stitch together a quilt that will bring back the days of hugging that adorable baby.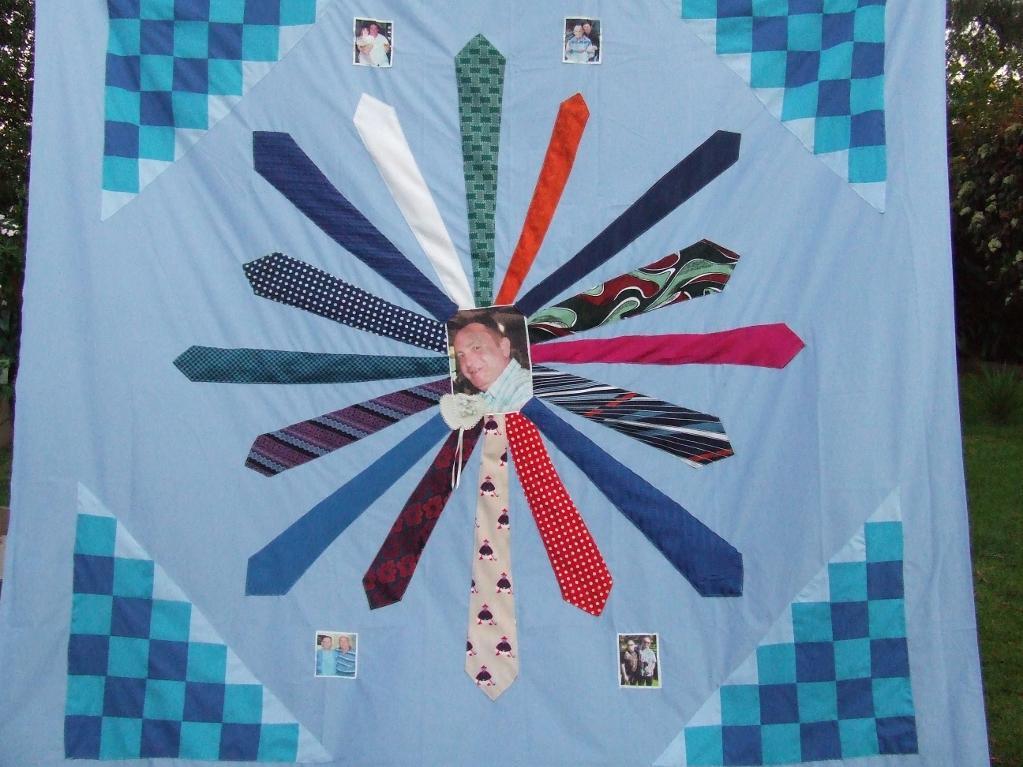 Photo via Craftsy member JennysCreations
3. Tie memory quilt
Ties are so versatile in quilts. You can do what Craftsy member JennysCreations did and appliqué them right onto the quilt in a shape that is both a center point and appealing on the quilt. You can also sew them together to create a "new fabric" and then cut apart and stitch into blocks. Whichever way you choose, ensure that you put a label on the back distinguishing to whom the ties belong to.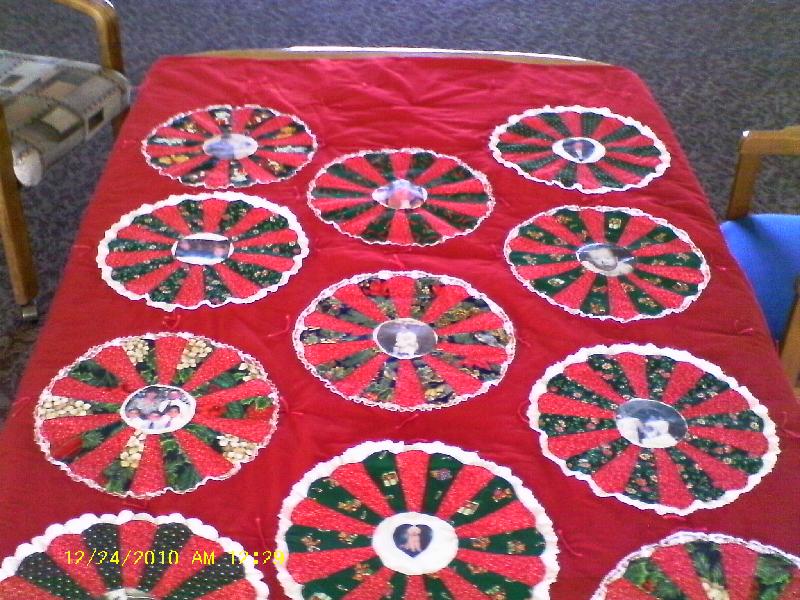 Photo via Craftsy member Carol Gilman
5. Memory quilt from Dresden Plates
This is a great combination of traditional and contemporary quilting. By combining the classic Dresden Plate with fabric photos of people, you can capture history and memories all at the same time. By putting the photograph in the center of the Dresden Plate, it takes the place of the center of the quilt block and gives you a focal point in each block. Try using different sized circle pictures to throw a little off-balance into the mix.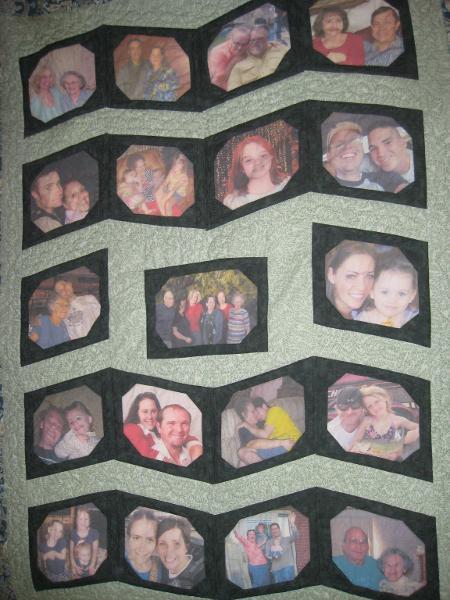 Photo via Craftsy member hestia0527
6. Memory quilts made with photographs
Gather up your special photos and turn them into a memory quilt. You can do it by scanning them onto a special paper and ironing onto fabric, or by printing right onto fabric sheets from the printer. Both ways produce splendid results.
By simply adding borders to the photographs to bring them all to a size that is easy to sew into a quilt top, you have created a basic top with all your memories in one place!
Try adding different sized borders to each photo or different fabric colors as well to make it more interesting and engaging to those admiring it. Most likely you will not be able to stop at just one!