This week's installment of Food Lover Friday is brought to you by Mary Karlin, cooking teacher and author of three cookbooks: Wood-Fired Cooking, Artisan Cheese Making at Home and the newly-released, Mastering Fermentation. She's also the instructor of the popular Bluprint online course, Artisan Cheese Making: Chevre, Mozzarella & Cheddar, which brings to you some of the fundamental cheese-making techniques.
If you are enrolled in her class, you have ventured into the world of fermented foods through fermenting milk into cheese! Mastering Fermentation broadens the journey into many traditional and contemporary techniques for making numerous fermented foods at home, along with recipes for cooking with them.
One lucky reader will win a FREE copy of Mary's new book Mastering Fermentation. To enter, just head here by Friday, October 4, 2013. Then, comment on this blog post and let us know what you would like to learn about fermenting food at home. We'll randomly select a winner on October 5, 2013.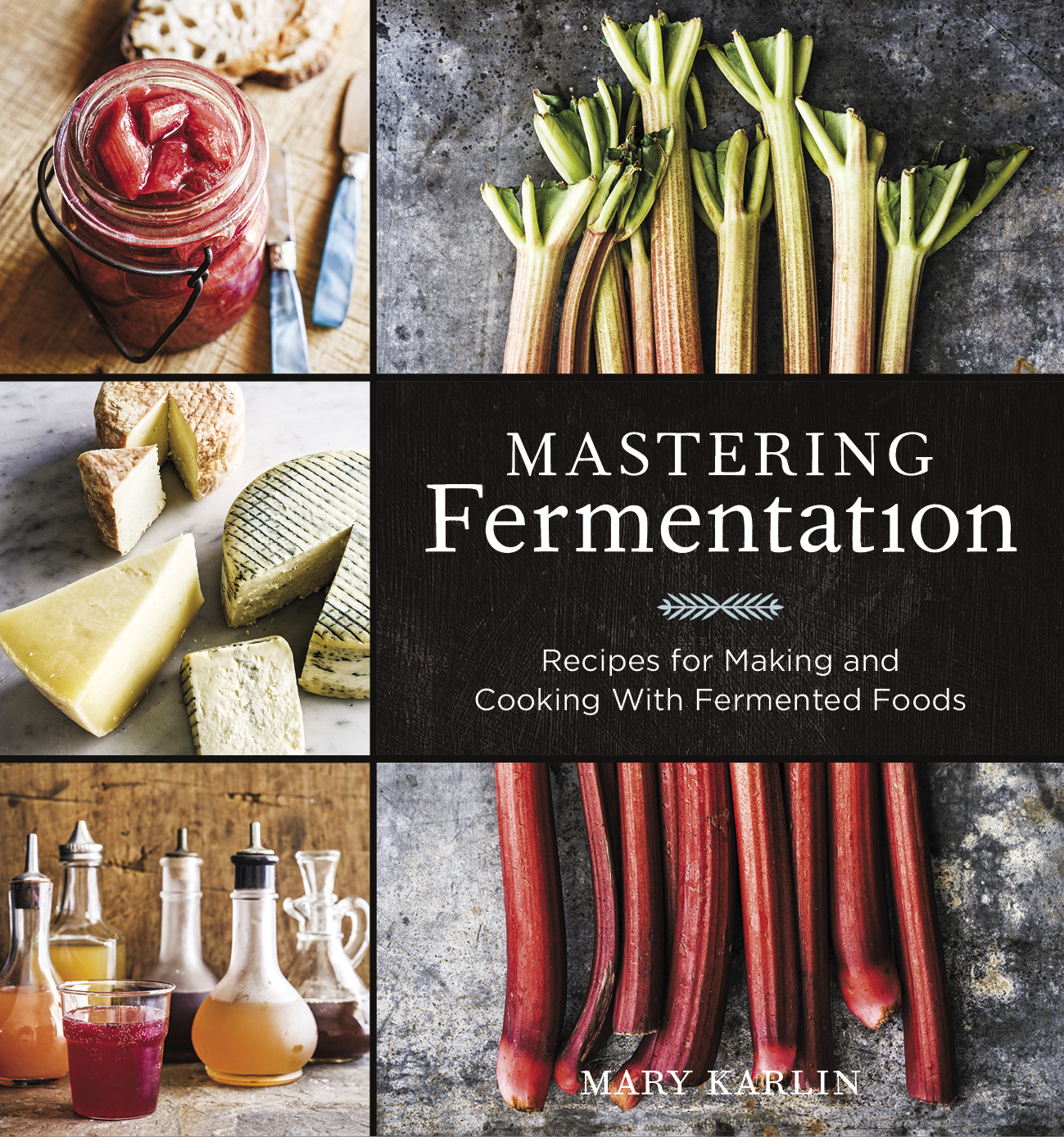 Photography via Ed Anderson © 2013
As an introduction to Mastering Fermentation, here's some background information on the topic:
Did you know that many of your favorite foods, ones you probably consume multiple times during any week, were traditionally prepared as fermented foods, full of flavor and beneficial bacteria?
Soy sauce, ketchup, vinegar, pickles, sauerkraut, cured olives, beer, sourdough bread, hand-crafted cheeses, yogurt and cured meats are just a few examples. Today, when made on a mass production scale, many of these products are either packed with preservatives or pasteurized to allow for broad distribution and shelf stability, some not requiring refrigeration. These processes destroy any available beneficial bacteria, removing nutritional value that would be present when naturally fermented. With guidance from me in Mastering Fermentation, you will have fun exploring safe food preservation methods of fermentation for making your own tasty, fermented foods (including those mentioned above) at home.
Did you know that fermented foods are full of beneficial bacteria; essential to good gut health?
Fermented foods taste better and are better for us than processed or even pasteurized foods. Fermented foods are probiotic; alive with beneficial organisms that contribute to our digestive health. Food that has been fermented is enhanced nutritionally and texturally, resulting in improved efficiency and absorption into our bodies, aiding our digestive system, and the health of our gut flora. The health of our gut flora is essential to our overall well being, and boosts our immune system.
Did you know that eating a small amount of a fermented condiment alongside a serving of animal protein will aid in the digestion of that protein?
Even a few tablespoons of real fermented sauerkraut, sweet and salty pickled vegetables, or a fermented dill pickle as an accompaniment to grilled fish, chicken or steak will help your digestive system to process that protein.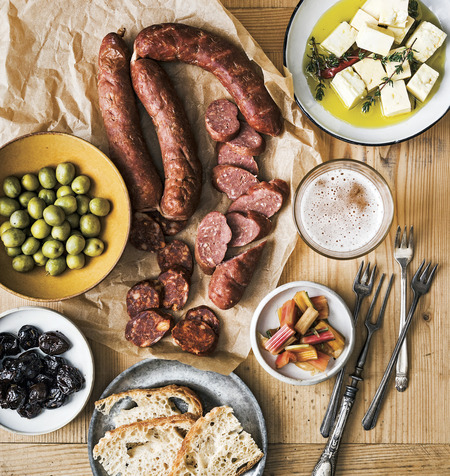 Photography via Ed Anderson © 2013
Some FAQs
What are fermented foods?
Food transformed in texture and taste through fermentation. Fermentation is a process through which food (solid or liquid) goes through a chemical change caused by enzymes produced by bacteria, microbes or yeast. Think sauerkraut. This is one example of a simple food (cabbage) transformed by the mere introduction of salt to encourage the development of beneficial bacteria; softening the cabbage, amplifying the taste, and rendering it more digestible. As a benefit, the nutritional and healthful value is greatly increased through fermentation.
Why is the topic of fermented food so popular?
More and more people are interested in a variety of DIY food making at home, be it beer, cheese, bread, sausage making or pickles. This is part of a DIY trend back to making delicious, healthy foods in your own kitchen; knowing where your food comes from, and having control over how it is made.
Can I make fermented foods in my home kitchen?
Absolutely! There are many foods you can ferment at home with little time and effort on your part. Others you may choose, such as making aged cheese or curing meats, will take more attention. With proper planning, all are doable as part of one's daily life. Many recipes and guidelines are presented in Mastering Fermentation and on the accompanying Web site.
My advice to you is make small batches of as many fermented foods as you have time and space for. You will feel enriched not only by the food itself but also by the process of having made it. It's always rewarding to share and enjoy the fruits of your labor.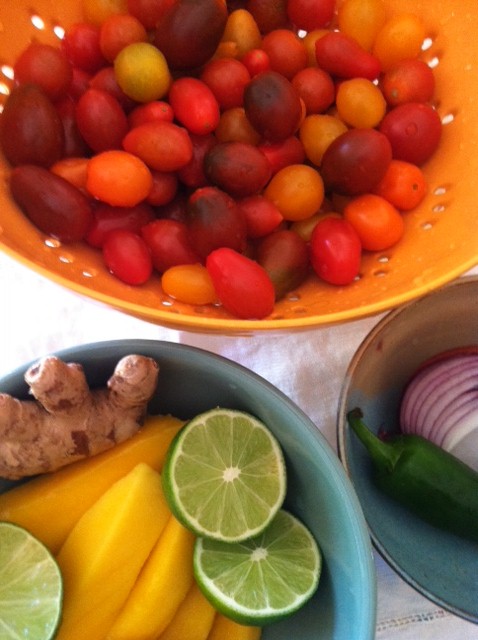 Here's a simple recipe for sweet and salty pickled vegetables from Mastering Fermentation to introduce you to the world of fermented foods.
These are one of my favorite pickles, featured in the Grilled Ahi Tuna on Pickled Vegetables and Rice Salad with Miso Dressing from my book. This sweet-salty pickling brine can be used to make numerous tasty vegetable and fruit pickles. Pickled onions and pickled shallots are terrific when made with this brine. You can substitute other seasonal vegetables if you choose.
*Reprinted by permission from Mastering Fermentation by Mary Karlin, copyright © 2013. Published by Ten Speed Press, a division of Random House, Inc.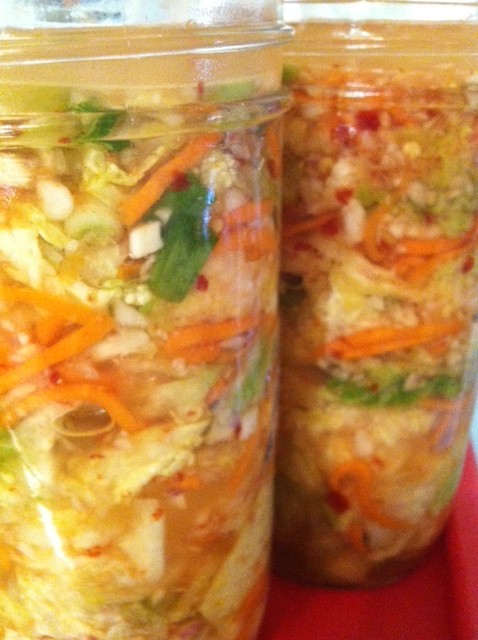 Sweet and Salty Pickled Vegetables Recipe
Yield: 1 pint
Start to finish: 15 minutes to make + 6 hours fermenting
Ingredients:
2 small unpeeled carrots, cut into 1-inch-long matchsticks
3 large radishes, cut into matchsticks
4 green onions (with 1/2″ of green part), quartered lengthwise
1″ piece fresh ginger, cut into matchsticks
1/4 cup steamed edamame beans
1 teaspoon unrefined fine sea salt
1 pint Sweet and Salty Pickling Brine (recipe below)
Directions:
In a bowl, combine the carrots, radishes, green onions, ginger and edamame, and toss with the salt. Pack the vegetables into a pint jar and cover with the pickling brine to 1″ from the top. Press down on the vegetables to pack tightly and release some of their moisture. Cover the opening with cheesecloth and set at room temperature for 6 hours. Remove the cheesecloth, secure with a lid, and refrigerate.
Best used from three days to one week.
Sweet and Salty Pickling Brine
Yield: 1 pint
Ingredients:
3/4 cup raw, unfiltered apple cider vinegar
1 cup Basic Brine (combine 6 tablespoons fine sea salt with 8 cups of filtered water)
1 tablespoon brine from sauerkraut (optional, but preferred)
1 tablespoon raw, unfiltered honey
1/2 teaspoon whole grain Dijon-style mustard
Directions:
Combine the apple cider vinegar and brines. Whisk in the honey to dissolve, and then stir in the mustard. Place in a jar, cover, and refrigerate.
Click here to enter the giveaway and then answer the question below in the comments for a chance to win!
What would you like to learn about fermenting food at home?
About Mary Karlin

Mary Karlin is a seasoned cooking teacher, cookbook author and food writer. She has taught wood-fired cooking, cheese making, and Mediterranean-themed cooking classes for more than 10 years at Ramekins Culinary School, The Fork at Point Reyes and The Cheese School of San Francisco. Mary has authored two books, Wood-Fired Cooking and Artisan Cheese Making at Home, with a third, Mastering Fermentation, on its way. She has contributed articles to several food magazines, including Fine Cooking, Culture, and Edible Marin & Wine Country. Mary calls both northern California and Arizona home.