What exactly makes a quilt masculine in appearance? While some say it's all about fabric choice, other quilters incorporate masculine design elements into their piecing. For instance, squares and rectangles are often seen as masculine shapes, while circles and ovals are more feminine shapes.
Whether you're making a quilt for a father, husband, brother or son, we've rounded up some patterns and inspiration for quilts worthy of even the manliest man!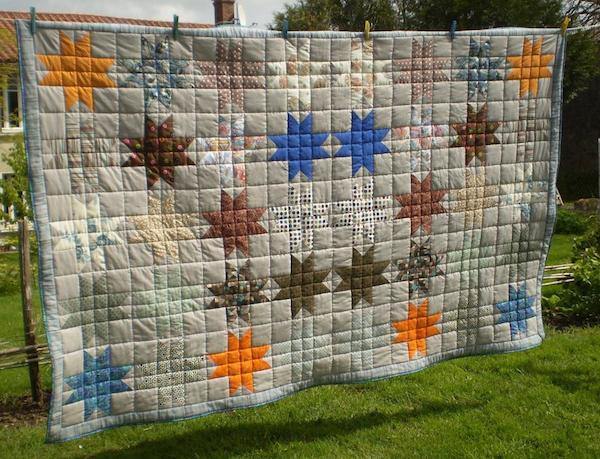 Photo via Craftsy member Charm
Stars in neutral
With pops of orange and blue among a palette of earth tones, this Stars Quilt was a class project. When quilting with brown fabrics or warm neutrals, it often helps to add some brighter colors to serve as a focal point. The straight-line grid quilting finishes off this masculine quilt.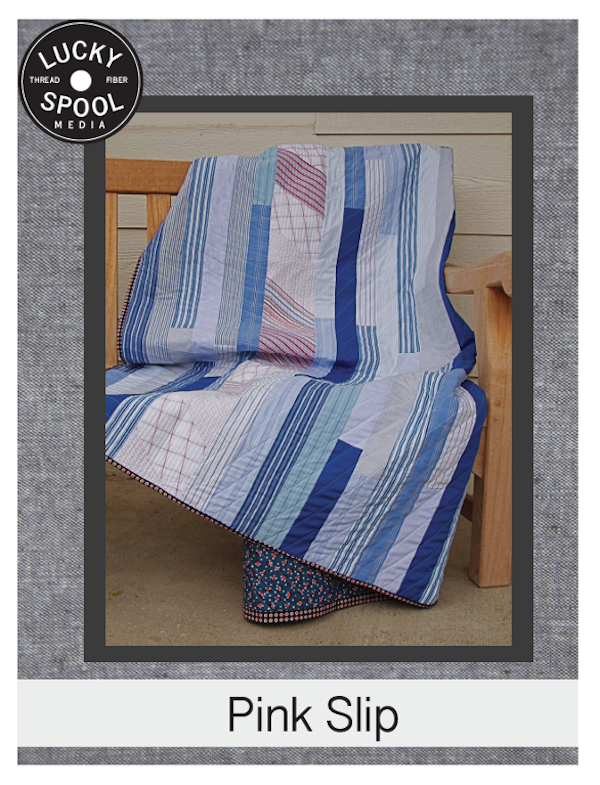 Photo via Lucky Spool
Real men wear pink
Who says you men don't wear pink? Pink Slip, a masculine quilt made from thrifted or upcycled men's dress shirts, incorporates a variety of prints and patterns from similar colors. Choose blue shirts for the sides and pink or red shirts for the center. You can also substitute a roll of pre-cut fabric strips if you prefer.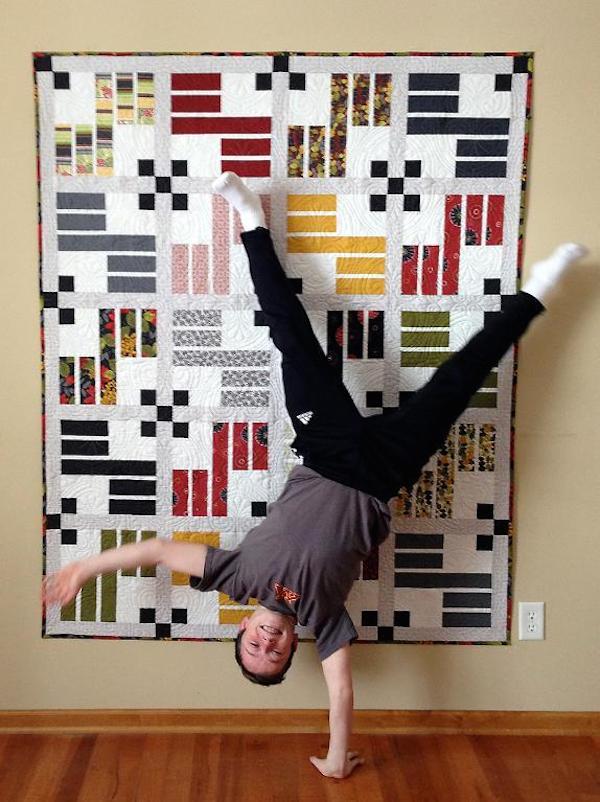 Photo via GE Designs
Go bold or go home.
Available in four sizes, the Strip Ribbons quilt pattern is bold and striking in appearance. The modern, masculine quilt is pieced from large, simple blocks sewn from precut strips. Choose a variety of solids or small-scale prints to get the look.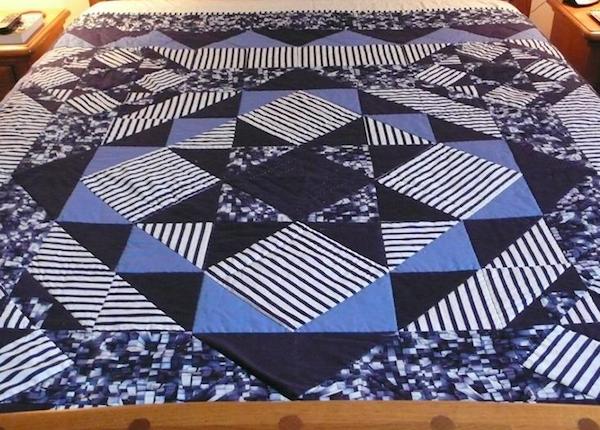 Photo via stitchingtimes
Stripes of glory
Have you ever wondered how a traditional-style quilt pattern looks stitched up in masculine fabrics? The Men Love Stripes Quilt features bold, high-contrast striped fabric with coordinating solids. The bed-size quilt features a central medallion, with the striped fabrics giving off a sense of movement.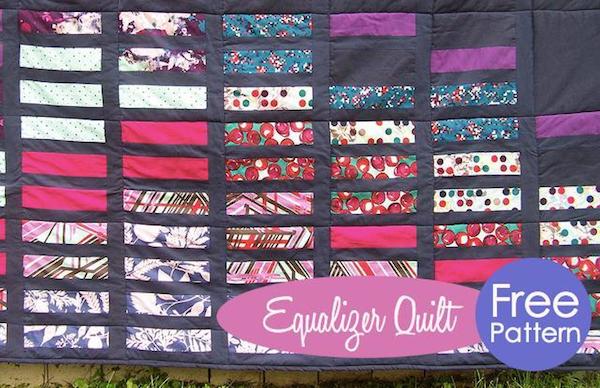 Photo via Lindsay Sews
Rock 'n' roll style
A free quilt pattern resembling a music equalizer, the Equalizer Quilt is a great gift for musicians and music lovers of all ages. Pair with bright solids, and the patterned fabric offers a great contrast to the solid background. There are dozens of ways to customize this quilt in colors that the recipient will love.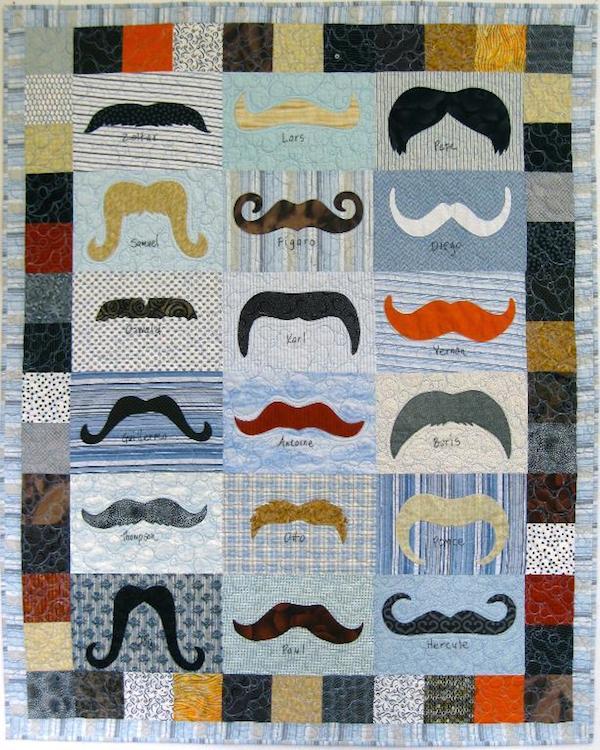 Photo via Maverick Quilts
I mustache you to make me a quilt
Raid your closet (or the local thrift store) for men's dress shirts and pair with quilting cottons to make this Awesome Mustache quilt. The border-as-you-go technique will help you sew up a quick gift for the facial-hair-loving man in your life. As an inside joke, you can name each of the mustaches after friends or family members.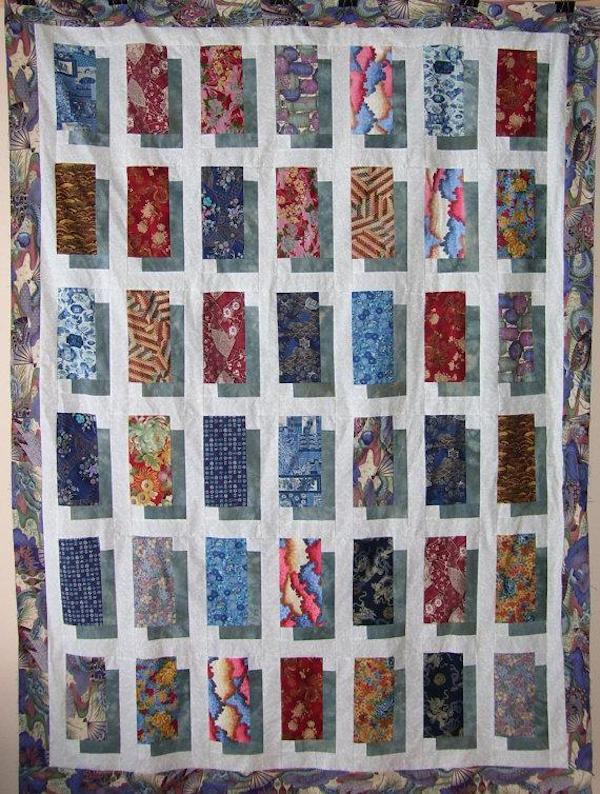 Photo via Cottonwood Quilts
Stash-busting & eco-friendly
Are you looking for a quilt pattern to help you use up a Fat Quarter stack or Layer Cake? The masculine Shadow Boxing quilt pattern features rows of rectangles made 3-D with diagonal shadows. Change up the size of this quilt to make a twin, full or queen-size pattern. Have fun mixing geometric with organic, nature-inspired prints or even novelty fabrics.
What's your favorite masculine quilt pattern?