Creamy, crunchy, fresh and satisfying: Making Caesar salad is classic mix that can make a great summer meal. Read on to discover a new take on this dish that is sure to be a hit at your home table.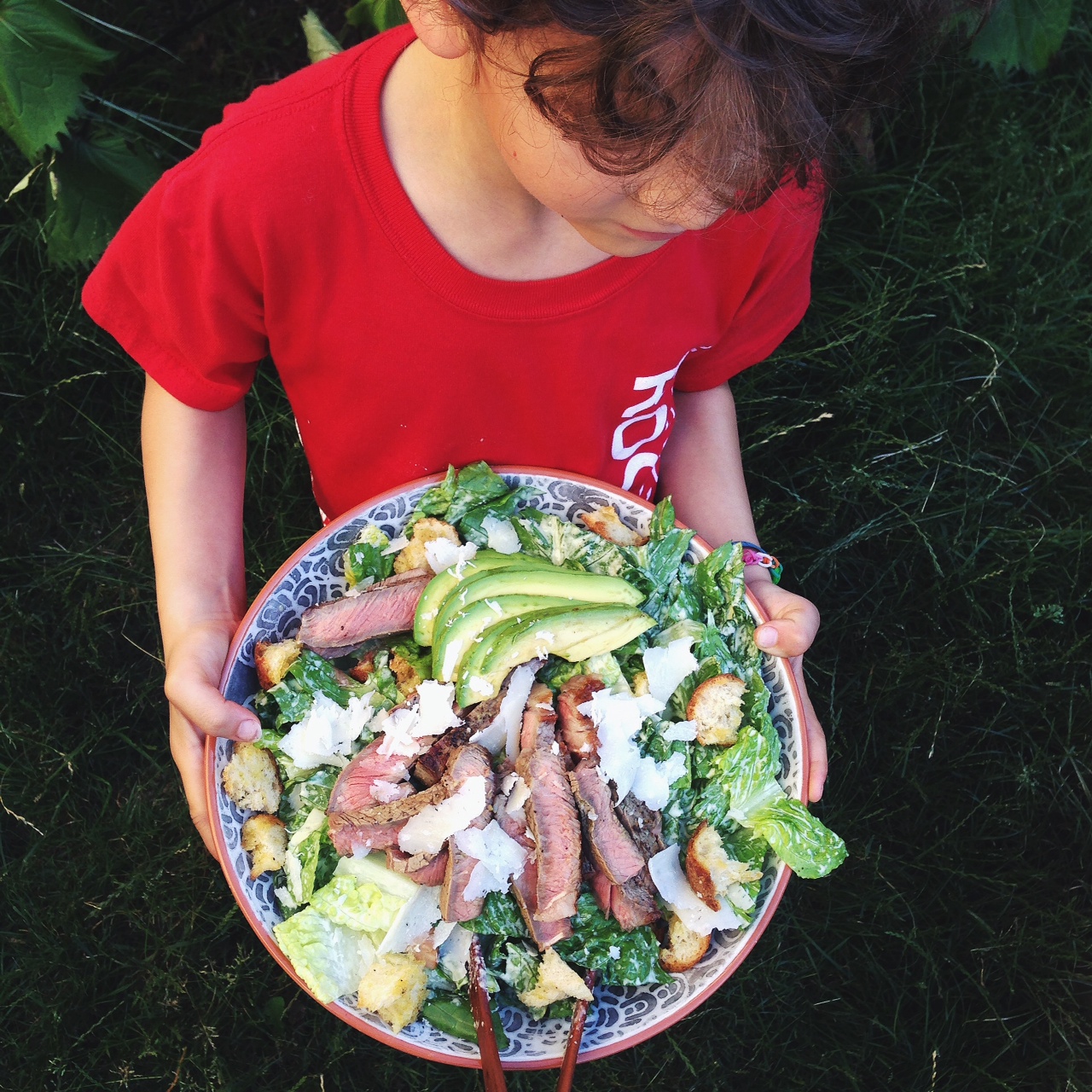 One of the goals on our summer list was for each of our three children to cook an entire meal with me. They would also be in charge of selecting the menu and seeing it through from start to finish. First up was our eldest, Baron, who chose to cook a steak Caesar salad.
Our Caesar was a bit unconventional. Mayonnaise made up the bulk which was heavily spiked with garlic, anchovy paste and lemon juice. I threw in a bit of basil to give it a vibrant green color and to hint more towards summer. It was fresh, bright while feeling rich and indulgent. We all ate happily while Baron beamed with pride.
Baron's dinner was one of my favorites of the season and has also prompted me to get to the root of the Caesar salad, which I love so much.
The origins of Caesar salad
As with so many recipes there are some questions surrounding the actual origins but it seems most commonly thought of that the recipe came from and Italian immigrant named, Caesar Cardini. Caesar moved with the U.S. with his brother after World War I. They ended up in San Diego, but started a restaurant in Tijuana, Mexico, where the salad was first served.
Caesar's daughter Rosa, proudly boasts of her father's invention, claiming that on July 4th 1924 the restaurant was bustling with customers. So much so that the kitchen was running out of ingredients. On a whim Caesar grabbed what he had to the table and prepared the earliest version of the Caesar salad right in front of the diners. Into a wooden bowl he cracked an egg and let the yolk slide down rough edges. With that he whisked in lemon juice, crushed garlic, Worcestershire sauce, Parmesan cheese, olive oil and salt. Into that whole romaine leaves were tossed in because Cardini believed that the shape of the leaves created the perfect scoop.
Soon the restaurant became known for this salad and diners would come for it alone. Even the famed culinary hero, Julia Child ate there. She romantically recalls the rolling out of the cart to watch the salad being made in front of her. And although she hardly remembered the details of the salad, the taste was so marked in her memory that she contacted Rosa for the recipe.
Now no one really knows if this is all true, but I'd like to think so. The idea of a frantic restaurant and empty pantry shelves being the start of one of the most popular salads of all times leaves me feeling inspired and even more in love with this flavorful dish.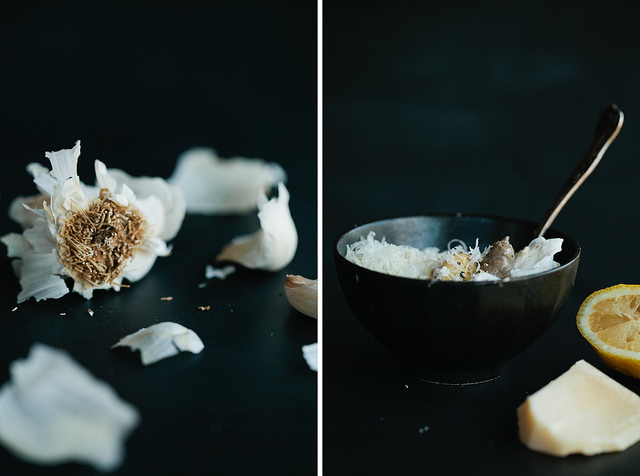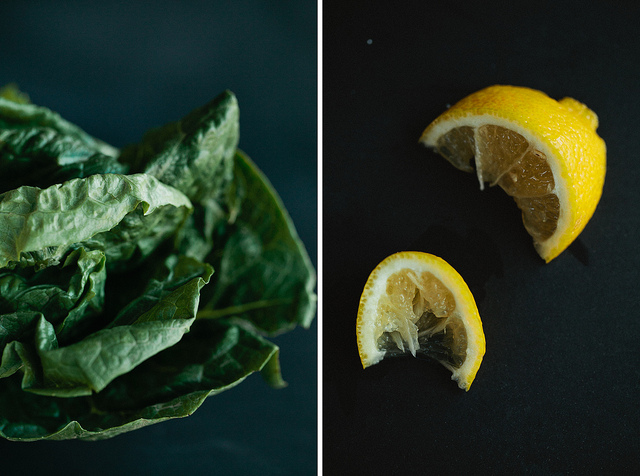 Rifting on the original: Recipe for homemade Caesar salad + dressing
Because the story is so fraught with controversy and no one really seems to know the original recipe, I have no problem throwing a bit of basil into the mix or even anchovy. That's right! Anchovy wasn't part of the original recipe. The dressing got its rich, meaty flavor from a few dashes of Worcestershire sauce. It is believed that Cardini was actually opposed to the use of anchovies in his dressing.
Here is my favorite Caesar dressing recipe. It comes from the great Ina Garten. If I don't have anchovies I will use a bit of Worcestershire. If I am in the mood to lighten it up a bit I'll use greek yogurt in place of the mayonnaise. And for freshness I love throwing in a handful of herbs, particularly basil, tarragon, mint, dill and/or parsley. Just like Cardini, I love to use whatever I have in my pantry or fridge. Having a few limitations is so often how the best things are created. The Caesar salad is no exception.
Ingredients
Adapted from Ina Garten
6 cloves garlic, mashed and minced
1 tablespoon Dijon mustard
1 tablespoon vinegar
2 tablespoons mayonnaise or Greek yogurt
1/2 cup olive oil
Salt
Pepper
Lemon juice
Minced anchovy fillets (optional)
1 head of Romaine
Directions
Combine garlic, mustard, vinegar and two pinches of salt in a blender or mortar and pestle and mix thoroughly. Add mayonnaise and blend together to form a thick base. In a slow stream add olive oil through hole in lid. Scrape dressing with spatula into a bowl and season to taste with salt, pepper and lemon juice. If desired, add anchovy to dressing to create a deeper, saltier taste.
Wash and dry lettuce. In a large salad bowl combine lettuce, dressing and croutons. Top with freshly grated Parmesan. Toss gently to combine well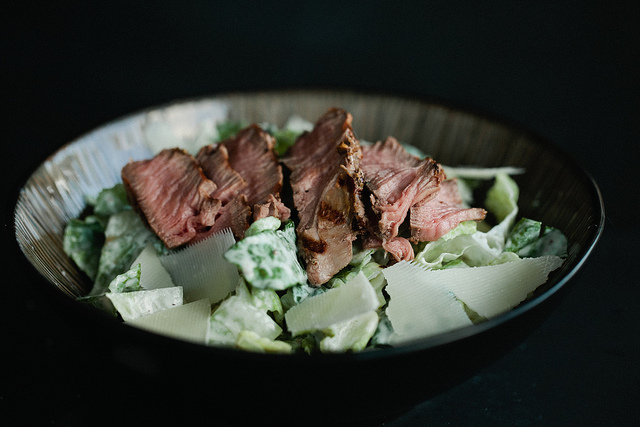 Did you know Craftsy has online cooking classes? Try one out, for FREE today, to learn the essential cooking techniques you need to make delicious and nourishing dishes that really wow!
Worcestershire sauce or anchovies: what's your take on Caesar salad dressing?