The iconic Tage Frid three-legged stool is one of my all-time favorite pieces of furniture. Building this stool is a challenging project that serves as a miniature course in furniture making. Read along in this series as I tackle angled dovetails, a four-shoulder mortise and tenon joint, several wedged tenon joints and lots of shaping and working with curves. Let's begin with a look at the origins of the Tage Frid stool and what makes it so unique.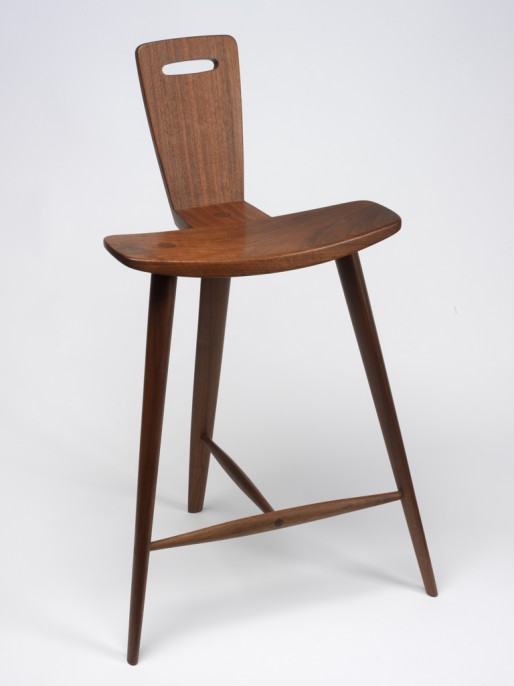 Tage Frid stool, walnut, 1982. Photo via Rhode Island School of Design Museum
Reproducing or interpreting a classic piece of furniture is a good way to gain new skills and learn how great designers think. In a series of posts, I'm going to make my own version of the Tage Frid three-legged stool. I'll start with the design and history of the stool, move on to the seat and back, then describe making the legs and stretchers. After that, I'll put the whole project together and finish it. I'll also describe my reasons for making a few departures from the original design.
Who is Tage Frid
Tage (pronounced TAY) Frid was an influential woodworker in the second half of the 20th Century. Born in Copenhagen in 1915 and brought up in the cabinet maker apprenticeship system of Western Europe, he came to America in 1948 to set up the School for American Craftsmen and went on to teach at the Rhode Island School of Design. As a teacher and one of the first writers for the magazine Fine Woodworking, Frid inspired thousands of woodworkers with his skills, no-nonsense practicality and commitment to quality craftsmanship. Along with Wendell Castle, George Nakashima, Wharton Esherick, Sam Maloof and others, Frid was one of the founders of the studio furniture movement, raising the profile of furniture making as a form of art.
Design as problem solving
For some reason, a lot of furniture makers I know are uncomfortable with design. I'm not sure why that is, but perhaps it is based on the misconception that designers start with a pure vision of what they want to make. By contrast, Tage Frid reminds us that much of design is problem solving. He describes his process for designing this stool in Tage Frid Teaches Woodworking, his three-volume set of books published by the Taunton Press.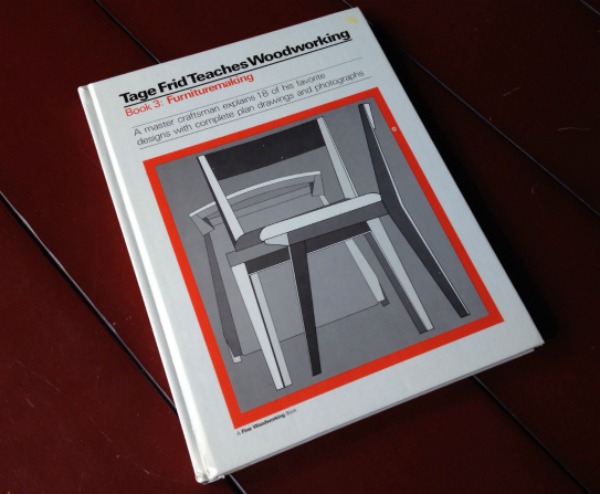 Design story
Frid started designing his three-legged stool by simply wanting to make something to sit on, beginning the project without a preconceived notion for how it should turn out. He decided to use three legs for the stool because he felt four were unnecessary. Also, he believed that three-legged stools oriented with one leg in front were unstable, so he designed his with two of the legs in front.
Frid tells the story of sitting several hours on a fence rail at a rodeo with his wife. His comfort over that amount of time convinced him that a seat need not be more than 6" deep. Such a shallow seat introduced the first design problem: where would the back leg be attached?
The answer was to install an extension to the seat. But if you are tempted to shape the stool with a piece extended off the back, think again. The grain would be short and therefore weak. Sitting on it could easily break the seat. Because of that, the grain of the extension would need to be perpendicular to the grain of the seat.
Frid decided to join the extension to the seat with a long, four-shouldered tenon. He wanted a back for the stool and decided to join the back to the extension at a slight angle to promote a comfortable sitting angle. The perfect joint for that application would be an angled dovetail joint, which would be strong but also subtle and attractive. He tapered a few things here, rounded a few things there and had his design.
Every decision along the way presented challenges and opportunities. The result is a beautiful, useful stool, all his own.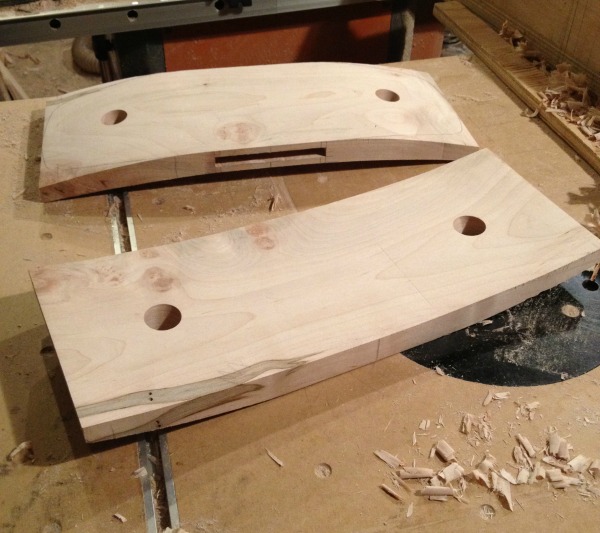 Making progress on seats for my version of Tage Frid's three-legged stool
Discoveries
This stool doesn't look like anything I have seen before. I wondered how such a quirky stool could appear so balanced and cohesive. As I began to create my own version, I drew the stool to scale on a piece of plywood, which is how I start most projects. I'm not sure why, but I extended the center line of each front leg to infinity and noticed that the lines perfectly touched the rounded corners of the stool's back. That little trick – leading the eye upward from the legs until it reaches the back – explains a big part of the piece's harmony. The splay angles of the legs are purely practical, but, as is often the case, the practical just so happens to be pleasing to the eye.
With a scale drawing and Frid's descriptions and diagrams in hand, I'm ready to take on this challenging project. In my next post, I'll discuss making the seat, the seat extension and the back. Stay tuned!
Have you ever tried to reproduce or interpret an iconic piece of furniture?