Over the years, I've fallen in love with entertaining and generally enjoy having people to the house for food and drinks. Yet, despite my love for entertaining, planning all the food can still sometimes be stressful. I've conquered the menu-planning hump by master simplification, like the perfect easy but elegant cheese and cracker spread. A trip to the store and a bit of time spent arranging is all you need to craft a sophisticated cheese platter with ease!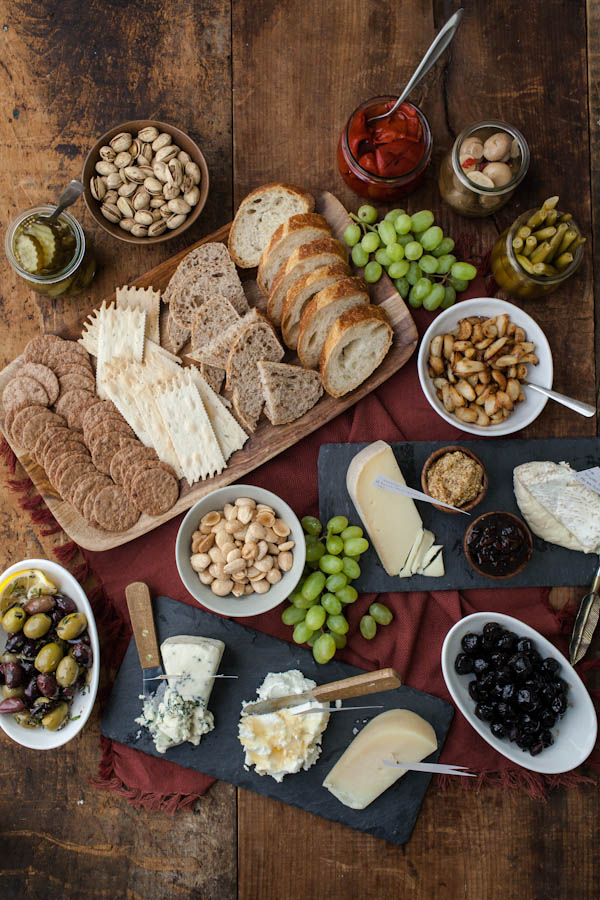 Choosing the cheese for your plate:
While a solid cheese platter has many components, the main focus is still the cheese itself. If you've ever traversed the cheese department of most stores, you know there is a spectrum of cheeses that can be classified in a few different ways:
Firmness: Soft, semi-hard and hard
Type: Goat, sheep or cow
Region: Spain, Italy, California, etc.
Age: Whether or not the cheese has been aged, and if so, for how long?
Looking at all the varieties, it can be easy to feel overwhelmed by all the choices. This may result in overbuying cheese (which I've been known to do) or creating a cheese plate that isn't terribly diverse. There are some ways around this!
Pick cheeses that have opposite classifications.
If you already picked up a soft cheese, look for a hard cheese that might compliment it. Or, if you've picked up a couple cow's milk cheeses, find a goat or sheep cheese as well.
Try focusing on a region.
This will further define your scope. I live in Northern California and more often than not I'll use all local cheeses that fit into different classifications. Or, you could go the extra step and learn how to make cheese at home! The cheese I chose for this particular example:
Petaluma Mt. Tam Triple Cream (soft cheese)
Point Reyes Blue Cheese (blue cheese)
Sonoma Goat Cheese (soft cheese/goat's milk)
Cypress Hill-Aged Gouda (semi-hard and sheep's milk)
Point Reyes Toma Farmer's Cheese (semi-hard)
A quick note about rennet. There are cheeses that are made from animal rennet, putting them into the non-vegetarian friendly category. Most cheeses are good about noting whether or not vegetarian rennet was used, but a quick search of the internet will also usually help you find out as well.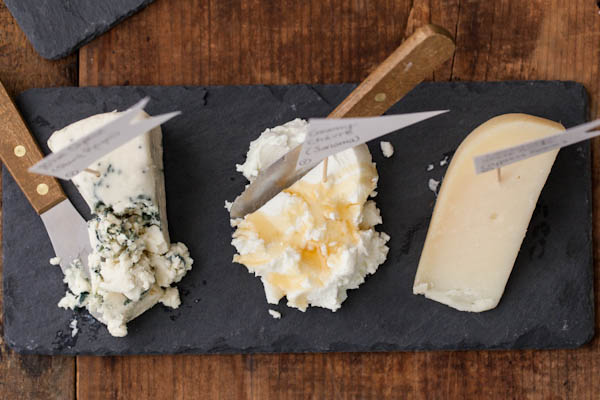 The cheese plate accompaniments:
Beyond the cheeses, there needs to be partner options. Some of these options, like the nuts, fruit, and olives, are more for flavor pairings while the jam, mustard, and bread/crackers are direct companions with the cheese. All of these items aid in creating an overall experience and not just "cheese and crackers." I typically keep everything vegetarian, but you could easily add a cured meat or two as well.
Bread & crackers
The bread and crackers play the main supporting roll to the cheese. Mix it up a bit by providing different varieties of crackers and bread. I prefer a sourdough baguette, a whole grain loaf, plain crackers and nut-thin crackers.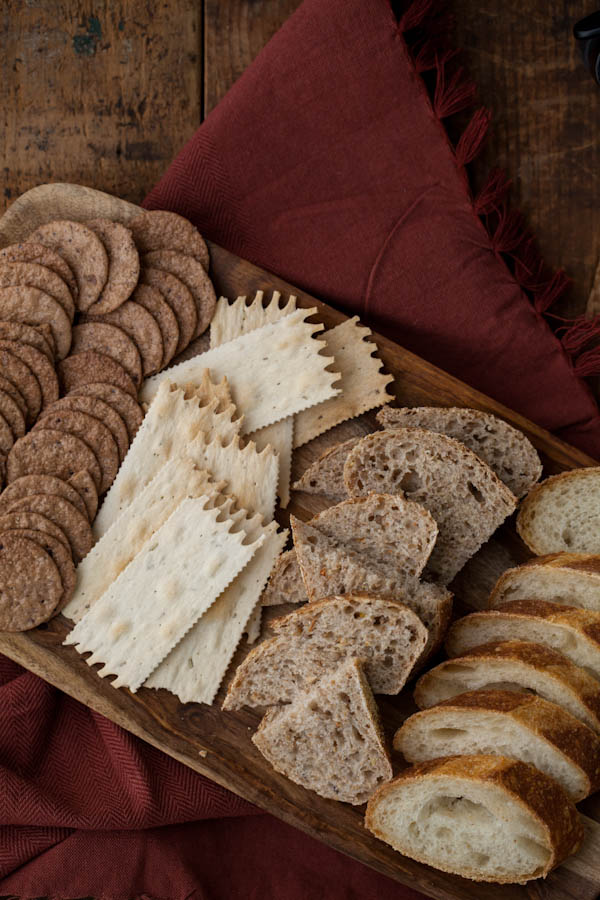 Condiments (jams, chutneys, mustards and honey)
Beyond the bread, an assortment of condiments can support the various cheese flavors. Typically something like a fig jam is served, but I prefer spicy chile jams, lemon marmalade and spicy mustard. Look up the flavor profiles of the cheese and match with different condiment flavors. The farmers' market is a great place to find artisanal jams, mustards and honeys!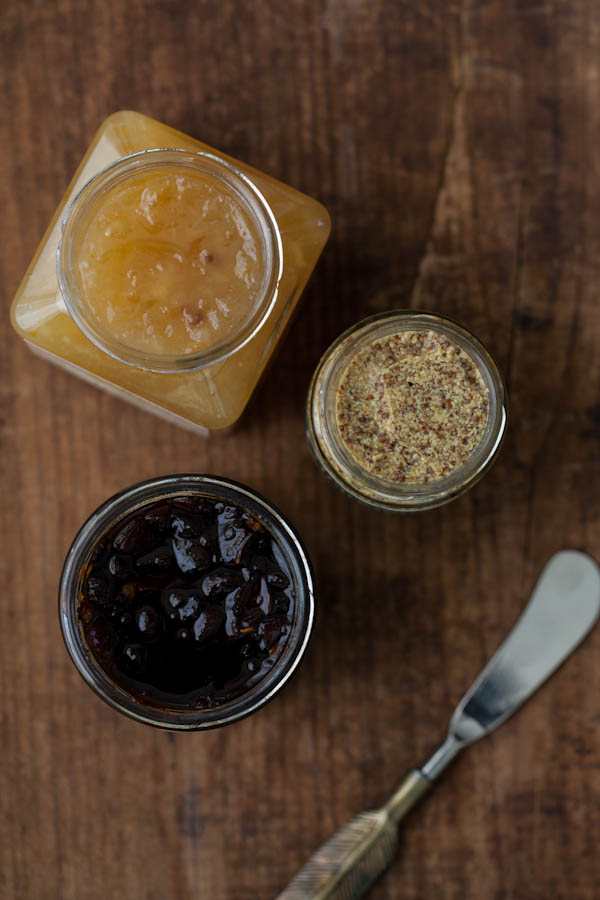 Olives & pickled items
Now that you've established the cheese and cracker part of your platter, it's time to branch out a bit and cultivate a few other items that will pair nicely with the cheese. I love to visit the olive bar at my local grocery store and grab different marinated olives, roasted peppers, mushrooms, and roasted garlic along with one or two crisp pickles (the green beans are a favorite of mine).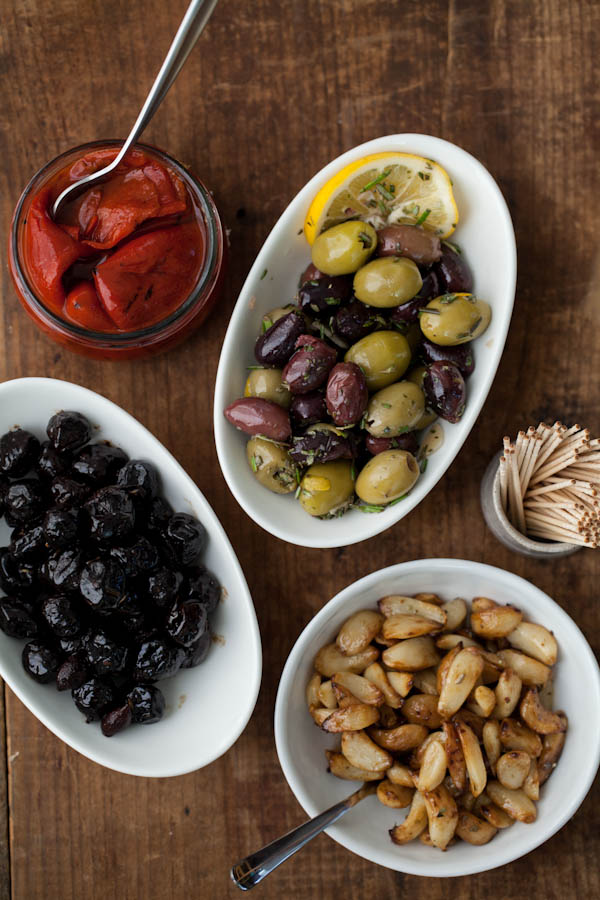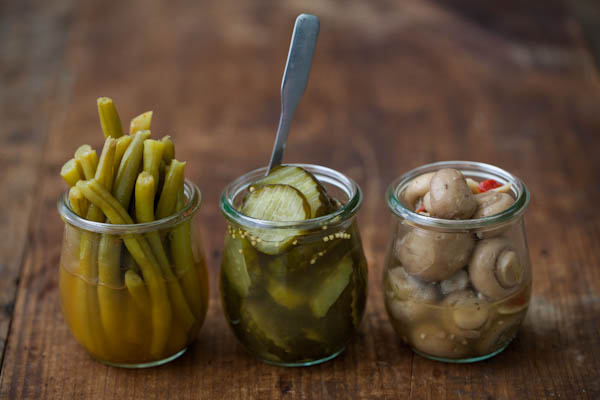 Fruit
Fruit, either dried or fresh, is always a item to include. The simple sweetness from the fruit helps to balance the salty and savory. I choose my fruit depending on the season. In the fall and winter, I'll serve grapes, apples or pears. If it's summer, stone fruit and fresh berries are my go-to choice.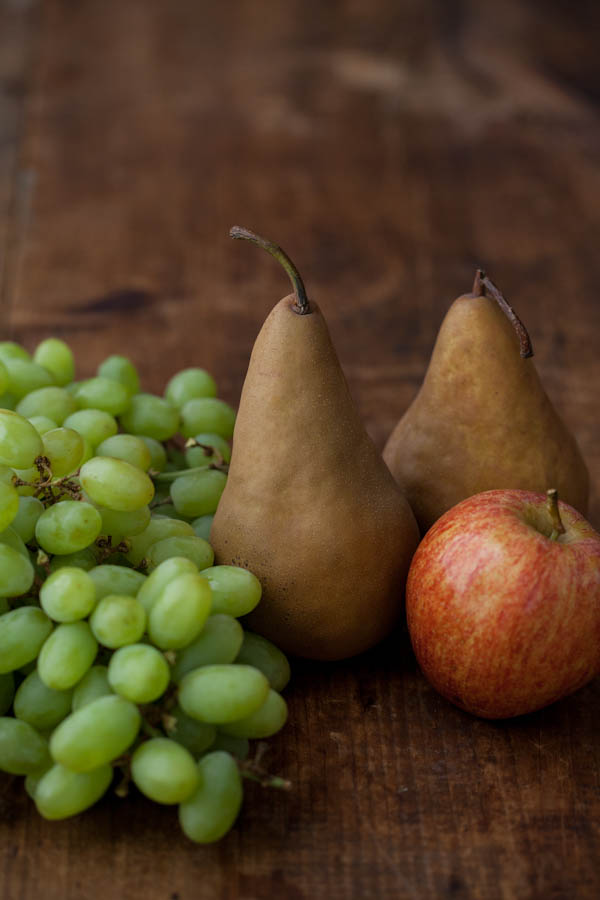 Nuts
Beyond having a variety of flavors, it's also important to have a variety of texture. Nuts add a bit of crunch to the platter. Marcona almonds, roasted pistachios, and sweet roasted walnuts are favorites of mine but any type of roasted nut (plain or flavored) is a nice addition. The bulk bins are a great place to start for ideas, but you could also look around the cheese area for flavored and unique nuts.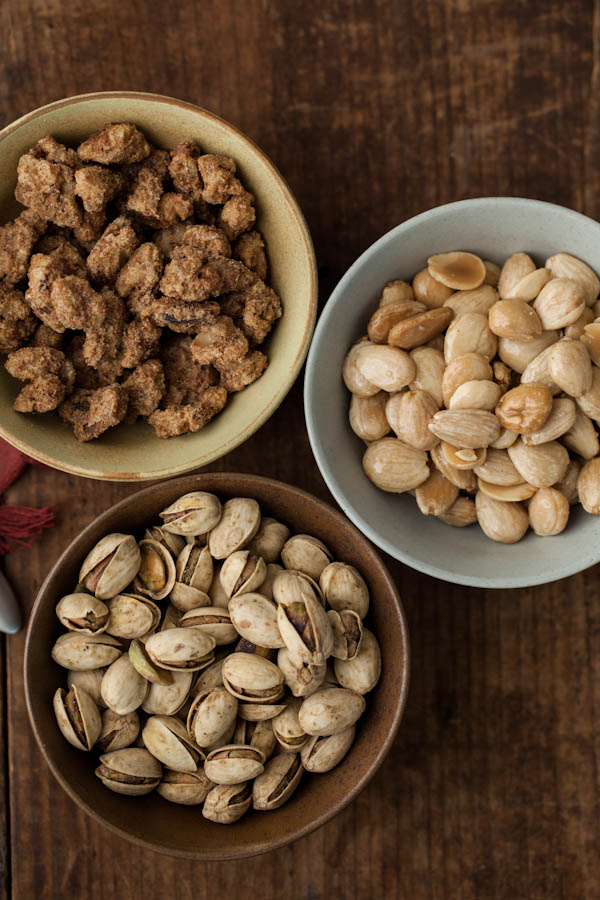 Arranging and serving a cheese platter
Now that you have a list of items to pick and choose from, it's time to start planning! On average, plan for 3-4 ounces of cheese per person along with the various other items and have a variety of cheeses. For a party of 8-10, I like to keep the cheese options to around five. Also, at least 45 minutes before serving, remove the cheese from the refrigerator and allow to warm slightly.
Most importantly, have fun the with cheese plate!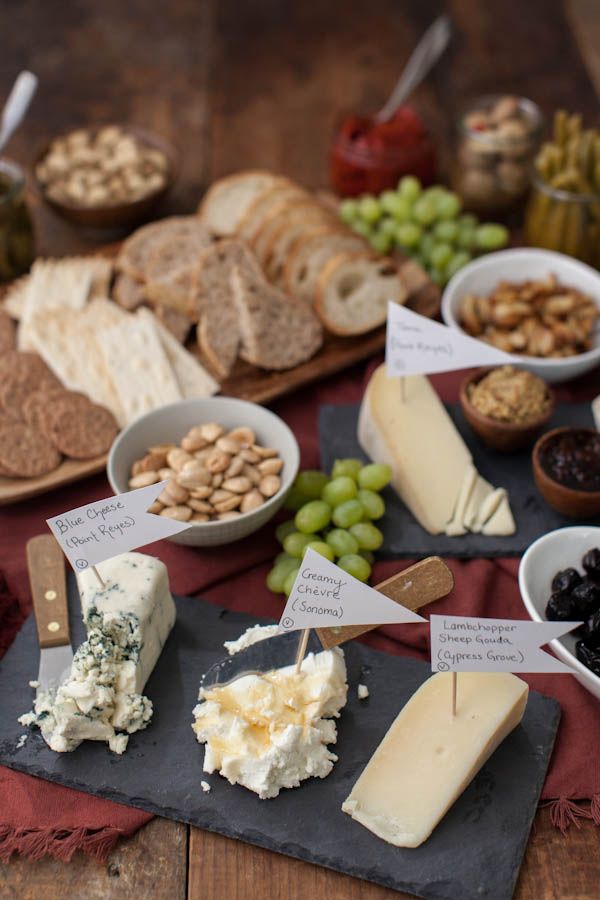 More cheese, please? Craft a variety of delicious cheeses that will delight dinner guests and enhance endless recipes with the Craftsy class Artisan Cheese Making. In the class, expert Mary Karlin will guide you step by step through the entire cheese-making process, in the convenience of your own kitchen!
What are you favorite types of cheeses to include on a platter?