This morning I came across an image of a log cabin quilt. A scrappy log cabin made of 19th century woolens gets my full attention but this extraordinary one swept me away. Why? The use of fabric in the blocks.
Plaid fabric was cut diagonally for its logs. Anyone who has taken my Self-Mitered Log Cabin design workshop knows stripe and plaid fabric is especially interesting when cut on the bias instead of on grain.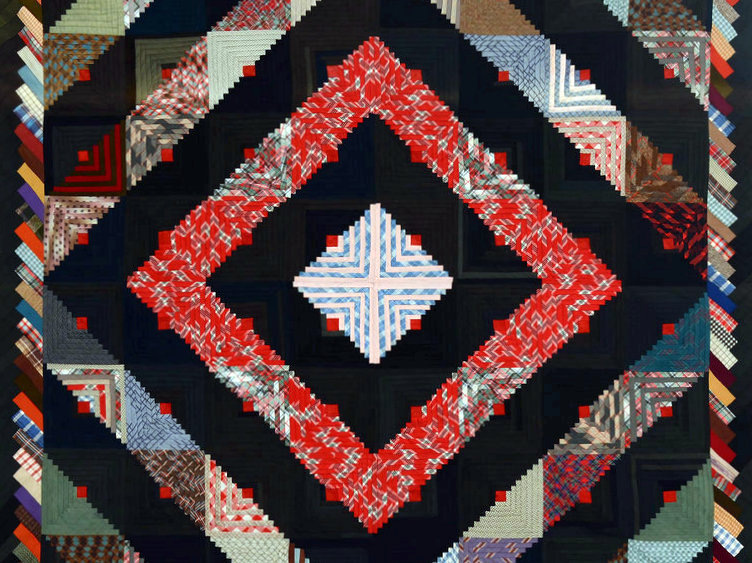 Log Cabin Quilt detail courtesy of Stella Rubin Quilts
Try this game of quilt look and see. Check out the fabric used in the herringbone border. Do you see some of the same fabrics used in the border were also used in some blocks? The fabric doesn't appear to be identical because the border fabrics were cut on grain. The plaids in the blocks were cut on the bias though they are on grain in the border.
That border is a list of ingredients in the quilt. The use of plaid fabric is deliberate. So is the quasi-symmetrical placement of matching blocks made of the same fabric. The bones of this quilt fascinate me.
These are not large blocks; the logs appear to be narrow. Nineteenth century fabric was not inexpensive, and much of it would have become lost in seam allowances and to waste from off-grain cutting. When I cut into pricey fabric, frugal me tends to make blocks of large patches, not narrow strips. The truth is, a 1½" x 5″ log will lose 40 percent of itself to construction while a 4½" x 4½" square will lose 20.99%!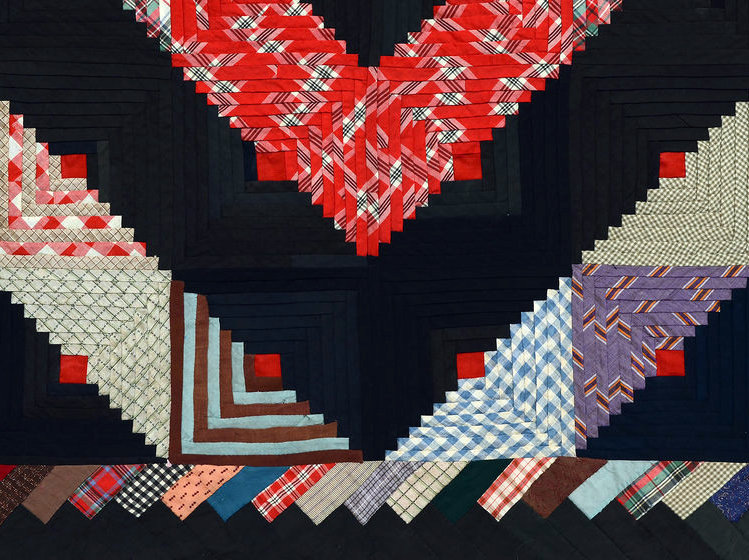 Log cabin quilt detail courtesy of Stella Rubin Quilts
Once upon a time I looked after a corporate art collection in Washington DC on K Street. I got a kick out of occasionally flying on the New York–Washington shuttle from LaGuardia and then traveling on the Metro to the office. There was the time I stole away to see Nancy Crow's 1995 Improvisational Quilts exhibition at the Renwick Gallery. I became convinced the collection needed a Crow.
When the weather wasn't horrible, before returning to New York, I'd take the Metro out to White Flint Station in Maryland and walk along a highway in the dark on my pilgrimage to the legendary G Street Fabrics store.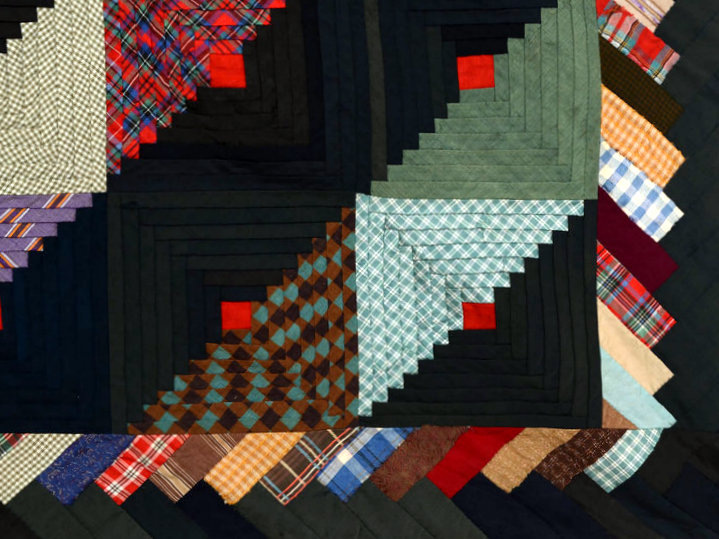 Log cabin quilt detail courtesy of Stella Rubin Quilts
There was an unforgettable Log Cabin quilt displayed in the window of G Street. The blocks were set on point, with plaids contrasted against a light color background. I never left G Street without being amazed.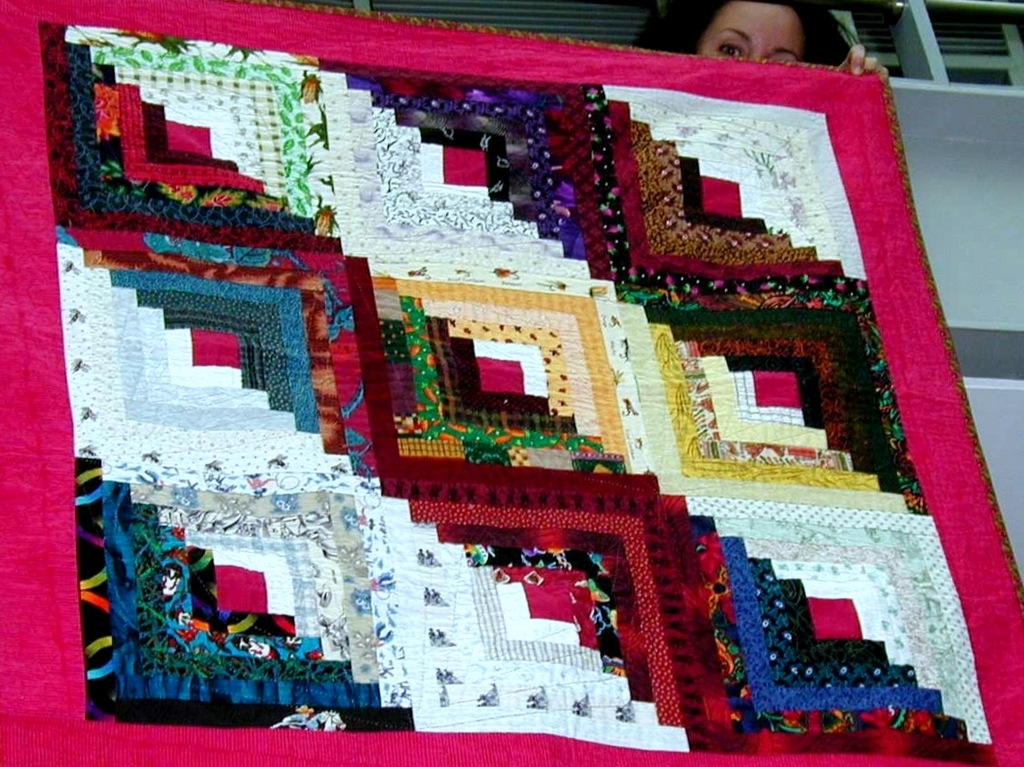 Field of Dreams, 1996 Log Cabin Quilt
I previously wrote about the above Log Cabin quilt here. If you are considering making one, I have some tips for you.
One has to do with Log Cabin real estate. Did you know that when log #1 and log #2 are both light, the block winds up with a greater percentage of dark fabric than light fabric? That was the case in the above Log Cabin quilt.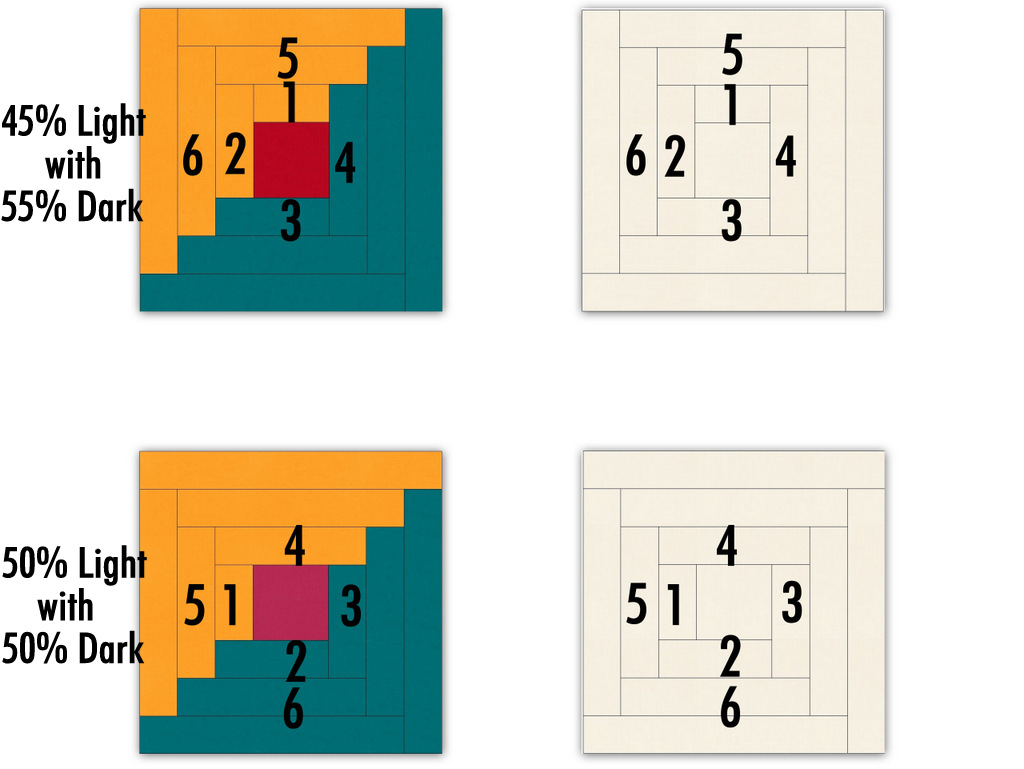 Or that when log #1 is light and log #2 is dark, the block will be equally light and dark?
Pineapple and Log Cabin blocks are similar. I used whites for lights in the Log Cabin. I used pastels, rather than whites, in the scrappy "on-point" Pineapple below.
Scrappy Pineapple, 2007, detail
Dark lavender patches counted as "lights" because they were tinted with white. Think of pastel colors as cream mixed into coffee.
Tip: Avoid the limitations of a light palette by including pastels to expand a palette.
Dottie made the same Pineapple quilt. It took her five years to get as far as she was in the picture. She said she could only get Christmas fabric during November and December and it took her five consecutive Novembers and Decembers to accumulate the fabric.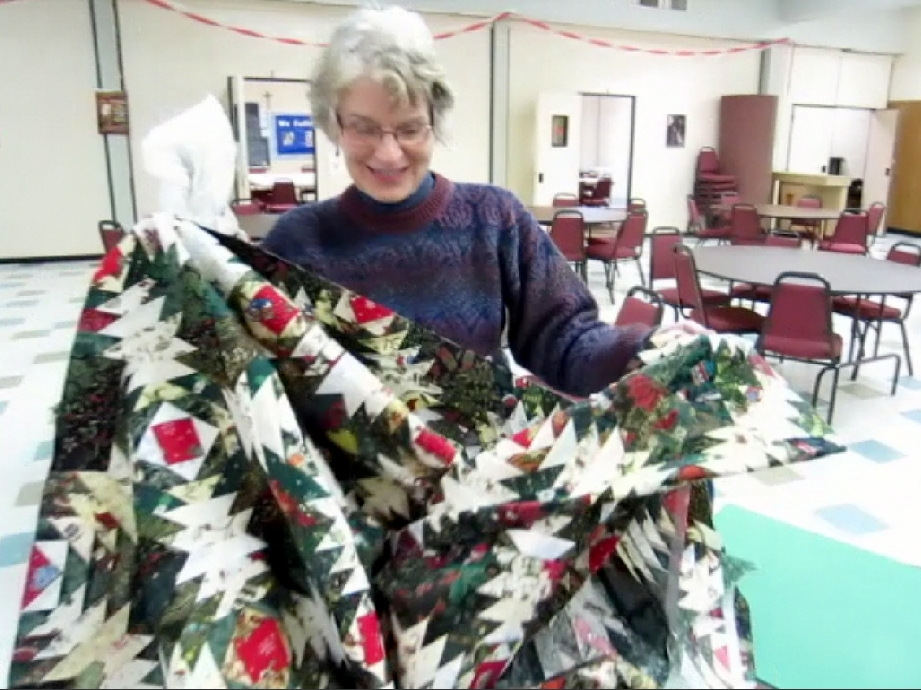 Dottie's Pineapple at the Huntington Quilters
I've come across quilters in various workshops who intentionally choose holiday theme fabric for their initial class sample. Eventually they have a festive sampler quilt.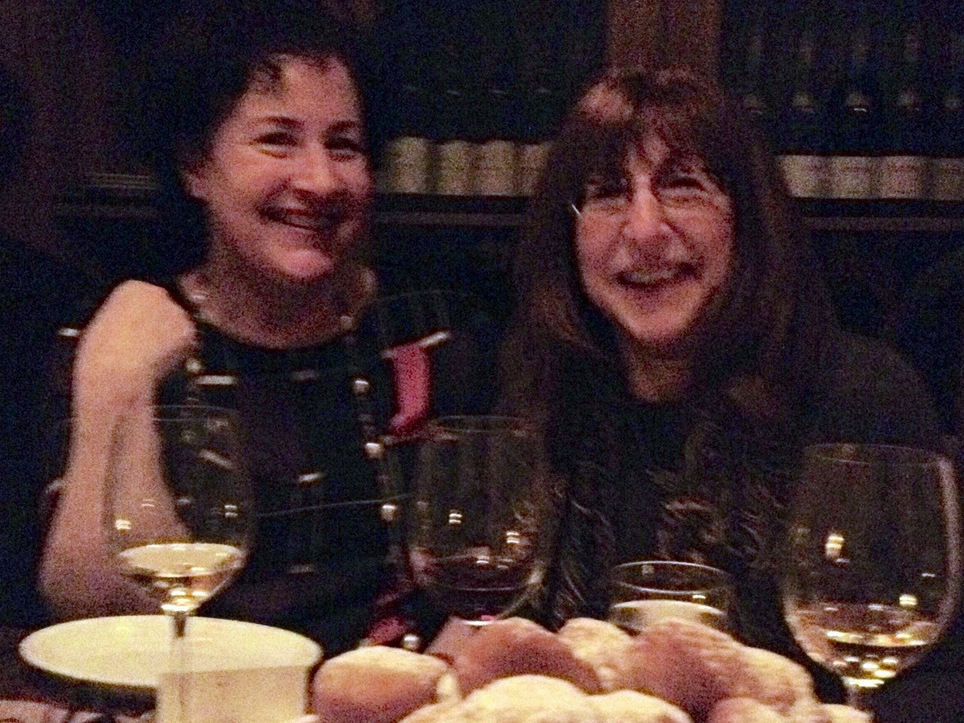 The dress, Emily, and holiday Sufganiyot, 2015
A very dear friend of mine, Emily, passed away in September. We'd been introduced by the editor of my first book. Em's last job was with Timeless Treasures Fabric in New York. I didn't know her during her days with Liberty of London Fabrics nor during her stint at G Street Fabrics. Following Quilt Market her family held a memorial luncheon in Manhattan. A gentleman was there that I'd met 15 years ago at a dinner party Emily hosted. He looked at me. He looked at my dress. He said "That fabric is beautiful." I proffered my arm for him to touch the sleeve. I came home and remembered I'd worn that very dress at the last fine time with Emily. It was fitting that the person who admired the material was Judah Greenzaid, the founder of G Street Fabrics.
To see images of log cabins visit The Quilt Index. It's a valuable and first-rate resource.