A Layer Cake is a collection of 42 coordinated, pre-cut fabric squares measuring 10" x 10". There are many Layer Cake patterns available which fully utilize the layer cake squares to create gorgeous quilts, with minimal time spent selecting coordinated fabrics, and with the ease of simplified cutting.
Of course you can also create your own Layer Cake fabric collection. Simply cut 42 squares 10" x 10" from coordinating fabrics in your stash and you're ready to start quilting a Layer Cake pattern.
There are a few things to remember about using Layer Cake squares before you begin working on a Layer Cake pattern. First of all, there is no need to prewash these squares; in fact, prewashing is not recommended since the squares might ravel and shrink. A better option for preparing Layer Cake squares for cutting is to starch and iron them. There could be some minimal shrinking with this process, but it will not be enough to effect cutting, and with the addition of the starch, your fabrics will be easier to cut and sew.
Since purchasing a Layer Cake is an economical way to get a piece of each print in a collection, some quilters like to purchase Layer Cakes and then cut them into smaller pieces. Here is a sampling of what you can cut from a Layer Cake square:
· 4 squares 5" x 5" (one Layer Cake is the equivalent of 4 charm packs)
· 16 squares 2 1/2" x 2 1/2"
· 9 squares 3" x 3"
· 5 rectangles 2" x 10"
· 4 rectangles 2 1/2" x 10"
· 4 circles finished 4" x 4"
· Diagonal cuts can also be made to create a variety of half-square and quarter-square triangles.
Are you ready to preview some new Layer Cake patterns? Here is a selection of recently released Layer Cake patterns:
Surfside by Bluprint instructor Camille Roskelley is a new Layer Cake pattern that is simple to piece and big on impact. Make this quilt using the scrappy Layer Cake option or a with the stunning two-color option. Lucky (pictured at the top of this post) is another new pattern from Camille.

Niner, also designed by Camille Roskelley uses two Layer Cakes. You have the option of purchasing two identical Layer Cakes or mixing Layer Cakes from two different collections which gives a more scrappy, less-coordinated look. The version pictured below mixes two collections.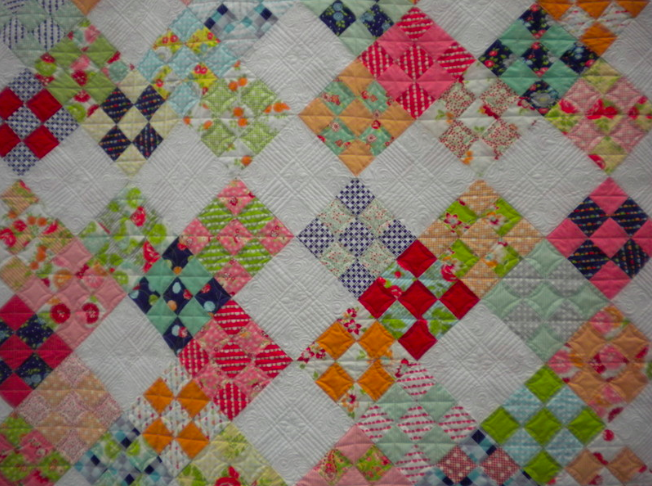 Finally, Painted Ladies by Joanna Figueroa of Fig Tree & Company, a darling butterfly quilt pattern, is a delightful Layer Cake pattern which makes a lap sized quilt when combined with backing fabric and a border print.
So, which Layer Cake pattern will you make first?
If you're not sure where to start, check out Quick Quilts: Pre-Cut Piecing Made Simple with Camille!