Sometimes when you look at a knitted garment, you can tell almost immediately where the garment originated. Just as in other aesthetic realms, like interior design or fashion, knitwear design can have some distinctly regional or national features. And modern knitwear design is often on the cutting edge of fashion.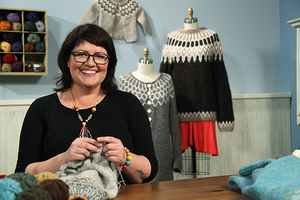 The British Isles are home to some of the world's most iconic knitwear designs. Irish fisherman's sweaters, Aran sweaters, Shetland sweaters, and Fair Isle sweaters and mittens are all instantly recognizable. Some insist that true Fair Isle work comes only from that island and is made only by the hand of the experts who have learned the craft from their ancestors. Many of the island's 22,000 residents still design and produce knitwear true to the original style. Scottish design houses outside of the island run the range from modernizing knitwear design to keeping the old traditional designs alive. Harley of Scotland focuses on taking Scottish knitwear into modern times while Anderson & Co strives to maintain tradition and authenticity in each garment, still made from 100% Shetland wool.
Icelandic sweaters are quickly recognizable for their neutral palettes and their yoke-heavy design. Fun fact: the heavy emphasis on colored designs at the yoke and on cuffs makes for thicker, and therefore warmer, sweaters at those points. Icelandic knitwear designers love to use sheep's wool, as that product is a staple of Iceland's economy. Another unique feature to Icelandic knitwear is the emphasis on handknitted pieces. If you've ever purchased an Icelandic sweater, now you know why the price is hefty, because producing hand knitted garments is a much costlier proposition. A modern wave of Icelandic knitwear designers are taking centuries-old design elements and producing them in new ways or offering more modern silhouettes. Design houses like Farmers Market, KronKron, and Elm are among the most prestigious Icelandic knitwear designers.
Swedish knitwear design, like Icelandic, has a recognizable look when it comes to its colors and design elements. (All Scandinavian knitwear, really, bears some strong similarities, regardless of individual country of origin.) Modern Swedish knitwear designers work on the edge of design, producing knitted garments with marvelous structural elements. Sandra Backlund is one of the most notable Swedish knitwear designers; some of her knitted garments are more like sculptures than knitwear.
As you might expect, countries like France and Italy tend to produce knitwear designers focused on the high-end of fashion. Missoni, a well-known Italian fashion house, has a line of couture knitwear striking similar notes to its recognizable patterned fabrics. And French designer Jean Paul Gaultier isn't one to leave knitwear to the crafters. These nations aren't as closely associated with a traditional knitwear look, so French and Italian designers are taking established or expected fashion trends and translating them to the world of extremely fashionable professional knitwear.
Then there are the bright colors of Japanese knitwear design and the sunny ease of Brazilian couture knitwear. There's a big world of knitwear design out there and it's fascinating to see what designers all over the world can do with knits. What regional knitwear designs and designers inspire you?