I'm a big wimp when it comes to needles (I need a friend to drive me home every time I have blood drawn) but if I ever get the guts to get some ink, I'll definitely choose a knitting-inspired tattoo.
Knitting tattoos are popping up everywhere, and even those of us who faint at the sight of a needle can't help but be inspired by them. I love hearing the inspiration and stories behind the tattoos, so I asked a few knitting-tattoo-sportin' ladies to share the stories behind their stitch-inspired ink.
Even if you're not dreaming of getting your own ink, check out some of the stories behind these knitting tattoos that pay tribute to yarn, stitches and knitting needles.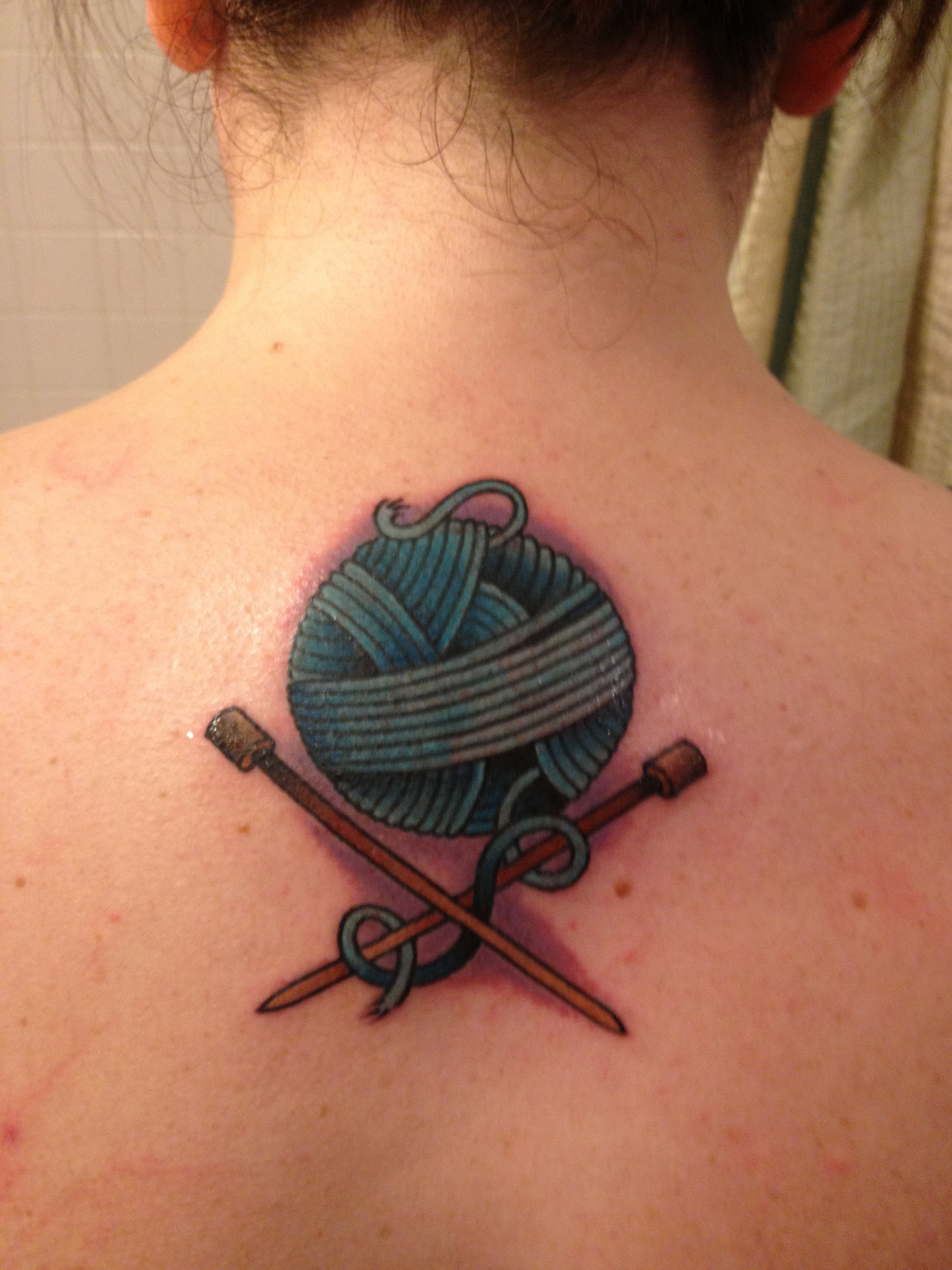 Photo via Jen Lucas
Jen Lucas of Knitting Like Crazy considered this tattoo for five long years before she actually got it. The tattoo was inked by the son of Jen's friend Pam. Pam is a knitter (and crocheter!), so Jen thought her son was the perfect person to give her the tattoo. We think so, too!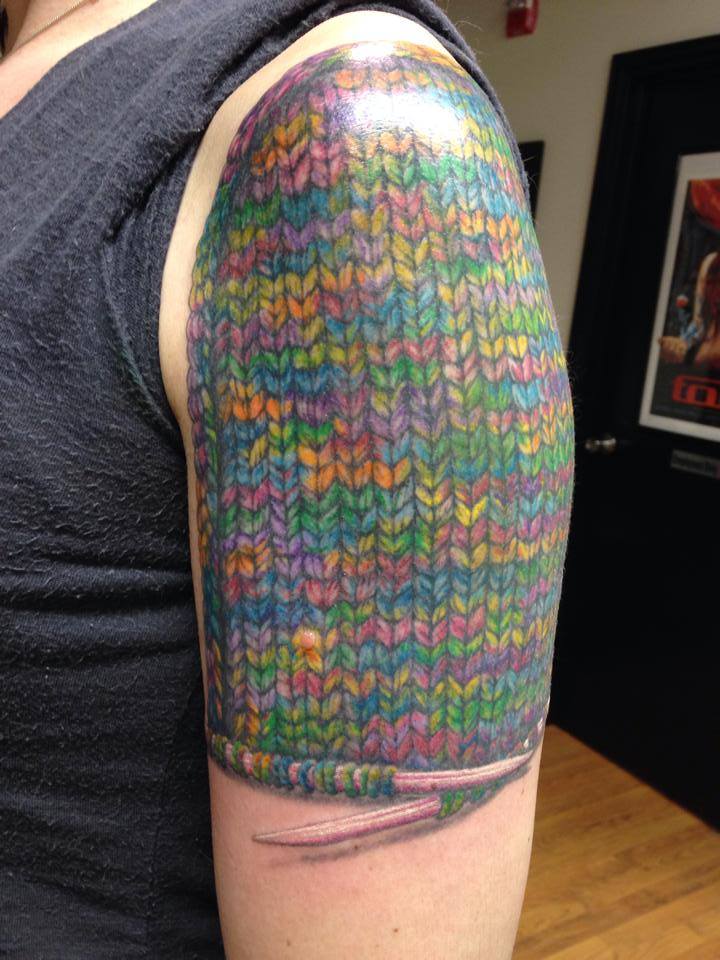 Photo via Heidi of Brown Dog Fiber Arts Studio
Heidi of Brown Dog Fiber Arts Studio doesn't consider herself an accomplished knitter — she admits to knitting an ill-fitting sweater that would fit two people — but she does love the process and planning that goes into a tattoo.
Heidi also loves making simple items with interesting yarn, so she took in one of her knitted basic hats — stitched with Malabrigo yarn — and the tattoo artist took photos of it. Heidi thought the idea of a knit "sleeve" was funny and cheeky. This tattoo took about 20 hours to complete and it was inked by Ryan Cogswell at Body Art Tattoo in New York, who now swears he'll never do another one like it!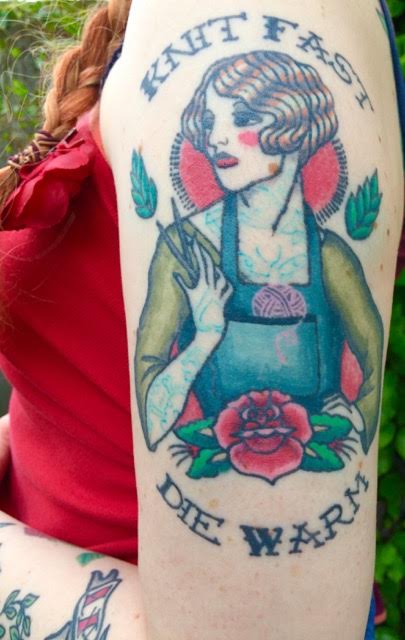 Photo via Tabetha Tebay
Tabetha, owner of RosyRetro, says that her love of knitting, yarn and spinning are the reasons she decided to make this statement on her body. The tattoo was inked by Nic, a rockabilly and retro fan at Songbird Tattoo Studio in the U.K. The design was altered slightly from an original artwork by Quyen Dinh, owner of Parlor Tattoo Prints.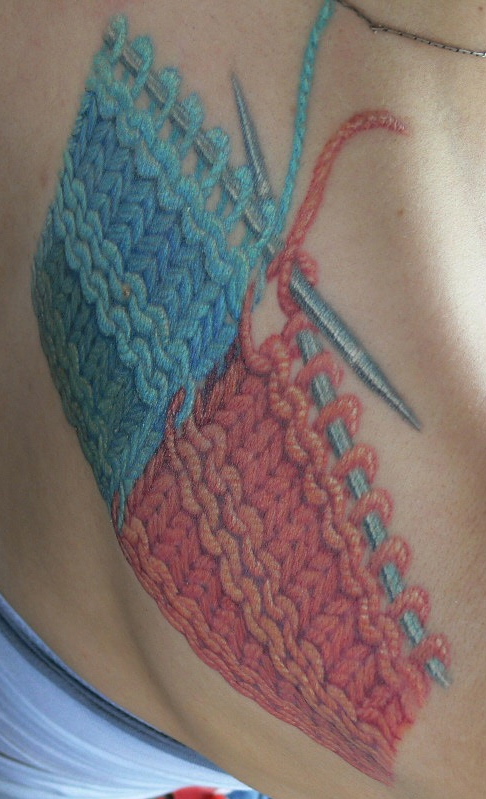 Photo via Suzy of I Want a Square Piece
It took a total of 19 hours — three sessions total — for this tattoo to be inked by Jason of Body Art Tattoo Studio in Virginia. I was blown away by the texture of this one, and according to Suzy, other people are too. She says that it's not uncommon for complete strangers to come up to her and touch her back to see if that texture is as soft as it looks!
The texture is so realistic that it won first place for Most Realistic Tattoo at a tattoo convention — not to mention second place for Best Small Color Tattoo. You can read more about Suzy's funny tattoo stories (and all the awards!) here.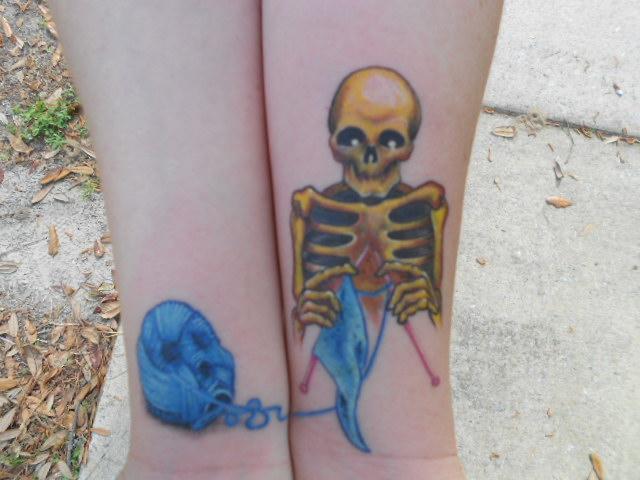 Photo via Bluprint member CastratedBean
Bluprint member CastratedBean was so happy with this tattoo that she uploaded the skeleton knitting tattoo to the projects section of Bluprint. The tattoo stretches across both of her wrists, making a complete picture when held side by side. The tattoo was inked by Top Ink Tattoos in Thomasville, Georgia.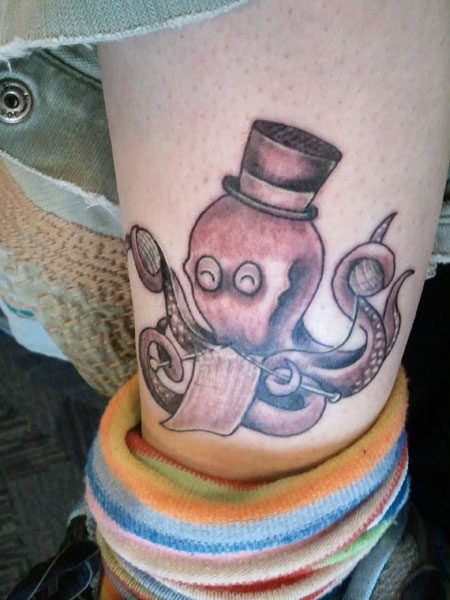 Photo via Becca of Stitchy Wicket
It's likely you've seen the Knitting Octopus from Max Alexander floating around the web at some point during your knitting career. When Max published the photos, the cute little stuffed octopus seemed to go viral overnight! Becca of Stitchy Wicket was so inspired by the design that she used it for her tattoo. The tattoo artist is Loki from Sacred Heart Tattoo in Georgia.
A big thank you to everyone who took time to share their story with Bluprint. You gals rock!
Become a Bluprint Blog Buddy Today!

Subscribe to the Bluprint Blog to get free tutorials, insider tips and the best patterns delivered fresh to your inbox. Plus, enjoy exclusive subscriber perks! Sign Me Up! »