Summertime is no time to slow down on adding to your hand-knit wardrobe. Just because the weather heats up doesn't mean you can't knit! A sleeveless or short-sleeved knit top is the perfect addition to your wardrobe this season! There are plenty of tops — both tees and tanks — that can be knit quickly and comfortably, during the hot weather months.
Here are a couple things to keep in mind while you're planning to knit a summer tee.
Arm and yoke measurements
Frequently, we knit sweaters with an upper arm measurement that will be relatively fitted. Even when we don't, knitting a cardigan that has a lot of ease in the upper arm doesn't matter too much when there's a sleeve attached. However, when knitting a summer tank or sleeveless tee, the upper arm and yoke depth measurement will be important to comfortable wear.
Before you start knitting, decide if you'll be wearing this top layered with something other than an undershirt. If you will be, then you needn't worry too much about the armhole depth. However, if there's the possibility that you won't be, be sure that you don't knit an armhole that is too deep. So, before knitting (or at least before getting to the armhole) check the pattern schematics. Compare the yoke depth or upper arm measurement to the same measurement on a well-fitting tank or sleeveless top, and decide if you will need to make adjustments.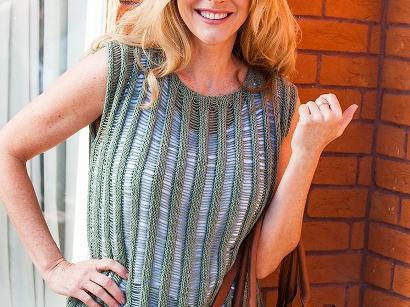 The lacy Seedling Shell Lace Tank pictured above has a lovely drop stitch lace design that you know you will need to wear layered over another tank. The pattern comes in six sizes and the kit includes enough of Thaki Yarns Mimosa (50% cotton, 40% silk, 10% cashmere) to create a garment that is lightweight and breathable. Knit at a large gauge, this piece will work up quickly as well.
Get the Seedling Shell Lacek Tank kit here.
Fiber content
Another thing to consider with summer knitting is fiber content. While a lot of patterns call for yarns that are 100% cotton, it's good to keep in mind that (a) cotton doesn't have a lot of give, so if you're sensitive to the tensions of certain yarns this may not be the yarn for you; (b) cotton can get REALLY heavy when wet and can stretch out of shape, so it's important to be careful when blocking and washing. Cotton can loose its shape after multiple wears and washes so consider choosing a pattern that isn't too lengthy in the body, and avoid a pattern that has thin straps, which won't provide much support for the body of the garment.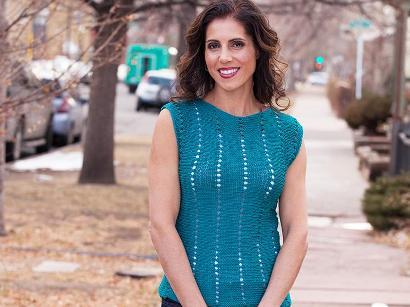 The April Showers Tank is a sleeveless pattern that comes in six sizes. While this is knit in 100% cotton yarn, it has full shoulders which provide a lot of support for the body of the garment. It also is knit to high-hip length, keeping the garment lightweight. A delicate eyelet pattern keeps the piece airy, perfect for warm summer days.
Get the April Showers Tank kit here.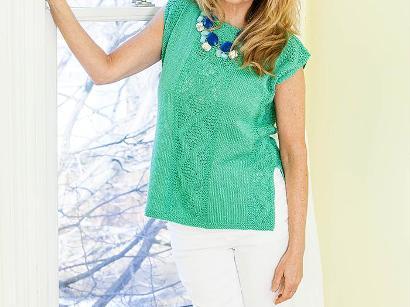 The New Leaf Shell is another pattern that is sleeveless, providing more stability in the shoulders. A faux-cable pattern throughout the length of the body is great for beginners while still maintaining the interest for more experienced knitters. The knit comes with 100% worsted weight cotton yarn to help you finish a new top quickly!
Get the New Leaf Shell Tank Top kit here.
I love knitting summer tops. I tend to knit more sleeveless tops rather than tanks because I find that a full shoulder has more support and tends to sag less over time.
What's your favorite type of pattern and yarn to knit during the summer?