Shrugs are a perfect warm weather layering garment. They bring just enough extra warmth without weighing you down or covering a beautiful dress. They're also fun to knit, and most take far less yarn than a full sweater. Best of all, knitted shrugs an excellent way to try out new techniques without much risk.
Here are 11 great shrug patterns at all different skill levels to get you started!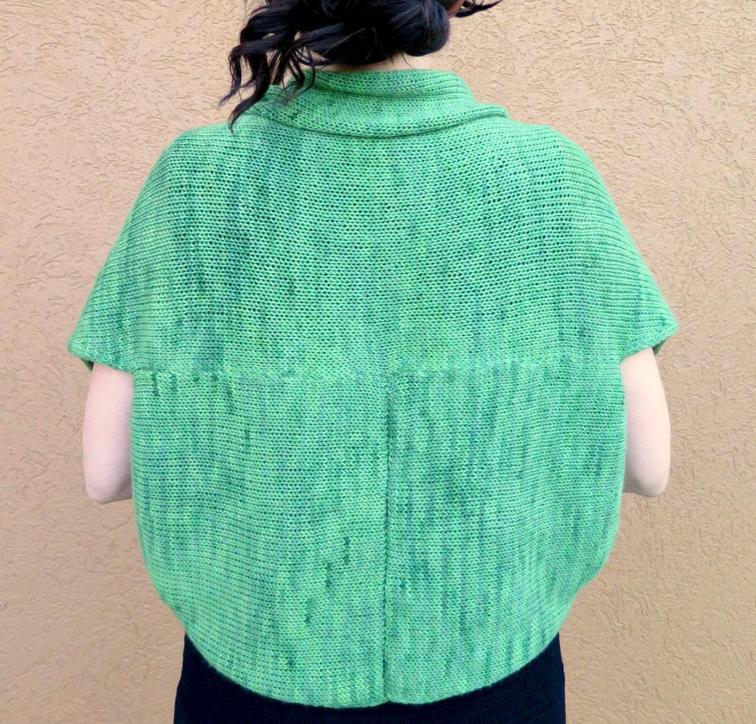 Photo via Bluprint member Talitha Kuomi
1. Passage Shrug
This lovely, versatile shrug is travel-friendly, easy to knit and easy to wear. The clever structure will keep you interested, and the luxurious merino, silk, and cashmere blend yarn will make a piece that you'll treasure. This beautiful shrug is sold as a kit, so all you have to do is pick your favorite color and you're set!
Get the Kit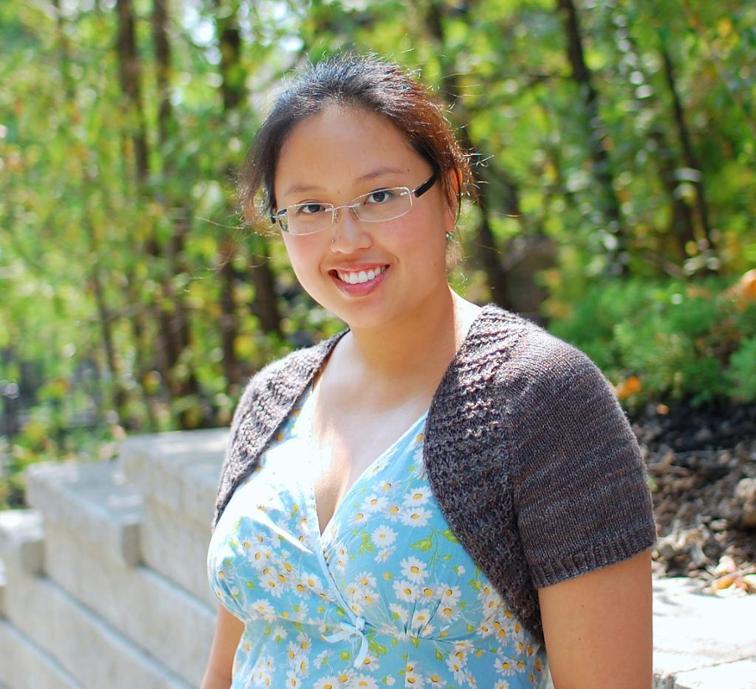 Photo via Bluprint member Laura Chau
2. Dew Point Shrug
This beautiful little number uses between 375 and 650 yards of sport or light DK weight yarn, so it's a great use for those few skeins you've got that have never quite found the right project. Perfect for wear with a sleeveless summer dress, this short-sleeved shrug will keep your shoulders warm without causing you to overheat.
Get the Pattern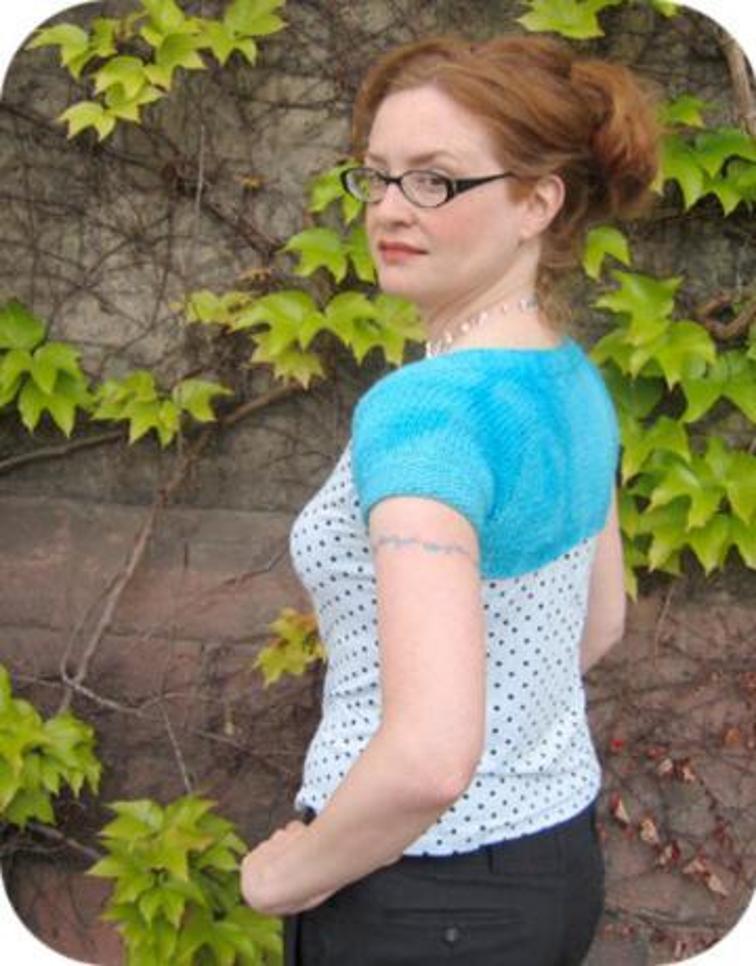 Photo via Bluprint instructor Stefanie Japel
3. One Skein Wonder
This is a classic pattern from designer Stefanie Japel, a clever top-down shrug that uses fewer than 200 yards of heavy worsted or aran weight yarn, although it's easy to adapt the pattern to use more if you want longer sleeves. I've personally made several of these, and it is such a fun, fast knit. Since it takes so little yarn, it's perfect for showing off a skein of fancy yarn. I sometimes end up with individual skeins of expensive yarn in my stash because I couldn't justify buying more without an exact plan for its use; a one-skein shrug is ideal for those skeins!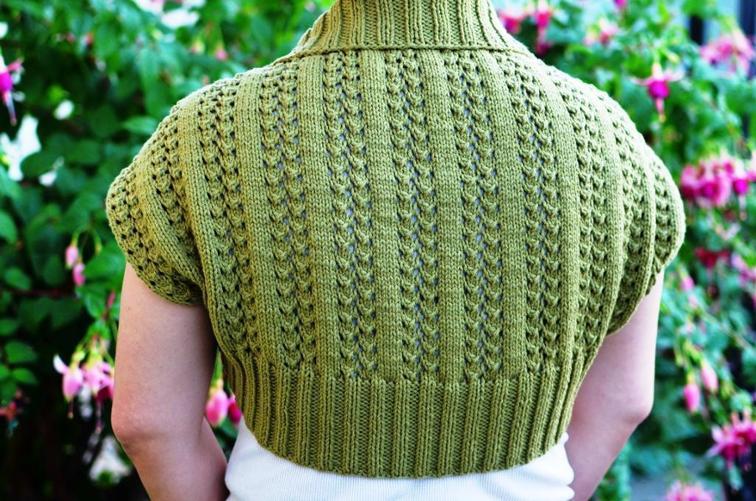 Photo via Bluprint member Christy Hills's Designs
4. Diamond Rib Lace Bolero
Adorable with an architectural eyelet pattern, this shrug is sized from baby to adult and includes a stylish folded shawl collar. Lace knitting looks complex, but much of it is simple and rhythmic, and since this shrug is a folded rectangle, you won't have to keep track of shaping. This makes it perfect for the beginning lace knitter since you can concentrate on the lovely lace alone!
Get the Pattern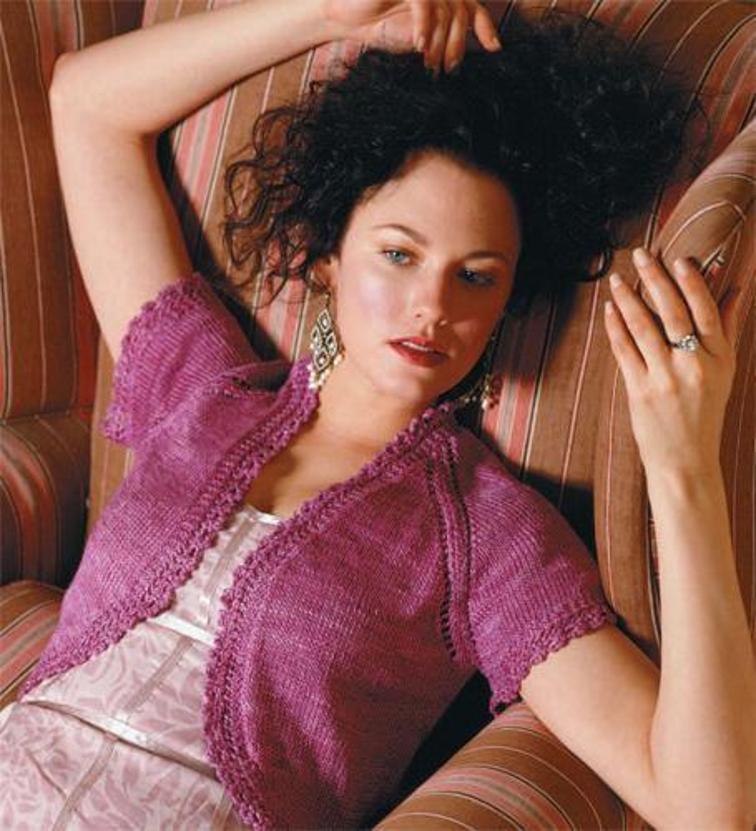 Photo via Bluprint member Vogue Knitting
5. Lace Trim Bolero
Elegant and classic, this lace-edged bolero from Vogue Knitting will quickly become a wardrobe staple. Shown in a pure silk, this shrug would also be beautiful in a drapey blend like Cloudborn Limited Edition Alpaca Wool and Silk. In a soft cotton like Cascade Ultra Pima, you'll have the perfect lounging layer for warm summer days.
Get the Pattern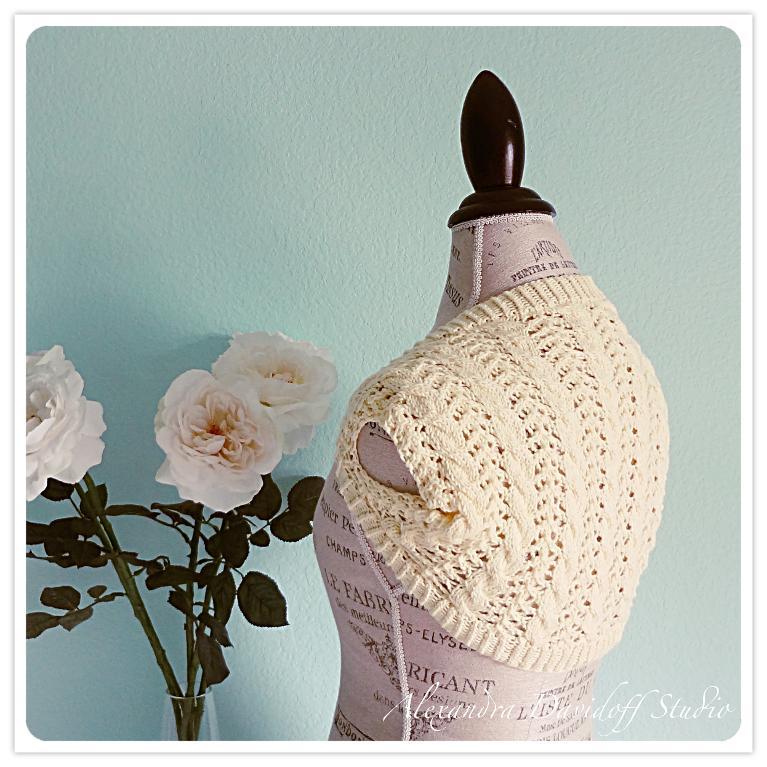 Photo via Bluprint member Alexandra Davidoff Studio
6. July Shrug
Like the Diamond Rib Lace Bolero, the July Shrug is a folded rectangle, the perfect canvas on which to test new skills and more complicated stitch patterns. The arrowhead lace alternates with simple cables, combining into another architectural series of columns and pillars, although the addition of cables gives this shrug a very different feel. Knit in cotton, with open eyelets, this is a great little summer layering piece.
Get the Pattern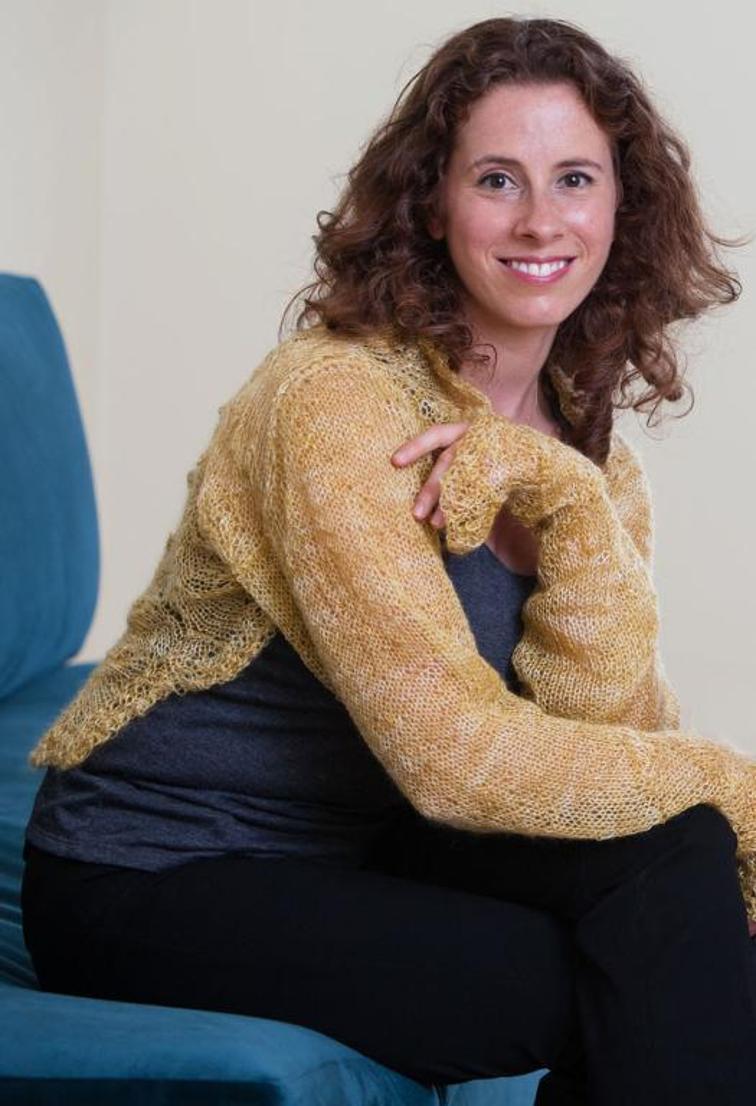 Photo via Bluprint instructor Jill Wolcott Knits
7. Bellevue Shrug
A floating mohair yarn and a textural stitch pattern combine to make this light and lovely long-sleeved shrug. Mohair is a deceptively delicate fiber; even when it appears transparent, the long individual fibers overlap to trap air and capture warmth. A mohair yarn like Kidsilk Haze keeps you cozy, and the silk and mohair fibers both take dye beautifully to create a shining, shimmering yarn that you will love.
Get the Pattern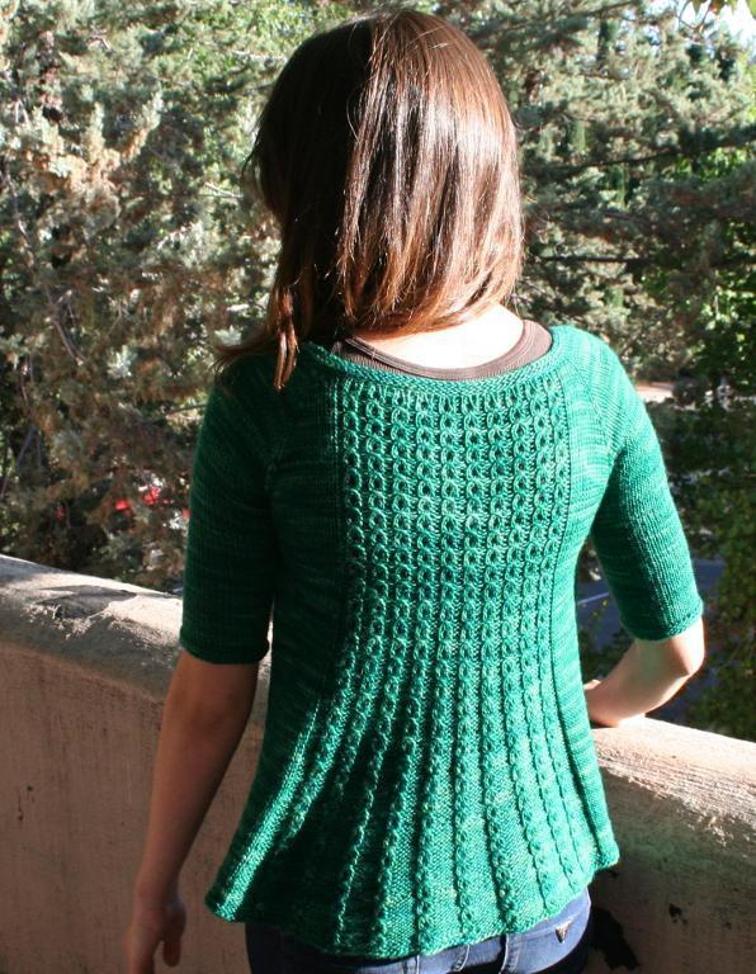 Photo via Bluprint member Taiga Hilliard Designs
8. Marian Shrug
This beautiful and unusual shrug s long in back like a cardigan and open in front like a shrug. The radiating lines of textural lace create waist shaping and a fluttering train. Elbow length sleeves are a great choice for transitional weather, as well as an of-the-moment fashion. I love the emerald hue in the photographs, but it would be lovely in a modish speckled yarn with a white background.
Get the Pattern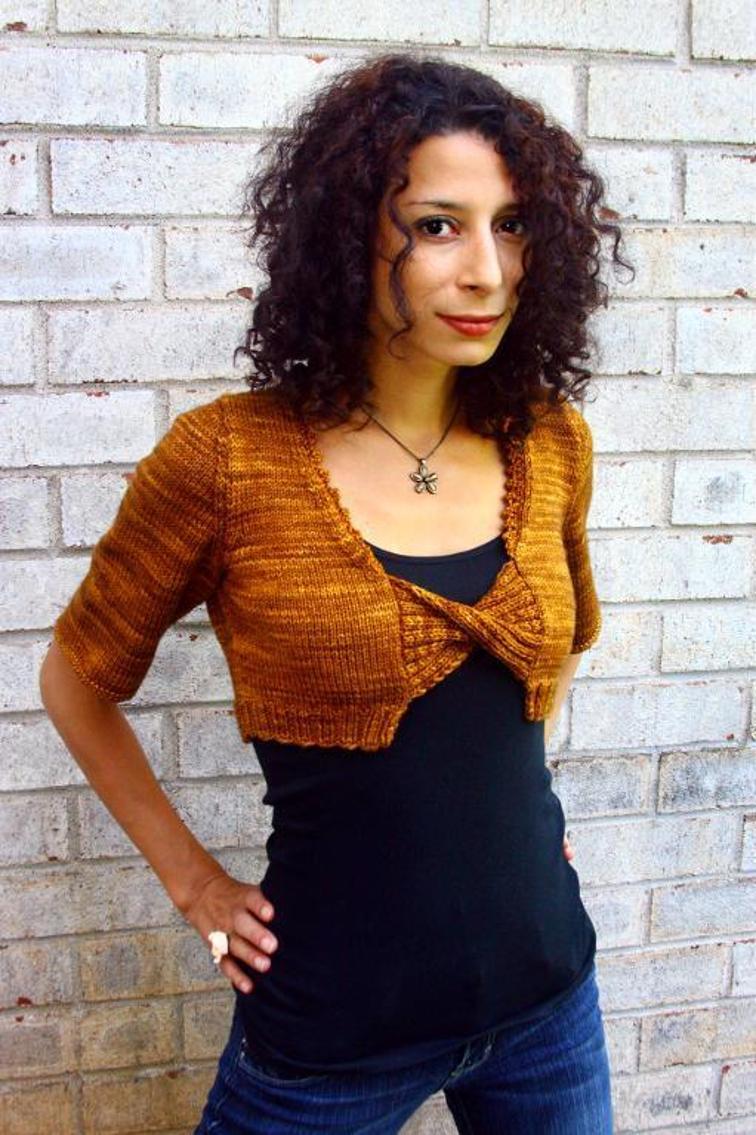 Photo via Bluprint member Vanessa Ewing Knits
9. Mother and Daughter Twist Front Shrug
Most shrugs are open in front, but this one is joined by a twisted piece of ribbing, taking it from the beautiful-but-expected to a signature piece. A tonal hand-dyed yarn, like the one shown, adds depth. It would be beautiful in Tosh DK, in Madelinetosh's signature layered colors.
Get the Pattern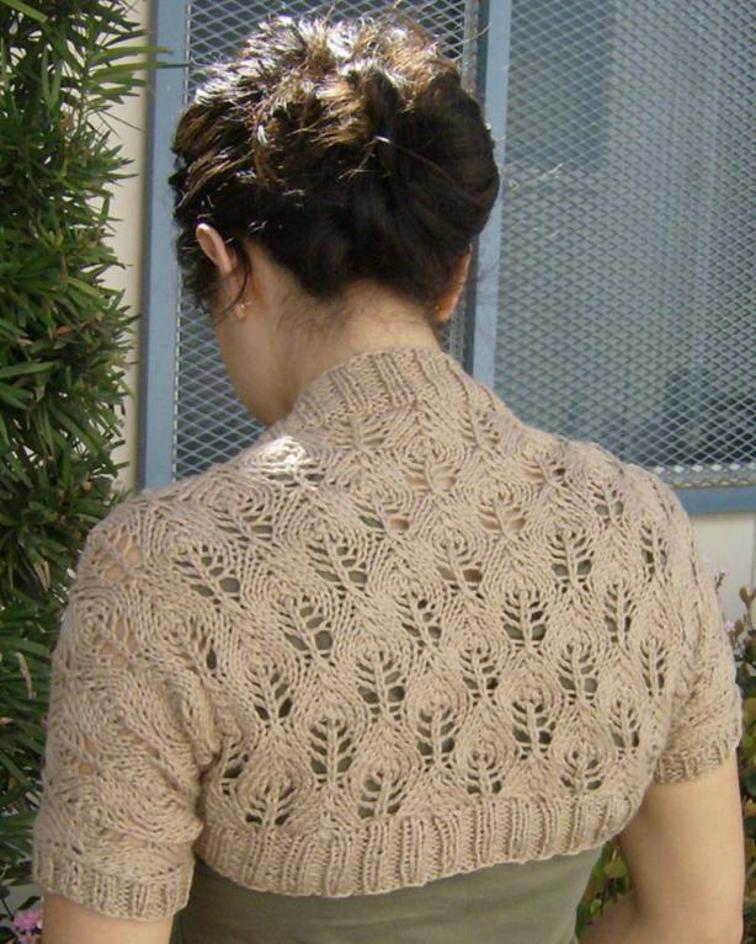 Photo via Bluprint member CascadeYarns
10. Something Lacy Shrug
I'm currently knitting a cardigan in this same fir cone lace stitch pattern. It looks stunning, but the knitting itself is deceptively easy, as there is really only one row to memorize, staggered every three right side rows. Imagine this shrug in a peacock blue-green — the fir cones transform into gorgeous plumage.
Get the Pattern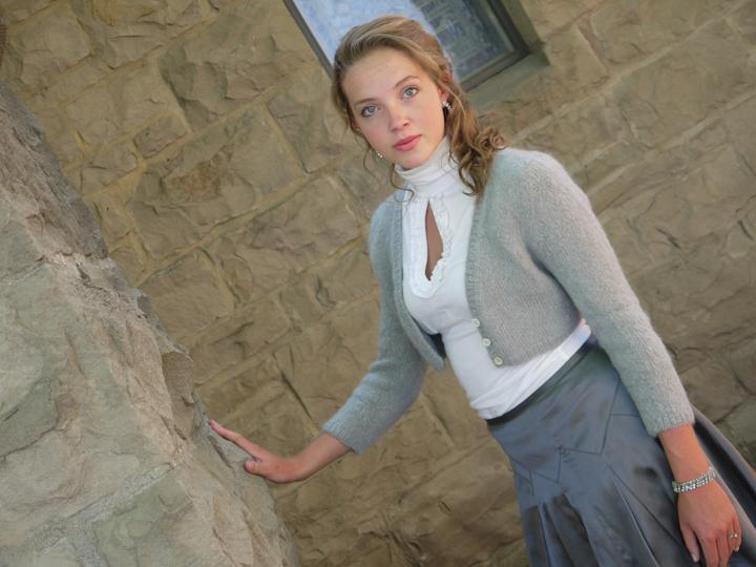 Photo via Bluprint member Adriprints Press
11. Cambridge Shrug
Classic and versatile, the Cambridge Shrug worn open is a shrug, while buttoned it's a cropped cardigan. This is one of those perfectly plain styles I find myself reaching for again and again, especially when it's as well-fitted and shaped as this one. Long sleeves are perfect for a chilly evening.
Find Your Perfect Project
Get a designer pattern and a perfectly paired yarn for enviable projects in half the time.Shop Now