When I'm choosing a knitted sweater pattern, the first thing I notice are knitted necklines and collars. There are certain knitted necklines that personally I don't like — high necks are so constricting and sweaty to me — and others that I always seem drawn to. And even if a sweater doesn't have a Peter Pan collar, I always want to add one.
Knowing what types of knitted collars and necklines you prefer is key to knitting a sweater that you'll want to wear again and again. Before you choose your next sweater pattern, take a peek at these knitted necklines and collars to see which styles you love!
Necklines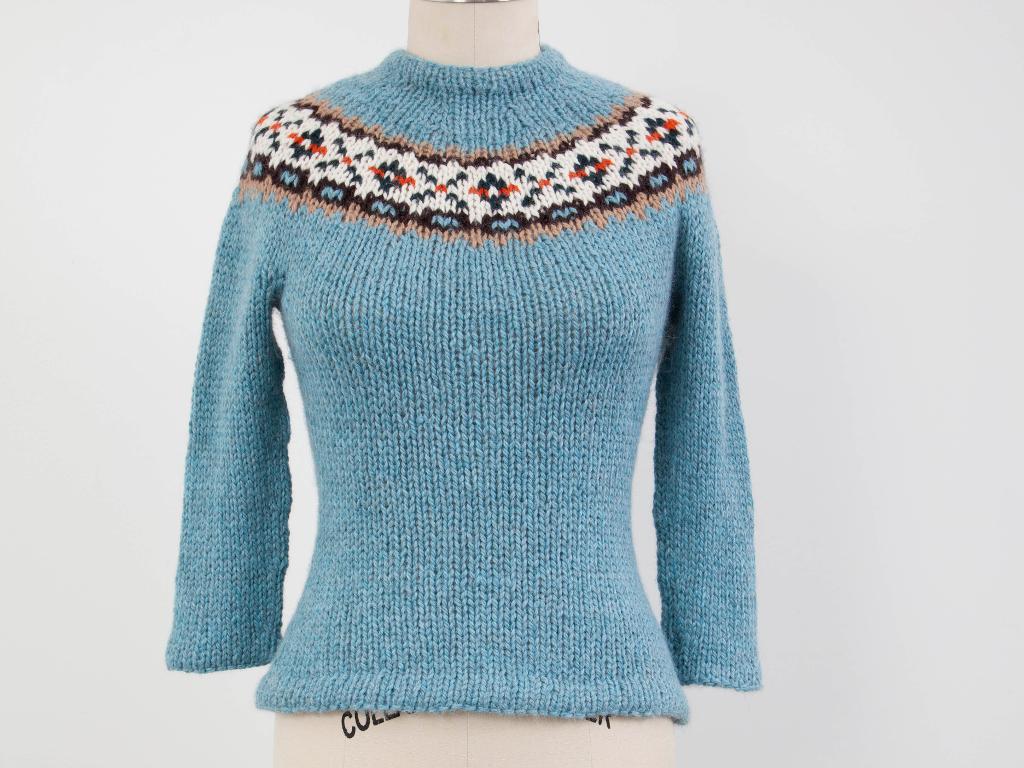 Crew neck
A crew neck is a very basic neckline. It fits right around the neckline, not too high and not too low. It's also traditional if you're knitting a men's sweater.
The Band Colorwork Yoke Pullover pictured above is a pattern exclusive to Craftsy members enrolled in Choose Your Own Sweater Adventure with Eunny Jang. Not only will you get variations on this sweater pattern, but Eunny will also show you how to knit three necklines, including this crew neck. You'll then be able to plug the neckline numbers into any of Eunny's variations to build the perfect sweater.

Enroll in Choose Your Own Sweater Adventure with Eunny Jang here.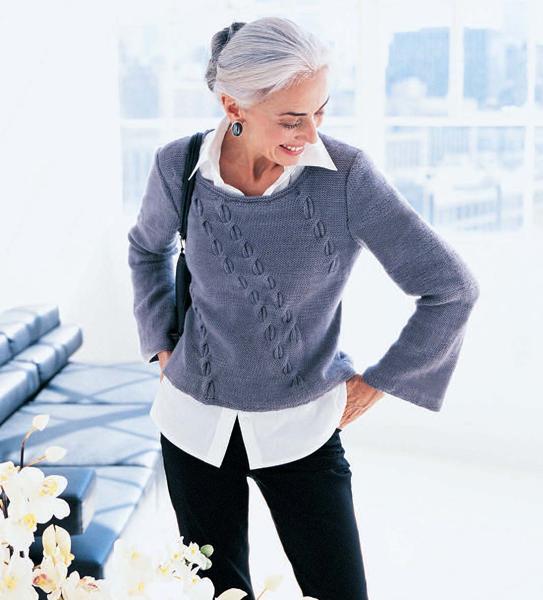 Photo via Craftsy member Vogue Knitting
Scoop neck
The scoop neck is a neckline that's just slightly lower than a crew neck, giving it the little scoop from which it takes its name. This is great for layering over button-down shirts, like in the photo above, because the neck isn't too snug and gives you plenty of breathing room for more layers.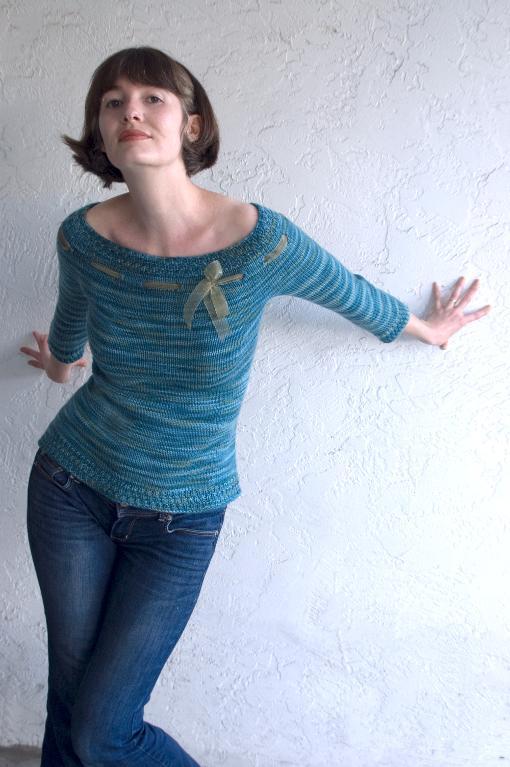 Photo via Craftsy member Kristen Hanley
Boat neck
A boat neck is characterized by its width, running wider than other necklines. Boat necks come in many sizes, from a wider boat neck like the one pictured above to a more modest boat neck that doesn't show off quite as much skin. Consider the season when you'll be wearing the sweater; boat necks aren't the best choice if you're using the sweater to bundle up against freezing temperatures.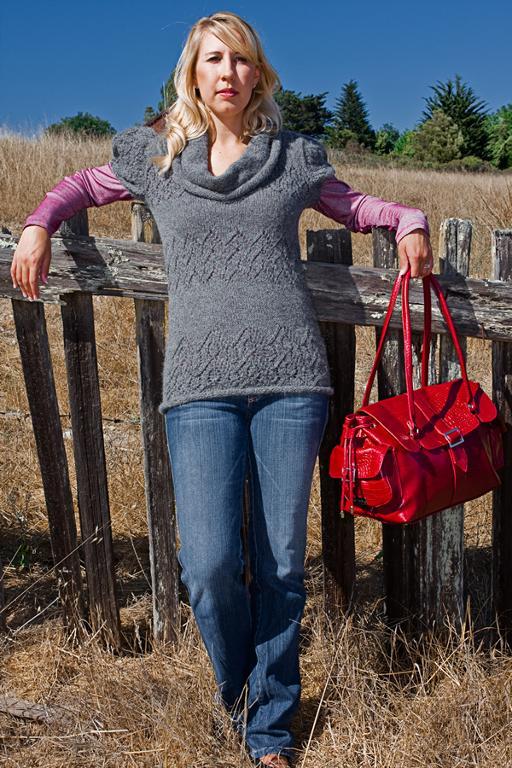 Photo via Craftsy member Jordana Paige
Cowl neck
You're probably already familiar with the popular cowl, right? A cowl neck looks like you took one of those cowls and just plopped it right over your sweater. Drape is very important when you're choosing a yarn for a cowl neck. Choose a yarn that's going to drape softly, like the sport-weight alpaca used in the Charlie Sweater pictured above.
Sometimes cowl neck is used interchangeably with a funnel neck, so be aware of that next time you're talking necklines with your knitting pals.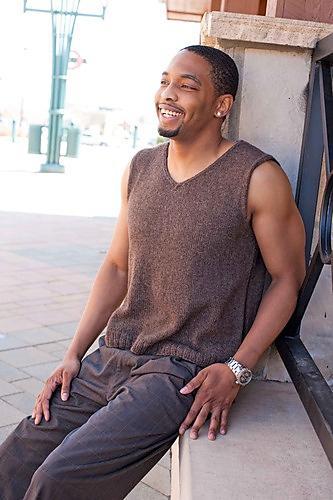 Photo via Craftsy member BijouBasinRanch
V-neck
This is another neckline versatile enough to be worn by both men and women. The V-neck, like the scoop neck, is great for layering. It's a great neckline to transition you through different temperatures, too, so consider knitting one for fall and piling on those layers as the temperature falls.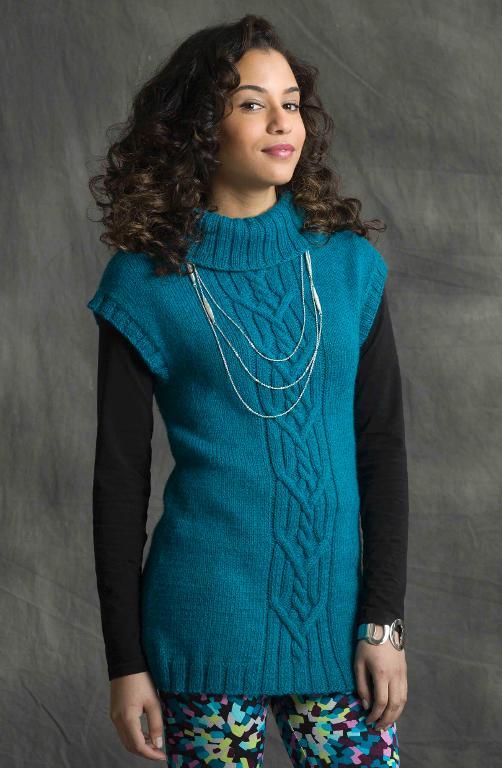 Photo via Craftsy instructor Patty Lyons
Turtle neck
Oh, you remember the turtle neck from the 1980s, don't you? I certainly do. I'm no stranger to layering a puff-paint Christmas sweatshirt over a turtleneck and sweating it out all day. The turtle neck on this vest is way cooler than any turtle neck I ever wore. Remember that turtle necks don't have to fit snugly around your neck; they can be looser like this one, which is better for layering and comfort in general.
Collars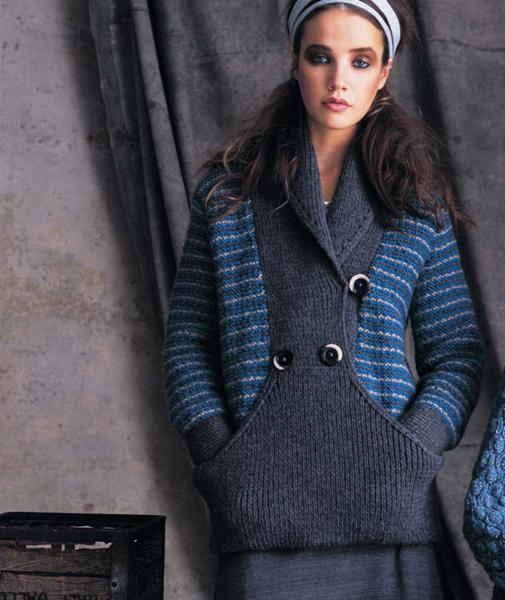 Photo via Craftsy member Vogue Knitting
Shawl collar
A shawl collar is a wide collar that folds over on both sides. In some cases, you may have to add another layer underneath a shawl-collar sweater. A V-neck collar can easily be turned into a shawl collar by picking up some stitches and knitting some additional length onto the collar.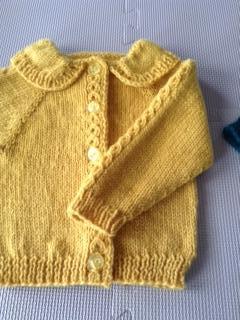 Photo via Craftsy member Nan Knits
Peter Pan collar
The Peter Pan collar is having a moment right now. In fact, you've probably noticed this rounded collar on many shirts and dresses in stores. My favorite thing about the Peter Pan collar is that it doesn't have to be attached to a sweater; you can knit them solo as detachable collars and just wear them with whatever you'd like.