I find knee-high knit socks useful for many situations. They work with flats, heels, and boots. They add an extra layer of warmth in the dead of winter. Perhaps most importantly, knee-high sock patterns are a great yet unexpected way to show off beautiful lace knitting and cables.
Take a peek at these knee-high sock patterns to add a little style — and warmth! — to your cold-weather wardrobe.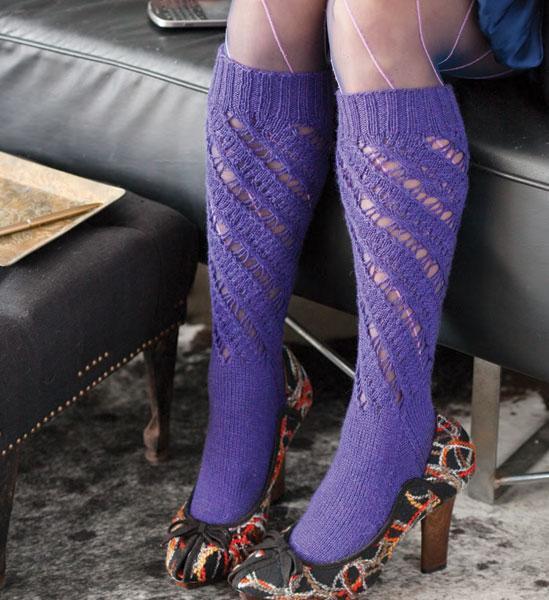 Photo via Craftsy member Vogue Knitting
Knee High Socks
Worked from the toe up, the shaping on these socks includes a simple change of needle sizes. You'll also get plenty of practice if you're trying to improve your eyelet skills. I love how Vogue Knitting paired these with a funky pair of heels.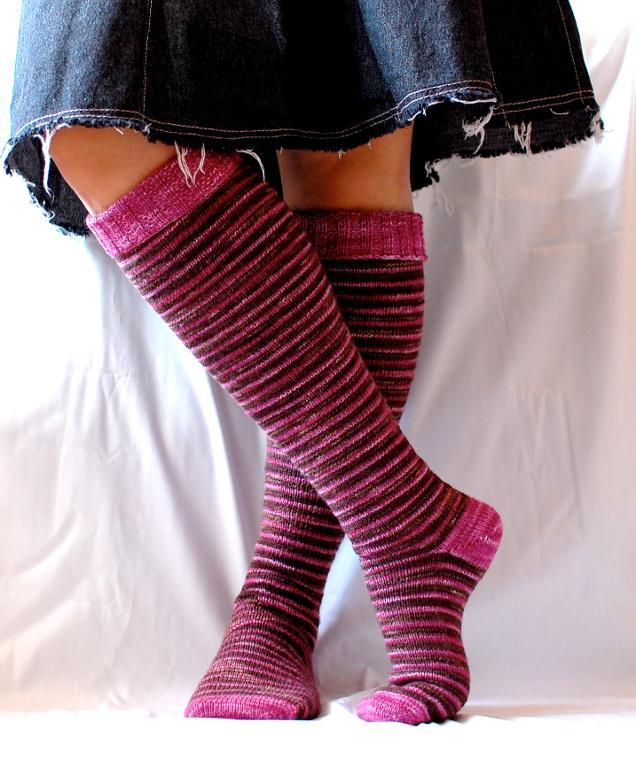 Photo via Craftsy member cosmicpluto
Delicious Knee Socks
No more wearing knee-high socks that leave red marks and feel like they're cutting off your circulation! Get this: there are more than forty size combinations for these socks to accommodate any size foot or calf. Knit them in the stripes seen here, or just try a solid color to get a feel for the pattern.
Photo via Craftsy member Amanda Lilley
Lulu Socks
Knit these beautiful socks from the knee down to the toe. You'll need to have some chart-reading skills in your repertoire, plus be able to make yarn overs and wield those trusty double-pointed needles to knit in the round. Because the design goes all the way to the knee, you don't have to worry about boots hiding any of your lovely knitting!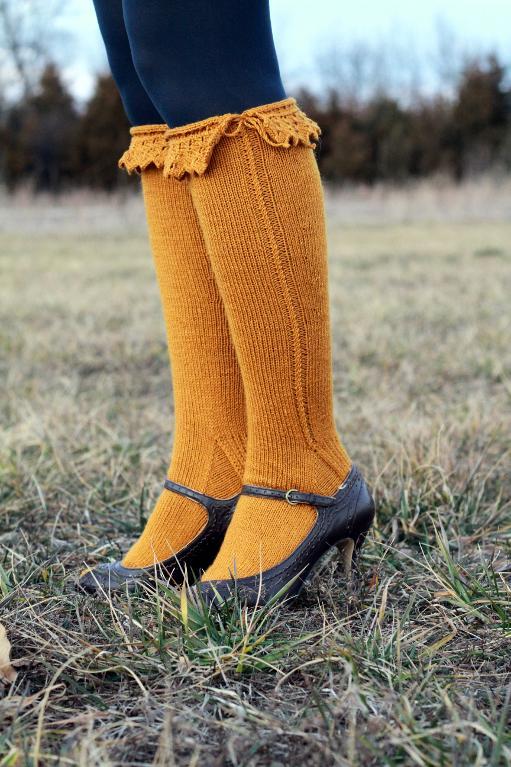 Photo via Craftsy member TheSexyKnitter
Bonneterie Socks
Named for the French word for "hosiery," there's a lot to love about these socks: a twisted cable, calf shaping, and that gorgeous lace edging. Don't worry about the fit here. The pattern comes with instructions for altering the foot length, as well as the leg length, for the perfect fit.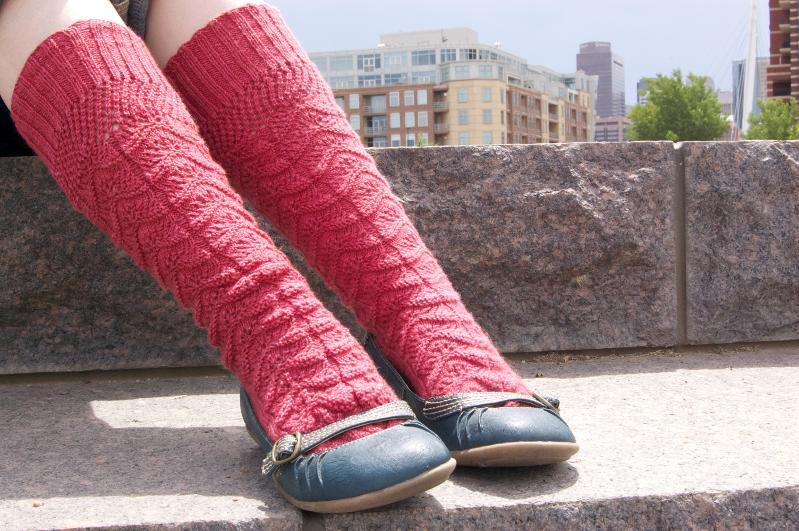 Photo via Craftsy instructor Donna Druchunas
Ladies Lace Knee Socks
I'd wear these socks with flats or boots. The pattern is exclusive to Craftsy members enrolled in Knit Sock Workshop with Donna Druchunas, which means that you not only get the pattern, you also get Donna's expert help as you knit your socks. In addition to this sock pattern, you'll also get a pattern for a cool Bosnian colorwork sock. You'll even learn a cast-on and bind off that will ensure the cuff and toes stay where they should without drooping.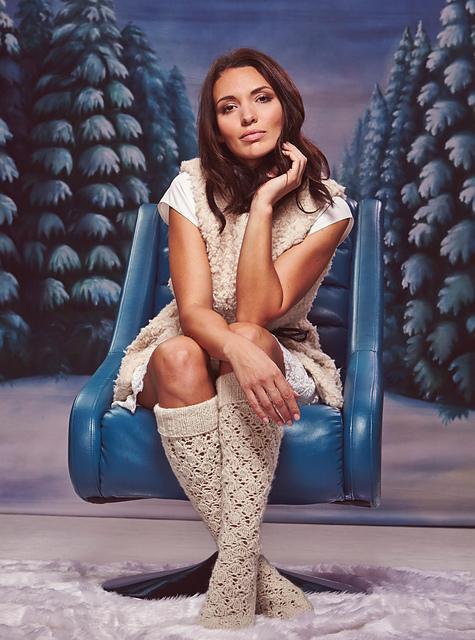 Photo via Craftsy member reWOLLuzza
Harebell Lace Socks
What makes this pair of lace socks so special? They're knit with a chunky yarn, meaning they work up very quickly. You'll need to know how to work a chart to knit the lace pattern. By the time you're finished, you'll be an expert at German short rows for the heel — very handy for chunky yarns.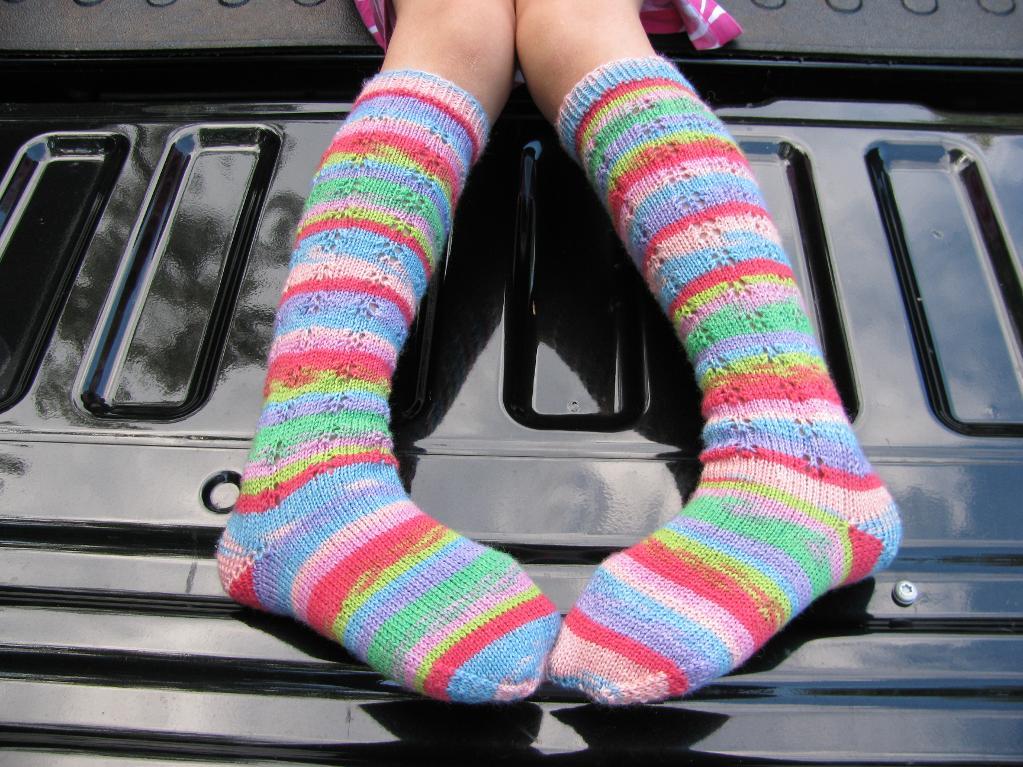 Photo via Craftsy member Keya Kuhn
Tutti-Frutti Butterfly Knee Socks
This one's a pattern for all the girls out there who love bright colors and butterflies! Designed for girls' shoe sizes 11-2, these adorable knee-high socks feature a lace stitch pattern that looks like tiny butterflies. Knit them up in a variegated yarn for self-striping, or just knit them in her favorite color.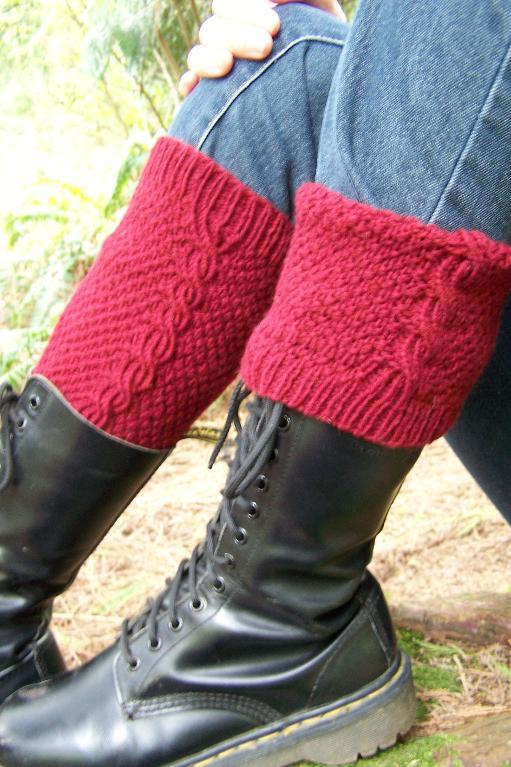 Photo via Craftsy member bengel229854
Fiddlehead Reversible Boot Socks
I love a nice cabled sock, and this one looks warm and cozy. The cable is even reversible, so you can choose to fold the cuff down over your boot and still see that pretty design. You could also layer these over tights for even more warmth.