Gustav Klimt, born in 1862, use of texture and patterns in painting built his reputation as a famous Austrian artist. Today, his paintings are quite familiar and hardly seem shocking to our modern eyes. However, in his time he was seen as a very controversial artist, and his work received violent criticism. So much so that a number of his paintings were often hidden behind, preventing a younger audience from catching a glimpse.
Let's learn more about the painting provoker.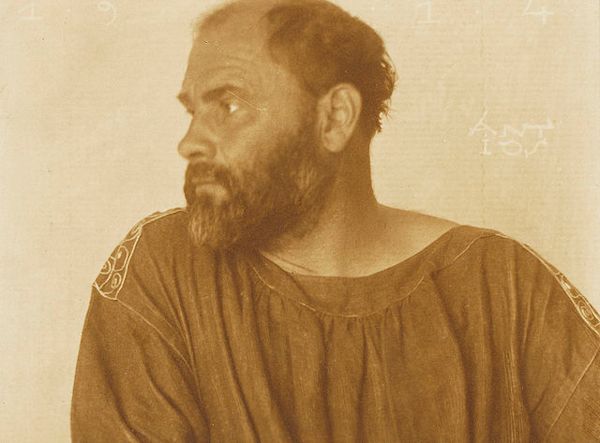 Photo portrait of Gustav Klimt, 1914, via Wikimedia
Why the contention?
The controversy was a result of the erotic and sensual content of his paintings, which revolved around sensuality and the female body. It didn't help that he had many "adventures" and never married (rumor has it that he likely fathered about 14 illegitimate children). Most of his works are figures and portraits focusing on subjects integral to the symbolist movement, such as life, death, sex and faith. However, he was known to paint a landscape now and again.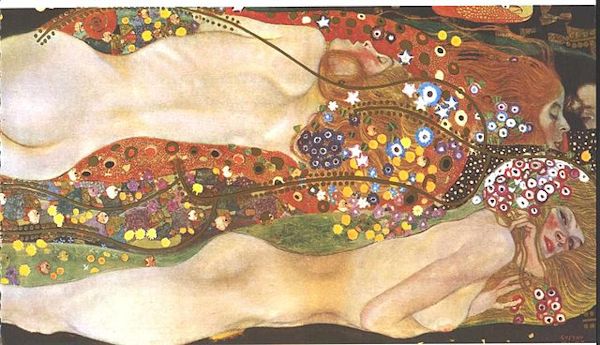 "Wasserschlangen II (Freundinnen)" via Wikimedia
Klimt's painting style
Gustav Klimt's painting style was ornate, elaborate and decorative, often including bright patterns and gold leafing. There is also a component of exotism in his work, as he borrowed patterns from Byzantine, Greek and Egyptian art. He was rather successful at mixing historical and traditional elements, like patterns and subjects, with a contemporary approach to painting. He also combined abstracted patterns with realistic figure painting, demonstrating how skillfully he managed to combine the old with the new as well as abstract movement with realism movement.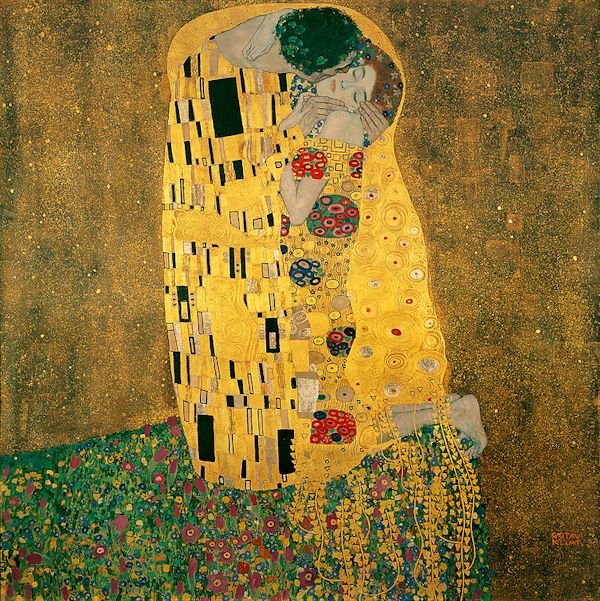 "The Kiss" via Wikimedia
This is one Klimt's most recognizable works and was completed during his gilded period. Notice how he successfully mixed passages of abstract patterns with the realism of the figures.
Difficult beginnings
Klimt's father was a gold engraver but was less than successful in his business. Accordingly, Klimt, along with his two brothers and five sisters, lived their childhood in poverty. Upon attending public art school, Klimt's talent started to be recognized. This is where he meet F. Matsch, an artist who he eventually collaborated with in later commissions.
The biggest commission Klimt ever received was painting the ceiling of the cathedral at the main university in Vienna. He painted three paintings for this work: "Medecine," "Philosophy" and "Jurisprudence." Sadly, this work wasn't well received at all, thought to be too controversial for a public institution. He was accused of pornography and the university never displayed the paintings.
During World War II, the paintings intended for the Cathedral were stored by the Nazis at the Immendorf Castle in southern Austria to prevent them from being damaged by air raids. But they were then destroyed on the day the German forces had to surrender.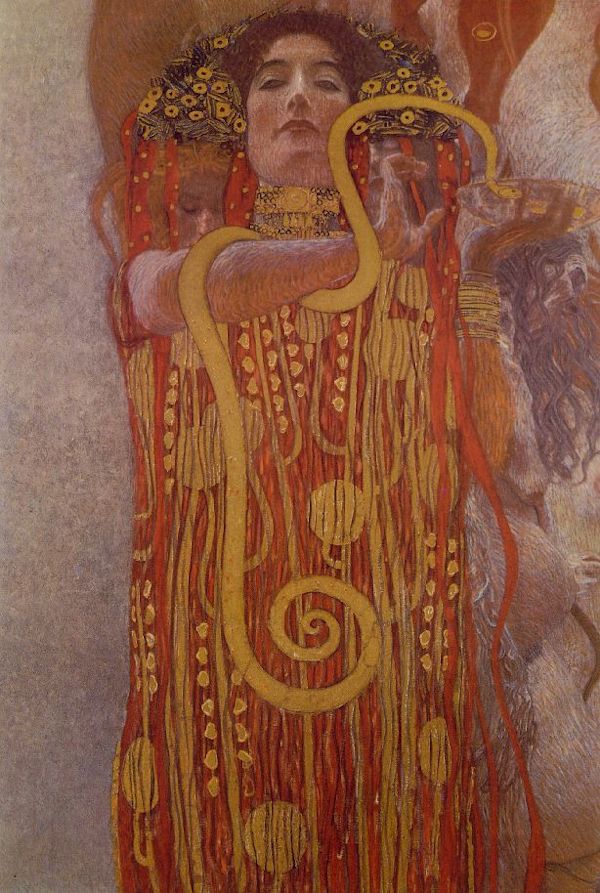 A portion of the "Medecine" via Wikimedia 
This painting doesn't exist anymore as it was destroyed during Word War II.
Breaking the rules
In 1897, Klimt was one of the founders of the the Austrian Secession movement: A group of several artists that resigned from the Association of Austrian Artists, after becoming incredible unhappy with the conservatism and prevalence of historicism within the artists' group. The secession movement included painters, sculptors and architects united behind a common idea of equality between fine art and decorative art.
The secession movement was publishing an official magazine called ver sacrum, to help publicize their ideas and views on Art.

"Nudas Veritas" lithograph illustration via Wikimedia
Working alone
Klimt did eventually leave the movement in 1905 to continue working on his own. It was during this period that he painted "The Kiss," one of the most famous paintings in the world. He also created some other well known works, including "The Portrait of Adele Bloch-Bauer."
In 1918, Gustav Klimt died of pneumonia. After his death, his paintings are becoming more widely accepted. This posthumous acceptance has led him to become one of the world's most famous Austrian painters.
[box type="shadow"]
Take inspiration from European masters and learn to create your own amazing work's of art in the online Bluprint class The Artful Copy: How to Paint Like a Master with Molly Herman.
[/box]
Whose your favorite "controversial" artist?