There's nothing like a quilted kitchen. Quilts for the kitchen add a special charm and homemade feel to the most used room in the house. Stitch up these kitchen quilt patterns for your own home, or give them away as handmade hostess or bridal shower gifts! It's the perfect way to use your quilting skills to bring joy to your own home or your friend's.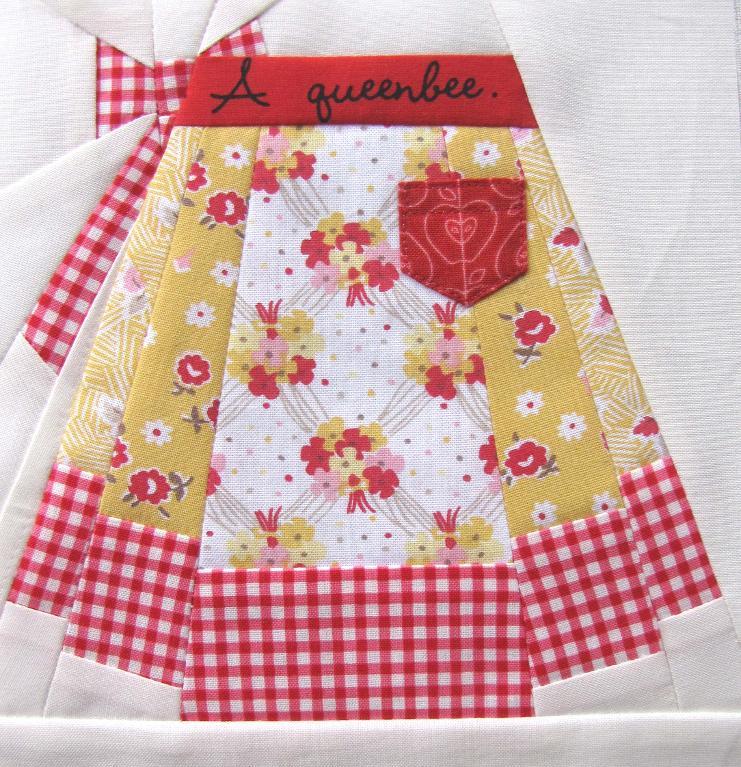 Photo via Craftsy member Charise Creates
Vintage apron block
This Vintage Apron quilt block by Charise Creates is perfect for kitchen decor and comes in 6″, 8″, 10″ and 12″ sizes. The block is paper-pieced and is perfect for a kitchen wall hanging, table topper or even placemats. The beginner-level pattern features instructions for foundation paper-piecing and freezer paper-piecing.
Photo via Craftsy member Quiet Play
Kitschy kitchen
If kitschy kitchen style is for you, you'll love this Sew Kitschy Paper-Pieced pattern bundle designed by Quiet Play. This delightful set of nine paper-pieced patterns includes all those seen above, with patterns ranging from beginner to more advanced paper-piecing. Make all nine blocks, which finish at 10″ x 10″ each, for a wall hanging, or pick and choose your favorite blocks for smaller projects such as table runners, place mats or even potholders.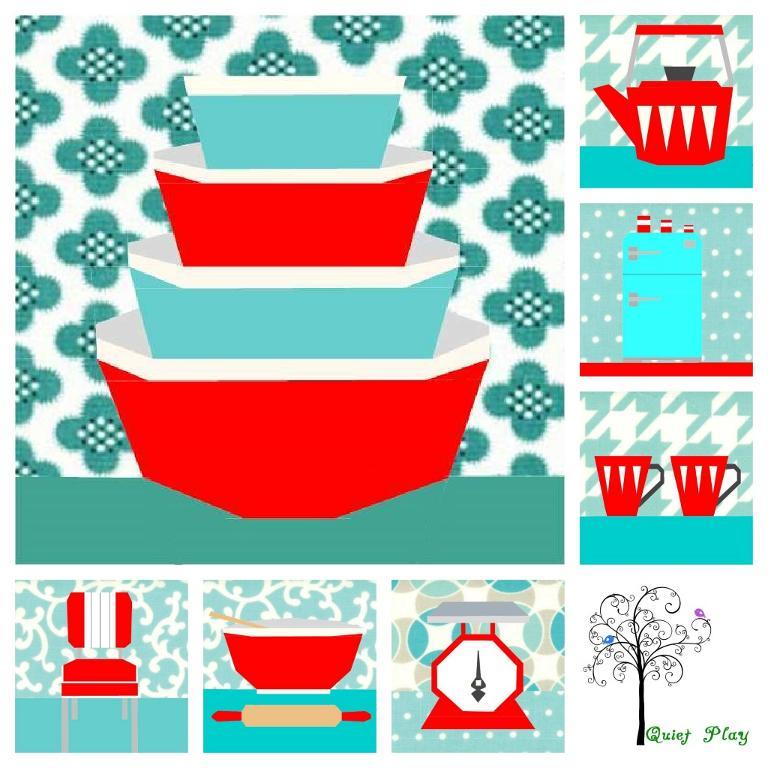 Photo via Craftsy member Quiet Play
Retro kitchen
Also from Quiet Play, this set of paper-pieced patterns has a fun retro feel. This pattern features, even more, paper-pieced options for creating kitchen-themed blocks. These seven paper-pieced patterns are intermediate-level designs for someone with some paper-piecing knowledge.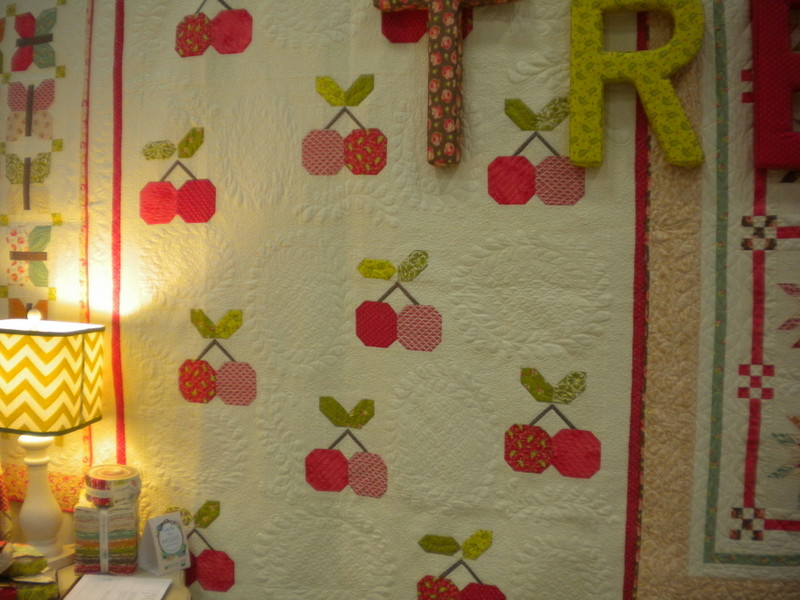 Photo via A Quilting Life

Pieced cherry blocks
Nothing says "kitchen" in quite the same way as delightful pieced cherry blocks. Craftsy instructor Joanna Figueroa's Cherry Pie quilt is perfect for hanging on a kitchen wall. If you don't have room for a large quilt in your kitchen, these cherry blocks can easily be pieced and made into a variety of smaller kitchen accessories and projects. How about a cherry block table runner, cherry mug rugs, or even a small cherry wall hanging? These blocks feature simple piecing easy enough for beginner quilters.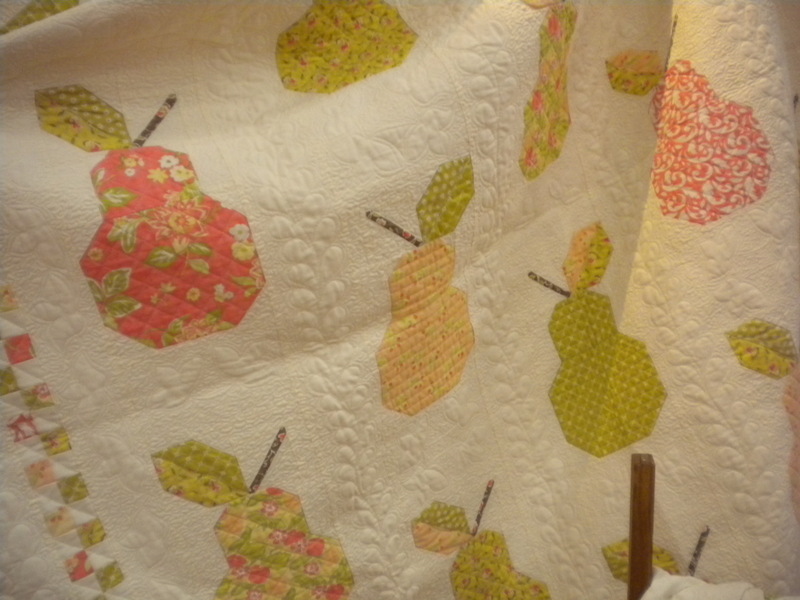 Photo via A Quilting Life
Canned pears
Joanna Figueroa also has a beautiful pear-themed quilt, which is perfect for kitchen decor. These delightful machine pieced pear blocks require no special tools and can be made by beginner quilters. Again, the pattern is for a large sized quilt; however, the pear blocks can be made singly or put together in small groups to make beautiful kitchen decor and accessories. How about a set of three pear blocks with sashing for a wall hanging or table runner? Individual pear blocks can be made into perfect potholders. Dress up your kitchen with these delightful pear designs.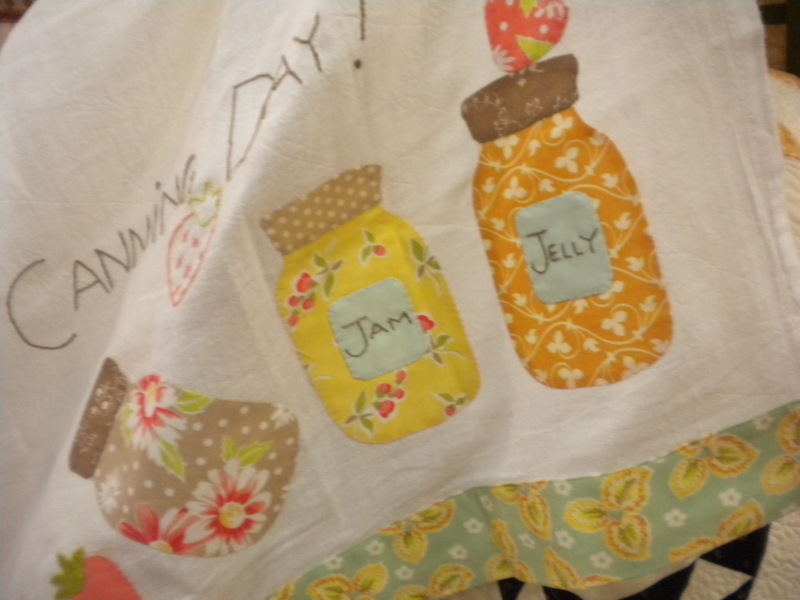 Photo via A Quilting Life
Mason jars
Another fun kitchen quilt pattern by Joanna Figueroa is this Mason Jars dish towel pattern, which is reminiscent of more simple days with its delightful appliqué canning jars. A bit of simple embroidery completes this beautiful design. Make a set of dish towels from the pattern using your favorite flour sack dish cloth, or make the block into a wall hanging or mini quilts. Canning jars are the perfect pattern for your retro kitchen decor.
How do you decorate your kitchen with quilting?